–
IT'S A DONE DEAL – TO KEEP DREW BREES IN NEW ORLEANS!
Drew Brees and The New Orleans Saints Have Agreed To A Two and Three Year Contract For DrewBrees To Finish His Fabulous NFL Hall-Of-Fame Career with The New Orleans Saints.
The Incredible Drew Brees (#9) and The New Orleans Saints have Agreed to a Two-Year Contract Deal to Keep Brees in New Orleans for the Remainder of his NFL Football Career and The Contract is Worth $50 Million. Brees, who just Turned 39, will enter his 13th Year with The New Orleans Saints in 2018.
The Deal Actually includes a Third Season that will Automatically Void if Brees is on The Roster at The End of The 2019 Season. This is Very Interesting, because if Brees is given Roster Bonuses, instead of Signing Bonuses, and it will allow The Saints to be able to Manage how The Money is Spread-Around.
The Saints Guaranteed $13.5 Million of The Brees Roster Bonus in 2018, which would allow The Saints To-Pro-Rate his Bonus Over Three Seasons.
With This Roster Bonus in Play, it looks-like The Saints are Leaving The $18 Million Dollars that is Remaining on The Brees Contract in Place as $6 Million Dollars will Hit in each of the next Three Seasons. This will mean that The Brees Salary Cap Charge in 2018 will be $24 Million Dollars and $33.5 Million Dollars in 2019.
In 2017. Brees Passed for 4,334-Yards and 23 Touchdowns, while leading The New Orleans Saints into the playoffs, where they lost, on the Last Play of The Game when a Saints Safety Missed a Tackle and sent the Minnesota Vikings to The Championship Game.
In The 2017 Football Season, Brees also set The NFL Record for Highest Completion Percentage in a Single Football Season, as he Completed an Unbelievable 72% of his Passes.
Brees Will Receive $27 Million in "Guaranteed-Money" that also Includes A-No-Trade-Clause. The Saints were not Allowed to use "The "Franchise-Tag" on Brees because of a Special Clause in his Contract.
The Eleven-Time Pro-Bowl Quarterback has Passed f0r 4,000-Yards or More Yards in Every Single Season that he has been with The New Orleans Saints.
Another Fact To-No on The Drew Brees Contract is that The Guarantees are all In-Place for The First Year of The Contract. Brees, however, has a Roster-Bonus of $11.95 Million Dollars in The Second Year of The Contract and that could be Turned-Into a Signing Bonus, which would Lower his Cap Number Down to Around $12.5 Million Dollars.
To be Honest, A lot of this Drew Brees Contract is Really Confusing, but The Most Important Point is The Fact that Drew Brees will Finish his Fabulous Hall-Of-Fame Career with The New Orleans Saints.
The Incredible Drew Brees Story is One of The Most Incredible Stories in The History of High School, College, and NFL Pro Football.
THE INCREDIBLE DREW BREES STORY!




By The Only One Who Knows The Real True Story




Super Scout Max Emfinger
Forty-Two Years Ago, in 1976, I was living in Dallas, Texas and was a Talent Scout for the Dallas Cowboys. Then, Twenty Years Later, I was living in Houston, Texas and was in the Astrodome and Scouting a High School Senior from Austin, Texas. I'm positive that I lost you in those first two Sentences, so let me explain.
Twenty Years after 1976 was 1996 and I was living in Houston, Texas. I had just Founded the First High School Football Recruiting Service in 1979 and I was getting ready to go to the Texas 5A Semi-Finals Football Game in the Astrodome. I will always remember that this 5A Semi-Finals Game was going to be a really great game between a Talented Local Aldine High School Team against an Undefeated Austin Westlake Team. At this Game in the Astrodome, I found out that the Austin Westlake Chaparrals had an Incredible Passing Quarterback and he was in Total Control of the Game from Start to Finish and the Chaps won that Game 42-21, sending them to the 1996 5A State Championship Game, again in the Astrodome on the Following Saturday, against another Super Football Team, Abilene Cooper.
After Austin Westlake easily beat an Always Tough Aldine Team, I decided to do some Research on this Westlake Super-Star, but Short, Quarterback. I knew that Drew Brees was not on my National High School Football Recruiting List or on any other College Football Recruiting Lists, but I also found-out that Brees had an ACL Injury as a Junior, but by leading his Team to a 15-0 Record and into the 5A Texas State Championship, this guy needed to be Recruited and Recruited by a Lot of Major College Football Teams.
I Immediately put Brees on my National Recruiting Top Players List and into the Max Emfinger's National Recruiting Newsletter. With what I had already seen him do to a Powerful Aldine Team, I Rated and Ranked him as one of the Top Five or Six Quarterbacks in the Country and I could not wait until the 5A State Championship in the Astrodome.
In the 5A State Championship Game, I was on the Austin Westlake Sideline and I watched Brees with Great Interest on every single play and he was Incredible as he led his Chaps Team to an Unbelievably, Convincing 55-15 Victory over another Powerful Abilene Cooper Team and a Texas 5A State Football Championship.
In this 5A Texas State Championship Game, I also noticed that Brees had a Knee Brace on his Left Knee and after the Game, as I was leaving The Astrodome, I saw Brees and I was about to ask him how his Knee was doing, but some of his Teammates came-up to him and I decided not to try to ask him.
My 1996 December Recruiting Newsletter was Mailed the next weekend and I put his Final Passing Stats in it that included 211 of 333 Attempts for 3,528-Yards and 31 Touchdowns. This was Impressive, but his 64% Completion Record was just as  Impressive. The Max Emfinger's National Football Recruiting Newsletter was sent to Around 12,000 Individual Recruiting-Buffs and about 75 College Football Teams, including Purdue and Texas. Later, in December, I got another Call from Purdue Offensive Coordinator/Recruiting Coordinator Jim Chaney and he asked me about this Quarterback named Drew Brees.
Purdue had just hired Head Coach Joe Tiller and Offensive Coordinator/Recruiting Coordinator Jim Chaney from Wyoming and they were a little behind in their Recruiting and they were looking for some "Recruiting Steals" on some Super-Star Players that might have been "Flying Under the Radar" to most College Teams. I Never talked to Coach Tiller, but I had talked to Coach Chaney a couple times and I knew that they were looking for Players like Drew Brees, Andy Dalton, and Kliff Kingsbury for Their Unbelievable Passing Spread Offense.
I then got another call from Coach Chaney in January and he told me that he and Coach Tiller both really liked Drew Brees and that they were going to have him in for an Official Visit on the Final Weekend in January before National Signing Date on the First Wednesday in February.
While at Purdue, Chaney, along with Head Coach Tiller, (Both in the Photo Below, became known for using the "Spread Offense" which was Famously "Dubbed" as "Basketball-On-Grass" at a Time in College Football History when Almost all of The Great Football Teams were Using The Running-Game and The Passing-Game was Considered a Huge Novelty and The Passing-Game was not even-being used. Later, it became The Air-Raid Passing Attack Offense with My Good Friend and Coach Mike Leach.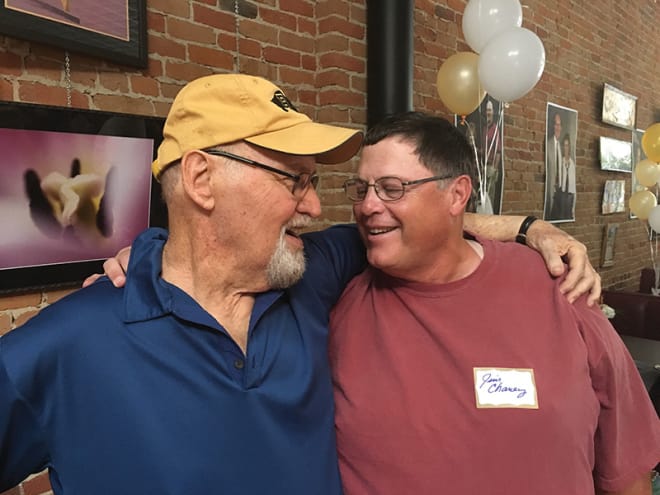 The Purdue Offensive Game Plan Relied on a Strong Passing-Game and The Chaney Offense was one of The Most Successful Offenses in the Country. This was evidenced by the fact that Their Future Super Bowl Winning Quarterback, Drew Brees, was His Starting Quarterback from 1997-2000 and this Unbelievable Passing Offense Broke Numerous Purdue, Big-10, and NCAA Passing Records.
New Georgia Head Football Coach Kirby Smart made his first big hire as The Georgia Head Football Coach when he made Coach Jim Chaney The New Bulldog Offensive Coordinator and Leader of his Georgia Offense. While Chaney has spent six of the last seven years of his career in the SEC, Many of the Bulldog Fans may not know much about the Long-Time Incredible Offensive Coordinator.
New Orleans Quarterback Drew Brees  put up Ridiculous Stats under Chaney at Purdue. From 1998-2000, Brees threw for 11,560 yards and 90 touchdowns.
There were also a number of Ironies with Drew Brees and his Signing with Purdue. The reason that I started my High School Football Recruiting Service in 1979 was because "Big-Time Politics" had taken over College Football Recruiting to the point that you could not believe anything that the Media had to say about the Top Players. My wife, Ginger, told me one day: "If you don't believe what the Sportswriters have to say, why don't you start your own Service." Politics in College Football Recruiting has gotten even worse since then, but that's a Complete other Story, so let's get back to the Drew Brees Story.
One huge Irony was the Fact that although Drew Brees Lived in Austin, and only a Few Miles from Brees, he was not Recruited by the Longhorns, because they had already Recruited Two Quarterbacks and had Verbal Commitments from both of them. The Longhorns thought that both of these Commitments Were Outstanding.
At that time, one of the Longhorn Recruits was a 6-1 Athletic Quarterback Named Major Applewhite of Baton Rouge Catholic, Louisiana, and I saw him play in Baton Rouge and I had him Rated as one of the Top Quarterback's in the Country.
The other Longhorn Quarterback Recruit was a 6-4 No-Huddle Passing Quarterback Named Greg Ciero of Anaheim Servite, California. He also was a Top Quarterback and he had a lot of Potential. As Freshmen, neither of these two Great Longhorn Quarterbacks would have to play, because they would both be playing behind Senior Super-Star James Brown.
Then, As a Sophomore, Applewhite became a Texas Super-Star, while Ciero Transferred to Polomar Junior College and then was Selected Junior College All-American before Transferring to Baylor University. The Irony was that all Three Quarterbacks that could have ended-up as a Texas Longhorn Became Super-Stars in 2000.
Although the ABC Quarterback Club of Applewhite, Brees, and Ciero were Highly Successful; only one of those Three Quarterbacks was Sitting in New York at both the 1999 and 2000 as Finalists for The Heisman Trophy Award.
Brees did not have an Eye-Popping Freshman Campaign, at Purdue, but Coach Chaney gave him a chance to be the Starting Quarterback for The Boilermakers Spread Offense as a Sophomore. Brees, then was so Unbelievably Impressive, as a Sophomore, Brees was Selected by his Teammates as the Boilers Team Captain in both his 1999 and 2000 Seasons.
After Finishing Fourth in the 1999 Heisman Trophy Voting, Brees had a chance to Come-Out Early for The 1999 NFL Draft, but he Decided to Stay With Coach Tiller and Coach Chaney and he decided to Come-Back for his 2000 Senior Season. In that Senior Season, Brees led the Boilermakers to Last-Minute UPSET Victories over both Ohio State and Michigan, giving Purdue, Coach Tiller, and Coach Chaney their First Big-10 Championship in Three Decades.
Purdue Coach Joe Tiller and Drew Brees as they Celebrate their Big-10 Championship and Trip to Pasadena!
"Boilermaker Fans, had you ever thought we could be going to The Rose Bowl," Brees Shouted to the Fans as he Accepted the Big-10 Championship Trophy. "This is, by far, The Greatest Moment of my Life, so Far," Brees Further Said.
In that Game Against Indiana and Against one of my Long-Time, Good Friends, Head Coach Cam Cameron, Brees threw for one Touchdown and ran for another Touchdown. He Completed 20 of 29 Passes for 216-Yards and ran for another 85-Yards, giving him 301-Yards of Total Offense as he became the First Quarterback to lead The Boilermakers to Pasadena since Bob Griese. It was their First Big-10 Championship in 34 Years.
After another Fabulous Season, Brees was again Selected as a Finalist for The Heisman Trophy Award. The Top Four in the Heisman were Heisman Trophy Award Winning QB Chris Weinke of Florida State; QB Josh Heupel of Oklahoma; QB Drew Brees of Purdue; and RB LaDainian Tomlinson of TCU.
2000 Heisman Trophy Finalists L to R: QB Drew Brees, Purdue; Heisman QB Chris Weinke, FSU; RB LaDainian Tomlinson, TCU; and QB Josh Heupel, Oklahoma.
These Four Super-Star College Football Players were Sitting in New York City on December 9, 2000 for the Heisman Trophy Award.
The 2000 Heisman Trophy Award Re-United Two Great Football Players from Texas, including Brees from Austin Westlake and Tomlinson from Waco University, just  a few miles apart on I-35. In Fact, I lived in Austin, twice for Two Years and Waco twice for Six Years.
Brees and Tomlinson had both played together in a Texas High School All-Star Football Game and had become Great Friends after their High School Football Season and now these Two Great Texas Football Players were together again in New York City as Finalists for the Heisman Trophy. "Wouldn't it be Great if we could both play on the same NFL Team," Tomlinson told Brees in New York City.
Brees left Purdue with "Mind-Boggling" Stats and one of the Most Impressive Quarterbacks in Big-10 History as he broke Two NCAA Passing Records, 13 Big-10 Records, and 19 Purdue Passing Records. Some of these Records are still standing, including his 1,026 Completions for 11,815-Yards Passing, and 90 Touchdown Passes. His 12,692-Yards of Total Offense was also a Record. He also had Seven 400-Yard Games and Sixteen 300-Yard Games.
So now it's time for The NFL Draft, but before the 2001 Draft, Brees attended the 2001 NFL Scouting Combine where he did much better than most NFL Scouts had expected. All of the NFL Scouts knew that he was about Six-Foot, but they did not know that he was so Quick as he Shocked them when he ran an Amazing 4.21 in the Pro-Shuttle. He ran a 4.83 Forty at the Scouting Combine, but on Pro-Day, he improved that Forty Time to a Great 4.67.  Also Remember that a lot of NFL Passing Quarterbacks can not run a 5.0 Forty.
I will NEVER forget the Night on The Dan Patrick Show when Brees laughingly read his NFL Draft Profile on the Air: "There is a Question about Drew Brees ability to throw the Deep Pass; his Accuracy is a Question, and of course, his Height is a Question." – Brees laughingly Said.
Although Brees did not have Great Height, he had Incredible Passing Stats and Shockingly Great Measurables for a Passing Quarterback; but he was not Drafted until The San Diego Chargers took him in the First Pick of Round Two in the 2001 Draft which was the #32 Overall Selection.
Sometimes, The Lord works in Strange Ways his Miracles to Perform. In The 2001 NFL Draft, The San Diego Chargers selected RB LaDainian Tomlinson as their #1 Draft Choice.
Everyone thought that Drew Brees would be Drafted in the First Round of the 2001 NFL Draft, but too many NFL Teams believed that he was Too Short to become a Great Passing Quarterback in the NFL, but if he was Drafted in the First Round, he Would Have NEVER Been able to Play on The Same Team with his Good Friend, from Texas.



The San Diego Chargers Got Two Incredible Texans in The 2001 NFL Draft Picks That Were Both Heisman Trophy Award Candidates in #21 RB LaDainian Tomlinson and #9 QB Drew Brees!
The Miracle that was Performed was that the San Diego Chargers were able to Re-Unite these Two Texans, Brees and Tomlinson, as they were able to Select Brees in the First Draft Pick of the Second Round of the NFL Draft to go with their #5 Overall Selection of Tomlinson in the First Round. The Chargers were able to get an Unbelievable Two Super-Star Players that were both in New York City for the Heisman Trophy Award.
With the help of The Miracle of Re-Uniting with his Texas Friend LaDainian Tomlinson, Brees began his NFL Career in 2002, with the San Diego Chargers. Then Two Years Later, with Offensive Coordinator Cam Cameron, Tomlinson, and Brees helped lead the Chargers to a Division Championship; while Tomlinson was Selected All-Pro and Brees was Selected to the 2004 NFL Pro Bowl.
These Two 2001 NFL Super Draft Picks (#9 QB Drew Brees) and (#21 RB LaDainian Tomlinson) Of The San Diego Chargers Helped The Chargers in 2004 To Win Their First Divisional Championship In A Decade And 

Both Players Are Future NFL Hall Of Fame Players!
Then Nine Months Later, in 2005, after suffering a Really Bad Shoulder Joint Dislocation and a 360 degree tear of his Labrum and Rotator Cuff, Brees became an NFL Free Agent.
In the last game of the 2005 Season, Brees should not have been playing in the Game. The Chargers were 9-6, but they had absolutely no chance of improving their NFL Playoff Seeding as the Game started. However, General Manager A.J. Smith and Head Coach Marty Schottenheimer had already started a War that would eventually lead to the Departure of Schottenheimer from The Chargers, because of the Quarterback Position War.
In his Rookie Season, Philip Rivers, although he was seen as the future Chargers Franchise Quarterback, was named as the Third Team Quarterback on The Chargers Roster behind Brees and Doug Flutie.  By not Starting Rivers, in the Last Game, it looked like it was a Punishment for Rivers, because he was a Hold-Out and missed part of The Training Camp. In this Last Game of the Season, Schottenheimer made the decision to start Drew Brees in a Meaningless Game so that the fans would not see their Young Future Super-Star Philip Rivers.
So, here is what happened. Standing in his own End-Zone, Drew Brees was Sacked by a blitzing John Lynch. He fumbled The Football when he was hit, and when he dove back on top of the Football, Brees was Crushed by Gerald Warren in a Bone-Rattling Tackle. Brees left the Football Game in obvious pain and he then handed the team over to Philip Rivers.
As Brees became a Free Agent after that 2005 Season, he was not expected to return to The Chargers, because they had already Committed a Lot of Money to Quarterback Philip Rivers. The Chargers eventually designated Brees as their Franchise Player, giving him a One-Year Contract that quadrupled his pay to $8 Million for the 2005 Year. Under the terms of a Franchise Player Contract, Brees would then be Eligible to be Traded or Sign with another NFL Team, but The Chargers would then Receive two future #1 Draft Choices in return. Brees was not traded and continued as Starting Quarterback for the remainder of the 2005 Season.
At this time, there were Two NFL Teams that needed a Quarterback and those Two Teams were The Miami Dolphins and The New Orleans Saints. The Saints were coming off of a Horrible 3-13 Record, and Dealing with Hurricane Katrina, but they had just hired a new Head Football Coach named Sean Payton and Brees wanted to Sign with a Team that would Guarantee him a Starting Quarterback Spot.
The Dolphins wanted to Sign Brees, but The Dolphins did not want to offer him as much money as The Chargers and they would not Guarantee him a Starting Quarterback Spot. With new Head Football Coach Sean Payton, The Saints Offered The Same Salary as The Chargers, but Coach Payton (In Photo Below with #9 Brees) was willing to Guarantee him a Starting Quarterback Spot if he could get Healthy before coming to The Saints Training Camp.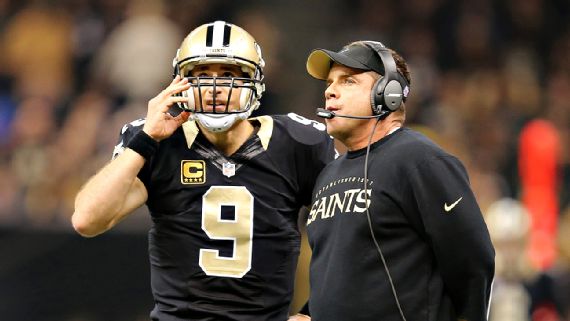 It only took Brees one trip to Katrina Stricken New Orleans to know that he Could make a huge difference in The Saints Football Team and also the People of New Orleans. So he Signed with The Nre Orleans Saints, got Healthy before Training Camp, and then led them to an Unbelievable 10-6 Record in his First Season.
After Signing with The Saints, Drew Brees Earned Nine Trips to The Pro Bowl; was a 2006 NFL All Pro Team Selection; was 2006 Walter Payton Player of the Year; was 2008 and 2011 Offensive Player of the Year; and was Super Bowl XLVI Super Bowl Game MVP Against The Indianapolis Colts. Brees was also Selected 2004 Comeback Player of the Year; and was also Selected in 2011 by Sports Illustrated as Sportsman of the Year.
Brees currently has played 17 Years in The NFL; Playing Five Years with The Chargers and Twelve Years with The Saints. His Hall of Fame Career Stats in 249 Games, include 6,222 Completions out of 9,294 Attempts for 70,445-Yards Passing and an Incredible 488 Touchdown Passes.
Brees takes Great Pride in his On-The-Field Performances, but he also takes Great Pride in his Community Service Endeavors. Drew and his Beautiful Wife, Brittany, Established The Brees Dream Foundation in 2003 and since then have Contributed and Committed almost $25,000,000 to help improve the quality of life for Cancer Patients and To-Provide Care, Education, and Other Outstanding Opportunities for Children and families in need. Brees has also proudly participated in five USO Trips to Kuwait, Iraq, Afghanistan, Germany, Turkey, Djibouti, Dubai, Okinawa, and Guantanamo Bay.

Drew Brees and Beautiful Wife Brittany!
This Special Drew and Brittany Brees Couple was Married in 2003 and Their First Baby Boy, Baylen Robert Brees, was Born on January 15, 2009, which was Drew's 30th Birthday.
Then, Their Second Baby Boy was Born in 2010 and he was Named Bowen Christopher Brees. Their Third Baby Boy was Named Callen Christain Brees and was born in 2012.
The Drew Brees Family got even bigger in 2014 when Brittany gave birth to Their First Baby Girl and Daughter, in Rylen Judith Brees.
 

This Special Brees Pair

 

Announced the Special Arrival of Their First Daughter with a Tweet on Twitter,  just before they Announced Her Arrival to The Media, just before Practice

.
"It Melted My Heart To Watch My Daughter Being Born Last Night," said Drew Brees. "I got to take the snap so to speak and catch her on her way out and That Memory will be a Memory that I will Have Forever."
Top 10 Things You Probably Did Not Know About Drew Brees Until This Story!
Brees led his Austin Westlake High School Football Team to the Texas 5A State Football Championship; led his Purdue College Team to the Big-10 Football Championship; led his San Diego Chargers NFL Team to a Divisional Football Championship; and led the New Orleans Saints NFL Football Team to the Super Bowl Football Championship.
What more can I say about Drew Brees?