–
2018 NFL DRAFT 65 SPECIAL SLEEPERS
By Super Scout Max Emfinger
All of These Special Sleepers were Evaluated with a "Little-Different" Process than All of The Top NFL Players, because some of These Special Sleepers would Rate Higher than These Top Rated NFL Players.
We will Start with a Defensive Freak Named Kendall Donnerson of SE Missouri State who Competed with Saquan Barkley who Broke The MEARS RATING RECORD at The 2018 Scouting Combine. 
At Southeast Missouri State, The Incredible Athletic Trio of EDGE Rusher Kendall Donnerson, CB Mike Ford, and OLB Chad Meredith were not invited to The Scouting Combine, but they were Unbelievably Athletic at some Various Amazing Pro Days at some Off-Campus Pro Days. All three Players did Off-Campus Pro Days, with Donnerson and Ford at Missouri Western Pro Day and Meredith at Louisville Pro Day.
Donnerson decided to "Stand-On"  his Missouri Western Pro Day Incredible Measurables while Ford decided to go "Full-Speed"  again at SEMO. Ford (5-11, 190) Recorded a 4.4 Forty; a 4.15 Pro Shuttle; a 40-Inch Vertical Jump; and an Incredible 132-Inch Standing Broad Jump.
Super EDGE Rusher Donnerson (6-3, 249) Ran a 4.43 Forty; did a 40-Inch Vertical Jump; a 4.37 Pro Shuttle; did a 131-Inch Standing Broad Jump; and 20 Reps on The Bench Press. His Forty, Vertical Jump, Pro Shuttle, and Standing Broad Jump are All Numbers that would have led all of The EDGE Rushers at The 2018 NFL Scouting Combine; which has The Attention of Most All of The NFL Scouts.
Donnerson is Probably a "Little-Raw" but with Incredible Athletic Talent to Help any NFL Football Team Better with his First Game. Projected as a Free Agent which is Laughable.
Brigham Young Super-Star Wide Receiver Jonah Trinnaman (#3 In Photo) is hoping that he will get the The Call from One of The NFL Teams on NFL Draft Day, on April 26-28 and although he did not get an Invite to NFL The Scouting Combine, he "Put-Up" some "Mind-Boggling" Measurables at The BYU Pro Day. "I think The Bears had me at a 4.25 in the Forty," Trinnaman said in a Pro Day Interview. Trinnaman also said that The Bears took him out to Dinner after his Pro Day.
If Trinnaman had been Invited to The NFL Scouting Combine and ran his Official 4.26 Forty, he would have been the Fastest Player at The Combine. Top 50 Cornerback Denzel Ward of Ohio State; Donte Jackson of LSU; and Parry Nickerson of Tulane ran a 4.32 Forty and were the Fastest Players at The Combine.
Trinnaman began his College Career at Snow Junior College in Utah and in 2015, he was Selected to The NJCAA First-Team All-America Special Teams as an Unbelievable Kick Returner as he Returned Three Kickoffs for a Touchdown, including a 99-Yard Return for Touchdown.
Seven Other Sensational Super Speedy Sleeper Ball-Catchers!
There were an Incredible Seven Other Unbelievable and Amazing Wide Receivers who were not Invited to The 2018 Scouting Combine, but they Recorded some "Mind-Boggling" and Incredible Measurables and are Leaders on our SUPER SPECIAL SLEEPERS TEAM. Those Seven Other Wide Receivers that were Fabulous on Their Pro-Day included Jeff Badet of Oklahoma; Daurice Fountain of Northern Iowa; Justin Watson of Penn; Derrick Willies of Texas Tech; Cameron Batson of Texas Tech; Sneed Blacknall of Penn State; and then; Deontez Alexander of Franklin.
Then on Ball State Pro Day, a Young Man from Franklin College, by the Name of Deontez Alexander, Showed-Up for their Pro Day, to the Total-Delight of all of The NFL Scouts and Ball State Players and Coaches. Franklin College is a Division III School located in Franklin, Indiana. At The Ball State Pro Day, Alexander (6-2, 196) Shocked The NFL Scouts with some Incredible Speed and Jumping Measurables, including a 4.35 Forty and a 4.1 Shuttle Speed Measurables; plus a 37.5-Inch Vertical Jump and a 130-Inch Standing Broad Jump his Athletic and Jumping Measurables.
In his Two Seasons with the Grizzlies, Alexander (#3) was Pretty Incredible as he Recorded 114 Catches for 2,133-Yards with 33 Touchdowns and an Outstanding 18.7-Yards Per Catch Average. In 2017, Alexander Recorded 50 Catches for 1,133-Yards and 18 Touchdowns and an Incredible 22.6-Yards Per Catch Average.
Before The Pro Day Combine, Alexander was Probably going to be a Un-Draftable Free Agent, but after The Pro Day Combine, he was able to Highly Impress several NFL Teams and NFL Scouts, including The Green Bay Packers, The San Francisco 49ers, The Denver Broncos, The Cleveland Browns, The Indianapolis Colts, The Jacksonville Jaguars, The Baltimore Ravens, The Detroit Lions, and The Oakland Raiders.

Super-Star Inside Linebacker Matthew Thomas (#13) is an Athletic Freak and it's impossible for me to believe that he would be Projected To Be Drafted in the Sixth or Seventh Round of  The NFL Draft. Thomas ran a 4.44 at The Florida State Pro Day after he had run a 4.29 Pro Shuttle at The Scouting Combine and he now has all of The NFL Scouts Buzzing.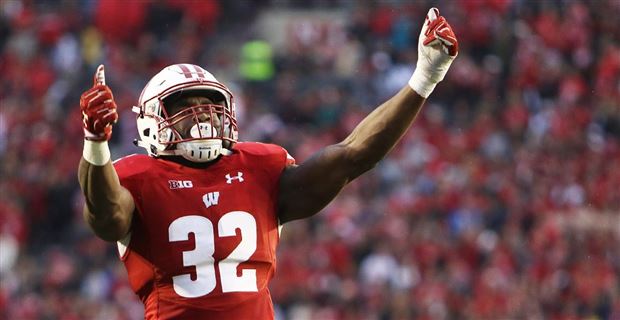 Leon Jacobs (#32) was Outstanding on his Highlight Film and he was Invited to The Scouting Combine where he was One of The Most Impressive Linebackers. His 4.48 in The Forty Ranked Second in Linebackers behind Shaquen Griffin and his Famous 4.38 and his 26 Reps on the Bench Press Tied for Third Among all Edge-Rushers. It's Difficult to Believe that Leon Jacobs would be Projected in Round #6.
2018 SIXTY-FIVE SPECIAL SLEEPERS
# POS PLAYER               HT    WT   40   VJ  SH   SBJ BP College MEARS RATING
1  DE Kendall Donnerson 6-3, 250, 4.43, 40, 4.37, 131, 20 SEMO 2,800+ MEARS
1  EDGE Leon Jacobs 6-3, 246, 4.48, 34.5,  4.44,  122, 26, Wisconsin     2,800+MEARS
1  DT Bilal Nichols  6-3.5, 306, 4.95, 30.5, 4.49, 112,  29, Delaware  2,800+MEARS
1  WR Jonah Trinnaman 5-10, 192, 4.26, 41.5, 4.18, 144, 10, BYU 2,800+MEARS
1  ILB Matthew Thomas     6-3,   232,  4.44,  41.5,  4.28,    131,      FSU  2,800+MEARS
6  CB Christian Campbell 6-1, 195, 4.51, 41, 4.18, 135, 14, Penn State  2,796 MEARS
7  RB Mike Boone    5-10,  206,  4.44,  42,  4.28,  139,  25,  Cincy       2,795 MEARS
8  DE Antonio Simmons  6-2, 252, 4.51, 30.5, 4.31, 117, 30, GA Tech 2,795 MEARS
9  WR Deontez Alexander 6-2, 196, 4.36, 37.5, 41, 130, 15, Franklin  2,792 MEARS
10 WR Dylan Cantrell    6-3,   226,  4.44,  41,  4.03, 135, 18,     TXT     2,791 MEARS
11 CB Mike Ford            6-0,  194,  4.4,  40,  4.14,  132,  13,     SEMO     2,790 MEARS
11 NG Mike Ramsey   6-1.5,  300,  4.89,  30, 4.53,  106,  31,  DUKE    2,790 MEARS
11 RB Boston Scott        5-7,  195,  4.4,  38.5,  4.15, 121,  21, LA Tech    2,790 MEARS
14 EDGE Ade Aruna        6-4.5,  262,   4.6,  38.5, 4.48, 128, 18, Tulane      2,789 MEARS
14 OC Evan Brown       6-2,  307,  4.97,  36,  4.52,  113,   36,      SMU    2,789 MEARS
16 NG Sebastian Joseph 6-3,  299, 4.93, 31.5, 4.56, 112, 24, Rutgers 2,788 MEARS
16 OLB Zaire Franklin 6-0,  239,  4.58,  38,  4.22,  122,  30,    SYR     2,788 MEARS
16 OLB Mike Needham 6-3,  224,  4.53,  35,  4.45,  126, 20, So Utah  2,788 MEARS
16 DT Zach Sieler      6-5, 290, 4.78,  30,  4.58,  119,  31,  Ferris State  2,788 MEARS
20 OLB Chad Meredith  6-4, 251, 4.69, 35.5,  4.31,  121,  18,  SEMO   2,787 MEARS
21 CB Keion Crossen 5-9,  178,  4.33,  39.5,  4.01,  131,  13, W Car      2,786 MEARS
21 NG P.J. Hall   6-1,  308,  4.76,  28,  4.56,  116, 36, Sam Houston St   2,786 MEARS
23 ILB Quentin Poling 6-0.5,  235,  4.58,  38,  4.22,  127,  24, Ohio    2,785 MEARS
24 FS Tarvarius Moore 6-1,  199,  4.32,  38.5,  4.2,  133,  7,  S Miss     2,783 MEARS
24 SS Anthony Sherrils 5-11,  204, 4.42, 35, 4.39, 121, 25, Missouri   2,783 MEARS
24 SS Troy Apike               6-1,  200,    4.34,  41,     4.03, 131,  16, Penn St   2,782 MEARS
26 EDGE Marcell Frazier 6-5,  256, 4.6,  33.5, 4.46, 118, 25, Mizzou 2,782 MEARS
26 WR Damion Ratley  6-2,  196,  4.39,  38,  4.23,  124,  12,  A&M     2,782 MEARS
28 WR Jeff Badet              6-0,   178,   4.27,  39.5, 4.17,  131, 16  OU      2,781 MEARS
29 WR Daurice Fountain 6-1, 210, 4.46, 42.5, 4.26, 134, 14, N Iowa 2,780 MEARS
29 RB Ryan Green              5-10,  192,   4.41,  38,  4.11,  122,      FSU     2,780 MEARS
29 CB Emmanuel Moseley 5-11, 190, 4.42, 38.5, 4.03, 126, 21, TN   2,780 MEARS
32 WR Justin Watson    6-2.5,  215, 4.42, 40, 4.26, 124, 20    Penn    2,778 MEARS
32 CB Darious Williams 5-10,  184,  4.44,  39,  4.24,  122,  13, UAB  2,778 MEARS
34 QB Peter Pujals           6-1,      213,  4.6,  38,  4.1,  116,    Holy Cross  2,776 MEARS
35 RB Gus Edwards   6-1,  229,  4.52,  34.5,  4.24,  123,  17,  Rutgers  2,773 MEARS
35 OG Beau Nunn    6-3,  304,  5.01,  31,  4.92,  107,  28,   APP State   2,773 MEARS
35 QB  Chris Streveler 6-1.5,  209,  4.51,  38.5,  4.73,  125, S Dakota  2,773 MEARS
35 EDGE Joe Ostman    6-2, 282, 4.72, 36.5, 4.41, 122, 31, Cen Mich  2,773 MEARS
39 DE Sharif Finch        6-4,  251, 4.6,  31,   4.45,   117,   23,    Temple  2,772 MEARS
39 OC Austin Schlottman 6-5,  296,  5.0,  30,  4.76, 108,  32,  TCU    2,772 MEARS
41 EDGE John Franklin Myer 6-4, 283, 4.68, 33, 4.48, 113, 26, SFA 2,771 MEARS
42 NG Bruce Hector 6-2,  299,  4.98,  33.5, 4.69,  108, 26,  S Florida 2,770 MEARS
43 DE Andrew Ankrah 6-3, 249, 4.81,  33, 4.46, 118, 20, J Madison  2,769 MEARS
44 SLOT Braxton Berrios  5-9,  184,  4.42,  36,  4.18,  110, 11, Miami 2,768 MEARS
45 FS Natrell Jamerson 5-11,  201,  4.4,  35.5,  4.27,  123, 25,    WIS      2,767 MEARS
46 ILB DJuan Hines   6-1,  233,  4.65,  37.5,  4.31, 124, 15,  Houston  2,766 MEARS
47 OLB Dorian O'Daniel 6-1,  223,  4.58,  32,  4.07,  119,  21,    Clemson  2,766 MEARS
47 TE Andrew Vollert 6-5.5, 239, 4.54, 32.5, 4.09, 118, 15, Weber St 2,766 MEARS
49 QB John Wolford     5-11.5, 205, 4.72, 31, 4.18, 109,  Wake Forest 2,765 MEARS
50 OT Gerhard de Beer 6-6.5, 312, 5.12, 30.5, 4.72, 108, 35,  ARIZ   2,759 MEARS
50 FS Ryan Neal           6-2,  187,  4.47, 37.5,  4.29,  127,  15,  S Illinois  2,759 MEARS
52 QB Kyle Allen          6-3,   210,  4.71,  28.5,  4.26,  113,       Houston  2,758 MEARS
52 NG Justin Jones     6-2,  309,  5.09,  29,  4.71,  104,  24,       NC State  2,758 MEARS
52 CB Deatrick Nichols 5-9.5,  185, 4.42, 37,  4.18,  127, 15,  S FLA     2,758 MEARS
55 OLB Travin Howard 6-0,  211,  4.53,  35.5,  4.2,  124, 20,   TCU      2,757 MEARS
55 OLB Jacob Martin     6-2,  236, 4.56, 34.5, 4.44, 121, 23, Temple   2,757 MEARS
57 OG DeJon Allen       6-2,  295,  4.97, 3 0.5, 4.82,  111,  29, Hawaii   2,755 MEARS
57 SLOT Trenton Cannon 5-10, 185, 4.4, 39.5, 4.04, 129, 17, VA St    2,755 MEARS
57 SLOT Kahlil Dawson 5-7,  177, 4.32, 38.5, 4.08, 122, 14, Port St     2,755 MEARS
60 WR Sneed Blacknall  6-2, 208, 4.37, 32.5,  4.19, 127, 24, Penn St  2,751 MEARS
60  SS Tre Flowers          6-3, 202, 4.45, 34.5, 4.34, 122, 18, Okla State      2,751 MEARS
60 WR Derrick Willies      6-4,  207, 4.55, 41, 4.01, 134, 15,      TXT      2,751 MEARS
60 SLOT Cameron Batson 5-8,  175,  4.35,  39, 4.0,   124, 14,  TXT      2,751 MEARS
60 WR Reggie Bonnafon   6-2, 212, 4.53, 38, 4.33, 127, 20, LOUIS     2,751 MEARS
65 DE Marcus Martin 6-2, 250, 4.69, 35, 4.22, 116, 32, SlipperyRock 2,750 MEARS