–
College Football Weekly MVP'S – Week #6!
By Super Scout Max Emfinger
2019 COLLEGE FOOTBALL WEEKLY MVP AWARD
TERRIFIC 12 OFFENSIVE SKILL PLAYERS – WEEK #6


SWEET 16 DEFENSIVE MVP'S – WEEK #6



All MVP Players Must Be On Winning Team!
SIDEBAR I: Through The First Six Games of The Season and A Little Premature, There Are Six Heisman Trophy Favorites! Coming Into The Season, Quarterbacks Trevor Lawrence and Tua Tagovailoa Were Considered To Be The Top Two Favorites, but Currently, According to The Caesars Sportbook The Top Six Are: QB Jalen Hurts, QB Tua Tagovailoa, QB Joe Burrow, QB Justin Fields, RB Jonathan Taylor, and RB Chuba Hubbard. QB Sam Ehlinger and QB Justin Herbert are Other Heisman Trophy Candidate.
SIDEBAR II: Week #6 TERRIFIC 12 OFFENSIVE MVP'S Include: Dual/QB Jeff Duffey, Dual/QB Joe Burrow, and Dual/QB Jalen Hurts. AP/RB Jonathan Taylor, AP/RB Cameron Scarlett, and AP/RB Lamical Perine, and AP/RB D'Andre Swift. AP/WR John Hightower. WR Justin Jefferson, WR James Proche, and WR Freddie Swain. TE Jacob Breeland.
SIDEBAR III: Week #6 SWEET 16 DEFENSIVE MVP'S Include: EDGE RUSH DE Curtis Weaver, EDGE RUSH DE Shaka Toney, EDGE RUSH DE Yetur Gross-Matos, and DE Kayvon Thibodeaux. DT Kwity Paye and DT Elijah Ponder. ILB Jordyn Brooks, ILB Azeez Ojulari, ILB Chris Orr, and ILB Jack Sanborn. OLB Zack Baun, OLB Jordan Glasgow. CB Ar'mani Johnson, CB D'Shawn Jamison, and CB Doug Coleman III. SS Kekoa Nawahine.
Three Magic Sacks For Four Fabulous Defensive MVP's For 

Week #6

:

Curtis Weaver, Shaka Toney, Jordyn Brooks, and Zack Baun.
By Super Scout Max Emfinger!
EDGE RUSH DEFENSIVE END
CURTIS WEAVER – BOISE STATE BRONCOS 
The Incredible Boise State Edge-Rush Defensive End Curtis Weaver (6-3, 266, 4.62) Had another Fabulous Game Against UNLV as He Recorded 6 Tackles, Including 4 Solo Tackles, 2 Assists, and 3 Quarterback Sacks. In The 38-13 Victory, Over UNLV, Weaver Then Recorded The Three Quarterback Sacks and In-Doing-So, He Became The Mountain West Conference All-Time Quarterback Sack Leader With 29.5 Quarterback Sacks. Weaver (#99) is Only a Junior, but He Will Probably Enter The 2020 NFL Draft.
"It's a Blessing. I thank God Every Day, I Thank our Support System, My Mom, and My Family," Weaver said. Weaver Also Had Many of his Family in Attendance. "We just kept Attacking. They showed some looks."
In his First Two Seasons, Weaver, From Long Beach St Anthony, California Recorded 28 Tackles For a Loss and 20.5 Quarterback Sacks For The Broncos. Weaver Also was selected To Several of The Freshman All-American Teams. Then In 2018, As a Red-Shirt Sophomore, Weaver Demonstrated Some Incredible Pass-Rushing Skills, Reminiscent of Super Edge-Rusher Nick Bosa and With No-Doubt To-Become a #1 Draft Choice in The 2020 NFL Draft.
EDGE RUSH DEFENSIVE END
SHAKA TONEY – PENN STATE NITTANY LIONS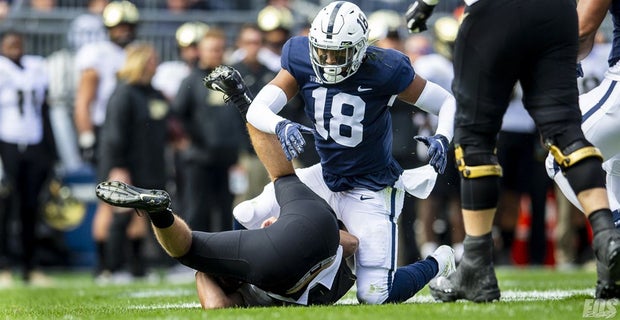 The Penn State Nittany Lions Super Edge-Rush Defensive End Shaka Toney (#18) From Philadelphia Imhotep Charter, Pennsylvania Is a Red-Shirt Junior Who May Enter The 2020 NFL Draft and If He Can Record a Double-Digit Quarterback Sack Stat In The 2019 Season, He Probably Will Enter The 2020 NFL Draft. Also Remember His Four Quarterback Sack Quarter Against The Indiana Hoosiers in 2018.
In This 35-7 Victory Over The Purdue Boilermakers, Toney (6-3, 236, 4.62) Recorded 4 Tackles, Including 4 Solo Tackles,and 3 Quarterback Sacks. Toney Quickly Recorded Two Quarterback Sacks in The First Quarter.
There Has Never been Any Question About The Great Athletic Ability of Shaka Toney and This Great Athletic Ability Makes Him a Very Dangerous Edge-Rush Defensive End, but He Has Gotten a Lot Better Against The Run. With His Highly Impressive 3 Quarterback Sack Game, He Has Attracted The Interest of Nearly Every Scout in The NFL and He Has Emerged as a Very "Hot Item" Among Edge-Rushers in The NFL.
In This Homecoming Blowout Game The Nittany Lions Had Several Players Who Really Stepped-Up and Helped Advance The Nittany Lions to a 5-0 Record For The Season. The Penn State Fans, However, Opted To Honor Edge-Rush Defensive End Shaka Toney For His Incredible Three Quarterback Sack Game With The Player of The Purdue Game Honor.
Somewhat Surprisingly, Toney was Snubbed for The Big-10 Defensive Player of The Week Award. The Big-10 Player of The Week was Given to The Michigan Wolverine Defensive Lineman Aiden Hitchenson who Recorded 6 Tackles, 1 Quarterback Sack, and a Career-High 2.5 Tackles For a Loss.
"We just Wanted To Challenge Ourselves," Said Toney. "We Knew That We Needed to Come-Out and Get Pressure on The Quarterback so That is What We Did."
LINEBACKER/EDGE RUSH DEFENSIVE END
JORDYN BROOKS –

TEXAS TECH RED RAIDERS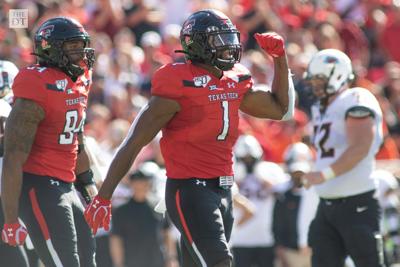 The Texas Tech Red Raiders Super-Star Inside Linebacker/Edge Rush Defensive End Jordyn Brooks (#1) Had an Incredible Game Against The Oklahoma State Cowboys and Of Course, He Became "The Big Man on Campus" After His Selection To The Big-12 Defensive Player of The Week Award. In This Very Important Big-12 Game For Both Teams, Brooks (6-1, 245, 4.56) Was Unbelievable as He Recorded a Career-High 19 Tackles, Including 8 Solo Tackles, 11 Assisted Tackles, 3 Quarterback Sacks, 4 Tackles For a Loss, and 2 Quarterback Hurries.
Brooks also Recorded a Forced Fumble Against The  Cowboys and He also Set a Career-High Stat with Four Tackles for a Loss against The  Cowboys.
In The Fourth Quarter, Brooks Stopped The  Cowboys Attempt On a Two-Point Conversion. The Texas Tech Red Raiders Head Coach Matt Wells said That This Stop was Probably "The Play of The Game" as it helped To-Secure The Red Raiders Victory Over The Oklahoma State Cowboys.
The Texas Tech Red Raiders Victory Came a week After The Red Raiders Were Defeated 55-16 by The #6 Ranked Oklahoma Sooners in Norman, Oklahoma. Following the 39-point loss, Senior Linebacker Jordyn Brooks said That The Loss To The Sooners Motivated The Red Raiders Team as They Prepared for The  Cowboys.
After This Impressive Game, Brooks was Added to The Chuck Bednarik Award Watch List on Thursday. With Brooks making The Chuck Bednarik Award Watch List, it marks The Third Consecutive Year that a Texas Tech Red Raider Has Been a Candidate for This Prestigious Award. In 2017 and 2018, Dakota Allen was a Preseason Candidate for This Award.
After his Tremendous Performance, Brooks was Also Named as The Big-12 Defensive Player of The Week. Two of His Red Raider Teammates Also Join Him as Tri-MVP Players For Week #6.
Tri-MVP Junior Quarterback Jeff Duffy (#7) Was Sensational as He Completed 26 of 44 Passes for 424-Yards and 4 Touchdowns and Duffy From Mansfield, Texas Also Rushed For Another 18-Yards and Another Touchdown, Giving Him 442-Yards of Total Offense and an Amazing Five Touchdowns. Duffy (6-1, 195, 4.62) Also Had a 170.0 Quarterback Rating.
Red Raider Cornerback Teammate Douglas Coleman III (#3) Also Was Outstanding as He Recorded 7 Tackles, Including 4 Solo Tackles, 3 Assisted Tackles, 2 Pass Breakups, and Two Pass Interceptions.
Coleman III (6-1, 200, 4.42) From Zachary, Louisiana Has Become a Real Beast This Year as He is Leading The FBS In Interceptions and This Game Against an Outstanding Oklahoma State Team, Coleman III (#3) Recorded Two Interceptions and This Brought His Total For The Year To Five Interceptions. The Texas Tech Red Raider Cornerback is Playing at an Unbelievable High-Level Right Now and He Has Great Size For a Cornerback.
After Five Games Played in 2019, Brooks has Recorded 60 Tackles, Including 10.5 Tackles for a Loss, Three Quarterback Sacks, Forced One Fumble and has Had a Fumble Recovery. Brooks said he Credits The New Red Raiders Defensive Scheme For His Great Success.
In This New Red Raiders Defensive Scheme, Brooks is a Part-Time Linebacker and a Part-Time Edge-Rush Defensive End. Against The Cowboys, Brooks Looked More Like an Edge-Rushing Defensive End as He Recorded 7 Quarterback Pressures on Just 17 Edge-Rush Snaps as He Put Tremendous Pressure on The Oklahoma State Quarterback.
"Where I Am Lined-Up On Each Play, I can go From Sideline-To-Sideline Instead of Being Limited to One Side of The Field as I was Last Season," Brooks said. "I Think Overall it is Just a Better Scheme for me Personally, With Our New Red Raiders Defensive Coordinator, Keith Patterson, and New Red Raiders Defensive Scheme That Coach Patterson is Bringing."
For This Game, Brooks was Also Honored as The Walter Camp Foundation National Defensive Player of The Week Award and The Bronco Nagurski Defensive Player of The Week Award; Along With The Big-12 Defensive Player of The Week Award.  
OUTSIDE LINEBACKER
ZACK BAUN –

WISCONSIN BADGERS
The Wisconsin Badgers Had a Lot of Experienced Linebackers on Their 2018 Roster, but Zack Baun (#56) From Brown Deer, Wisconsin Was One of The Most Impressive and Most Consistent Linebacker Defenders as He Recorded 78 Tackles, Including  11 Tackles For a Loss, 2.5 Quarterback Sacks, 1 Interception, 3 Pass Breakups, and He Had 1 Forced fumble.
With This Outstanding Season in 2018, Baun (6-3, 235, 4.5) Simply Only Recorded 2.5 Quarterback Sacks, but in This Game Against The Kent State Golden Eagles, Baun Recorded 3 Quarterback Sacks and The Amazing Thing in This Game was That Baun Only Made Three Tackles, But All Three of Those Tackles Were Quarterback Sacks.
Following The 48-0 Loss To The #8 Ranked Wisconsin Badgers, The 33-Year-Old Kent State Golden Eagles Head Coach Sean Lewis, said That The Wisconsin Badgers Have The Best Running Back in The Country, The Best Offensive Line in The Country, and The Best Defense in The Country.

Kent State Coach Sean Lewis Played Quarterback and Tight End for The Badgers From 2004-2007 And He Said: "A Team With a Great Running Back and a Stout Defense is Tough to Beat."
Quad Weekly MVP Jonathan Taylor (#23) Rushed For 186-Yards and 4 Touchdowns and Caught 3 Passes For Another 29-Yards and Another Touchdown, Giving Him 215-Yards of All-Purpose Yards and a Career-High 5 Touchdowns. In This Game, The Incredible Taylor (5-11, 219, 4.34) Surpassed The Single-Game 100-Yards For The 27th Time in His 32 Game Career With The #8 Ranked Wisconsin Badgers. After Six Weeks, Taylor Has Been Selected 2 Times To The Weekly MVP Award.
Taylor From Salem, New Jersey Finished His 2018 Season with 2,194-Yards Rushing and 16 Touchdowns as He Averaged an Incredible 7.1-Yards on 307 Carries. This Incredible Sophomore Season Followed His Mind-Boggling Freshman Season in 2017 When he Rushed For an Incredible 1,977-Yards and 13 Touchdowns.
"It's Still a Long Season Ahead, and to be Consistent, You Have Got To Play Through a Whole Football Season Knowing that you Can Not Just have a Couple Great Games," Taylor said. "There is Still a Long Way To go, but I Will Continue To Try and Be as Efficient as Possible."
The Wisconsin Badgers Recorded An Amazing Nine Quarterback Sacks and Coasted to Their Second 5-0 Opening Start in Three Seasons. The Badgers Began The 2017 Season With a 12-0 Record Before Losing to The Ohio State Buckeyes in The Big-10 Championship Game.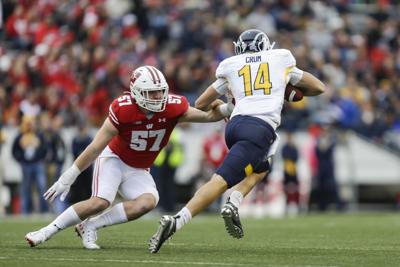 On Saturday, The Kent State Golden Eagles Had Only 124-Yards on 45 Plays. Senior Baun had Three Quarterback Sacks, Senior Inside Linebacker Chris Orr (#54) and Sophomore Inside Linebacker Jack Sanborn (#57) also Had Two Quarterback Sacks. Inside Linebacker Leo Chenal also Had One Quarterback Sack and The Ninth Sack came when Backup Quarterback Woody Barrett Dropped the Football While Attempting To Pass and Chenal Recovered.
After Awhile, In The Kent State Golden Eagles Game, it Started To-Look Like a "Real Feeding Frenzy" If and Whenever Kent State Called a Pass Play.
Senior Outside Linebacker Baun Had Three Solo Tackles, Including His Career-High Three Quarterback Sacks and He Led The Badgers Defense To Their Third Shutout of The Season For The First Time Since 1937. The Badgers Entered The Game With The #1 Ranked Defense in The Country.
Two Other Week #6 MVP's For The Badgers Defense Were Sophomore Inside Linebacker Jack Sanborn (6-2, 232, 4.62) With Two Quarterback Sacks and Another Inside Linebacker Chris Orr (#54) With 5 Tackles, Including 3 Solo Tackles, 2 Assisted Tackles, and Another Two Quarterback Sacks.
Orr (6-0, 224, 4.62) Takes in All of The Available Data in Front of Him and Then Makes a Sound and Educated Assumption On What an Opposing Offense Might Be Trying To-Do On Every Particular Play. These Calculations Run-Through Chris Orr's Mind Very Quickly, like a Computer Processing Information and Predicting The Outcome Very Quickly.
Orr, From Desoto, Texas, and His Badgers Defensive Teammates Have Had a Pretty Good Idea of What Is Coming on Third Down Situations All of This season. "The Guys are Playing with More Confidence," Orr said. "The Guys are Also Really Glued-In to Their Alignments and Assignments and We Are Not Trying To Reinvent The Wheel."
Orr Was Awarded The Big-10 Defensive Player of The Week Against The Northwestern Wildcats. In The Northwestern Wildcats Game, Orr Recorded 9 Tackles, 5 Solo Tackles, 4 Assisted Tackles, 3 Quarterback Hurries, and 2 Quarterback Sacks. Orr Joins His Teammate Jonathan Taylor as Being Selected 2 Times To The Weekly MVP Award.