–
College Football Offensive Skill Players Weekly MVP'S – Week #2!
By Super Scout Max Emfinger
COLLEGE FOOTBALL WEEKLY MVP AWARD
2019 OFFENSIVE SKILL PLAYERS – WEEK TWO
All MVP Players Must Be On Winning Team!
SIDEBAR I: Through The First Two Games and it may be a Little Premature, There Are Already a Few Heisman Trophy Favorites! Coming Into The Season, Quarterbacks Trevor Lawrence and Tua Tagovailoa Were Considered To Be The Top Two Favorites, but According to The Caesars Sportbook, QB Jalen Hurts, QB Joe Burrow, QB Justin Fields, QB Sam Ehlinger, QB Justin Herbert, and RB Jonathan Taylor are Other Heisman Trophy Candidate Favorites. 
SIDEBAR II: MVP'S Include: QB Jalen Hurts, QB Justin Herbert, QB Joe Burrow, QB Anthony Gordon, QB Elijah Sindelar, and QB Kedon Slovis. RB Cam Akers and QB Elijah Collins. SLOT WR Rondale Moore, SLOT WR Tylan Wallace, WR CeeDee Lamb, WR Darrell Stewart, WR Denzel Mims, WR Justin Jefferson, and WR Jerry Jeudy .
DUAL THREAT QUARTERACK – JALEN HURTS

OKLAHOMA SOONERS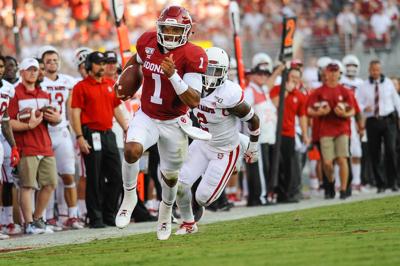 Jalen Hurts (#1) Transferred To The Oklahoma Sooners From The Alabama Crimson Tide In The Spring and in his Very First Game as an Oklahoma Sooner, Hurts Was Incredible in an Almost "Perfect-Game" as He Passed For 332-Yards and Three Touchdowns; while Also Rushing for Another 176-Yards and Another Three Touchdowns, giving him A Phenomenal 506-Yards of Total Offense and Six Touchdowns In The Oklahoma Sooners 49-31 Victory Over The Houston Cougars!
With This Unbelievable First Game, The Whole World Was Interested in What he Could Do in Game #2 and it Was Another Phenomenal Game. In Only Two Quarters, Hurts Completed 14 of 18 Passes For 259-Yards, Three Touchdowns, and an Incredible 253.6 Quarterback Rating as The Oklahoma Sooners Defeated The South Dakota Coyotes by an Overwhelming 70-14 Score. This Point Total For The Oklahoma Sooners Was The Highest Point Total Since Scoring 79 Points against North Texas in 2007.
The Oklahoma Sooners Wanted To-Work on The Passing Connection between Hurts and Wide Receiver CeeDee Lamb after They Had Made a few Misfires in the Opening Game Against The Houston Cougars. In This Game, Hurts (6-2, 219, 4.48, 36, 4.22) and Lamb Connected on 6 Passes For 144-Yards and a Touchdown as They Connected for gains of 48, 32 and 27-Yards; plus a 3-Yard Touchdown Pass in The First Quarter.
Hurts and Co-MVP Lamb Led The Oklahoma Sooners To a 70-14 Victory and a 2-0 Record; while Gaining an Incredible 733-Yards of Total Offense Against The Coyotes. In His First Two Games For The Oklahoma Sooners, Hurts Has Completed 34 of 41 Passes for 591-Yards, Six Touchdowns, and a National #1 252.3 Quarterback Rating. His Passing Completion Record is an Outstanding 82.9 Per-Cent. Hurts is Now The Top Heisman Trophy Favorite.
DUAL THREAT PASSING QUARTERBACK
JUSTIN HERBERT –

OREGON DUCKS
The Oregon Ducks Got Back on The Winning Track With an Unbelievable 77-6 Romp Over The University of Nevada, as The Oregon Ducks Super-Star Justin Herbert Completed 19 of 26 Passes For 310-Yards and an Incredible Five Touchdowns. Herbert (#10) Also had a Sensational 236.7 Quarterback Rating in Just a Little Over Two Quarters before Finishing For The Game. Before Herbert Left Te Game, He Had Hit Five Different Receivers.
"This Was a Huge-Step in The Right Direction," Herbert said afterward. "It Was a Tough Loss To Auburn Last week, but we came back and we had a great week of practice and we were Fired-Up to be here, and glad to get back at it Tomorrow."
One of The Most Impressive Dual-Threat Quarterbacks in The 2018 Football Season was The Oregon Ducks Junior Quarterback Justin Herbert (6-6, 233, 4.65) and he was also One of The 2019 Heisman Trophy Award Candidate and a Potential #1 Draft Choice. The Great News for The Oregon Ducks and The Oregon Duck Fans is that Herbert had some Incredible Reasons To-Come-Back  for his Senior Season in 2019.
Not only will Justin be One of The "Front-Runners" for The 2019 Heisman Trophy Award Favorites, he will also be able To-Throw Passes to his Younger Brother, Patrick Herbert, and To-Play his Last College Football Season with Him and Patrick Would-Get To-Play and Help his Older Brother Justin To-Win The 2019 Heisman Trophy Award. Playing with his Brother was Probably The #1 Reason for Herbert Coming-Back for his Senior Season, but Playing with his Senior Oregon Duck Teammates and Playing and Competing for The 2019 Heisman Trophy Award were two other Major Considerations for Coming-Back for His 2019 Senior Oregon Ducks Football Season.
"Justin Herbert is a Very Special Talent on the Field, but More Important, He is a very Special Person and Leader On and off The Field," said The Oregon Ducks Head Football Coach Mario Cristobal. "Herbert has Great Size and Speed and he Stands "Tall-In-The-Pocket" and he also has a Very Quick and Sharp Release,with Great Velocity." 
Coming-Out of High School, Justin Herbert was a Big and Strong, Athletic Quarterback With an Unbelievable Strong Arm and great Athleticism, but he was "Flying Under The Recruiting Radar" from a Small Town, Sheldon, Oregon, and he had Very Few Scholarship Offers. He Broke his Leg as a Junior and was Never Able to Get-On any College Recruiting Lists and now he has been Compared to some of The "Under The Recruiting Radar" Quarterbacks, including  Drew Brees, Kliff Kingsbury, Andy Dalton, and Carson Wentz.
In 2016, Herbert was The First True Freshman Starting Quarterback For The Oregon Ducks Since 1983 and He Had an Incredible Football Season For The Oregon Ducks as he Completed 162 of 255 Passes for 1,936-Yards and 19 Touchdowns. Then In 2017, Herbert was having an Incredible Sophomore Season before an Unfortunate Broken Collarbone Knocked Him out of Five Games During The Middle of The Football Season, but In only Five Games, He Completed 86 of 126 Passes for 1,264-Yards and 9 Touchdowns.
Then In an Incredible 2018 Junior Season, Herbert Completed 240 Passes of 404 Attempts for 3,151-Yards and 29 Touchdowns. He also Rushed for Another 161-Yards and 2 Touchdowns, giving him 3,312-Yards and 31 Touchdowns of Total Offense, and with a 144.7 Quarterback Rating. He also Led The Oregon Ducks to a 9-4 Record and The Oregon Ducks First Post-Season Game Since 2015, while being in The Running for The Heisman Trophy Award and Leading his Oregon Ducks to The Redbox Bowl Against The Michigan State Spartans
In his First Three Football Seasons for The Oregon Ducks, Justin Herbert Has Accounted for an Unbelievable 72 Touchdowns, including 63 Passing Touchdowns and 9 Rushing Touchdowns.
PASSING QUARTERBACK 
JOE BURROW –

LSU TIGERS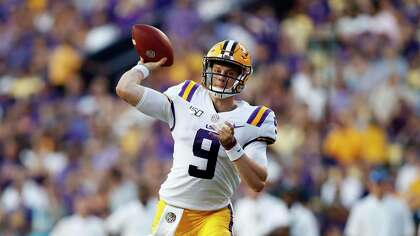 The LSU Tigers Joe Burrow (#9) was Almost Perfect in The Second Half For The LSU Tigers, but He Almost Had to, Because The Texas Longhorns Quarterback Sam Ehlinger was Matching Him Touchdown After Touchdown, but The LSU Tigers New Run/Pass Spread Offense Did Not Make Any Mistakes. In The 45-38 Victory Over The Texas Longhorns, Burrow (6-4, 216, 4.6) Completed 31 of 39 Passes For 471-Yards and 4 Touchdowns and With a Tremendous 209.7 Quarterback Rating.
LSU Tigers Head Coach Ed Orgeron said That He would Never Forget The Joe Burrow Third-And-17 Winning Touchdown Pass to Justin Jefferson To Beat The Texas Longhorns.
Burrow (6-4, 216, 4.6) Completed All of The Big Passes for The LSU Tigers in a Wild 45-38 Victory Over The #9 Texas Longhorns in One of The Biggest Non-Conference Game of The Season. Burrow Threw 4 Touchdown Passes and The Last One Was The 61-Yard Touchdown s To Justin Jefferson With 2:27 Left in The Game.
On this Play, Burrow Got The Pass-Off after Jumping and to his left, In The Pocket, and Engaging With Starting Center Loyd Cushenberry, and then Somehow Burrow Saw Jefferson Wide-Open Down The Field and Passed The Football into His Hands for The 61-Yard Touchdown and a 45-31 Lead. Then With 22 Seconds Left, Ehlinger Hit Devin Duvernay With a 15-Yard Touchdown Pass For The Final 45-38 Score.
After Two Games, Burrow Ranks Fourth in The Country in Passing Yards with 749-Yards and Tied for First in The Country With 9 Touchdown Passes.The Joe Burrow Quarterback Rating of 219.11 is Second in The Country To The Oklahoma Sooners Quarterback Jalen Hurts With a 52.31.
There Has Never Been an LSU Tiger Quarterback To Throw for 4,000-Yards in a Single Season and There Has Only Been 3 LSU Tiger Quarterbacks That Have Ever Passed For 3,000-Yards in a Single Season, Including Rohan Davey With 3,347-Yards in 2001; JaMarcus Russell With 3,129-Yards in 2016; and Zach Mettenberger With 3,082-Yards in 2013.
The Battle for Second Place on The 2019 Heisman Trophy Award List Has Been Fierce, but The Play of Joe Burrow During The Biggest Win in College Football Has Given Him The Edge, Behind Oklahoma Sooners Quarterback Jalen Hurts. LSU Tigers look like an SEC Title Contender and LSU Tiger Quarterback Burrow is the reason. 
PASSING QUARTERBACK 
ANTHONY GORDON –

WASHINGTON STATE COUGARS
In Two Games as a Starter, Washington State Cougars Quarterback Anthony Gordon (#18) is Averaging Better Than 50 Points and 400-Yards Passing, but He is not Doing it Alone. "Our Offensive Line is Always Great," Gordon said after Completing 31 of 39 Passes for 464-Yards and 4 Touchdowns in Leading The Washington State Cougars #22 Ranked Team To a 59-17 Victory Over FCS School Northern Colorado.
"There were no Quarterback Sacks and Our Offensive Line Work Really-Hard Up-Front." The Washington State Cougars Had 649-Yards of Total Offense, to 355-Yards of Total Offense for Northern Colorado.
The Washington State Cougars Head Coach Mike Leach said Gordon (6-3, 210, 4.72) had a Great Game. "I thought he was quick and sharp," Leach said. "Obviously, he Forced The Ball on his One Interception."
PASSING QUARTERBACK 
ELIJAH SINDELAR –

PURDUE BOILERMAKERS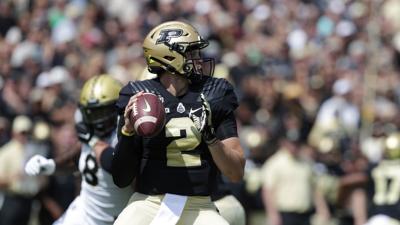 Purdue University Senior Quarterback Elijah Sindelar (2) and Speedy Sophomore SLOT Wide Receiver Rondale Moore Are Developing into an Unbelievable and Powerful Passing Duo. Sindelar Completed 24 of 35 Passes  for 509-Yards, Five Touchdowns, and a 175,5 Quarterback Rating; and he also Ran for another Touchdown in The Purdue Boilermakers 42-24 Victory over Vanderbilt While Moore Caught an Incredible 13 Passes for 220-Yards, which were both Career-Highs.
Sindelar (6-4, 225, 4.8) was Diagnosed with a Slight Concussion at The End of The Game and it is Unclear if he Would Be able to play on Saturday when The Purdue Boilermakers Will Host TCU. The Fifth-Year Senior went to the Purdue Team Medical Tent after a 7-Yard Run on a Third-And-14 in The Victory over Vanderbilt. It was The Last Offensive Play of The Day For The Purdue Boilermakers.
Purdue Boilermakers Head Coach Jeff Brohm told reporters on Monday that he believed that Sindelar had a "Slight Concussion" and would be Monitored in The Concussion Protocol.
PASSING QUARTERBACK 
KEDON SLOVIS –

SOUTHERN CAL
True Freshman Quarterback Kedon Slovis (#9) From Scottsdale Desert Mountain, Arizona made his First Career Start and He Completed an Incredible 28 of 33 Passes For 377-Yards and 3 Touchdowns, with Zero Interceptions as He Led The Southern California Trojans To a 45-20 Victory over The Stanford Cardinal.
The Passing Yardage by Slovis (6-2, 185, 4.7) was the most Yardage and The Highest Completion Percentage Rate by a Southern California True Freshman Quarterback in his First Start in History and He Was Just The Fifth True freshman Quarterback To Start, including J.T. Daniels, Mark Barkley, Carson Palmer, and Rob Johnson.
His 377-Yards Passing Yards was the most by any Southern California Trojan since The 397-Yards of Sam Darnold in 2017 vs. The Texas Longhorns and the Second Most Yardage Was by any Southern California Trojan True Freshman in any game and Only Behind Mark Barkley When He Passed For 380-Yards Against  Notre Dame in 2009.
Slovis got his first Touchdown Pass early in The Second Quarter, as He Hit Sophomore Armon-Ra St. Brown (6-1, 195, 4.36) for a 39-Yard Touchdown Pass. After Running Back Stephen Carr made a 25-yard Touchdown Run, Slovis Capped a quick 70-Yard Drive with His Second Touchdown Pass toThe Speedy St. Brown with only 31 Seconds Left before Halftime, and giving The Southern California Trojans a Lead For The First Time. 
Slovis Also Completed an Amazing 12 Consecutive Passes in The Second and Third Quarters. His Two Favorite Speedy Wide Receivers Were St Brown From Anaheim Hills Mater Dei, California With 8 catches for 97-Yards and Two Touchdowns and Tyler Vaughns (6-2, 190,4,36) From Covina Bishop Amat,California who had 5 Catches for 106-Yards and One Touchdown.
RUNNING BACK AND WIDE RECEIVER
CAM AKERS –

FLORIDA STATE SEMINOLES
The Florida State Seminoles Cam Akers (#3) had a Sensational Game Against The Louisiana Monroe Warhawks as He Rushed For 193-Yards on 36 Carries and Two Touchdowns and Caught 5 Passes for Another 55-Yards, Including a 44-Yard Touchdown on a Screen Pass, Giving Him 248-Yards of Total Offense and Two Touchdowns as The Florida State Seminoles Defeated The Louisiana Monroe Warhawks in a 45-44 Overtime.
The 36 Carries by Akers (5-11, 212, 4.47) Was a Florida State Seminoles Record and The Final Carry Was a 4-Yard Touchdown. The 193-Yards Rushing by Junior Running Back Cam Akers Was a Career-High and He Scored Two Rushing Touchdowns To-Bring The FSU Seminoles Record to a (1-1) Record.
The Game Plan Was Not To-Give Akers the Ball 41 Times, But The FLorida State Seminoles Head Coach Willie Taggert Wanted To Emphasize The Run, and he Wanted Akers To Keep Getting The Touches After he felt like the Seminoles went away from him in The Boise State, Last Week. So The Florida State Seminoles kept feeding Akers The Football, Over and Over Again.
Akers was Also Outstanding in His Pass Blocking and He gave The Florida State Seminoles its Final Two Touchdowns, which were Both Go-Ahead Touchdowns in The Fourth Quarter and Overtime, respectively.
"Cam Put The Seminoles Team On his Back," Florida State Seminoles Quarterback James Blackman said. "I told him that during the game, 'Man, Keep putting the team on your back. That's the type of guy you want to be, and that's the type of guy you are." The Clinton, Mississippi Native Now Has 364-Yards from Scrimmage and 4 Total Touchdowns After 2 Games This Season. 
RUNNING BACK AND WIDE RECEIVER
ELIJAH COLLINS –

MICHIGAN STATE SPARTANS
Michigan State Spartans Head Football Mark Dantonio Won His 109th Game For The Michigan State Spartans as he Matched The 109 Wins by Coach Duffy Daugherty. The Spartans Looked A Lot More Sharper on Offense Than They Did in The Opening Game Against Tulsa. The Michigan State Spartans Quarterback Brian Lewerke Passed For 314-Yards and Running Back Elijah Collins got his First Start and He Rushed for 192-Yards on 17 Carries. Collins (#24) Also Caught One Pass For Another 7-Yards, giving him 199-Yards of Total Offense.
We Had 31 First Downs. That's a lot of First Downs," Dantonio said. "We had big plays and we were scoring points." The Spartans Head Football Coach Mark Dantonio said. 
The Second Half Belonged to Collins, a Red-Shirt Freshman who broke free for a 58-Yard run early in The Third Quarter For The Michigan State Spartans. By The End of The Game, The Michigan State Spartans had Reached Their Highest Point Total Since a 55-16 win over Penn State in 2015.
SPEEDY SLOT BACK WIDE RECEIVER
RONDALE MOORE – 

PURDUE BOILERMAKERS
Purdue Boilermaker Senior Quarterback Elijah Sindelar and Super Speedy Sophomore Slot Wide Receiver Rondale Moore have Developed an Incredible Passing Duo. In The 42-24 Victory Over Vanderbilt, Moore Caught a Career-High 13 Passes and a Career-High 220-Yards and a Touchdown.
"My view is Pretty High of Rondale Moore, so I Do Not know if it can get much higher," Purdue Boilermaker Head Coach Jeff Brohm said. "But for someone to Continually Come Through Every Single Week and Raise the Bar and not be Satisfied, that's Rondale Moore. He was tremendous.
In 2018, Moore (5-9, 180, 4.24) was The First True Freshman in Big Ten History to Earn a Consensus All-American Honors and He Was Also The Big Ten Freshman of the Year and The Big-Ten Wide Receiver of The Year. The Incredible Thing About Moore as a True Freshman was That He Also Was Selected To The First Team All-Big Ten Wide Receiver and First Team All-Big ten Kick Returner.
Moore also Broke The Purdue Boilermaker Record for Single-Game All-Purpose Yards With 313-Yards in his Collegiate Debut Against Northwestern  and Then Set The Purdue Boilermaker Record For a Single Season All-Purpose Yardage with 2,215-Yards.
The Incredible, Freaky Moore also Became just The Third player in Big Ten History to Eclipse 100 Receptions in a season with 114 Catches and he Ranked Second in Big Ten History Behind fellow Purdue Boilermaker Chris Daniels With 121 in 1999.
SPEEDY SLOT BACK WIDE RECEIVER
TYLAN WALLACE – 

OKLAHOMA STATE COWBOYS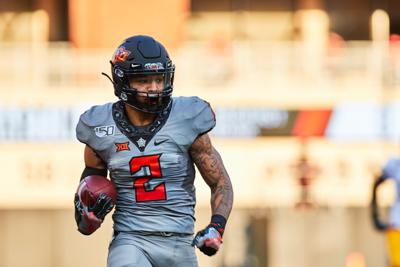 Tylan Wallace (#2) From Fort Worth South Hills, Texas Was Sensational For The Oklahoma State Cowboys as He Caught 5 Passes For 180-Yards, For The Cowboys and Three Touchdowns, Including One of The Most Mind-Boggling Plays on a Screen Pass. On This Screen Pass, Wallace Ran Right-Straight-Through a Multitude of McNeese State State Defenders on His Way To The 69-Yard Touchdown.
After Oklahoma State Quarterback Spencer Sanders was Sacked Twice on Their First Offensive Series, The Cowboys Played it Safe with Their Play-Calling to get the offense going. This is When Oklahoma State Offensive Coordinator Sean Gleeson Called a Very Simple Screen Pass Play so Sanders Could Throw a Quick Pass and Get The Football To a Speedy Receiver Quickly.
So then, The Speedy Wallace (6-0, 185, 4.32) Caught The Quick Screen Pass with Three McNeese State Defenders and With One Potential Blocker in front of him, but He Quickly Ran Past The Defenders To The Right Sideline with Three or Four McNeese State Defenders Missing on Arm Tacklers. In The Highlight Film, Wallace Then Ran Right Through Several Other Defenders, Including a Defensive Back and Carefully Eluding The Sideline, on his Way To This Incredible 69-Yard Touchdown.
The 69-Yard Touchdown Catch and Run was His Longest Touchdown of His Career, but You Will Not Believe What is about To Happen To Wallace.
On The First Play In The Third Quarter and The Start of The Second half, Wallace Out-Did His Career-Best of 69-Yards by Catching a Short Curl Pass Pattern and Evaded The Defensive Back and Raced 75-Yards For Another Touchdown. After This Play, The Cowboys Took Complete Control of The Game and Wallace Was Done for The Game.
Wallace Ended The Game With 5 Catches For  180-Yards and Three Touchdowns, including Touchdown Catches of 69-Yards and 75-Yards as he Caught A Short-Pass and Then Outraced The Cowboy Defenders Almost The Entire Length of The Football Field and Into The End-Zone.
Back In The Second Quarter, Sanders Saw a McNeese State Defender Jump  Offsides, giving The Cowboys a Free Play. Wallace Was Not Open, but Sanders Floated The Football "Up" in his Direction Anyway. At The Peak of His Jump, The Football Landed On The McNeese State Cornerback Shoulder, and it Pinballed Around The Shoulder of Wallace and The Cornerback before Wallace Unbelievably Caught it. Wallace Then Capped-Off The Juggling Circus-Catch by Getting his Foot In-Bounds For a First Down and Complete The Incredible Circus-Catch.
Wallace Has Become Known by The Oklahoma State Cowboys and The NFL Scouts as one of The Best Contested-Catch Receivers in The Country in his Incredible Breakout Season in 2018 during. Through two games this season, he has Also Demonstrated That He Also Has Incredible Speed. As a Sophomore, Wallace Caught 86 Passes for an Unbelievable 1,491-Yards and with 12 Touchdowns. Wallace might fit best in the NFL as a slot receiver.
Oklahoma Wide Receiver CeeDee Lamb, Alabama Wide Receiver Jerry Jeudy and Oklahoma State Cowboys SLOT Receiver Tylan Wallace Stand-Out as Potential NFL First Round Draft Choices. All Three are Very Smooth and Very Explosive Wide Receivers who both Put-Up Really Huge Offensive Stats in 2018 and are on The NFL Radar For Most All of The NFL Teams For The 2020 NFL Draft.
QUICK FLANKER BACK WIDE RECEIVER
CEEDEE LAMB – 

OKLAHOMA SOONERS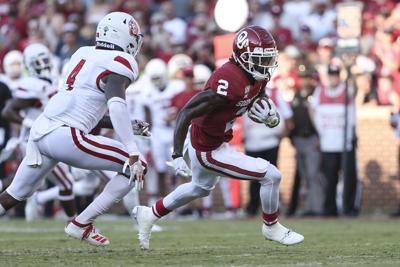 Super Quarterback Jalen Hurts Completed 14 of 18 Passes For 259-Yards, and Three Touchdowns For The Oklahoma Sooners and Super-Star Flanker, CeeDee Lamb (#2) Caught 6 of Those Passes For 144-Yards and a Touchdown.
Lamb (6-2, 192, 4.32) Connected With Hurts for Catches of 48, 32 and 27-Yards; plus He Caught a 3-Yard Touchdown Pass in The First Quarter. Lamb Also Averaged a Great 23.8 Yards Per Catch  and Returned Two Punts for Another 26-Yards, him 170-Yards of Total Offense.
Lamb is One of The Best Wide Receivers in The Country and It Did Not Take Long To Prove That Fact. In This Game, Lamb Made one of The Most Incredible Catches of The Year as He Caught A Pass as He Was Falling-Down. In The Press-Box, All of The Scouts and Sportswriters Were in Total Agreement About The Catch: "Tell me how Exactly CeeDee Made That Catch."
The Oklahoma Sooners Defeated The South Dakota Coyotes by an Overwhelming 70-14 Score. This Point Total For The Oklahoma Sooners Was The Highest Point Total Since Scoring 79 Points against North Texas in 2007.
"Jalen and I Have always been on the same page, but for it to Show-Out in a Game is a Big Confidence Booster," Lamb said. "Jalen did a great job of Distributing the ball all over. I can't wait to keep it going all year."
Lamb Set The Freshman Record for Receiving Yards with 807-Yards and With Touchdowns With 7. Then in 2018, Lamb Had 1,158-Yards Receiving and 11 Touchdowns, Despite Sharing Time With Baltimore Ravens #1 Draft Choice Marquise Brown. 
STRONG FLANKER BACK WIDE RECEIVER
DARRELL STEWART – 

MICHIGAN STATE SPARTANS
Darrell Stewart (6-2, 216,4.48) Had a Sensational Game Against Western Michigan as he Caught 10 Passes for 185-Yards and a Touchdown as The Michigan State Spartans #19 Ranked Team Won by a 51-17 Score. The #19 Ranked Spartans Had Been Maligned in Their First Game, but They Scored Touchdowns on Their First Three Drives in The First Quarter On Their Way To a 51-17 Victory over Western Michigan and Gave The Spartans Head Football Coach Mark Dantonio a Share With Former Head Coach Duffy Daugherty With 109 Victories.
STRONG FLANKER BACK WIDE RECEIVER
DENZEL MIMS –

BAYLOR BEARS
Baylor Bear Wide Receiver Denzel Mims (#5) Had a Sensational Game as He Caught 7 Passes For 101-Yards and 3 Touchdowns in The Baylor Bears 63-14 Victory over UTSA on Saturday. In This Sensational game for Mims, you Can Not Help But Wonder what He Could Have Done in The Game if The Game was close, because Most All The Damage Was Done in The First Half, as The Baylor Bears had Really No Need to keep their Talented Senior Super-Star in the game in The Second Half.
Mims (6-3, 215, 4.42) From Daingerfield, Texas Caught a 9-Yard Touchdown from Baylor Bear Quarterback Charlie Brewer in The First Quarter, and Then This Great Passing Duo Hooked-Up Again For The Baylor Bears On Touchdown Passes of 30-Yards and 26-Yards in The Second Quarter. Mims Was Wide-Open in The End-Zone for His 9-Yard Touchdown Catch To-Start The Scoring When UTSA Cornerback Cassius Grady fell down. Mims Then Got Behind the same UTSA Defender along The Sideline for his 30-Yard Touchdown and then Kicked-Over The Pylon while Scoring Another Touchdown to make it 21-0.
In 2017, Mims Caught 61 Passes for 1,017-Yards and 8 Touchdowns and Then In 2018, He Caught 55 Passes For 794-Yards and Another 8 Touchdowns. In Two Games, in 2019, Mims Has Caught 12 Passes for 147-Yards and 3 Touchdowns.
Mims Also Recorded his Second-Career Three Touchdown Game in The Baylor Bears 63-14 Victory Over UTSA. The Senior Finished With His Seven Catches for 101-Yards and He Averaged 14.4-Yards Per Catch.  If Mims can stay Healthy in 2019, he has Got an Excellent Chance to Put-Up Some Monster Pass-Catching Numbers in The Baylor Bears Offensive System.
QUICK WIDE RECEIVER
JUSTIN JEFFERSON – 

LSU TIGERS
The LSU Tiger Wide Receiver

Justin Jefferson (#2) was Sensational in The Huge 45-38 Victory Over as He Caught 9 Passes for 163-Yards and 3 Touchdowns, Including The Game-Winning 61-Yard Touchdown Pass With 2:27 Left in The Game.
Jefferson (6-3, 192, 4.42) was outstanding against

The Texas Longhorns

, and Joe Burrow looked For Him Really Often; particularly in

The Red Zone

. Burrow found Jefferson for a Six-Yard Touchdown in the Second Quarter, and Then They Connected Again before Halftime on a 21-Yard Touchdown Catch.
The Final Touchdown Put The Game Away when Jefferson did most of the work on a 61-Yard Touchdown Pass With Just 2:27 Minutes Left in The Game To-Give 

The LSU Tigers

a 45-31 Lead. Jefferson has been an Excellent Wide Receiver All Season and he had Another Incredible Game.
What was Amazing About The 9 Catches and 163-Yards by Jefferson Against 

The Texas Longhorns 

Was The Fact That Two Other 

The LSU Tiger Wide Receivers

had 100-Yard Games, Including Ja'Marr Chase (6-1, 205, 4.42) with 8 Catches For 147-yards and Terrace Marshall (6-4, 209, 4.4) with 6 Catches For 123-Yards and a 26-Yard Touchdown.   
QUICK WIDE RECEIVER
JERRY JEUDY –

ALABAMA CRIMSON TIDE
The Alabama Crimson Tide

Junior Wide Receiver Jerry Jeudy (6-1, 198, 4.36) is one of the most exciting prospects in The Country and The NFL Scouts Agree That 

Alabama Crimson Tide 

Jerry Jeudy (#4) is An Unbelievable, Electrifying Playmaker. In The 62-10 Victory over New Mexico State, Jeudy Caught 8 Passes For 103-Yards From Super-Star Quarterback Tua Tagovailoa and Three Touchdown Pass Catches.
Jeudy finished 2018 with 68 catches for 1,345-Yards and 14 Touchdowns and with an Amazing 19.3-Yards Per Catch Average. Jeudy is Obviously The Super-Star Quarterback Tua Tagovailoa's #1 and Favorite

Alabama Crimson Tide 

Wide Receiver. He is Able To-Start and Stop on a Dime and he is Absolutely Sensational in Avoiding Tackles. Jeudy wants to get as Many Yards as Possible on Every Catch.
In 2018, Jeudy Caught 14 Touchdown Passes and it was The Second-Best in 

Alabama Crimson Tide History 

and Jeudy is already Fifth on The 

Alabama Crimson Tide 

All-Time Touchdown Reception List. All-American 

Alabama Crimson Tide 

Quarterback 

Tua Tagovailoa Always Knows Who To Find When A "Big-Play" is Needed.