–
2017 SUPER SIXTEEN

COLLEGE FOOTBALL MVP'S FOR WEEK

 

TWO




By Super Scout Max Emfinger

WEEKLY NOTES: To be Eligible for an MVP Berth, your Team has got to be on the Winning Team. When I decided to Choose College MVP's of the Week, I decided to Select a Dozen MVP Players for each Week. In Week One, there were a lot of Defensive Players who had a Great Game, but there were not any of them that had a Phenomenal Game and Breaking School Records and so I did not have any Defensive Players in Week One, but there were Numerous Quarterbacks with Phenomenal Games.
In Week Two, there were so many Phenomenal Performances, I had to Move the Team from 12 to 16 and again there were Numerous Quarterbacks with Mind-Boggling Games. Plus, there also was a 301 Pound Defensive Tackle who Scored Two Defensive Touchdowns, including a 90-Yard Return of a Fumble; a Defensive End who had 4 Quarterback Sacks; and a Free Safety who Scored Two Defensive Touchdowns.
One Athletic Quarterback had 525-Yards of Total Offense and another who had 499-Yards of Total Offense; and a Passing Quarterback who Passed for 489-Yards and another Passed for 386-Yards. A Freshman Running Back also Rushed for 223-Yards.
Quad-Athletic Quarterbacks
1. Quarterback Lamar Jackson (#8) – Louisville
Lamar Jackson Won the Heisman Trophy Award Last Year and he wants to win it Again this Year and he is "Putting-Up" Incredible Stats Again. On Saturday, against North Carolina, Jackson Passed for 393-Yards and Three Touchdowns and Ran for another 132-Yards and another Three Touchdowns, giving him 525-Yards of Total Offense and Six Touchdowns.
After Two Games in the 2017 Football Season, Junior Jackson 6-3, 211, 4.5) has Completed 55 of 85 Passes for 771-Yards Passing and has Rushed for 239-Yards on 40 Carries. So after only two games, the Former Heisman Trophy Winner, Jackson is Responsible for 1,010-Yards of Total Offense and Eight Touchdowns.
Jackson became only the Second Player in FBS History to record at least 300 Passing Yards and 100-Yards Rushing in Consecutive Games during Saturday's 47-35 win over North Carolina. Jackson had 525-Yards of Total Offense were the most ever allowed by the Tar Heels and is the Eighth most in ACC History. He also Accounted for Six Touchdowns, Three Passing and Three Rushing. With 132-Yards Rushing, Jackson now has 2,770-Yards Rushing for his Career and now Ranks Fourth on the Louisville All-Time List.
Following his 393-Yard Passing Performance on Saturday, the Lamar Jackson Career Total of 6,154-Yards Passing Ranks Sixth on the All-Time Louisville School History. – In this Game, Jackson Recorded an Outstanding 174.1 Quarterback Rating.  525-Yards of Total Offense
Central Michigan Quarterback Shane Morris (#11) and Defensive Lineman Joe Ostman (#45) lead the team in cheer after the win against the Kansas Jayhawks. (Photo: Steven Branscombe, USA TODAY Sports)
2. Quarterback Shane Morris (#11) – Central Michigan
Super-Star Quarterback Shane Morris had an Incredible "Mind-Boggling" Game on Saturday in an Sensational 45-27 UPSET Victory over Kansas. In this Game, Morris Completed 28 of 37 Passes for an Incredible 467-Yards and Five Touchdowns. He also added Eight Rushes for another 32-Yards, giving him 499-Yards of Total Offense in the Victory.
Morris is 12th in the Country with 693-Yards Passing as he has Completed 53 of 86 Passes and Six Touchdowns and only One Interception.  Against Rhode Island in the Season Opener, Morris only Passed for 226-Yards.
"Our biggest jump was just executing in the Red-Zone," Morris said. "Against Rhode Island, we moved the ball at will pretty much, but the biggest thing was when we got it down there to score, we didn't Score. We made this a Big Emphasis of that in practice this past week, that we needed to score in the Red-Zone To Win Big Games. I think we had six or seven trips in the Red-Zone and we didn't score a Touchdown on only one of those drives against Kansas."
Morris found Wide Receiver Mark Champman for Three of his Touchdown Passes, while Corey Willis and Logan Hessbrook Caught the other two Touchdowns. Devon Spalding added another Touchdown. With this Incredible Game and UPSET, Morris was Named as the Mid-American Conference West Division offensive player of the week.
Morris was also Honored and Selected, along with Sam Darnold, Baker Mayfield, Lamar Jackson, Shea Patterson, and Nate Stanley, as One of Eight Selections to the Davey O'Brien Great Eight Quarterback Award for Week Two.
Morris Recorded an Outstanding 226.3 Quarterback Rating. – 499-Yards of Total Offense
3. Quarterback

Mason Rudolph (#2)

– Oklahoma State
Super-Star Passing Quarterback Mason Rudolph just became the Oklahoma State Cowboys Most Successful Passing Quarterback in Oklahoma State History as he Completed 25 of 38 Passes for 335-Yards and Three Touchdowns. He also Rushed for another 18-Yards, giving him 353-Yards in the Cowboys 44-7 Victory over South Alabama.
In this Game, Rudolph broke the 11th-Ranked Oklahoma State Career Passing Record in the Victory as he broke the Brandon Weeden Passing Record of 9,260-Yards late in the Second Quarter and then finished the Game with 9,352-Yards and the Cowboys Career Passing Record. After Rudolph Completed his 25 of 38 Passes, he Retired to the Sidelines, late in the Third Quarter.
In his First Two Games of the Year, Rudolph has Accounted for Eight Touchdowns in Two Victories. Rudolph Finished with a Great 165.9 Quarterback Rating. – 353-Yards of Total Offense
4. Quarterback Sam Darnold (#14) – Southern Cal
Southern California Quarterback Sam Darnold Completed 21 of 26 Passes for 316-Yards and Four Touchdowns. He also "Sneaked-In" Four-Yards Rushing, giving him 320-Yards of Total Offense. One of the Most Incredible Feats in this Game for Darnold was that he Completed his First Eleven Passes and Finished with a Career-High 80.8 Pass Completion.
This was the Sixth Time in the Career for Darnold (#14) that he threw at least Three Touchdown Passes and Fourth time with at least Four Touchdown Passes in a Single Game. It was also the 12th Consecutive Game that Darnold threw for at least 200-Yards in a Game and the Fifth Time in his Career for more than 300-Yards in a Game. In his First Game in 2017, against Western Michigan, Darnold Completed 23 of 33 Passes for 289-Yards and he now has 605-Yards Passing for the 2017 Season.
Southern Cal is Averaging 302-Yards Passing and 269-Yards Rushing Per Game. So, the Big Question is: Do you try to Stop QB Sam Darnold (#14), RB Tyler Vaughns (#21), and RB Joseph Lewis (#1) in the Unbelievable Passing Game or WR Ronald Jones (#25) in their Very Impressive Running Game?
Darnold had a Quarterback Rating of 169.5 in the First Game and had a Tremendous 218.2 Quarterback Rating in this Tremendous 42-24 Victory over Stanford. – 320-Yards of Total Offense
Quad-Passing Quarterbacks
1. Quarterback Shea Patterson (#20) – Ole Miss
Shea Patterson was Incredible Again as he Set an Ole Miss School Passing Record as he Completed 32 of 43 Passes for 489-Yards Passing in the Rebels 45-23 Victory over UT-Martin. He also Set a Career High with 5 Touchdown Passes. Patterson spread the wealth around, completing passes to nine different Wide Receivers with a Great 74.4 Completion Percentage Rate.
In Two Games in the 2017 Football Season, Patterson has Passed for 918-Yards and Nine Touchdowns, connecting with an Unbelievable 10 Different Receivers. After Catching 8 Passes for 233-Yards, in the First Game Against Alabama State, Super Wide Receiver A.J. Brown Caught Two Touchdown Passes of 58-Yards and 2-Yards in this Game and he also led the Rebels in Receiving with Eight Catches for 156-Yards.
DeMarkus Lodge Caught a 28-Yard Touchdown in the Third Quarter; while Jordan Wilkins also Caught a 16-Yard Touchdown in the Third Quarter and D.K. Metcalf Caught a 2-Yard Touchdown in the Fourth Quarter.
The Rebels Finished with 543-Yards of Total Offense. Patterson Recorded an Outstanding 203.7 Quarterback Rating – 489-Yards Passing
2. Quarterback Baker Mayfield (#6) – Oklahoma
Amazing as it Sounds, Baker Mayfield was a Lightly Recruited Prospect coming-out of an Austin Prep Powerhouse Team. Then, in 2013, he Showed-Up at Texas Tech and became the Starting Quarterback as the First True Freshman Walk-On Quarterback to start a Season-Opening Game in Major College Football Hhistory.
After losing his Starting Job to Davis Webb later that year, he Transferred to Oklahoma without any assurance from Head Coach Bob Stoops that he would even be allowed to Come-Out for the Team and now, Mayfield is in his Third Season as the Oklahoma Sooner Starter.
Mayfield is Definitely in the race for the Heisman Trophy, but there has not been hardly any Talk about what he could do as an NFL Quarterback. The Quarterback who actually beat Mayfield out for the Heisman Trophy Award last year, Lamar Jackson of Louisville, is also having another Fabulous Season.
Jackson and Mayfield were the Super-Stars of College Football in both the First and Second Weekend of College Football. A lot of Sportswriters have been Focused on Josh Rosen, Sam Darnold, and Josh Allen, because of their obvious Great Potential as NFL Quarterbacks they also have had Incredible Starts in the 2017 Football Season, but Mayfield and Jackson have forced their way back into the Heisman Talk and Great NFL Potential Talk.
Oklahoma Heisman Candidate Quarterback Mayfield was Incredible on Saturday Night in Columbus Against the Ohio State Buckeyes as he Riddled an Ohio State Defense that was Stocked Full of NFL Talent when he Completed 27 of 35 Passes for 386-Yards and Three Touchdowns in a 31-16 Huge Victory over the Buckeyes. Those are Pretty Fantastic Passing Stats, but they are Particularly Impressive given the Circumstances.
Mayfield did not have to prove to anyone that he was a Great Quarterback, because he has been a Sensational Quarterback ever since 2015, when he led the Sooners into the NCAA Playoffs.  Then in 2016, Mayfield Broke the Russell Wilson Single-Season FBS Passing Efficiency Record with a "Mind-Boggling" 196.4 Quarterback Rating.
In this Game, Mayfield was even more Outstanding when you realize that he did not have his Best Target, TE Mark Andrews, to throw to in the Second Half, after he had Caught Two Passes for 23-Yards in the First Half. Mayfield then Passed the Pass Receiving Around as he Tossed Touchdown Passes to Dimitri Flowers, Lee Morris, and Trey Sermon.
Senior Kentucky Transfer Jeff Badet was also Outstanding as he Caught Five Passes for 82-Yards, Ran Four Kickoffs Back for 79-Yards, had Two Rushes for Five Yards, and Finished the Game with 166-Yards of All-Purpose Yards.
The Oklahoma Sooners got a Little Revenge from their 45-24 Loss to the Buckeyes last year in Norman. Super-Star Ohio State Quarterback J.T. Barrett threw Four Touchdowns for the Buckeyes in that Big Win Last Year, but the Buckeyes Offense this Year, with Barrett, was not as Good this Year as Last Year and the Buckeyes Lost their First Home Game Since November 21, 2015.
Mayfield had a Phenomenal Quarterback Rating in Columbus, Ohio in the Great Victory as his Quarterback Rating was 198.1, plus he had Three Touchdown Passes and Completed 27 of 35 Passes. –  386-Yards Passing
3. Quarterback

Nate Stanley (#4) – Iowa
Sophomore Quarterback Nate Stanley was Outstanding on Saturday as he Completed 27 of 41 Passes for 333-Yards and an Incredible Five Touchdowns in Leading the Iowa Hawkeyes to an Amazing Come-From-Behind 44-41 Overtime Victory over their Cross-State Rival Iowa State.
In this Game, Stanley became only the Second Big Ten quarterback with at least 300-Yards Passing and Five Touchdowns without an interception in an On-The-Road Game Victory since 1997. Stanley also became the First Iowa Hawkeye with 300-Yards and Five Touchdown Passes in a Game since 1987.
Another Outstanding Feat for Stanley was that he Passed the Passing-Around as he Completed Passes to Nine Different Receivers. In this Game, Stanley Recorded a Great 174.3 Quarterback Rating. – 333-Yards Passing
4. Quarterback Josh Rosen – UCLA
For the Second Straight Week, Super-Star UCLA Quarterback Josh Rosen was a Passing Phenom as he Completed an Incredible 22 of 25 Passes for 329-Yards and an Amazing Five Touchdowns as the Bruins Defeated Hawaii 56-23 on Saturday Night.
After Completing an Unbelievable 22 of 25 Passes for 329-Yards and Five Touchdowns, Rosen had an Unbelievable and Phenomenal 264.50 Quarterback Rating. – 329-Yards Passing
Running Back
1. Running Back Jonathan Taylor (#23) – Wisconsin
Freshman Super-Star Running back Jonathan Taylor Demonstrated his Unbelievable Potential in the Wisconsin Pre-Season Camp and Two Games Deep into his College F00tball Career, Taylor looks more like a Seasoned Veteran than a Mere Freshman.
On Saturday, against Florida Atlantic, Taylor Rushed for an Incredible 223-Yards and three Touchdowns in his Very First Career Start in a 31-14 Victory in Week #2 over Florida Atlantic, becoming only the Fourth Freshman in Wisconsin School History to Rush for 200-Yards in a Single Game.
In this Game, Taylor became the Fourth True Freshman in Wisconsin School History to rush for 200-Yards, joining Alan Ameche, Ron Dayne, and Zach Brown. Taylor also Recorded the Most Rushing Touchdowns in a game by a Wisconsin True Freshman since James White Scored Four Touchdowns against Austin Peay in 2010.
Wisconsin Fullback Austin Ramesh said: "Taylor was just like me when I came-in and Stepped-Up, when I realized that I could be an Instant Contributor this year and had already contributed a couple Bi-Plays."
Taylor followed a 64-yard Touchdown Run with 10 Minutes left in the First Quarter against Florida Atlantic with an Unbelievable Game Highlight-Reel with an Unbelievable 29-Yard Run as he completely Bowled-Over at least Three Would-Be Tacklers on that play. – 223-Yards Rushing
Wide Receiver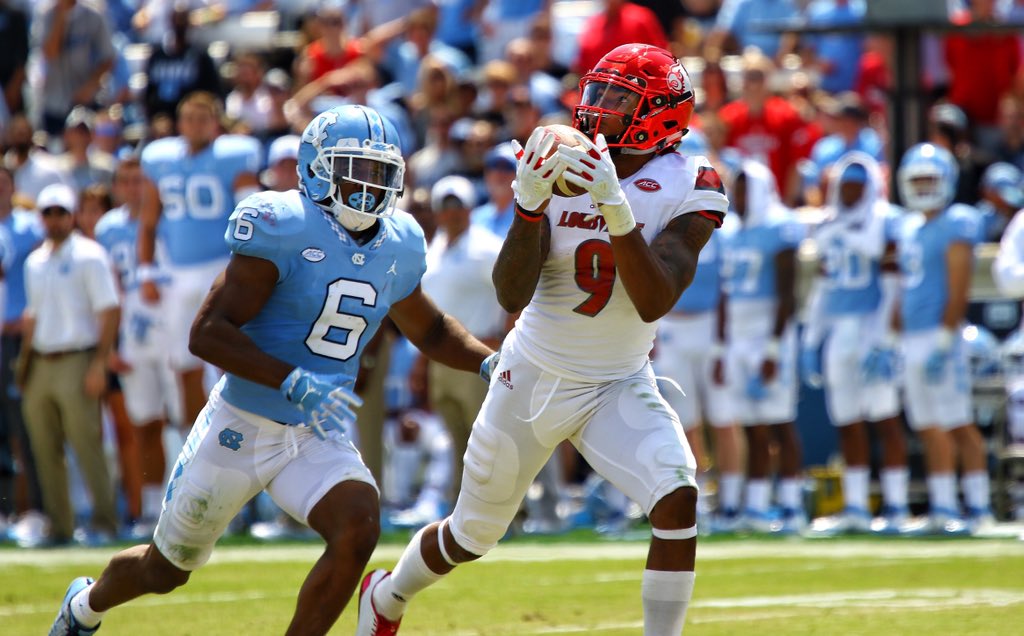 1. Wide Receiver Jaylen Smith (#9) – Louisville
Junior Super-Star Wide Receiver Jaylen Smith (6-4, 220, 4.44) of Pascagoula, Mississippi was Sensational again for the Second Week in the 2017 Football Season. On Saturday, Smith Caught Nine Passes from Quarterback Lamar Jackson for a Career-High 183-Yards and a Touchdown.
SIDEBAR: In the Photo Above, there are Two Louisville Players who are Potential NFL #1 Draft Choices, including Wide Receiver Jaylen Smith (#8) and Quarterback Lamar Jackson (#9). This Incredible Passing Combo is Virtually Unstoppable.
In the First Game of 2017, against Purdue, Smith Caught 8 Passes for 117-Yards and a Touchdown and he now has 17 Catches for 300-Yards and Two Touchdowns and with a Great 17.6-Yards Per Catch Average. With these Two Outstanding Games, Jackson and Smith has Helped Lead the Cardinals to Rank #5 in the Country in Total Offense with an Unbelievable 614.5-Yards Per Game Average.
Smith also Recorded his Third-Career and second-straight 100-yard receiving game. His 300-Yards Receiving are the most by a Louisville Wide Receiver in the First Two Games of a Season, Surpassing the 251-Yards by Harry Douglas in 2007. The Beautiful Smith Touchdown Against The Tar Heels also came on a Career-Long 75-Yard Reception.
His 183-Yards Receiving are the Most by an ACC Wide Receiver in a game in the 2017 Football Season. – 183-Yards Receiving
Bi-All-Purpose Backs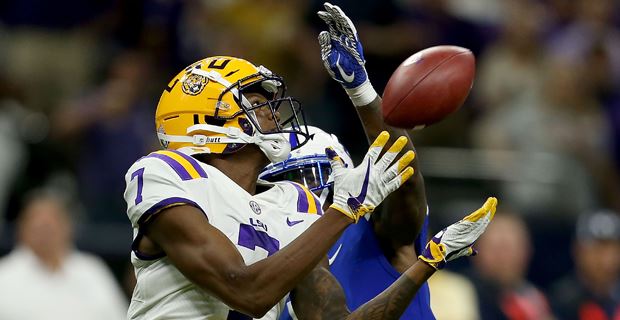 1.  All-Purpose D.J. Clark (#7) – LSU
LSU Super-Star All-Purpose Wide Receiver and Return Man, D.J. Clark, was Really Impressive in the Saturday Game in the Great 45-10 Victory over Chattanooga. Notice that Clark is Wearing a Familiar #7 in 2017, after All-American RB Leonard Fournette wore #7 in 2016.
In this Game Against Chattanooga, Clark (6-3, 190, 4.37) Caught Three Passes for 103-Yards and Returned Two Punts for 73-Yards, including an Incredible 65-Yard Punt Return for a Touchdown, giving him an Unbelievable 176-Yards of All-Purpose Yards. – 176-Yards of All-Purpose Yards
2. All-Purpose Jeff Badet (#2) – Oklahoma
The Oklahoma Sooners have one of the Top Quarterbacks in the Country with Baker Mayfield and they also have one of the Best Teams in the Country, but they also have some other Fabulous Players and All-Purpose Back, Jeff Badet, is also one of the Best Players in the Country.
In this Unbelievable Game on Saturday, the #5 Ranked Oklahoma Sooners Pulled-Off one of the Biggest Victories in Sooner History as they Beat #2 Ranked Ohio State Buckeyes by a 31-16 Score in Columbus, Ohio.
Mayfield Lived-Up to his Heisman Trophy Candidate as he Completed 27 of 35 Passes for 386-Yards and Three Touchdowns in the Victory over the Buckeyes. In that Game, Badet (6-0, 180, 4.46) was also Very Impressive as he Caught Five Passes for 82-Yards, Returned Four Kickoffs for 79-Yards, and Rushed Twice for another 5-Yards, Giving him 166-Yards of Total Offense. – 166-Yards of Total Offense
Co-Defensive Linemen
1. Defensive Tackle Jeffrey Simmons (#94) – Miss State
Jeffery Simmons (6-4, 301) of Mississippi State had an Unbelievable Game for the Bulldogs, as he was an Unbelievable, Eye-Popping, Defensive Force in Creating Total Havoc on both Defense and Special Teams in the Bulldogs 57-21 Victory over Louisiana Tech.
When was the Last Time that you heard of a 301-Pound Defensive Lineman Who Scored Two Touchdowns in an Entire Football Season, but also when was the Last Time that you Heard of a Defensive Lineman who Scored Two Defensive Touchdowns in the Same Game? Jeffery Simmons was "Flat-Outright" Sensational in the Saturday Victory as he blocked a PAT and then Blocked a Punt and Recovered it in the End-Zone for a Touchdown.
Then, in the second half, Simmons "Picked–Up" Another Fumble and Returned it 90-Yards for Another Touchdown which was The Longest Fumble-Return for the Bulldogs since 2000. For good measure, he also recorded 5 Tackles, but here's the Unbelievable Stat about this Incredible Performance. This Defensive Lineman, Simmons, Scored More Touchdowns in this Game on Saturday, than Three Other SEC Teams Scored on Saturday.
The SEC Defensive Lineman of the Week and Super Scout Max Emfinger Dandy Dozen College Players of the Week filled up the Stat Sheet against Louisiana Tech as he had an Incredible Night by Blocking an Extra Point; Blocked a Punt and Recovered it for a Touchdown; and then Picked-Up a Fumble and Rambled 90-Yards for another Touchdown. – Five Tackles, Blocked Extra Point, Blocked a Punt and Recovered it for a Touchdown, Recovered another Fumble and Raced it 90-Yards for a Touchdown, and Scored Two Defensive Touchdowns
Simmons is treating the SEC Opener against #11 LSU Tigers on Saturday Night at Davis Wade Stadium like a normal game. Kickoff is at 6:00 P.M. and you can watch the game on ESPN.
2. Defensive

End Austin

Bryant (#91) – Clemson
Clemson Junior Defensive End Austin Bryant (6-4, 265, 4.72) of Pavo, Georgia had an Incredible Four Quarterback Sacks to tie a Clemson School Record. He also had Seven Tackles Overall in the Tigers Huge 14-6 Victory over Auburn. Bryant became Only The Third Player in Clemson School History with Four Quarterback Sacks in a Game.
This Game between Clemson and Auburn was Billed as a Game Between Two of the Top College Teams in the Country and a "Sneak-Preview" of the 2017 College Playoffs. First Year Clemson Quarterback Kelly Bryant had led Clemson on an 88-Yard Touchdown Drive, just before Half-Time to give Clemson a 7-6 Lead at Half-Time. Then in the Third Quarter, Quarterback Bryant led them back on a 79-Yard Touchdown Drive for a 14-6 Clemson Lead.
This is where The Unbelievable Defensive End Austin Bryant and the Great Clemson Defense took over and "Made-Sure" that the Auburn Tigers were Never able to get to their Goal-Line Again and also "Made-Sure" that Clemson did not need any more points to Win the Game. Bryant was Pretty Much Unblockable for most of the Night, Chasing Auburn Quarterback Jarrett Stidham All-Over-The-Field.
Bryant Sacked Stidham on the Final Two Auburn Plays and Ended-Up with Four Quarterback Sacks. Bryant also led a Great Clemson Defensive Line that held Auburn to just only an Amazing 117-Yards of Total offense and just 38-Yards Rushing on 42 Attempts. Bryant was named National Defensive Player of the Week by the Walter Camp Foundation on Sunday. – Four Quarterback Sacks and Seven other Tackles
Co-Free Safeties
1. Free Safety

Kendall Adams

(#21) –

Kansas State
Most Football Players like to play Offense, instead of Defense, because it is Very Difficult to Score a Touchdown, while playing on that Side of the Football. Kansas State Super-Star Safety Kendall Adams had Never scored a Defensive Touchdown, while playing Defense for the Wildcats. So the Game against Charlotte was of Great Importance to him, because in that Game, Adams was able to Score an Incredible Two Defensive Touchdowns.
In the First Quarter, Junior Adams Picked-Off a Charlotte Quarterback Hasaan Klugh Pass and Returned it 30-Yards for a Touchdown and gave The Wildcats a 21-0 Lead. Then, on the next Drive, Charlotte was able to Score a Touchdown, but Kansas State then came back with a Field Goal, and the Wildcats still maintained a 24-7 Lead.
Then Two Charlotte Drives later, another Unbelievable Situation Happened and Adams took Full-Advantage of that Situation. On that Play, Klugh Fumbled and Adams Picked-Up the Fumble and Raced 46-Yards for Another Amazing Defensive Touchdown. This Touchdown gave the Wildcats a Commanding 31-7 lead and they Never Relinquished that Lead and Finished with a Very Impressive 55-7 Victory. – Interception Return for a Touchdown, Fumble Recovery for a Touchdown, and Two Defensive Touchdowns
2. Free Safety Tyree Kinnel (#23) – Michigan
With Ten Quarterback Sacks and Eight Quarterback Hurries, the Michigan Wolverine Defense is On the Verge of Becoming a Really Great Defense in the Big-10 after Two Outstanding Games in the 2017 season. This Defense has also already Scored Three Touchdowns.
Michigan Super Junior Free Safety Tyree Kinnel had an Incredible Game on Saturday in The Wolverines 36-14 Victory over Cincinnati as he Returned an Interception 28-Yards for a Touchdown, had a Quarterback Sack, another Tackle for a Loss, and led the Wolverines in Tackles with Nine Tackles, of which Eight of those Tackles were Solo Tackles.
What made this Game Very Special for Kinnel (5-11, 210, 4.5) of Wayne Huber Heights, Ohio was the Fact that his Interception was the First of his Career, as was the Tackle for a Loss and Quarterback Sack.
The Last Michigan Defensive Player to Receive The Big-10 Defensive Player of the Week was Jabrill Peppers on September 19, 2016.
Linebacker Noah Furbush also Recovered a Fumble for a Touchdown in the Fourth Quarter of the Wolverines' 33-17 win over Florida. Both Safety Tyree Kinnel and Cornerback Lavert Hill each had Pick-Sixes in a 36-14 win Saturday over Cincinnati.
In addition to his First Career Interception and Touchdown, Kinnel was not the only Defensive Back that was Outstanding. So were fellow Cornerbacks, Sophomore David Long (5-11, 187, 4.5) and Senior Brandon Watson (5-11, 200, 4.5) were Outstanding. – Returned an Interception 28-Yards for a Touchdown, had a Quarterback Sack, another Tackle for a Loss, and Nine Tackles