–
The Ohio State Buckeyes Have Just Signed Some  Phenomenal Spread Offense Player Personnel!
By Super Scout Max Emfinger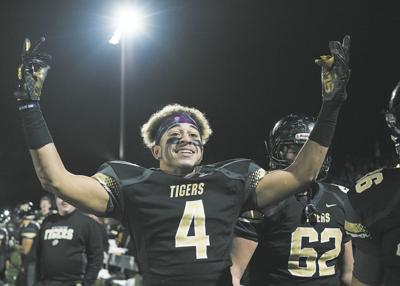 This 2020 Recruiting Class of Wide Receivers is Incredible. I Know That There Have Been Other Recruiting Classes With Incredible Receivers, but This Recruiting Class is Just Phenomenal and The Ohio State Buckeyes Signed Possibly The #1 Wide Receiver in The Country With The Phenomenon Freak Julian Fleming (#4) of Catawissa Southern Columbia, Pennsylvania. This Freak is a Guaranteed NFL #1 Draft Choice.
Fleming (6-2, 200, 4.3, 43, 4.0, 132, 15) Has Recorded Astronomically High and Incredible Speed and Athletic Measurables With Probably THE #1 MEARS RATING In The 2020 Class and He Finished His Senior Football Season With 72-Pass-Catches For 1,582-Yards and 22 Touchdowns as He Helped Lead His Southern Columbia Tigers To-Win Their 10th Pennsylvania Interscholastic Athletic Association 2A State Championship.
This Sounds Pretty Good, but The Incredible Part of Julian Fleming is The Fact That Fleming Also Broke The Pennsylvania Career Touchdown Record With 77 Touchdowns and The Career Pass-Receiving Yards Record With 5,514-Yards. With This Incredible Senior Season and These Two Career Pass-Receiving Career Records, Fleming Was Also Named As The Pennsylvania Player of The Year and Also The Pennsylvania Gatorade Player of The Year. 
With His Great Talent in Football, He is Also a Very Talented Player on The Hardwood and Also on The Track. The Day After Leading His Football Team To The Football State Championship in December, Fleming Was in The Gym Practicing With The Hoops Team.
"On Friday, Fleming Walked-Off The Football Field! On Sunday, We Practiced and Then He Played on Monday at Mahanoy Area and He Scored 11-Points!" Said Basketball Coach Pete Long. Fleming Made The Quick Transition From Football to Basketball as He Was The Basketball Team Leading Scorer With a 19-Point Average and 9 Rebound Average Per Game.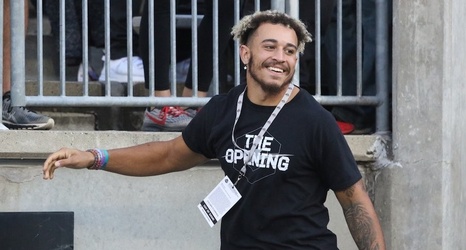 On His Highlight Film, Fleming (In Photo) is an Absolute Freak. He Has Incredible Blazing Speed. I Mean, He is So-Fast, He Makes Defenders Look Like "Slow-Pokes" When They Are Trying To Catch Him.
On One of His 77 Touchdown Catches, Fleming Caught A Short Quick Slant Pattern and Was Facing Four Defenders and Then Raced 75-Yards For The Touchdown. On This Particular Play, Fleming Made The Defenders Look Like "Slow-Poke" Junior High Players as They Were Approaching The 25 and 20-Yard Line as He Crossed The Goal Line.
On Another Play, Fleming Caught another Short Pass in The Left Flat and Out-Raced Four or Five Defenders, Untouched, For a 53-Yard Touchdown. Also On His Highlight Film, Fleming Made Numerous One-Handed Catches.
The Ohio State Buckeyes Signed Julian Fleming, Because He Can Help Them To-Win The Big-10 Championship and Also The National Championship. The Buckeyes Will Also Not Be Able To Keep Fleming Off of The Football Field in The 2020 Football Season, but That is a Great Thing For The Buckeyes and Their Quarterback Justin Fields and Head Football Coach Ryan Day.
With Heisman Trophy Candidate Justin Fields at Quarterback and Super Sophomore X-Wide Receiver Garrett Wilson and Super Z-Wide Receiver Chris Olave as Potential Starters, Along With Fleming, Fields Should Be One of The Most Excited Football Players in Athens, Ohio. Then, With Two of The Greatest Tight Ends in The Country, on The Same Team, in Luke Farrell and Jeremy Ruckert, Fields and Day Should Be Unbelievably Ecstatic.
Here is Another Unbelievable Absolute Football Freak. Paris Johnson, Jr (#77) is a Huge and Incredibly Athletic Offensive Left Offensive Tackle Who Recorded An "Unprecedented" and "Unheard-Of" 120 Pancake-Blocks as a Senior at Cincinnati Princeton, Ohio High School. This Guy is One of The Ohio State Buckeyes Most Unbelievable and Most Promising Incoming Freshman and Also With Another Astronomically High and Incredible Measurables With Probably One of The Top 5 MEARS RATING In The 2020 Class.
Johnson Was Awarded an Amazing Two Awards at The All-American Bowl Game. At This The All-American Bowl Game, Offensive Left Tackle Paris Johnson (6-6, 290, 5.0, 32.5, 4.53, 118, 30) Was Awarded The Anthony Munoz Lineman of The Year Award and Also Man of The Year Award. The latter Award Was Awarded To The Ohio High School Player Who Most Epitomized "A High Standard of Excellence in Community Service and Athletic Distinction" For an Ohio High School Football Player. 
The NBC Broadcast Crew Explained Why Johnson (In Photo With Mom Monica Johnson) Started The Paris Johnson Jr Foundation, Which Helps Young Athletes and Disabled Veterans.
"I Hold A Very Special Place in My Heart For Our Veterans, Because of Their Sacrifices That Allow Me To-Play Football." Said Johnson. "I Also Love Giving-Back To Kids, Because I Feel Like My Whole Life That People Have Invested in Me as far as Helping Me With My Training, With My Education and Always Making Sure I Had Extra Resources to Always Compete in The Classroom and Compete on The Football Field. I Would Like T0-Do The Same Thing For Other People."
The West All-American Bowl Game Team, Also Included Ohio State Buckeye Incoming Freshman OT Paris Johnson, Jr, Quarterback C.J. Stroud, Wide Receiver Gee Scott, and Free Safety Lathan Ransom. They Pulled Away for a 33-20 All-American Bowl Game Victory Over The East All-American Bowl Game Team, That Also Included Ohio State Buckeye Incoming Freshman Outside Linebacker Cody Simon and Offensive Tackle Josh Fryar.
The Incredible Paris Johnson, With Incredible Measurables, Including a 5.0 Flat Forty, a 32-5 Vertical Jump and a 4.53 Pro Shuttle, Has All of The Tools To Be a Prototypical Left Offensive Tackle For The Buckeyes and He is Already Projected as a 2023 #1 Draft Choice, Along With Julian Fleming.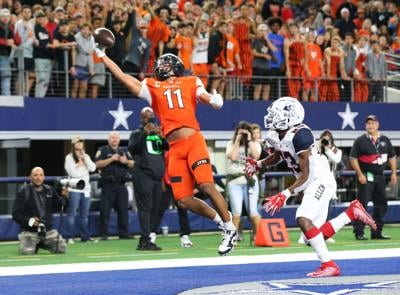 I Seriously Do Not Know What Ohio State Buckeye Head Football Coach Ryan Day is Going To-Do With All of These Absolute Wide Receiver Freaks. By Signing Julian Fleming, The Ohio State Buckeyes Signed A Wide Receiver Who Might Not Only Be The #1 Freshman Wide Receiver in The Country in 2020, But Also The #1 Player in The 2020 Class, but The Buckeyes Also Signed Another Wide Receiver From Texas, Named Jaxon Smith-Njigba (#11), Who Could Also Vie For That Wide Receiver #1 Honor.
Smith-Njigba (6-1, 188, 4.42, 36, 4.01, 126) is Definitely Not a Complete Total Speed Freak Like Fleming, But He Matches Fleming in Freaky Quickness With His Sensational 4.01 Pro Shuttle, His Pass-Catching Stats, and His One-Handed Catches Are Compatible With Fleming. One Other Thing To Consider Between These Two Wide Receiver Freaks is Their "Mind-Boggling" Games With Incredible Stats.
On The First Play of His Highlight Film, Smith-Njigba Ran a Quick Slant, Catches The Quick-Pass and Races, Untouched, 75-Yards For a Touchdown. Then He Ran Two More Quick Slants For 65-Yard and 70-Yard Touchdowns. In a Texas Playoff Game in The Dallas Cowboys Texas Stadium, Smith-Njigba Caught Passes For 325-Yards and 4 Touchdowns and Then in Another Major Playoff UPSET, He Made 6 More Touchdown Pass-Catches.
Fleming (6-2, 200, 4.3, 43, 4.0, 132, 15) Finished His Senior Football Season With 72-Pass-Catches For 1,582-Yards and 22 Touchdowns and Helped Lead His Southern Columbia Tigers To-Win Their 10th Pennsylvania Interscholastic Athletic Association 2A State Championship; While Smith-Njigba Finished His Rockwall Career With 5,384-Yards Receiving With a Mind-Blowing 82 Touchdown Pass-Catches in 44 Games.
As a Senior, Smith-Njigba (#11) Had Had An Incredible 109 Pass-Catches For 2,132-Yards, Giving Him a 19.5 Yards Per Pass-Catch Average and a 152.3-Yards Per Game Average and 35 Touchdowns; Along With His 5,384-Yards Pass Receiving and With a Mind-Boggling 82 Touchdowns in 44 Games. Some of His Various Honors and Awards Included All-District MVP, Texas 6-A All State First Team, Texas Football Super Team All-State Team, The All-American Bowl Team, and The Texas Gatorade Player of The Year. 
Smith-Njigba Was Also One of The Most Incredible Super-Stars in an Unbelievable Story in The Texas 6A Football Playoffs in The 2018 and 2019 Football Season. As a Junior, in 2018, Against Allen High School in a Texas 6A Playoff Game, Smith-Njigba Caught 14 Passes For 267-Yards and 3 Touchdowns, but Rockwall Still Lost in a Devastating Defeat.
Then As a Senior, in 2019, The Same Two Teams Were Facing Each-Other in Another 6A Semi-Finals Playoff Game. This Semi-Finals Game Was Played in The Dallas Cowboys Texas Stadium, as You Can See in The Photo Above. In This Game, Jaxon Led His Rockwall Team To An Incredible 60-59 UPSET Victory Over Allen and in This Game, Smith-Njigba Caught Another 15 Passes For 252-Yards and 5 Touchdowns, Plus a Sixth One on a One-Yard Run.
The Thing To Remember About This Allen High School Football Team is That They Had Already Won The 6A Texas Football State Championship in 2008, 2013, 2014, 2015, and 2017. They Had Also Made it To The Semi-Finals Game in The Last Seven Years.
So Here We Are With 1:23 Minutes Left In The Game, and Rockwall Has Just Scored a Touchdown, but They Are Still Losing 59-58. Being Only One-Point Behind, Rockwall Could Kick The Extra Point and Then Go-Into Overtime, but Rockwall Head Coach Rodney Webb Did Not Want To Play Allen in an Overtime. "I Did Not Want To Play a Team Like Allen, Who Had Already Won Five State Championship and Been in The Last Seven Semi-Final Playoff Games. "I Decided To-Go For Two-Points and The Win," Said Coach Webb.
So Rockwall Went For The Two-Point Conversion, on a Very Special Play, and Scored The Winning Two-Point Conversion and Were Off To The Semi-Finals. On That Particular Two-Point Winning Play, Smith-Njigba Was on The Bench With Severe Cramps After Running "Up-And-Down" The Football Field All Night in Leading Rockwall To Their UPSET Victory. He Also Had Made Two Incredible Pass-Catches For First Downs on The Winning Touchdown Drive.
Obviously, Smith-Njigba Will Play Wide Receiver For The Ohio State Buckeyes. He Probably Will Play a Z-Receiver, The Same Position of Chris Olave and Austin Mack; While Fleming Will Probably Play as an X-Receiver With 2019 Super Freshman Garrett Wilson. Both Fleming and Smith-Njigba Have Already Enrolled in Classes and Will Go Through 2020 Spring Training. By Going Through Spring Training, They Will Obviously Have an Outstanding Head Start in Becoming an Ohio State Super Freshman.
This is Also The Greatest Class of Wide Receivers in The History of The Ohio State Buckeyes. Fleming, Smith-Nijgba, and Gee Scott All Played With Quarterback C.J. Stroud in The Elite 11 7on7 Camp In The Dallas Cowboys Stadium in Frisco, Texas. Along With Mookie Cooper, All Four Receivers Will Become The Greatest Quartet of Wide Receivers Ever Signed By The Ohio State Buckeyes. Stroud Will Use Them To-Win Several Big-10 Championships and Maybe a Buckeye National Championship.
SIDEBAR I: After Evaluating The First Three Ohio State Buckeye Incoming Freshman Recruits, It is Unbelievably Obvious That New Ohio State Buckeye Head Coach Ryan Day Not Only Signed a Top Five Recruiting Class In His First Full-Recruiting Cycle, But Coach Day Looked Like He Evaluated These Football Freaks With a Similar Rating System As My MEARS RATING SYSTEM, Because They All Have Recorded Unbelievably Incredible Super Combine Measurables. Fleming Ran a 4.0 Flat Shuttle, Smith-Njigba Ran a 4.01 Shuttle, Scott Ran a 4.12 Shuttle, and Cooper Ran a 4.07 Shuttle.
One of The Reasons That I Founded The First National High School Football Recruiting Service in 1979, Was Because of The Unbelievable Politics in The College Football Recruiting Wars. There Were Too Many Incredible Super Freaks That Were Never Able To-Get on Early College Recruiting Lists, Just Like in The Unbelievable Case of This Incredible Ohio State Buckeyes Quarterback C.J. Stroud (#16) in The Photo.
Stroud Had a Great Season as a Junior For Rancho Cucamonga High School in California, but For Some Crazy Political Reason He Was Never Able To Get on Most of The Major Recruiting Lists in The Spring, Until, In The Middle of July Before His Senior Season, And He Was Invited To The Elite 11 7on7 Camp In Dallas Cowboys Stadium in Frisco, Texas. The 2019 Elite 11 7on7 Camp Wrapped-Up Their 7on7 Three-Day Events and The Event Organizers Selected Their 2019 Elite 11 7on7 Camp MVP Award To Their Top Performers.
Super Quarterback C.J. Stroud Was Awarded as The #1 Quarterback After Leading His "Team Savage" To Victory In The 2019 Elite 11 7on7 Championship Game Competition. If You Adjust His Completion Percentages After Dropped-Passes, Stroud Had An Incredible 81% Completion Rate of 81% of His Passes. Stroud Also Led The 2019 Elite 11 7on7 Camp In Touchdown Passes With 12 Touchdowns. Stroud  Was Not Just "Dinking" and "Dunking" With His Passes, As He Mixed-Up His Passes, As He Completed Passes all Over The Field With Various Short and Long Pass Routes.
Before This Unbelievable Performance in Dallas Cowboys Stadium, Stroud Was "Flying Under The Recruiting Radar" To Most College Coaches in America and Although "The Various Recruiting Services" Moved Him From a 3-Star To a 4-Star; When He Won This 2019 Elite 11 7on7 Camp MVP Award, "These Various Recruiting Services" Should Have Moved Him To a Deserving 5-Star Rating; But Stroud Still Remained as a Relative Unknown Recruit.
Then, as a Senior, Stroud Completed 265 of 402 of His Passes for 3,878-Yards and an Incredible and Amazing 47 Touchdowns. He Then Received a Scholarship Offer from The Michigan Wolverines, after Michigan Head Football Coach Jim Harbaugh Watched Him Lead Rancho Cucamonga To a 49-14 First Round Playoff Victory over Murrieta Valley. The Ohio State Buckeyes Had Offered in Early October; While The UCLA Bruins Had Offered in November; and The Southern Cal Trojans Offered Him in Early December.
After This Incredible Football Season, With 3,878-Yards Passing And 47 Touchdowns, It Was Not a Difficult Decision For The Sun/Bulletin In Selecting Their Offensive Player of The Year. With This Classic Season of The Ages, Stroud Also Displayed His Incredible Talent and Became One of The Top Two Dropback Quarterbacks in The 2020 Recruiting Class.
Another Incredible Special Intangible of Stroud is His PHD-Level Football IQ, And His Willingness To-Watch More Film Than a Star Wars Junkie and an Unbelievable Work Ethic. In Getting Stroud, The Buckeyes Were Getting a Legitimate Top-100 Talent and One of The Best Passing Quarterbacks.
The Ties Between C.J. Stroud, Dwayne Haskins, and Justin Fields are Very Strong, both On The Field and Off The Field. Intangibly, Stroud Is a Little Lighter Than Coach Day Likes in a Quarterback, But His Height is Exactly Comparable To Both Haskins and Fields. Stroud Also Has Worked Closely with Quarterbacks Coach Quincy Avery, Who has Also Trained Haskins and Fields. All of This Points Toward a A Highly Talented Quarterback Prospect That Will Have a Great Opportunity To Step Into an Ohio State Buckeyes Starting Quarterback Position as a True Sophomore or Redshirt Freshman.
Offensive Center/Guard Luke Wypler (6-3,5, 285, 4.82, 32, 4.62, 114, 30) Is One of Three Ohio State Buckeye Incoming Freshmen That Were Ranked as The #1 Player In Their Respective States. The Other Two Besides Wypler (In Photo) Were Julian Fleming of Pennsylvania and Paris Johnson of Ohio.
Luke Wypler Was One of The First Ohio State 2020 Incoming Recruiting Class To Commit When he Committed in July of 2018. Wypler is a Great Athletic Offensive Lineman Who Has Played Tackle, But Will Move To Either Center or Guard. He Also Has Incredible Measurables For An Offensive Lineman With An Outstanding 4.82 Forty, a 32 Vertical Jump, and a Great 4.62 Pro Shuttle or Better.
Wypler Has Been Compared Favorably With Seattle Seahawks Center Max Unger. He is Very Strong With a 400 Pound Bench Press, a 600-Pound Squat, and a 600-Pound Deadlift. On His Highlight Film, He Is Incredible in Exploding of The Line of Scimmage and Sustaining Blocks Down The Field.
He Has Great Experience a a Three-Year Starter in Playing Against Top, Talented Teams. His Team Faced a lot of Unbelievably Difficult and Talented Competition Against In-State Powers, Including Paramus Catholic, Bergen Catholic, and Don Bosco Prep.
Going into The Opening Finals, The Ohio State Buckeyes Ohio State's Wide Receivers Were Going To Be Incredible and The Most Impressive of All of The Receivers. That is What The Incredible Trio of Julian Fleming, Jaxon Smith-Njigba, and Gee Scott (#82) Did on Monday of Day One To Impress All of The Coaches, players, and Scouts. 
The participants were first put into individual drills, where the receivers specifically worked on footwork with ladders. Then former NFL receiver Curtis Conwy ran them through various route trees without defensive back across from them. Gee Scott Jr. led the way through those route trees, and he and Julian Fleming really wowed spectators with their athletic plays on passes and matured body control.
But once the one-on-one portion began, when defensive backs began to line up in front of the wideouts, all of the receivers showed off.
Scott Jr. excelled at passes thrown over his back shoulder along the sideline and making the difficult catches in the corner of the endzone or along the sideline. His hand size stood out with the way he was able to catch the ball away from his body and maintain control.
Fleming showed off his speed and preciseness in his route-running to force separation. He won every go route he ran.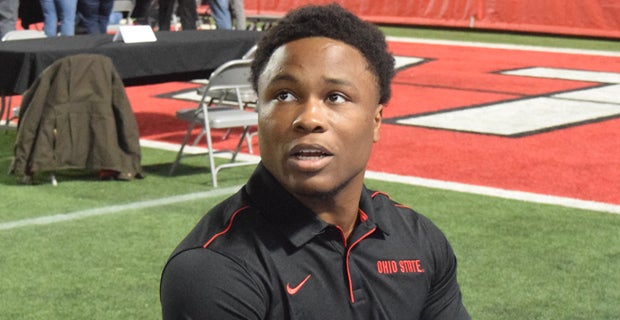 An Unbelievable Fact is That All Four Ohio State Buckeye Freshmen Wide Receiver Freaks, Including Julian Fleming, Jaxon Smith-Nijgba, Gee Scott (82), and Mookie Cooper (In Photo Above); Along With Super Quarterback C.J. Stroud and Super Offensive Tackle Paris Johnson Have Also All Enrolled Early and Will Go Through Spring Training and Be-Ready For The 2020 Football Season. In Fact, 14 Buckeye Freshmen Have Already Enrolled in Buckeye Classes. Slotback Cooper Did Not Play as a Senior, Because of Transferring Problems, But He Was Great as a Junior With 29 Pass-Catches For 869-Yards, 9 Touchdowns, and an Incredible and Eye-Popping 29.96-Yards Per Pass-Catch Average.
THE OHIO STATE BUCKEYES  INCREDIBLE

TOP 20 MEARS RATINGS
3,179.35 Average
Freak on His Highlight Film = FF
PLAYER                                                   HT WT  Forty  VJ Shuttle SBJ  Reps MEARS
WR Julian Fleming, S Columbia, PA (6-2, 200, 4.3, 43, 4.0, 132, 15) FF   3,350
OT Paris Johnson, C. Princeton, OH (6-6, 290, 5.03, 32-5, 4.53, 118) FF  3,33o
WR Jaxon Smith-Njigba, Rockwall, TX (6-1, 200, 4.42, 36, 4.01, 126) FF 3,310
OC/OG Luke Wypler, Montvale, NJ (6-3.5, 285, 4.82, 32, 4.62, 114) FF     3,306
Pass QB C.J. Stroud, Cucamonga, CA (6-4, 195, 4.78, 28, 4.62, 110) FF     3305
FLK Gee Scott, Bellevue E. Cath,WA (6-3, 207, 4.52, 39, 4.12, 128) FF       3,300
SLOT Mookie Cooper, Pattonville, MD (5-10, 195, 4.42, 38, 4.07, 126) FF3,269