–
THE THREE FINALISTS FOR THE FRED BILETNIKOFF WIDE RECEIVER AWARD
Ja'Marr Chase, CeeDee Lamb, and Michael Pittman, Jr
WR Ja'Marr Chase LSU (6-1, 200, 4.38, 38, 4.09, 132, 10)   2,950 MEARS RATING
WR CeeDee Lamb OU (6-2, 191, 4.33, 38, 4.2 128, 10)
2,942 MEARS RATING
WR Michael Pittman USC (6-5, 225, 4.4, 36, 4.22, 126, 15) 2,925 MEARS RATING




WR Ja'Marr Chase LSU Against VANDY – 10 Catches For 229-Yards and 4 TD
WR Ja'Marr Chase LSU Against ALA – 6 Catches For 140-Yards and 1 TD
WR Ja'Marr Chase LSU Against MISS – 8 Catches For 227-Yards and 3 TD
WR Ja'Marr Chase LSU Against ARK – 6 Catches For 144-Yards and 2 TD
WR Ja'Marr Chase LSU Against A&M – 7 Catches For 197-Yards and 2 TD

WR CeeDee Lamb OU Against SDAK – 6 Catches/Ret For 167-Yards and 1 TD
WR CeeDee Lamb OU Against TXT – 7 Catches/Ret For 194-Yards and 3 TD
WR CeeDee Lamb OU Against TEXAS – 10 Catches For 181-Yards and 3 TD
WR CeeDee Lamb OU Against ISU   – 8 Catches/Ret For 195-Yards and 2 TD

WR Michael Pittman USC Against UTAH – 10 Catches For 232-Yards and 1 TD
WR Michael Pittman USC Against COL – 7 Catches For 156-Yards and 2 TD
WR Michael Pittman USC Against ASU – 13 Catches For 146-Yards 
WR Michael Pittman USC Against CAL – 11 Catches For 180-Yards and 2 TD
WR Michael Pittman USC Against UCLA – 13 Catches/Ret For 166-Yards/2 TD        
JA'MARR CHASE –

LSU TIGERS
The SUPER SOPHOMORE FREAK Ja'Marr Chase Was Sensational in Teaming With Joe Burrow in Leading The LSU Tigers To a 50-7 Victory Over The Texas A&M Aggies and Finish Undefeated With a Perfect 12-0 Record. In This Final Regular Season Game, Chase Caught 7 Passes For 197-Yards and 2 Touchdowns, Including an Incredible 78-Yard Touchdown. The 197-Yards and 2 Touchdowns Gave Chase 17 Touchdowns and 1,457 Pass Receiving For The Season, and Added To His LSU School Record that The Fred Biletnikoff Award Finalist Broke Two Weeks Ago. Chase Now Has 1,457-Yards Receiving.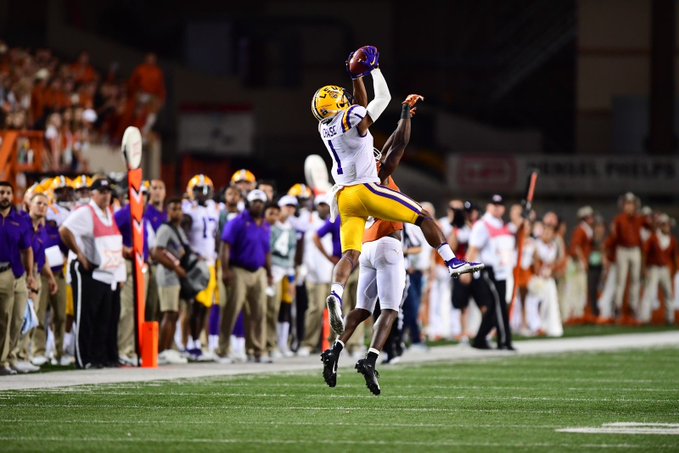 In Watching Ja'Marr Chase (#1) Play In-Person and Watching Him on His Highlight Film, The First Words That Comes To My Mind Was THE FREAK. Over-And-Over, Chase Continues To Make Huge "Big-Plays" and He Makes Them All Look Simple, And With Chase, Everything Looks Really Smooth.
In 2017, Rummel High School Had a Phenomenon Wide Receiver and So I Evaluated Him on His Rummel Highlight Film and I Quickly Agreed With All of The Other College Scouts and College Coaches, but I Wanted To See Him Play In Person, So on a Very Special Friday Night, I Drove To Metairie,
I Can Not Remember Who Rummel Was Playing, That Friday Night, but Chase Did not Disappoint Me as he Was a TOTAL FREAK in Catching The Football and Returning Kickoffs. I Remember That In This Game, Chase Caught Two Touchdown Passes and Returned a Kickoff for Another Touchdown. I Will NEVER FORGET That He Had Close To 300-Yards of Total All-Purpose Offense.
Chase Finished his Senior Season at Rummel High School With Single-Season Records of 61 Receptions and With 1,011-Yards of Pass Receiving Yards, and 15 Touchdowns Pass Catches. It Was The First 1,000-Yard Season Recorded by a Rummel Raider Wide Receiver. He Also Finished as The Rummel Career Leader in Pass Receptions, Pass Receiving Yards, and Touchdowns with 115 Catches For 2,152-Yards and 30 Touchdowns.
Chase Had Around 30 Scholarship Offers and He Played in The Under Armour All-American Football Game and So Almost Every D-1 Team in The Country Wanted Him. I Also Remember That Chase Recorded a Sensational 4.09 In The Short Pro Shuttle, Which Demonstrates an Unusually Amount of Great Quickness For any Player Weighing Over 200-Pounds.
Chase Also Was a Great Track Athlete and He Used His Great 4.09 in The Shuttle to His Great Potential and Advantage in The Sprints and Relays and He Also Was a Tremendous Long-Jumper with a Career-Best of 24-2 Feet as The State Long Jump Champ. Chase also Recorded a 4.38 in The Forty and an Outstanding 38 Vertical Jump To-Go With His Sensational 4.09 Shuttle.
Initially, The Auburn Tigers Were Thought To Be In The Lead For Chase and In Fact, He Had Originally Been Committed To The Florida Gators and Not The LSU Tigers. Chase De-Committed From The Gators in November, Just After The Gators Opted To-Move-On From Head Coach Jim McElwain.
Then, It was February 2, 2018 and The National Signing Day Was Only a Few Days Away on Tuesday, and The LSU Tigers Coaching Staff Did Not Want To-Allow One of The Top High School Wide Receivers In The Country To Leave The State and Sign With Another College Team Out-Of-Their-Own-Backyard.
Ja'Marr's Dad, Jimmy Chase Answered His Phone One Day and He Heard The Distinct Voice: "Jimmy, Get Your Family Ready! The Whole LSU Tigers Coaching Staff Are Coming."
Shortly, After That Phone Call, The LSU Tigers Limousine Bus Stopped in Front of The Ja'Marr Chase, New Orleans Home And An LSU Tigers SUV Parked Just Behind The LSU Tigers Limousine Bus; And Out-Stepped The LSU Tigers Head Football Coach Ed Orgeron. Then, The LSU Tigers Limousine Bus-Door Opened and Nine LSU Tiger Assistant Coaches Followed Head Coach Ed Orgeron Into The Ja'Marr Chase House!
Coach Orgeron Spoke First, and Then One Coach After Another, as Each LSU Tiger Coach Gave His Recruiting Piece To Ja'Marr Chase and His Dad. Even LSU Tiger Defensive Coordinator Dave Aranda, known for Being Very Reserved, told Chase That The LSU Tigers Defensive Coaching Staff  Could Not Find Anyone Who Could Stop Him at The LSU Tigers Recruiting Camps.
On February 7, On National Signing Day, Chase Signed With The LSU Tigers and Not The Auburn Tigers or The Florida Gators and his Father said That The LSU Tigers All-Hands-On-Deck-Visit Was The Main Reason.
In 2019, Against Vanderbilt, Chase Was The Main Target of The Heisman Trophy Favorite Quarterback Joe Burrow as He Caught an Incredible 7 Passes for 199-Yards and an Amazing 3 Touchdowns in The First Half, Including a Beautiful 64-Yard Catch and run for a Touchdown; plus another 51-Yard Touchdown. Chase Ended This Game With a Career-High 229-Yards Receiving and Another Career-High 4 Touchdown Catches in The 66-38 Victory Over The Vanderbilt Commodores.
Apparently, The Vanderbilt Commodores Did Not Learn Their Lesson After The First Quarter of Play. A Quarter after The LSU Tigers Wide Receiver Ja'Marr Chase Demonstrated His 4.09 Short Shuttle Super Quickness as he Turned-On His Incredible Speed and Quickness For a 64-yard Touchdown Run and Then Crushed Them Again on His 51-Yard Touchdown Run.
In That First Half Where Chase Caught 7 Passes For 199-Yards, and Where Every Single One of His Touchdown Catches of 25, 51, and 64-Yards Would Make The LSU Tigers Highlight Reel, The Tigers Ran Away With a 38-17 Lead Against The Commodores in Nashville.
The First Touchdown Catch For Chase Came on a Great Catch and Run with about 8:46 Remaining in The First Quarter. Chase Caught a First-Down Pass at the 50-Yard Line and He Was Incredible as He Made a Multiple of The Vanderbilt Defenders Miss-Him and Then He Sprinted Into The End-Zone to give The LSU Tigers a 14-7 Lead.
Later in The First Quarter, Burrow Hit Chase Again With a 25-Yard Catch, But Chase Made an Unbelievable Catch in The Corner of The End-Zone With Several Vanderbilt Defenders Again All Over Him For The Touchdown, but The Great Catch Gave The LSU Tigers a 28-7 Lead.  
With His 4 Touchdown Catches Against The Vanderbilt Commodores, Chase Tied The LSU Tigers Record With Tony Moss For Touchdown Catches in The Same Game. At This Point, in The 2019 Football Season, Chase Ranked 11th in The Country in Yards With 20 Catches For 397-Yards.
Three Weeks Later, Against The Ole Miss Rebels, Ja'Marr Chase (#1) Was Sensational Again as He Was Awarded The SEC Conference Offensive Player of The Week Award For His Incredible Performance in The 58-37 Victory Over The Ole Miss Rebels. In The Photo, Heisman Trophy Favorite Quarterback Joe Burrow (#9) is Congratulating His Favorite Wide Receiver After Another Incredible Game.
In This Game, Chase Became The LSU Tigers Single-Season Record-Holder For Touchdown Catches With 13 Touchdown Pass Catches. The Old Record Was Held by Dwayne Bowe With 12 in 2006.
Chase was part of an LSU Tigers Offense That Recorded an Incredible 714-Yards of Total Offense Against The Ole Miss Rebels, Which Was The Second-Highest Total in LSU Tigers School History and The Most-Ever For The LSU Tigers Offense in an SEC Conference Game. The 714-Yards also Ranked as The Third-Highest Total Offense in The SEC Conference History in an SEC Conference Game Featuring Two SEC Teams.
In This Incredible Game, Chase Caught 8 Passes For an Amazing 227-Yards and 3 Touchdowns. Every Single Catch by Chase Gave The LSU Tigers Offense a First Down or a Touchdown. Chase Also Became The First LSU Player in LSU School History With Two 200-Yard Pass Receiving Games During The Regular Season.
His 227-Yards Receiving was two shy of his Career-Best and Ranks as The Fifth-Highest Single-Game Pass Receiving Total in LSU School History. Earlier, Against Vanderbilt, Chase Had His 229-Yard Pass Receiving Game and His Four Touchdowns in The Victory Over Vanderbilt.
In The Ole Miss Rebels Game, Chase Averaged 28.4-Yards Per Catch and It Was The Fifth Time in Six Games That He Recorded Over 100-Yards Receiving. At This Time, Chase Currently Led The SEC Conference in Touchdown Pass Catches With 13 Touchdowns, in Yards With 1,116-Yards, and Pass Receiving Yards Per Game With a 124.0 Average Per Game.
The SEC Conference Player of The Week Award Was The First For Ja'Marr Chase Against The Ole Miss Rebels, But it Was The Seventh SEC Conference Player of The Week Award For The LSU Tigers. Last week, Heisman Trophy Favorite Quarterback Joe Burrow and All-Purpose Running Back Clyde Edwards-Helaire Were Co-SEC Conference Players of The Week For Their Incredible Games in The Victory Over win over The Alabama Crimson Tide.
In The Alabama Crimson Tide Game, And In The Photo, Chase (#1) Also Caught 8 Passes For 140-Yards and a Touchdown and Averaged a Great 23.3-Yards Per Catch.
CEEDEE LAMB –

OKLAHOMA
In The Fall of 2014, CeeDee Lamb (#2) Was a Frustrated High School Sophomore Wide Receiver at Richmond Foster High School in Texas. He Made The Varsity, but he Was Not Getting That Much Playing-Time. Then in 2015, With a Growth-Spurt, and in 13 Games, Lamb Caught 57 Passes for 1,082-Yards, 11 Touchdowns, and 1,227-Yards of Total Offense.
Then Again, After a Slow-Start as a Sophomore, Lamb Shocked The College-Coaching World in 2016 as He Caught an Incredible 98 Passes For 2,032-Yards and A Mind-Boggling 33 Touchdowns and Finished His Senior Year With 2,387-Yards of Total Offense With His Kickoff and Punt Returns.
After This Fabulous Senior Season, Lamb Originally Committed To The Oklahoma Sooners, but Then He De-Committed and Was Considering About 20 Other Schools, Including Auburn, Baylor, Colorado, Florida, Houston, Illinois, Kansas, LSU, Ole Miss, Tennessee, Texas, Texas A&M, and UCLA. In April, Lamb Re-Committed To The Oklahoma Sooners.
Then in 2017, as an Oklahoma Sooner True Freshman, Lamb Started 13 Games and Caught 46 Passes For 807-Yards and Scored 7 Touchdowns and Was Selected To The Freshman All-American Team by ESPN. His 807-Yards Broke The Oklahoma Sooners Freshman Pass Receiving Yardage Record.
In His Sophomore Season For The Oklahoma Sooners, Lamb Was One of The Leading Players For The Oklahoma Sooners and Their 12-2 Record Offense and in Their Playoff Appearance, as He Caught 65 Passes for 1,158-Yards and 11 Touchdowns while Starting 13 More Games. In 2018, Ceedee Also Helped The Oklahoma Sooners To Achieve Their First Season With Two Wide Receivers That Caught Passes For Over 1,000-Yards, in The Same Season. Lamb and All-American Wide Receiver Marquise "Hollywood" Brown Were The Oklahoma Sooner Record-Holders. 
In The Fourth Game of The 2019 Football Season, Against The Texas Tech Red Raiders, CeeDee Lamb was Incredible as He Caught 7 Passes For 185-Yards and 3 Touchdowns and Returned 2 Punts For Another 9-Yards, Giving Him 194-Yards of All-Purpose Yards in The Texas Tech Red Raiders 55-16 Big-12 Victory.
In This Game, Against The Red Raiders, Lamb Caught 3 Touchdown Passes and His 71-Yard Touchdown Pass Was Unbelievable as He Completely Changed Directions on Two Red Raider Defenders as He Caught The Football At Midfield and Was Heading To His Right and Then Confused Several Red Raider Defenders, on His Direction-Change, Back To His Left and on His Way Down The Left Sideline and Into The End-Zone.
"The Tackle Attempts Around His Legs and Waist Are Not't Bringing CeeDee Down Anymore," Oklahoma Sooner Head Coach Lincoln Riley said.
After This Incredible Texas Tech Game, in Which The Sooners Had 642-Yards of Total Offense and Averaged an Incredible 10.2-Yards Per Play, Lamb Had His Best Game In Oklahoma Sooner History and it Will Be His Final Season in Norman, but He Moved-Up from Ninth Place to Seventh Place in Oklahoma Sooner School History In Pass-Receiving Yards With 2,378-Yards; and He also Moved Into a Fifth Place Tie with Kenny Stills in Pass-Receiving Touchdowns with 24 Touchdowns.
Lamb Was an Outstanding Wide Receiver in 2018, but he Did Not Receive All of The Great Attention That Marquise "Hollywood" Brown Received, but he was Still Outstanding For The Oklahoma Sooners. On The Year, Lamb Caught 65 Passes for 1,158-Yards and with 11 Touchdowns. His Yards Per Catch Average Was 17.8 Yards Per Catch and it Demonstrated His Tremendous Playmaker Ability To-Produce Huge Plays For Heisman Trophy Winning Quarterbacks Kyler Murray in 2018  and Then in 2017, Lamb Also Caught 46 Passes For 807-Yards and 7 Touchdowns For Another Heisman Trophy Winning Quarterback Baker Mayfield. And Now Jalen Hurts in 2019.
After Lamb Was So Dominating in The Red Raiders Game, Two Weeks Later, in Game Six Against The Texas Longhorns, Lamb Was Again Sensational as He Caught 10 Passes For 171-Yards and 3 More Touchdowns and Another 3 Punt Returns For Another 6-Yards, Giving Him 177-Yards of Total Offense in an Oklahoma Sooner 34-27 Victory.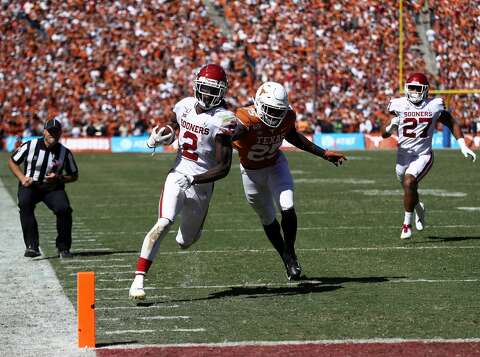 Coming into the 2019 season, Lamb (#2) was Expected to be One of The Best Wide Receivers in The Country, but he Started Slow. He Caught Only 9 Total Passes In The First Three Games, but It Seemed To Be Fine, because all of The Other Wide Receivers Were Doing Great, But Then The Huge Big-12 Game with The Texas Longhorns, Was Going To Be Different and The Oklahoma Sooners Needed CeeDee Lamb To-Be at his Best.
In The Texas Longhorns Game, The Oklahoma Sooners Were Not Able To Score Points and Light-Up The Scoreboard, Like They Had Been, Earlier in The Season, but Lamb Was Able To-Make Unbelievable Critical Plays When The Oklahoma Sooners Needed The Points The Most.
The Gigantic Plays That Lamb Made Were a 1-Yard Pass Completion on a Fourth-Down Pass on The Oklahoma Sooners Opening Drive; An Incredible  51-Yard Go-Ahead Flea-Flicker Touchdown Pass in The Third Quarter That he Weaved His Way Through Several Longhorn Defenders Into The End-Zone; and Finally a 27-Yard Incredible Acrobatic Touchdown Catch Where Lamb Actually and Incredibly Tip-Toed Down The Sideline To-Stay In-Bounds and Then Maneuvered His Way, Down The Sideline To The End-Zone To-Give The Sooners a 10-Point Lead in The Fourth Quarter.
In The Oklahoma Sooners Big-12 Victory, CeeDee Lamb Caught 10 Passes For 171-Yards and 3 Miraculous Touchdowns and He Also Returned 3 Punt-Returns For Another 6-Yards, Giving Him 177-Yards of Total Offense and 3 Touchdowns in The 34-27 Victory. All Three Touchdowns by Lamb Were Crucial in The Oklahoma Sooners Big-12 Victory.
"CeeDee is a Special Player and It Has Been Fun for The Journey of CeeDee," Oklahoma Sooner Head Coach Lincoln Riley said. "I'm Also Really Proud of All of These Guys. I'm proud of how CeeDee Lamb Played on The Big Stage."He's a Big-Time Game Player."
With The Oklahoma Defense Playing as well as it did, Most of The Oklahoma Sooner Coaches, Players, Fans Thought That The Team Would Not have Needed The Incredible Mind-Boggling Game From CeeDee Lamb, but with Two Early Turnovers in The Red-Zone, The Sooners Went Into Halftime With Only a Seven- Point Lead.
After The Texas Longhorns Tied The Game early in the Third Quarter, Coach Riley Decided To-Call For The Flea-Flicker and Lamb Caught The Pass, and Then Faked-Out Several Texas Longhorn Defenders and Sprinted Into The End Zone.
After The Red Raiders Game, and The Texas Longhorns Game, Lamb Once Again Demonstrated Why He Will Become a 2020 NFL #1 Draft Choice and By Being One of The Three Finalists For The Fred Biletnikoff Wide Receiver Award, as The #1 Wide Receiver in The Country, Lamb Will Without a Doubt, Move-Up in The 2020 NFL Draft.
After Watching and Evaluating Several Highlight Films of Lamb, I Realize That CeeDee Lamb is Another TOTAL FREAK in Catching The Football and Returning Punts and Kickoffs. I Also Remember Lamb Making Numerous One-Handed Catches in High School at Richmond Foster High School in Texas and Then Again For The Oklahoma Sooners. In Fact, Lamb Has Several Unbelievable One-Handed Catches That Are Included in "Hall of Fame" Miraculous Type Highlight Films.
At 6-2 and 191-Pounds, Lamb Will Probably Not Over-Power a Defender, but His Height and Unbelievable "Soft-Hands" Are Incredible, But He is an Outstanding Physical Route-Runner and a Totally Awesome Playmaker with the Football in his Hands. In Fact, With The Football in His Hands, His Ability To Maneuver-Around Defenders on His Way Into The End-Zone is Totally Mind-Boggling.
The Strangest Thing About CeeDee Lamb and His Speed is Weird, Because His Fastest Forty on Record is About a 4.56, but He Does Have a Lot Faster Speed Than That on His Highlight Films in High School and in College. There Are a Multiple of Highlight Plays on His Highlight Films That Are Actually Demonstrating Speeds in The 4.33 Category and Showing Him Simply Out-Running Numerous Defenders and Speeding Away From Them, on His Way Into The End-Zone.
Lamb Also Demonstrates an Unbelievable "Spin-Move" and The Incredible Ability To-Catch a Stop-And-Go Pass Pattern or a Curl Pattern and Then Do His "Spin-Move" Either Inside or Outside and Then Outrun Speedy Defenders Into The End-Zone and Against Those Speedy Defenders who are Running a 4.4 or Better and Trying To-Catch Him and Are Already Going at Full-Speed.
CeeDee Lamb (6-2, 191, 4.33, 38, 4.2, 128, 10) and With an Outstanding 2,942 MEARS RATING. You Can See That He Has Tremendous Speed and  Quickness With a 4.33 Forty and a 4.2 in The Pro-Shuttle, and Great Athletic Ability With a 38-Inch Vertical Jump and a 128-Inch Standing Broad Jump. The Only Thing That Has Slowed Lamb This Year Has Been a Head Injury that Caused him To-Miss One Game and Then He Was Limited in His Action In Another Game.
MICHAEL PITTMAN JR –

USC TROJANS
In The Spring of 2015, Michael Pittman, Jr. (#6) Was on The Westlake Oaks Christian High School Football Practice Field and Oaks Christian High School Had Just Hired a New Head Football Coach. Pittman, Jr. Was Standing and Waiting For a Pass During a Passing Drill, With His Shoes Untied and Pants Sagging, as a Pass Went Over His Head.
The New Coach, Jim Benkert, Was Watching and Although Coach Benkert Did Not Know Who Pittman, Jr. Was, He Stormed Over To His Star Wide Receiver and Issued Him an Ultimatum:  "You Will Never Play For Me," Benkert Told Pittman, "Unless You Change."
Needless To Say, Pittman, Jr Was Stunned and Shocked, as Coach Benkert Walked Back To His Coaching Staff and Was Wondering Whether He Had Made a Big Mistake.
"A Few Moments Later, I Saw Pittman Jr. Lean Down and Tie His Shoes, and I Breathed a Huge Sigh of Relief," Benkert said. "After That, He Was a Dream."
His High School Passing Stats Were Incredible After This Unbelievable First Day of Practice With His New Head Coach Benkert, as a Sophomore.
In 10 Games, as a Junior in 2014, Pittman, Jr. Had Caught 47 Passes For 914-Yards, and Had Scored 12 Touchdowns and Then in 2015, in 12 Games as a Senior, Pittman Jr. Grabbed an Incredible 81 Passes For 1,990-Yards, Had a 24.6-Yards Per Catch Average, and With 24 Touchdowns.
In His Final Two Years at Westlake Oaks Christian High School in California, Pittman, Jr. Was an Unbelievable Player. During Those Two Seasons, Pittman, Jr. Caught 128 Passes For 2,904-Yards and 36 Touchdowns. One of His Very Best Games and Best in Oaks Christian High School History Came During His Very Last Game as He Made a Huge Statement.
In That Final Game, His Final Stats Included 16 Catches For an Incredible 354-Yards and 5 Touchdowns Against Bishop Amat in The Quarterfinals of The Division I Playoffs. After This Fabulous Season, Pittman, Jr. Was Selected To-Play in The U.S. Army All-American Bowl Game, But He Suffered a broken Collarbone During Practice For The Game and Was Not Able To-Play in The Game. Pittman, Jr. Was Also Selected To The Prep Star All-American Dream Team and Also THE USA TODAY All-California Offensive Player of The Year.
Pittman, Jr. Had Eight Major Scholarship Offers, Including California, Nebraska, Notre Dame, Oregon, Oregon State, UCLA, and Washington, Before Signing With The Southern California Trojans.
Pittman, Jr. Enrolled at Southern California in January of 2016 and He Saw Action in 13 Games as a Special Teams Starter. His Playing-Time Increased During his Sophomore Season, but He Was Hampered with a Sprained Left Ankle, but He Still Caught 23 Passes For 404-Yards and 2 Touchdowns.
Then in 2018, as a Junior, Pittman, Jr. Caught 41 Passes For 758-Yards and 6 Touchdowns. Then in an 8-4 Start in 2019, Pittman, Jr. Currently Has Caught 95 passes For 1,222-Yards and 11 Touchdowns. After 49 Career Games, Pittman, Jr. Has Recorded 165 Catches For 2,466-Yards and 19 Touchdowns.
The Southern Cal Trojans Are Not The Same Old Southern Cal Team That They Used To Be, But Some of The Southern Cal Players Are Still Some of The Greatest Players in The Country and Their Super Large Wide Receiver Michael Pittman, Jr. (#6) With a Fantastic 2,925 MEARS RATING is Definitely One of Those Great Southern Cal Players.
Until The Trojans Were Able To Find Their Freshman Super-Star Quarterback, Kedon Slovis (6-3, 205, 4.7), Michael Pittman Jr. (6-5, 225, 4.4, 36, 4.22, 126, 15) has been The Trojans Super-Star Player All Throughout The Season, Even Though The Trojans Have Had Very Inconsistent Play at Quarterback, With a Tremendous, Muscular 6-4 and 225 Body Frame With Bulging Muscles-Ripping All Over His Body, Most Defensive Backs Would Rather Cover The Wide Receiver on The Other Side of The Field.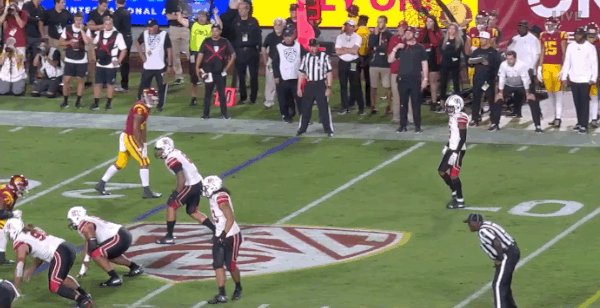 Against Small Defensive Backs, Pittman, Jr. (Left Split End), Will Simply Out-Muscle Defenders. It Is What He Has Done All Year in The PAC-12 as He Also Demonstrates His Unbelievable Wide Receiver Skill Set To The NFL Scouts.
Patton Has Been Outstanding All Season For The Trojans, but he Was Especially Outstanding in Five Games That He Was Selected as One of My College Football MVP Players of The Week Award.
In an Unbelievable Dominating Game Against The Utah Utes, Pittman, Jr. Recorded 10 Catches For 232-Yards and a Touchdown. In This Game Against The Utes, He Became The First Southern Cal Trojan Wide Receiver To Record a 200-Yard Plus Pass Receiving Game since Marquise Lee in 2012.
With his Senior Season at Southern Cal Coming To an End, Southern Cal Team Captain Michael Pittman, Jr. is Without a Doubt, The Great Leader of One of The Top Teams in The Country and He Also is Part of The Greatest Wide Receiving Corps in The Country, Along With The LSU Tigers, The Oklahoma Sooners, and The Alabama Crimson Tide. His Draft Stock is Also on The Rise, Along With The Other Great Wide Receivers at Those Schools.
The Utah Utes Were Ranked #10 in The Country and They Were Supposed To Be The Best Chance For a The PAC-12 Team To-Reach The College Football Playoffs, But That Chance Probably Came To an End in The Southern Cal 30-23 Victory Over The Utah Utes at The Coliseum.
The Utah Utes Game, Was The Southern Cal Fourth Game of The Season and After The Game, Pittman, Jr. Was Leading The PAC-12 Wide Receivers With The Most Catches With 31 and With Pass Receiving Yardage With 437-Yards. The Former Oaks Christian Head Coach, Who Four Years Ago Had Demanded That Pittman, Jr. Change, Is Now Finally Seeing Pittman, Jr. Reach His Vast Potential and is Now Developing Into a Real Super-Star. "I Think Southern Cal is Finally Getting To-See How Great This Kid Has Become," Benkert said.

The Southern Cal Freshman Quarterback Kedon Slovis Completed  37 of 47 For an Incredible 515-Yards and 4 Touchdowns Against The UCLA Bruins, in Game #12, and Became The First Southern Cal Trojan Quarterback in School History To Surpass 500-Yards in a Single Game as The Trojans Beat The Bruins 52-35. In This Special Rival Game, Pittman, Jr Caught 13 Passes For 104-Yards and 2 Touchdowns. Slovis Had 406-Yards and 4 Touchdowns In Game #11; 432-Yards in Game #10; and 406-Yards in Game #8. He Also Had 4 Touchdowns in All Four Games and Has 3,242-Yards and 28 Touchdowns.
Southern Cal Trojan Wide Receiver Michael Pittman, Jr. Was Named, as One of The Three Finalists For The Fred Biletnikoff Wide Receiver Award as The Top Wide Receiver in The Country, Alongside The LSU Tigers Ja'Marr Chase, and The Oklahoma Sooners Wide Receiver CeeDee Lamb as The Three Finalists. The Winner Will Be Announced on December 12 During The College Football Awards on ESPN.