–
College Football Weekly MVP'S – Week #8!
By Super Scout Max Emfinger
2019 COLLEGE FOOTBALL WEEKLY MVP WEEK #8
SUPER 6 DUAL QUARTERBACK MVP'S WEEK #8
FAB 14 ALL-PURPOSE RUNNING BACK MVP'S WEEK #8
SUPER 7 ALL-PURPOSE WIDE RECEIVERS WEEK #8
ELITE 18 DEFENSIVE MVP'S – WEEK #8


TOP 3 KICKER/PUNTER MVP'S – WEEK #8
MVP Players Must Be On Winning Team!
SIDEBAR I: Through The First Eight Games of The 2019 Season, There Were About Six Heisman Trophy Favorites! Coming Into The Season, Including  Quarterbacks Trevor Lawrence and Tua Tagovailoa As The Two Favorites. After Week #8, According to The Caesars Sportbook The Top Six Now Are: QB Joe Burrow, QB Tua Tagovailoa, QB Jalen Hurts, RB Jonathan Taylor, QB Justin Fields, and WR CeeDee Lamb. QB Sam Ehlinger and QB Justin Herbert are Other Heisman Trophy Candidates.
SIDEBAR II: Week #8 SUPER 6 DUAL/QUARTERBACK MVP'S INCLUDE:  Dual/QB Jalen Hurts With a 308.5 Quarterback Rating, Dual/QB Joe Burrow With a 205.2 Quarterback Rating, Dual/QB Brock Purdy With a 195.8 Quarterback Rating, Dual/QB Kevin Thomson With a 194.7 Quarterback Rating, Dual/QB Sam Ehlinger With a 172.1 Quarterback Rating, and Dual/QB Shane Buechele With a 162.6 quarterback Rating. 
SIDEBAR III: Week #8 FABULOUS 14 ALL-PURPOSE/RUNNING BACK MVP'S INCLUDE: AP/RB Breece Hall With 256-Yards, AP/RB Travis Etienne With 227-Yards, AP/RB Raymond Calais With 226-Yards, RB A.J. Dillon With 223-Yards, AP/RB Jamycal Hasty With 212-Yards, RB David Bailey With 181-Yards, RB D'Andre Swift With 179-Yards, AP/RB Darrynton Evans With 177-Yards, AP/RB Zach Moss With 177-Yards, AP/RB Ke'Shawn Vaughn With 176-Yards, AP/RB Juan Washington With 173-Yards, AP/RB Elijah Dotson With 165-Yards, AP/RB Najee Harris With 153-Yards, and AP/RB J.K. Dobbins With 151-Yards.
SIDEBAR IV: Week #8 SUPER 7 ALL-PURPOSE/WIDE RECEIVER MVP'S INCLUDE: AP/WR Reggie Roberson With 250-Yards, WR Malik Stanley With 212-Yards, AP/WR Joe Reed With 183-Yards, AP/WR K.J. Hamler With 179-Yards, AP/WR Sage Surratt With 170-Yards, WR Pierre Williams With 153-Yards, and AP/WR Josh Fleeks With 150-Yards. 
SIDEBAR V: Week #8 TOP 20 DEFENSIVE MVP'S Include: DE Bradlee Anae With 3 Sacks, DE Marlon Davidson With 2 Sacks and Fumble Recovery, DE Justin Foster With 2 Sacks, DE Bennie Higgins With 2 Sacks, DT Dariyn Choates With 2.5 Sacks and 4 TFL, DT/NG Jarrod Hewitt With 2.5 Sacks, DT/NG Marcus Brown With 2 Sacks, DT  Ka'Derrion Mason With 2 Sacks, and DT/NG Norell Pollard With 2 Sacks. OLB Isaiah Simmons With 2 Sacks, OLB Terrell Lewis With 2 Sacks, OLB Buddy Johnson With 1 TFL and Rumble Recovery For Touchdown, and OLB Jake Hansen With 1 Sack and 2 Fumbles Recovered. MLB Terrel Bernard With 1/2 TFL and Fumble Recovery For Touchdown. FS Antoine Winfield, Jr With 2 Interceptions and A Touchdown, SS Patrick Nelson With 2 Sacks, SS Jacoby Stevens With 1 Sack and 1 Interception, SS Brandon Jones With 10 Solo Tackles, CB Amik Robertson With 3 Interceptions and CB Allan George With 1 TFL and 1 Interception.
SIDEBAR VI: Week #8 TOP 3 KICKER/PUNTER MVP'S Include: KICKER Cameron Dicker With Game-Winning 33-Yard Field Goal With No Time Left In Huge Upset Victory,  PUNTER Pressley Harvin, III With 6 Punts For 45.5 Average and Touchdown Pass, and KICKER Nick Sciba With 5 Field Goals Which Tied School Record In Huge Upset Victory.
DUAL THREAT PASSING QUARTERBACK
SAM EHLINGER –

TEXAS LONGHORNS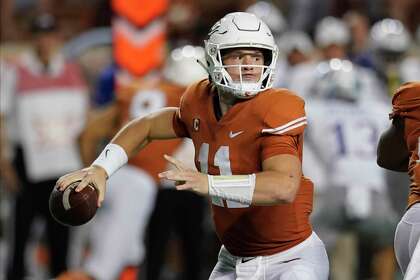 The Texas Longhorns Super Dual Threat Quarterback Sam Ehlinger (#11) Had an Unbelievable Game Against The Kansas Jayhawks as He Completed 31 of 44 Passes For 399-Yards and 4 Touchdowns. Ehlinger also Rushed For Another 91-Yards on 14 Carries, Giving Him an Incredible 490-Yards of Total Offense and 4 Touchdowns in The Texas Longhorns 50-48 Victory. Ehlinger Also Posted a Great 172.1 Quarterback Rating.
The #15 Ranked Texas Longhorns in Front of Their Home Crowd in Austin, Texas and The Longhorns Were Also Honoring Their 1969 National Championship Team with Special Uniforms and a Halftime Celebration and They Were a Huge 23.5 Point Favorite over The Kansas Jayhawks, but They Still Needed Some Incredible Play From Their Local, Senior Tri-MVP Quarterback Sam Ehlinger and Their Great Kicker and Tri-MVP Cameron Dicker, To Emerge as The Winner Against an Upset-Minded Jayhawks Team on Saturday Night.
The Upset-Minded Jayhawks Were in The Upset Process in the Second Quarter When They Took an Early 17-14 Lead Over The Texas Longhorns. From This Point, There Were 5 Lead Changes and They Were Also Tied 2 Times.
Things Started To Get Really Gloomy in Austin, Texas When The Jayhawks Scored a Touchdown with 1:11 remaining in the Game To-Come Within One Point at 47-46 and Their Successful Two-Point Conversion Did Indeed Give The Upset-Minded Jayhawks a 48-47 Lead and Possible Victory.
So Now, The Texas Longhorns Are On the Brink of Being Upset and So The Longhorns Put This Huge Big-12 Game In The Hands of Their Local Quarterback Sam Ehlinger (6-4, 235, 4.56) From Austin Westlake and on The Foot of Their Super Kicker, Cameron "Dicker The Kicker" To-Win The Game.
The Longhorns Were Given The Football With Only 1:11 Minute To-Play After The Kansas Jayhawks Had Just Taken a One-Point Lead. Ehlinger Then Drove The Longhorns 66-Yards to The Jayhawks 21-Yard Line. In This Final Drive, Ehlinger Was Incredible as He Completed 6 Passes and He Ran for a First Down on a Third Down Situation. Ehlinger Passed For 2 Touchdowns in The Fourth Quarter to Super Wide Receiver, Devin Duvernay, who Finished with Eight Catches for 110-Yards and 2 Touchdowns. Duvernay had Another Great Game as he Caught 8 passes for 110-Yards and His 2 Touchdowns.
Dicker Did The Rest, as He Calmly Kicked a 33-Yard Field Goal as Time Expired and To-Give The #15 Ranked Texas Longhorns a 50-48 Victory in One of The Wildest Big-12 Games in Big-12 History With a Frantic Fourth Quarter That Also Included The Two Teams Exchanging 6 Touchdowns, 2 Field Goals and a Blocked Extra Point for a 2-Point Safety.
This Winning Field Goal Kick Was The Second Career Game-Winner For The Sophomore Kicker, Cameron Dicker.  His Other Game-Winner Was in The Final Seconds To-Beat The Oklahoma Sooners Last Season.
"A Win is a Win," Ehlinger said. "I Am Very Thankful That We Were Able to Pull Out."