–
College Football Weekly MVP'S – Week #7!
By Super Scout Max Emfinger
2019 COLLEGE FOOTBALL WEEKLY MVP AWARD
FABULOUS 14 OFFENSIVE SKILL PLAYERS – WEEK #7


NIFTY 9 DEFENSIVE MVP'S – WEEK #7



All MVP Players Must Be On Winning Team!
SIDEBAR I: Through The First Seven Games of The Season and A Little Premature, There Are Six Heisman Trophy Favorites! Coming Into The Season, Quarterbacks Trevor Lawrence and Tua Tagovailoa Were Considered To Be The Top Two Favorites, but Currently, And A Change After Seven Games According to The Caesars Sportbook The Top Six Are: QB Joe Burrow, QB Tua Tagovailoa, QB Jalen Hurts, RB Jonathan Taylor, QB Justin Fields,  and WR CeeDee Lamb. QB Sam Ehlinger and QB Justin Herbert are Other Heisman Trophy Candidates.
SIDEBAR II: Week #7 FABULOUS 15 OFFENSIVE MVP'S Include: Dual/QB Joe Burrow, Dual/QB Jack Plummer, Dual/QB Jayden Daniels, Dual/QB Jalen Hurts, and Dual/QB Charlie Brewer. AP/RB Hassan Hall, AP/RB C.J. Verdell, AP/RB Tony Jones, Jr, AP/RB Clyde Edwards-Helaire, and AP/RB Travis Etienne. AP/WR Brandon Ayuk, AP/WR John Hightower,  AP/WR CeeDee Lamb, AP/WR Jaylen Waddle, and AP/WR Henry Ruggs. 
SIDEBAR III: Week #7 TERRIFIC 12 DEFENSIVE MVP'S Include: DE          Victor Dimukeje, DT James Lynch and DT/NG Neville Gallimore. OLB      Louis Acceus and OLB Josh Uche. ILB Terrell Lewis, and ILB Isaiah Simmons. CB Cory Trice, CB Verone McKinley III, CB TraJan Bandy and CB Israel Mukuamu. FS Javon Hicks. 
Three Quarterback Sacks For Three Super Defensive MVP's And Three Interceptions For Another –

Week #7

:

Victor Dimukeje, Louis Acceus, And Josh Uche With 3 Sacks and Israel Mukuamu With 3 Interceptions.
By Super Scout Max Emfinger!
STRONGSIDE RUSH DEFENSIVE END
VICTOR DIMUKEJE – DUKE BLUE DEVILS 
About Six Weeks Before The Duke Blue Devils First Game of The 2019 Season, Super Blue Devils Super Strong-Side Rush Defensive End Victor Dimukeje (#51)  Was Named to The Preseason Chuck Bednarik Award Watch List. He is Also a Candidate for The Maxwell Football Award, an Honor Presented Annually to The Top Player in The Country by The Maxwell Football Club.
The Chuck Bednarik Award is Presented Annually to The Top Defensive Player in The Country and Being Named to The Preseason Chuck Bednarik Award Watch List is The First Step Toward Ultimately Getting The Chance To-Win The Award. Dimukeje Was Also a Preseason All-ACC Third Team Selection by Athlon Sports and a The Phil Steele Third Team All-American Team.
 In The Heart-Breaking 33-30 Loss To The University of Pittsburgh Last Week, Dimukeje Recorded Two Quarterback Sacks. "The Blue Devils Really Needed a Victory in Saturday's Victory over Georgia Tech in The Wake of The Heartbreaking Loss Against Pitt," said Dimukeje.
So in This Game Against The Georgia Tech Yellow Jackets, Dimukeje Led The Incredible Blue Devils Defense as He Recorded 6 Tackles, Including 3 Solo Tackles, 3 Assisted Tackles, and 3 Crucial Quarterback Sacks in The 41-23 Victory Over The Yellow Jackets.
The Junior Defensive End Dimukeje (6-3, 265, 4.72) Also Forced a Fumble and He Also Pressured

The Yellow Jackets Quarterback

Twice, Including One That Caused a Failure on a Two-Point Conversion.
Two of The Quarterback Sacks by Dimukeje Were on Third Down Situations that Ultimately Led to Punts and His Third quarterback Sack was on a Fourth Down Situation and Gave The Football Back To The Duke Blue Devils Offense. The Three Quarterback Sacks by Dimukeje Were The Most Quarterback Sacks for a Blue Devil Defensive Player Against An

ACC Opponent

Since 2003.
For His Outstanding Game Against

The Yellow Jackets

, Dimukeje Was Named As

The

 ACC Defensive Player of The Week

.
With Their Smothering Defensive Performance, The Duke Blue Devils Defense Held

The Yellow Jackets

To Eight Total Yards on Five Drives During a Crucial Period in The First and Second Quarter. The Duke Blue Devils Defense Was All Over The Field and Then They Showed-Up All Over

The Pro Football Focus ACC Team of The Week

, with Dimukeje being Joined by Numerous Other Duke Blue Devil Teammates Including Chris Rumph II.
Red-Shirt Sophomore Rumph II (6-3, 225, 4.62) Was a

2018 First Team USA Today Freshman All-American Selection

(With

Freshman All-American Plaque

) and He Started This Game at Weak-Side Edge Rush End In Place of The Injured Tre Hornbuckle Along with Drew Jordan.
"Rumph Not Only Earned The Highest Defensive Grade in

The ACC

but Also The Second-Highest Defensive Grade in All of

The FBS Football (94.0)

," Said

The Pro Football Focus

. "Rumph, Who Was a Weekly MVP in Week #2 In a 41-18 Victory Against Tennessee State With Two Quarterback Sacks and Four Tackles For a Loss, has Taken His Defensive Play To Another Level This Season, as His Week #7 Grade was His Third  80.0-Plus Grade in The Last Four Games. The Reason for his High-Grade is That The Duke Blue Devils Edge Rusher Recorded 8 Quarterback Pressures and a 27.6 Pressure Percentage, Which Are Both

ACC Conference-High Figures 

For His Position."   
The Pro Football Focus

Had Similar Praise For Victor Dimukeje, Who Has Recorded Five Quarterback Sacks In The Last Two Games, After Only Recording 5,5 Quarterback Sacks in 26 Career Starts in 2017 and 2018.
"Dimukeje, The Player Opposite Rumph, Was The Opposite Edge Rusher Defensive End, Terrorizing

The Georgia Tech Offense

,"

The Pro Football Focus

said. "His 91.5 Pass-Rush Grade was The Second-Highest Grade in

The ACC Conference

For An Edge Rushing Defensive End Player, Behind Only Rumph," said

The Pro Football Focus.
"Dimukeje A

lso Collected Four Defensive Stops. 

Dimukeje From Baltimore Boys Latin School, Maryland and Rumph From Gainesville Buchholz, Florida Are C

ertainly a Dynamic Defensive Duke Duo, as Dimukeje Matched his total of 8 Quarterback Pressures and Maintained a nice 22.9% Pressure Percentage himself,"

said

The Pro Football Focus.
OUTSIDE LINEBACKER
LOUIS ACCEUS –

N.C. STATE WOLFPACK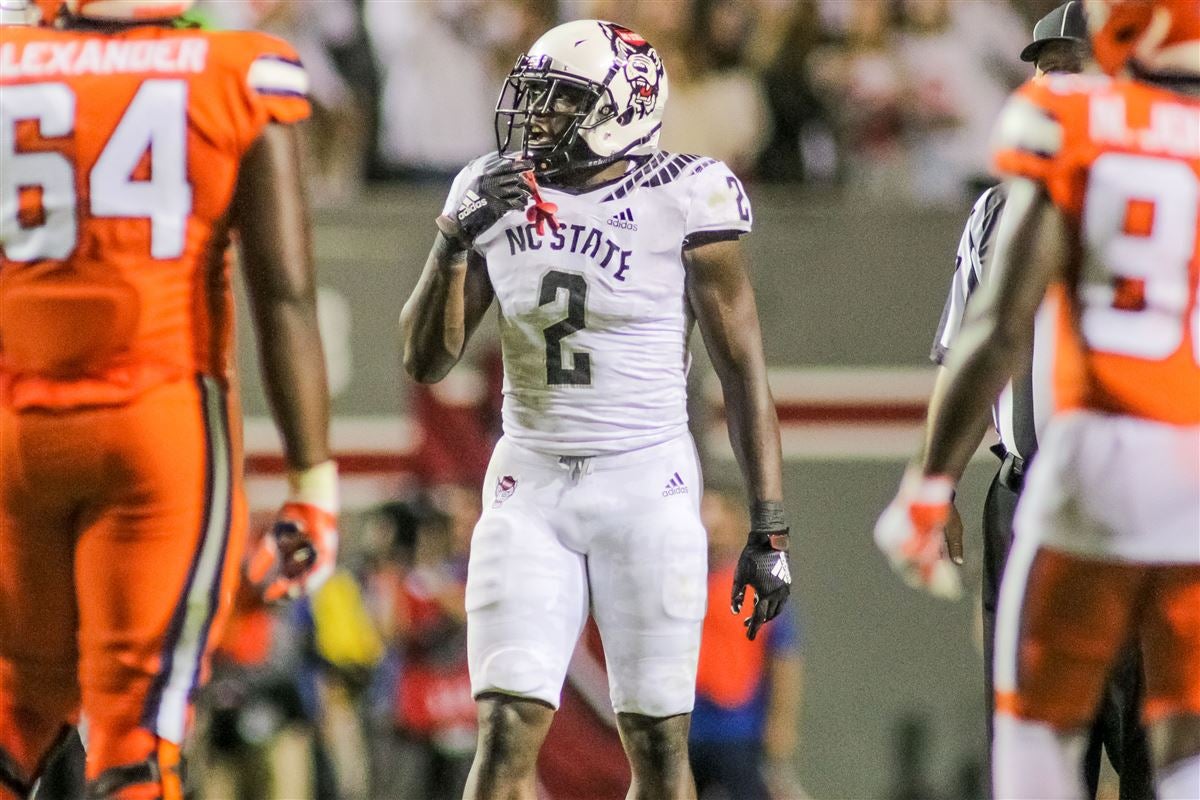 There is an Incredible Thing About Louis Acceus (#2) and His Impressive Defensive Stats in Helping His

North Carolina State Wolfpack Team

To Their First

ACC Conference Victory

Of The Season With a 16-10 Victory Over

The Syracuse Orangemen

.
First of All, Acceus Not Only Recorded 14 Tackles, Including 10 Solo Tackles, 4 Assisted Tackles, and 3 Quarterback Sacks; There Were Only Three

FBS Football Players

in Week #7 That Recorded 3 Quarterback Sacks and Acceus Joins Defensive End Victor Dimukeje of The Duke Blue Devils, Who is

Another

ACC Conference Player

and Co-MVP and

ACC Conference Player of The Week

With 3 Quarterback Sacks, Giving

The ACC Conference

Two of The Three Quarterback Sack Players in

FBS Football

for Week #7 in College Football

.
On Thursday Night, Acceus (6-0, 223, 4.62) Recorded a Career-High 14 Tackles and 3 Quarterback Sacks For a Combined Loss of 30-Yards.

Two of his Three Quarterback Sacks That He Recorded Came On Back-To-Back Plays on a Second-Quarter Drive That Ended in a Non-Productive Possession for

The Orangemen

. The Victory For

The Wolfpack

Also Came-Down to The Final Minutes in The Fourth Quarter With Acceus Limiting

The Orange Offense

, As

The Wolfpack

Managed To Hang On To-Win Their First

ACC Conference Game

of The 2019 Season.
Acceus, From Montvale St Joseph Regional, New Jersey Aided To

The North Carolina State Wolfpack Rush Defense

That Held

The Syracuse Orangemen Offense

to Only 41-Yards on The Ground. After This Great Game, on Thursday Night, Acceus Raised His Tackle Total To 36 Tackles, Which is Second on

The North Carolina State Wolfpack Team

, and His Quarterback Sack Total of 4.5 Quarterback Sack Total is The Seventh Best in

The ACC Conference

, While Victor 

Dimukeje Has 5 Quarterback Sacks.
This Game, in Week #7, Both Rush Defensive End Victor Dimukeje of The Duke Blue Devils and Outside Linebacker Louis Acceus of

The North Carolina State Wolfpack

Recorded Three Quarterback Sacks Apiece and Were Rewarded By

The ACC Conference

, as 

Dimukeje Was Selected as

The ACC Conference

Defensive Lineman of The Week

and Acceus Was Selected as

The ACC Conference Linebacker of The Week.
The Final Three Sacks For MVP Inside Linebacker Josh Uche And Three Interceptions For MVP Israel Mukuamu!
OUTSIDE LINEBACKER
JOSH UCHE – MICHIGAN WOLVERINES
 
The University of Michigan Wolverines Has An Unbelievable Outside Rush  Linebacker Named Josh Uche (#6) and He Is On The Verge of Exploding as One of The Top Edge-Rush Linebackers in The Country.
Uche Came To Michigan From Miami Columbus High School in Florida and As a Senior, He Recorded 50 Tackles, Including 14 Quarterback Sacks, 3 Pass Breakups and 2 Forced Fumbles. His Outstanding Senior Efforts Enabled Him To Receive Over 20 Scholarship Offers, Including Such Powerhouse Teams As Michigan, Alabama, Auburn, Miami, Florida, and Louisville.
The Michigan Coaching Staff Has Had Some Very Talented Defensive Players Who They Have Kept in Unbelievable Backup Roles, Although They Could Become Early-Rounds For The NFL Draft and Uche (6-2, 248, 4.5, 34, 4.22) is One of Those That Will Keep That Tradition Going. Uche Only Had 15 Tackles During The 2018 Season, but 7 of Those Tackles Were Quarterback Sacks as He Was an Unbelievably Dangerous Pass-Rusher for The Wolverines.
In This Game Against The University of Illinois Uche Had His Breakout Game of The Season as He Recorded 5 Tackles, Including 5 solo Tackles, 5 Tackles For a Loss, and 3 Quarterback Sacks, in Helping Lead The Michigan Wolverines To a 42-25 Victory Over The Fighting Illini. Every Tackle In This Game For Uche Resulted in a Loss For The Fighting Illini.
Going Into The 2019 Season, Uche Was Expected To Play a SAM Linebacker Position, as a Hybrid Position Between a Linebacker and a Defensive End. Michigan Defensive Coordinator and Linebacker Coach Don Brown (In Photo) Described Uche As A "Michigan Swiss Army Knife" as a Tribute To The Ability of Uche To Do A Multitude of Things-Well, but With His Pass-Rushing Skills, Brown Thought That SAM Linebacker Was His Best Position.
"Josh Uche is Unbelievable," Don Brown said. "We Are Able To Play him in a Number of Different Positions and Move Him Around. The place That Uche Makes The Most Explosive Impact is When He Rushes The Passer, But now, He is a Great Cover-Guy Over The Tight Ends."
Coach Brown Also Calls Uche a "Competing Animal" and Brown Also Noted That Uche Has Vaulted to 248-Pounds While Being Able To Still Be Able To Run a 4.5 in The 40-Yard Dash.
"His Unique Abilities Allow The Michigan Wolverine Coaching Staff to Integrate Him in Different Areas to take The Best Advantage of His Great Ability To Rush The Passer on The Wolverine Defense."
CORNERBACK/INTERCEPTION SPECIALIST
ISRAEL MUKUAMU –

SOUTH CAROLINA GAMECOCKS
Super South Carolina Sophomore Cornerback Israel Mukuamu (#24) Had An Incredible Game Against The Georgia Bulldogs as He Became The First South Carolina Gamecock To Have at Least Three Interceptions in a Game since Patrick Hinton did so Against The North Carolina State Wolfpack on October 29, 1988.
When A Cornerback Records 11 Tackles, Including 7 Solo Tackles, 4 Assisted Tackles, and Returns An Interception 53-Yards For a Touchdown, He Has  Got a Great Chance To Be Rewarded With Some National Honors, but If He Also Records Three Interceptions in That Game, It's Almost a Guarantee To Receive Some National Honors. 
So in This Unbelievable Game Against The #3 Georgia Bulldogs, Mukuamu Recorded Three Interceptions On The Road Against The Bulldogs and The Great National Honors Were On Their Way. It came Quickly for The Gamecocks Sophomore Cornerback, as Mukuamu (6-4, 205, 4.42, 36, 4.24) Was Awarded as The Walter Camp National Defensive Player of The Week. 
The Oklahoma Sooners Wide Receiver CeeDee Lamb Was Awarded as The Walter Camp National Offensive Player of The Week.
With His Three Interceptions, Mukuamu From Bossier City Parkway, Louisiana Helped Lead The South Carolina Gamecocks In The 20-17 Double-Overtime Victory. His Incredible 53-Yard "Pick-Six" Late in The Second Quarter Was Crucial and it Was on a Second-And-Four at The Bulldogs Own 47-Yard Line as The Bulldogs Quarterback Jake Fromm Threw an Out Route Pattern Toward The Right Sideline and Mukuamu Jumped-Up and Returned The Football to The End-Zone, giving The Gamecocks a 17-10 Lead.
Mukuamu went Untouched Into The End-Zone To Give The South Carolina Gamecocks That lead, Thanks To a Tremendous Quarterback Pressure from All-SEC Defensive Tackle Candidate Javon Kinlaw (6-6, 302, 4.92) From Charleston Goose Creek, South Carolina.
The Second Interception Came Two Minutes into The Second Half with The Gamecocks Still Holding-On to Their 17-10 Lead. It Was On a Third-And-Three from The Gamecocks 44-Yard Line and Jake Fromm Under-Threw His Wide Receiver. Then His Third Interception was on a Second-And-Six from The Gamecocks 21-Yard Line, When He Secured a Deflected Pass and Ended The Bulldogs First  Possession in Overtime.
His Younger Brother, Manny Mukuamu Was Not Able To Be At The Game, but His Phone Was Running-Off The Hook with Updates From The Sanford Stadium, and it felt like he was at The Game, because His Older Brother, Israel Mukuamu, had "The Game of his life" against The Bulldogs.
"Coach Travaris Robinson Told us all week that The Bulldogs Had Not Thrown an Interception All Season, but We Knew That They Had Never Played a Defense like us," said Israel Mukuamu. "I was just able To-Get My Hands on the Football and I give All The Thanks to God."

Four Other Atlantic Coast Conference Football Players Were Selected To The ACC Conference Players Of The Week And Also Were Selected To Our College Football MVP's For Week #7!
ALL-PURPOSE RUNNING BACK
TRAVIS ETIENNE –

CLEMSON TIGERS
Super Clemson Tigers All-Purpose Running Back Travis Etienne (#9) Had Another Impressive Game In The 45-14 Victory Over The Florida State Seminoles, But His Great Game Was A Little Different Than in Most of His Games When He Rushed For A Lot of Yards. In This Great Game For Etienne, He Rushed For 127-Yards, Completed a 23-Yard Pass, and Caught a 3-Yard Touchdown Pass, Giving Him 153-Yards of Total Offense and a Touchdown.
Etienne (5-10, 215, 4.42) is a Junior and He Is The Most Accomplished Player in Jennings Louisiana High School Football History and He Is a Real Super-Star In This Small Louisiana Town about 90-Miles West from Baton Rouge.
In This Game, Etienne Just Became Only The Seventh Player in Clemson Tigers School History To-Surpass The 3,000-Yard Career Mark With 3,013-Yards Rushing. Etienne Also Was Selected as The ACC Conference Running Back of The Week, Along With Being Selected as The Weekly MVP of The Week #7. 
OUTSIDE LINEBACKER
ISAIAH SIMMONS –

CLEMSON TIGERS
Clemson Tigers All-American Outside Linebacker Isaiah Simmons (#11) is Probably The #1 Outside Linebacker in The Country. He is a Super Athletic Outside Linebacker Who Transitioned From Safety To Linebacker in 2017 To The Starting Strongside Outside Linebacker.
Simmons (6-4, 225, 4.42) From Olathe North, Kansas Entered The 2019 Season With 146 Tackles, Including 12.5 Tackles For a Loss, 2.5 Quarterback Sacks,4 Forced Fumbles, and a 27-Yard Interception Return For a Touchdown. Simmons Was Also Selected in 2019 as a Preseason First Team All-American by Phil Steel and Second Team All-American By Athlon Sports.
In This 45-14 Victory Over The Florida State Seminoles, Simmons Recorded 8 Tackles, Including 7 Solo Tackles, 1 Quarterback Sack, 2 Tackles For a Loss, and He Recovered a Fumble and Forced a Fumble in Being Selected as College Football MVP in Week #7.
Simmons Received His First College Football MVP in Week #2 After He Recorded 11 Tackles and 2 Quarterback Sacks in The Victory over The Syracuse Orangmen. Also in This Game, Simmons Earned The ACC Conference Linebacker of The Week, Lott IMPACT Trophy Player of The Week, And The Walter Camp Defensive Player of The Week. 
CORNERBACK
TRAJAN BANDY –

MIAMI HURRICANES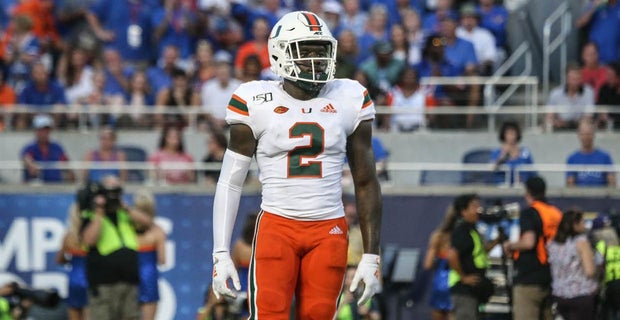 The Miami Hurricanes Junior Cornerback, Trajan Bandy (#2) Had An Outstanding Game In The Friday Night 17-9 Victory Against The #20 Ranked University of Virginia Cavaliers After He Had a Tremendous Breakout Sophomore Season in 2018.
After His Great Breakout Sophomore Season, in Which He Started in All 13 Games and Was Selected To The ACC All-Conference Third Team, Bandy (5-9, 190, 4.36, 36, 4.16) Was Named To The Jim Thorpe Award Watch List. That Award is Awarded Annually To The Best Defensive Back in The Country. The Jim Thorpe Award is Also Based on Performance on The Field, Overall Athletic Ability, and Character.
As a Sophomore in 2018, Bandy Recorded 36 Tackles, Including 4.5 Tackles For a Loss, and 8 Pass Breakups. Bandy wore The Turnover Chain more than any Other Player in 2018, as He Finished With a Team-High Tying Three  Interceptions and Two Fumble Recoveries.
In This Game, Bandy From Miami Columbus, Florida, Recorded 6 Tackles, Including 5 Solo Tackles, 1 Assisted Tackle, 1 Quarterback Sack, and He Recovered 1 Fumble. His Fumble Recovery Was His First of The Season and His Quarterback Sack was his Third of The Season. His 6 Tackles Was a Career-High.
KICK RETURN SPECIALIST/RUNNING BACK
HASSAN HALL –

LOUISVILLE CARDINALS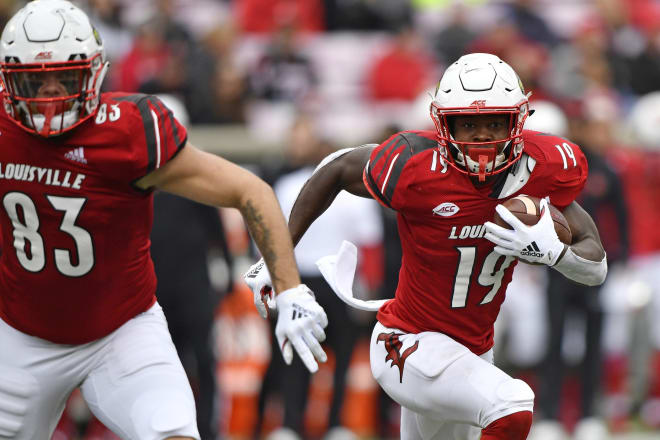 The Louisville Cardinals Hassan Hall (#19) Returned a Kickoff 100-Yards For a Touchdown and He Helped Lead The Louisville Cardinals To Upset The Wake Forest Demon Deacons and Their First National Ranking in 11 Years.
Hassan Hall (6-0, 198, 4.36, 10.6 100-Meters) Returned His Second Career Kickoff For a Touchdown in The Louisville Cardinals 62-59 Victory Over The #19 Ranked Wake Forest Demon Deacons. With This Return, The Sophomore Hall Tied The Louisville Cardinals Record With a 100-Yard Kickoff Return For a Touchdown. Hall Also Became The Ninth Player in The Louisville Cardinals School History With Over 1,000-Yards of Career Yards.
In This Game, Hall Rushed For 30-Yards on 11 Carries, Including an 8-Yard Touchdown Run To-Go With His 5 Kickoff Returns For 220-Yards, Including his 100-Yard Return For a Touchdown, Giving Him an Incredible 250-Yards of Total Offensive Yardage and 2 Touchdowns.
Hall Also Became The First Louisville Player With a Rushing Touchdown From Scrimmage and a Kickoff Return For a Touchdown, Since Walter Peacock Against Furman in 1973. His 220-Yard Kickoff Yardage Against Wake Forest is The Second Most Kick Return Yardage in a Game in The Cards School History, Behind The 247-Yards in a Clemson Loss Last Season.