College Football Fabulous 15 Offensive Skill Players Weekly MVP'S – Week #5!
By Super Scout Max Emfinger
2019 COLLEGE FOOTBALL WEEKLY MVP AWARD
FABULOUS 15 OFFENSIVE SKILL PLAYERS – WEEK #5
All MVP Players Must Be On Winning Team!
SIDEBAR I: Through The First Three Games and it may be a Little Premature, There Are Already a Few Heisman Trophy Favorites! Coming Into The Season, Quarterbacks Trevor Lawrence and Tua Tagovailoa Were Considered To Be The Top Two Favorites, but Currently, According to The Caesars Sportbook, QB Jalen Hurts, QB Joe Burrow, QB Justin Fields, QB Sam Ehlinger, QB Justin Herbert, and RB Jonathan Taylor are Other Heisman Trophy Candidate Favorites. Hurts, Tagovailoa, and Burrow Are Leading.
SIDEBAR II: Week #5 FABULOUS 14 OFFENSIVE MVP'S Include: QB Jalen Hurts, QB Sean Clifford, QB Tanner Morgan, QB Bo Nix, QB Tyler Huntley, and QB Tua Tagovailoa. RB Chuba Hubbard, RB J.K. Dobbins, and RB Salvon Ahmed. WR Devonta Smith, WR CeeDee Lamb, WR Rashod Bateman, and WR Seth Williams. WR/AP Darrell Stewart, Jr. Week #5 ELITE EIGHT DEFENSIVE MVP'S Include: DE D.J. Wonnum. DT Khalid Kareem, DT Julian Okwara, and DT Kakia Davis. ILB Ellis Brooks ILB Chris Orr, ILB Jeff Okudah, and FS Cameron Williams. 
DUAL THREAT QUARTERBACK
JALEN HURTS –

OKLAHOMA SOONERS
The Heisman Trophy Award Candidate Favorite Jalen Hurts (#1) Had Another Incredible Game Against The Texas Tech Red Raiders As He Completed 17 of 24 Passes For 415-Yards and 3 Touchdowns and He Also Rushed For Another 70-Yards and Another Touchdown, Giving Him 485-Yards of Total Offense and 4 Touchdowns as The Oklahoma Sooners Rolled Past The Texas Tech Red Raiders By a 55-16 Score.
"Hurts is Seeing the Field really well," Oklahoma Sooners Head Coach       Lincoln Riley said. "He's Understanding how We Want To-Attack People. He was a Little More Confident Today, a Little Bit More Steady."
The Oklahoma Sooners Entered The game Leading The Country in Total Offense and in This Game, They Gained 642-Yards of Total Offense. They Also Have Totaled at Least 600-Yards in Each Game This Season.
With His 485-Yards of Total Offense, Hurts Now Ranks Eighth in The Oklahoma Sooners History. Although Hurts (6-2, 219, 4.46) Has Completed 82 of 109 Passes For 1,523-Yards, It was His First 400-Yard Passing Game as an Oklahoma Sooner.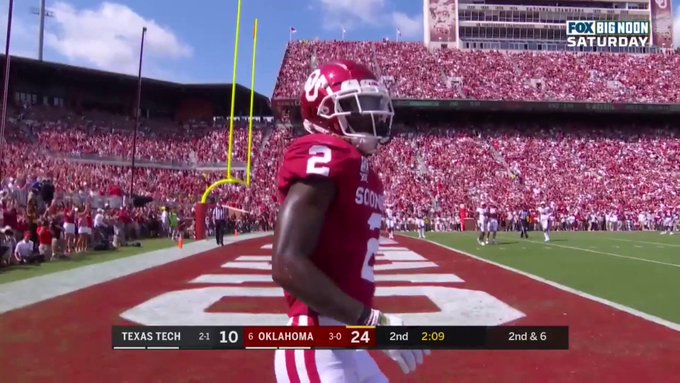 Co-MVP Wide Receiver CeeDee Lamb (6-2, 191, 4.32) had Career-Highs With 7 Catches For 185-Yards Receiving and Three Touchdowns. Lamb (#2) Also Had Two Punt-Returns For Another 9-Yards, Giving Him 194-Yards of All-Purpose Yards.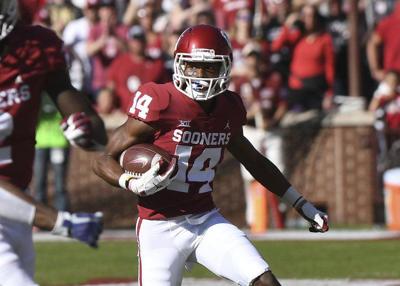 Running Back Trey Sermon (6-1, 224, 4.46) Also Rushed For Another 76-Yards and Scored Two Touchdowns; While Another Super-Star Wide Receiver Charleston Rambo (6-2, 178, 4.36, 38, 4.18) From Cedar Hill, Texas Only Caught Two Passes, but They were For 122-Yards, and Rambo (#14) Averaged an Incredible 61-Yards Per Catch.
The Texas Tech Red Raiders Head Coach Matt Wells said. "They Are Elite and They Are Really Good."              
The Oklahoma Sooners Senior Heisman Trophy Award Candidate Quarterback Jalen Hurts is Still in The Hunt For The Award and This Game Should Be Put In Evidence To Support His Case.
The Former Alabama Crimson Tide Quarterback Torched The Texas Tech Red Raiders for 415-Yards Passing and Three Touchdowns in Only Three Quarters of Play as The Sooners Won The Game 55-16. You Might Be Thinking That 415-Yards is Real Impressive, but Other Quarterbacks Might Have Passed For More Yardage, but Wait! Hurts Passed For 415-Yards on Just Only 17 Pass Completions, Which is an Absolutely Unbelievable and Unheard-Of 24-Yard Average Per Completion.
CeeDee Lamb got The Big Play In The Second Quarter as He Caught The Football In The Middle of The Field With Red Raider Defenders All-Around Him and He Got Away From Them and Raced Down The Left Sideline For The 71-Yard Touchdown.
As One Can See in All of The Long Touchdowns and Long Pass Completions, a Great Portion of The Hurts Passing Yardage Came Because of His Fabulous Wide Receivers. Their Ability To Make The Huge Plays After Catching The Football, Not Only Made Hurts Look Outstanding, But Also Makes The Wide Receivers Look Outstanding.
For The #6 Ranked Team in The Country, by Defeating The Texas Tech Red Raiders is Really Great, but The Biggest Test For Jalen Hurts and His Great Wide Receivers Will Be When The Sooners Face The Longhorns in The Red River Showdown Game. A Huge Win, In This Game, With The Oklahoma Sooners and Their Well-Organized and Speed-Oriented Offense, Jalen Hurts Would Have The Inside Track To Be Awarded The Heisman Trophy Award For This Football Season.
RUNNING BACK
CHUBA HUBBARD –

OKLAHOMA STATE COWBOYS
The Oklahoma State Cowboys Super-Star and MVP Running Back Chuba Hubbard (#30) Had an Incredible and Mind-Boggling Career-High Rushing Yards With an Unbelievable 296-Yards Rushing in This Big-12 Victory Over The Kansas State Wildcats.
"I Was Not Happy with How it went last week and I felt like I Let-Down My Teammates in a lot of ways," said Hubbard." The Longhorns Obviously Played Great, Last Week, but I know I could have done a lot more, so this week, I just Wanted To Bounce Back from That Game and Help Put My Team in a Position To-Win. Everything came together, so it was a Great Win."
Hubbard (6-1, 207, 4.28) From Sherwood Park Bev Facey Community High School in Alberta, Canada, Entered The Kansas State Game as The Leading Rusher In The Country, but Hubbard Still Felt That He Had To-Rebound From What He Thought To-Be A Sub-Par Game A Week Earlier When He Only Gained 121-Yards on 37 Carries in The 36-30 Loss To The #11 Texas Longhorns.
Hubbard Was a Track Super-Star in High School as He Ran a 10.55 In The 100-Meters and He Finished 4th in The World in The 100-Meter Dash At The IAAF World Youth Championships Track Meet in Columbia. 
In This Game, Hubbard Rushed for The Incredible 296-Yards and a Touchdown on 25 Carries With an Unbelievable 11.8 Yards Per Carry Average and He Also Caught Two Passes For Another 7-Yards, Giving Him 303-Yards of Total Offense As The Oklahoma State Cowboys Beat The #24 Ranked Kansas State Wildcats in a Weather-Delayed 26-13 Victory.
The Speedy Hubbard Only Had Three Carries in The First Quarter, Because    The Cowboys (4-1, 1-1 Big-12) Had Already Built-Up  a 13-0 Lead when The Game was Delayed For More Than an Hour in The Second Quarter, Due to Severe Lightning.
This Breakout Super-Star, Using His Unbelievable Speed, Hubbard Still Had Three Long Runs, Including "Eye-Popping Runs" of 53, 84 and 44-Yards in an Unbelievable Dominating Performance.
Chuba Hubbard Still Continues To-Prove why he may be The Most Lethal Skill Position Player in The Entire Big 12 Conference and Maybe The Entire Country. Hubbard, Currently Leads The Entire Country In Rushing-Yards  With 938-Yards Rushing, After Five Games; and The Second Place Rusher in The Country Has 654-Yards.
An Unbelievable Fact About Hubbard and Putting His 2019 Rushing Stats In Perspective is That In 15-Years, The Oklahoma State Cowboys Offense Of Head Coach Mike Gundy Has Only Had 10-Games With a Running Back Gaining 200-Yards or More and Chuba Hubbard Has Had Three of Those 10-Games In The Last 30-Days.
Super-Star Freshman Dual-Threat Quarterback Spencer Sanders (#3) From Denton Ryan, Texas Completed 16 of 25 Passes For 153-Yards and a Touchdown for The Cowboys. Sanders (6-2, 195, 4.42) Also Rushed For Another 52-Yards, Giving Him 205-Yards of Total Offense. Most of his Completions Were Caught By Super-Star and Two-Time Weekly MVP Wide Receiver Tylan Wallace (6-0, 185, 4.4), who Caught 7 Passes For 145-Yards. These Three Incredible Oklahoma State Cowboy Players Totaled An Impressive 653-Yards of Total Offense.
"I think That Hubbard Should be in The Heisman Trophy Award Race                Right Now," Sanders said. "He is Doing Great and He is a Big Asset To This Team and We Are Just Going to Keep Getting Better Each Week."
BOXER OR FOOTBALLER
For a Few Moments, Chuba Hubbard Wanted To Be a Boxer. He was a 9-Year Old and He Liked Muhammad Ali, and He Believed That His Lanky Body Could Fit Into That Sport if He Could Add Some Muscle.
His Mother, Candace Hubbard, However Would not hear of it. The Bev Facey High School Youth Coaches, Were Desperate To Keep The Fastest Child That They Had Ever Seen or Knew-About To-Stay in Football and They Worked Extremely Hard To Keep Him in Football and Worked Very Hard To-Convince Him That Boxing Was Not In His Best Interest.
"The Coach said to him, 'Well, Chuba, You Know That You Get Punched in The Face When You Are a Boxer,' and Nonstop," Candace said.
When Hubbard Reached High School, The Bev Facey Coaches at Bev Facey Community High School knew That Hubbard was a Rare Talent. In his First Scrimmage, Hubbard Took a Pitch-Out To The Left and Exploded 75-Yards Down The Sideline and Past Defenders Untouched for a Touchdown, leaving his Teammates With Their Jaws Wide-Open.
"Chuba Came In with More Talent Than Any Other 10th Grader That I Have Ever Seen, and He Did Not Flaunt it From The Beginning," said Coach Hal Souster, who Coached The Bev Facey Running Backs That Season while also Being The Athletic Director.
Hubbard Rushed For 6,880-Yards in His Three Year High School Career. He Also Was a Very Tough Kid. He Once Rushed For 133-Yards in A Game After He Had Fractured His Fibula.
On Mother's Day in 2016, Chuba Hubbard Surprised His Mother, Candace, by Telling Her That He Had Just Committed to The Oklahoma State Cowboys. The Baby of the Family, Hubbard, Had Just Chosen a School To Go Play Football That Was 1,700 Miles From His Home, in Alberta, Canada, but a School With a Reputation For An Explosive Offense.
WIDE RECEIVER
CEEDEE LAMB –

OKLAHOMA SOONERS
Two Of The Oklahoma Sooner Wide Receivers CeeDee Lamb (#2) and Charleston Rambo (6-2, 178, 4.36, 38, 4.18) had Some Great Ideas About This Game and They Envisioned On-How The Saturday Game Against The Texas Tech Red Raiders Was Going To-Go For Them.
Co-MVP Wide Receiver CeeDee Lamb (6-2, 191, 4.32) From Richmond Foster , Texas had Some Career-Highs in Pass Receiving Yards and Touchdowns. 
With help From The Oklahoma Sooners Senior Heisman Trophy Award Candidate Quarterback Jalen Hurts, those Great Thoughts Became a Reality, As Hurts Passed for 415-Yards and Three Touchdowns. Lamb Had Some Career-Highs as He Caught 7 Passes For 185-Yards and Three Touchdowns; Plus Lamb Also Had Two Punt Returns For Another 9-Yards, Giving Him 194-Yards of All-Purpose Yards For The #6 Ranked Oklahoma Sooners in Their 55-16 Victory Over The Texas Tech Red Raiders.
One of The CeeDee Lamb Touchdown Catches Was Incredible. Lamb Caught The pass at Mid-Field, but His Back Was Turned To The Opposite End-Zone and He Was Surrounded by Red Raider Linebacker Defenders. Linebacker Brayden Stringer was in Front of Him, While Defensive Backs Thomas Leggett and Adrian Frye Were Behind Him, but They Were All-Around Him. These Three Defenders Paused For a Few Second and it Was Costly as Lamb Spun-Around and Raced 71-Yards With The Touchdown Catch, as He Raced About Half of The Field Into The End-Zone For the Touchdown.
Rambo (#14) Entered The Game With The Oklahoma Sooners as The Leader in Pass Receptions, Yards, and Touchdowns, but Lamb got the best of Their Friendly Competition on Saturday. In This Game, Rambo Had 122-Yards Receiving, but it was on Only Two Catches in The First Quarter, and With an Unbelievable 61-Yard Average Per Catch. After The First Quarter, Lamb Took Over From There.
"That's My Roommate, so on Thursday We Were Talking About Stuff That We Were going to do on Saturday and He did it," Rambo said. "That's my Roommate, so I'm happy for him."
"It's Exciting when you see one of Your Closest Friends Doing the things that he Wanted To Do and it was All Planned," Lamb said. "He's doing a Great Job, and I just hope he Keeps Getting Better."
In 2018, Lamb Did Not Get As Much Attention As Teammate Hollywood Brown, but Lamb Was Very, Very Good for The Sooners in 2018. On the year, he Caught 65 Passes For 1,158-Yards with 11 Touchdowns. In 2017, Lamb Caught 46 Passes for 807-Yards and Seven Touchdowns.