–
College Football Elite 8 Defensive Players Weekly MVP'S – Week #4!
By Super Scout Max Emfinger
2019 COLLEGE FOOTBALL WEEKLY MVP AWARD
ELITE 8 DEFENSIVE PLAYERS – WEEK #4
All MVP Players Must Be On Winning Team!
SIDEBAR I: Through The First Three Games and it may be a Little Premature, There Are Already a Few Heisman Trophy Favorites! Coming Into The Season, Quarterbacks Trevor Lawrence and Tua Tagovailoa Were Considered To Be The Top Two Favorites, but Currently, According to The Caesars Sportbook, QB Jalen Hurts, QB Joe Burrow, QB Justin Fields, QB Sam Ehlinger, QB Justin Herbert, and RB Jonathan Taylor are Other Heisman Trophy Candidate Favorites. Hurts, Tagovailoa, and Burrow Are Leading.
SIDEBAR II: Week #4 FABULOUS 15 OFFENSIVE MVP'S Include: QB Dorian Thompson-Robinson, QB Brock Purdy, QB Justin Fields, QB Joe Burrow, RB Jonathan Taylor and RB/AP DeMetric Felton. WR Michael Pittman, WR Ja'Marr Chase, WR Tony Brown, and WR Henry Riggs III. WR/AP Xavier Smith, WR/AP Devin Duvernay, WR/AP Joe Reed, and WR/AP K.D. Nixon. TE Jacob Breeland. Week #4 ELITE EIGHT DEFENSIVE MVP'S Include: EDGE RUSH END Chase Young and EDGE RUSH END Charles Snowden. DT Derrick Brown. ILB Josh Woods and ILB Evan Weaver. FS Montrell Estell, SS/FS K'Von Wallace, and SPECIAL TEAMS Micah Baskerville.
EDGE-RUSH DEFENSIVE END
CHASE YOUNG –

OHIO STATE BUCKEYES
All-America Edge-Rush Defensive End Chase Young (#2) Had Another Incredible Game Against The Miami (Ohio) Redhawks as He Recorded Three Tackles, Including Two Solo Tackles, One Assisted Tackle, Two Quarterback Hurries, and Two Quarterback Sacks in Only The Ohio State Buckeyes First Two Quarters in The 76-5 Victory Over The Redhawks.
The Two Quarterback Sacks both led to Miami (Ohio) Fumbles that The Ohio State Buckeyes Recovered. Young has Now Recorded Seven Quarterback Sacks in The First Four Games of This season.
"It was just a Really Good Defensive effort," Young said. "Hopefully we can try to do that against Nebraska."
With Super Rush End Nick Bosa Injured for Most of The 2018 Season, Young (6-5, 265, 4.57) Took Advantage of The Great Opportunity to have an Unbelievable Breakout season. Young has Great Size To-Go Along with Great Speed and Great Athleticism off The Edge Rush End.
In 2018, Young Recorded 34 Solo Tackles with 15.5 Tackles For a Loss, 10.5 Quarterback Sacks, Five Passes Broken-Up, and He Had Two Forced Fumbles. As a Freshman, Young Totaled 19 tackles with 3.5 Quarterback Sacks and One Forced Fumble.
Chase Young Helped The Ohio State Buckeyes Fans To-Forget about Nick Bosa In 2018. He Has An Exceptional Quick First-Step Quickness and Great Power in his Game. What Makes Him So Versatile is That He Can Line-Up on Either on The Right Side or The Left Side and he Also has The Experience With His Hand On The Ground or as a Stand-Up Edge-Rusher. His Overall Incredible Versatility and Athleticism are Mind-Boggling and He Will Be a 2020 Top Five Selection in The NFL Draft. 
EDGE-RUSH DEFENSIVE END  
CHARLES SNOWDEN –

VIRGINIA CAVALIERS 

In 2018, The Virginia Cavaliers Super Edge-Rush End Charles Snowden (#11) Led All Edge Rush End/Linebackers With Nine Pass Breakups and he Also Finished His Sophomore Season with Two Interceptions and 2 1/2 Quarterback Sacks.
All of The Virginia Cavalier Fans and The NFL Scouts Were Both Eager to see how Snowden (6-7, 245, 4.62) Could Really Build on those numbers in his Third Year in College. But The Virginia Cavalier Coaches were More interested and Focused On How He Could Improve On Another Facet of his Game and That Would Be Setting-Up as an Edge-Rusher and Getting More Dominant in Defending The Run.
"From the Minute The 2018 Season was over, Snowden Knew Exactly what he had to do," Virginia Cavaliers Head Coach Bronco Mendenhall said. "And So, While Snowden Was a Very Effective Edge-Rusher Ender In Space, he Was  Not As Effective On The Run Defense And he Took That Personally, and He Has Done a Really Nice Job of Addressing It."
In The Game Against The Old Dominion Monarchs, Snowden From Silver Springs St Albans High School, Maryland was Incredible as He Demonstrated His Great Versatility To Be an Edge Rush End and With Great Athletic Ability To Be a Great Run-Stopper, as He Recorded a Career-Best 15 Tackles, Including 6 Solo Tackles, 9 Assisted Tackles, 2.5 Quarterback sacks, 2 Quarterback Hurries, and 3,5 Tackles For a Loss, as The 21th Ranked Virginia Cavalier Defeated The Old Dominion Monarchs, 28-17. With This Victory, The Virginia Cavalier Improved to a 4-0 Record.
In This Outstanding Game, Charles Snowden Was Awarded The Walter Camp National Player of The Week #4. Snowen is Only The Fifth Virginia Cavalier Player To Earn The Walter Camp National Player of The Week Honors Since 2004, and The First Since Strong Safety Juan Thornhill on October 14, 2018.
DEFENSIVE TACKLE
DERRICK BROWN – AUBURN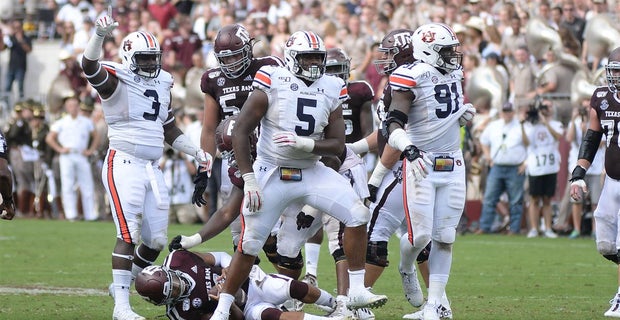 The Auburn Tigers Super Defensive Tackle Derrick Brown (#5) Had Another Incredible Game Against The Texas A&M Aggies as He Recorded Four Tackles, Including Three Solo Tackles, One Assisted Tackle, Forced One Fumble, Had Two Pass Breakups, Two Quarterback Sacks, and Three Tackles For A Loss in The Auburn Tigers 28-20 Victory Over The Aggies.
In 2018, Brown (6-5, 322, 4.92) Played Exceptionally Well as a Junior Despite Being Double-Teamed on Almost Every Single Play. He is Very Fast and Very Powerful For His Huge Size at The Point of Attack. Most NFL Really Love His Potential and Feel That He Also Has A Tremendous Upside Due to The Fact That He is Still a Very Young Football Player. His Overall Incredible Versatility and Athleticism are Mind-Boggling and He Will Probably Become a #1 Draft Choice in The 2020 NFL Draft.
In 2018, Brown Recorded 48 Tackles, Including 25 Solo Tackles, 20 Assisted Tackles, 4.5 Quarterback Sacks, 10.5 Tackles for a Loss, Had 2 Pass Breakups, and Had One Forced Fumble. Brown Played Exceptionally Well Against The LSU Tigers and The Washington Huskies, plus He Helped Lead The Auburn Tigers To a Comeback Victory Against The Texas A&M Aggies.

In 2017, After a Rough Start, The Auburn Tigers Started Playing Great Late in the Year, including Incredible Victories Over The Two Teams that played for The National Championship, Georgia and Alabama. The Tigers Offense Was Given a Lot of Attention, but The Auburn Tigers Defense Came-Up with Some Incredible Performances and Derrick Brown was One of The Greatest Players On The Auburn Tigers Defense and Also Their Biggest Leader, Because He Has Really Great Strength To-Push The Pocket in The Pass Rush.
Auburn Team Sources Really Love Brown with his Great Quickness To Push The Pocket and The Great Strength. Most NFL Scouts  See Brown as a Three-Technique for a 4-3 Defense, and Brown Could Also Play a Nose Tackle/One-Technique as well and Brown as a Future NFL #1 Draft Choice.
INSIDE LINEBACKER


JOSH WOODS – UCLA BRUINS
Against The Washington State Cougars And On The Very First Series of The Game, UCLA Inside Linebacker Josh Woods (#2) Intercepted an Anthony Gordon Pass and Co-MVP Dorian Thompson-Robinson Hit Josh Kelly on a 14-Yard Touchdown Pass for a 7-0 Lead For The UCLA Bruins.
In This Game, Woods (6-2, 234, 4.66) Recorded Some Other Great Plays In Leading The UCLA Bruins Defense In Their Incredible 67-63 UPSET Victory Over The Washington State Cougars. Not Very Many Defensive Players Will Record An Interception, A Quarterback, Recover Two Fumbles, and Record Several Solo Tackles in The Same Football Game, but Josh Woods Did It Against The Cougars.
In This Unbelievable Game For Josh Woods, He Recorded 4 Tackles, Including 3 Solo Tackles, 1 Assisted Tackle, 1 Quarterback Sack, 1 Interception, and Recover 2 Fumbles.
Four UCLA Bruin Football Players Received Honors in The PAC-12 Players of The Week #4 Honors after Their Outstanding 67-63 UPSET Victory Over The Washington State Cougars. Sophomore quarterback Dorian Thompson-Robinson, Red-Shirt Junior All-Purpose/Wide Receiver Demetric Felton, and  Red-Shirt Freshman All-Purpose/Wide Receiver Kyle Philips on Offense and Senior Inside Linebacker Josh Woods on Defense, All Won Weekly Awards, and Thompson-Robinson and Felton Also Had Some National Awards.
INSIDE LINEBACKER
EVAN WEAVER – 

CALIFORNIA GOLDEN BEARS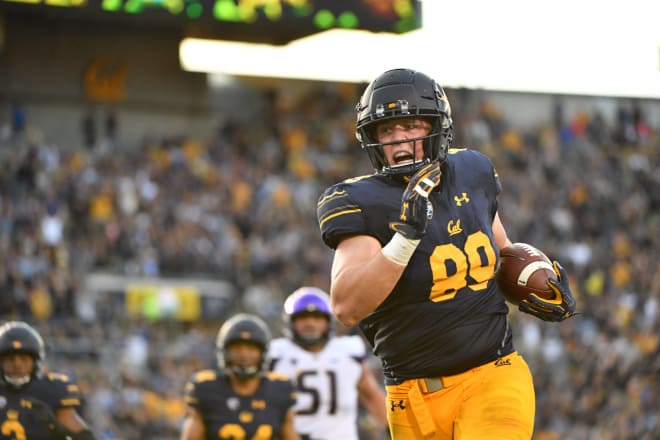 The California Golden Bears Super-Star Inside Linebacker Evan Weaver (#89) Was Unbelievably Incredible Against The Ole Miss Rebels as He Recorded 22 Tackles, Including 11 Solo Tackles, 11 Assisted Tackles, 2 Quarterback Hurries, and  One Half Sack.The 22 Tackles Was Huge, but Weaver Actually Was Responsible For The #23 Ranked Golden Bears 28-20 Victory Over The Ole Miss Rebels. 
Weaver (6-3, 235, 4.57} Was All Over The Field in Making His 22 Tackles, But His Last Tackle Was The Most Important and It Won The Game For The California Golden Bears.
The Last Tackle For Weaver Was When He Tackled John Rhys Plumlee For a "No-Gain" at The 1-Yard Line As Time Ran-Out With The Final Score Reading 28-20 and With The Golden Bears Victory. On The Last Play, Weaver Crashed Really Hard from The Right Side of The Line and Then Wrapped-Up Plumlee On The Line, Stopping His Progress Before Other Golden Bear Defenders Could Arrive and Finish The Play and The Game.
"Just stop the guy with the ball. Keep him from Crossing the White Stripe," Weaver said. "We got some push in the middle and put it in them."
The California Golden Bears Head Coach Justin Wilcox, Whose Football Team Has Started-Off The Season With a 4-0 Record For the First time Since 2015, was not Even Vaguely Surprised, Because Weaver Has Led The Golden Bears in Every Defensive Stat Available On Defense for The Golden Bears, who Lost a Late 28-13 Lead Nearly Disappear in The Final Six Minutes.
"Evan Weaver Produces Every Single Week," Wilcox said. "He's a Really Great Player. We're Really Proud of Weaver. Weaver Had 22 Tackles in This Game. When Was the last time we Did Not Talk About What a Great Football Player That He Is?
The Last-Minute Heroics By Weaver Almost Overshadowed The Incredible Performance from Quarterback Chase Garbers, Who Completed 23 of 35 Passes For 357-Yards and 4 Touchdowns, with Touchdown Passes of 9-Yards To Jordan Duncan and 60-Yards to Jake Tonges on The First Two Opening Drives in The Second Half For The Golden Bears. This Golden Bear Lead Was Never Given-Up.
"Chase was Awesome. It's not even close. That's The Best Game That He has Played," Wilcox said. "The Two Receivers did a really nice job. I was Impressed how Chase looked so comfortable. He was really confident out there."
Division I Inside Linebacker may make a Few Tackles in Every Game, but  Weaver Averages 6.4 Solo Tackles in Every Game, making him The 10th Most Aggressive and Most Lethal Tackler in College Football.
"Not only is Weaver Great at tackling, but he also loves it And That Is The Scariest Part of His Tackling," Said The Golden Bears Linebackers Coach Peter Sirmon.
"I like to Yell at People," Weaver said. "I like to make sure that they know what's going on in my head so that if they hit me, they know what's going to happen. You beat them mentally, and then When You beat them on the field,  You get a Double-Whammy in one, so it's pretty good."
Most of his Teammates are Well Acquainted with the Craziness of Evan Weaver. The Majority of the fans, too, Have Heard The Chatter on The Field or The Love of Hitting an Opponent.
Senior Linebacker Evan Weaver was Named to The Preseason Chuck Bednarik Award Watch List. The Chuck Bednarik Award Is Awarded To The  Top Defensive Player in College Football. Weaver Returns for his Senior Season as The Leading Tackler In The Country with 159 Tackles in 2018.
Weaver Also Earned The PAC-12 Defensive Player of The Week 4, For The Second Time in Three Weeks, as He Joins QB Dorian Thompson-Robinson and All-Purpose Demetric Felton.
FREE SAFETY
MONTRELL ESTELL –

TEXAS LONGHORNS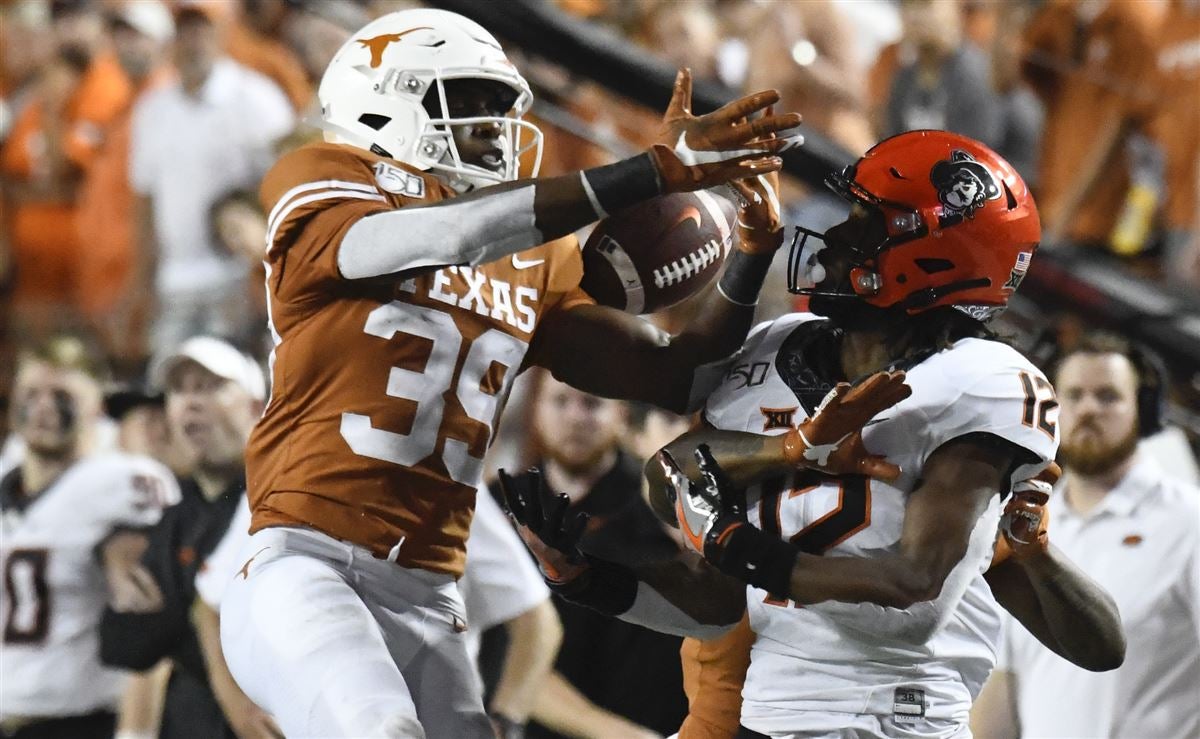 The Texas Longhorns Super Quarterback Sam Ehlinger Had Another Outstanding Game as He Passed For 4 Touchdowns and Made Some Big Runs, and The Texas Longhorns Offense Actually Did What They Normally Do and That is To Have a Great Game and Score a Lot of Points. If The Texas Longhorns Defense Can Put Together More Games Like This Game With The Oklahoma State Cowboys, The Texas Longhorns Longhorns Will Be Able To Go Really Far in The Big-12 Conference.
The Texas Longhorns #12 Defense Held The Oklahoma State Cowboys Unbelievably Big Playmakers Under Control and In-Check For Most of The Game as The Texas Longhorns Won a Huge Big-12 Conference Game  in a Tough 36-30 Victory Over Oklahoma State on Saturday Night To Open The Big-12 Conference Schedule.  
The Texas Longhorns (3-1, 1-0) Ended a Four-game Losing Streak to The Cowboys (3-1, 0-1) and Ended a Five-Game Losing Streak in The Oklahoma State Series In Games Played in Austin Dating-Back to 2010.
In This Great Big-12 Conference Opening Game, For Both Teams, It Was  was The Great Texas Longhorns Defense That Longhorns Head Coach Tom Herman Had High Praise.
The Texas Longhorns Defense Held Super Running Chuba Hubbard, The Leading Rusher in The Country To Only 121-Yards on 37 Carries and a Longest Run of 13-Yards. Hubbard Scored Two Times, but On Two Occasions, He Was Stuffed Near The Goal-Line on Key Drive In The Game.
The Cowboys Super Wide Receiver Tylan Wallace Came Into The Game Tied  For The National Lead With 6 Touchdown Catches and The Texas Longhorns Defense and The Longhorns Did Not Allow Him To Catch a Single Touchdown Pass. Wallace Only Caught 2 Passes in The Second Half.
The Texas Longhorns Defense

Has a Lot of Great Players and Most of Them Had a Great Game Against

The Oklahoma State Cowboys,

But Which Player Had The Most Impressive Game and Who Was The Most Outstanding Player on Defense For

The Texas Longhorns?

 
If You Check-Out 

The Texas Longhorns/Oklahoma State Box Score

, You Will Find An "Under The Radar Red-Shirt Sophomore Player" Named Montrell Estell (#39) From Hooks, Texas Who Came To

The Texas Longhorns 

As an Athletic Wide Receiver. Estell was a V

ery Elusive and Very Athletic Wide Receiver Once He Made The Catch on The Offense and

He Played That Position as a Red-Shirt Freshman and Only Recently Was Moved To Defense.
Estell Is a Former 4-Star Recruit Who Has Great and Natural Athletic Abilities, But He Needed a Little Help in His Route-Running and With All of The Great 

Texas Longhorn Wide Receivers In Austin

, The Question Was Whether or Not To-Move Estell To The Defense. With His Great  Playmaking Ability, Estell Could Get To-Play More Quickly on Defense.
In This Game, Against

The Oklahoma State Cowboys

, Estell (6-1, 205, 4,42) Was Pretty Amazing at His New Free Safety Position as He Recorded Some Unbelievable Defensive Stats For a Free Safety as He Recorded 9 Tackles, Including an Amazing 8 Solo tackles, 1 Assisted Tackle, Had 1 Tackle For a Loss, and 1 Interception That he Returned 37-Yards.
STRONG SAFETY/FREE SAFETY  
K'VON WALLACE –

CLEMSON TIGERS 
Senior Strong Safety K'Von Wallace(#12) Set The Tone For 

The #1 Ranked Clemson Tigers

Eventual 52-10 Rout of The Charlotte 49ers on Saturday Night at Death Valley with Some Outstanding Plays, Early in The First Quarter.
K'Von Wallace Shocked Everyone in The Stands and on TV When He Returned an Interception 66-Yards For a Touchdown To Give 

The Clemson Tigers

a 14-0 lead in The First Five Minutes of The Game.
On The Incredible Interception, Wallace (6-0, 210, 4.44, 39, 4.1) Picked-Off The Football at

The Clemson Tigers

34-Yard Line and After Several Blocks, He Raced-Down The Sideline For His First-Career Interception For a Touchdown and Give 

The Clemson Tigers (4-0)

a 14-0 Lead With 10:24 Left In The First Quarter.
For The Entire Game, Wallace From Richmond Highland Springs, Virginia Recorded 3 Tackles, Including 2 Solo Tackles, 1 Assisted Tackle, 2 Pass Breakups, and His 66-Yard Interception For a Touchdown, Giving 

The Clemson Tigers 

an Early 14-0 Lead. Wallace also Shared 

The Clemson Tigers Team

as 

The Defensive Player of The Week

.
After The 66-Yard Interception Return For a Touchdown, Quarterback Trevor Lawrence,

The Heisman Trophy Award Candidate 

Came Out of The Game After Playing Only One Quarter. Before Lawrence Left The Game, He Completed 7 of 9 Passes For 94-Yards and 2 Touchdowns.

Wallace became The Starting Strong Safety Halfway through his Sophomore Season in 2018. Initially, Wallace Was a Backup, But He Would Come-In. Then, he Became The Starter After The Starter was Exposed Several Times by Trick-Plays That Gave-Up Touchdowns.
Initially, Wallace Struggled a Little, but as he grew More Comfortable With His New Position, he Became an Outstanding Strong Safety For 

The Clemson Tigers.

The Original Starter at Strong Safety Was Van Smith, but He Then Moved back to Free Safety To-Fix Problems at That Position.
As The Deep Safety on The Wide Side of The Football Field, The Very Quick and Athletic Wallace, Had More Area To-Cover For

The Tigers 

Than a Normal Strong Safety or Free Safety. Not Too Many Strong Safeties In The Country Have Recorded a 4.1 In The Short Shuttle.
Against

The #12 Ranked Texas A&M Aggies,

Wallace Recorded 10 tackles Including a Quarterback Sack and a Quarterback Hurry That Directly led to an Interception by Tanner Muse and He Earned

The ACC Defensive Back of The Week.
SPECIAL TEAMS
MICAH BASKERVILLE –

LSU TIGERS
The LSU Tigers Have Great Offensive Players and Great Defensive Players, but Against The Vanderbilt Commodores, The LSU Tigers Came-Up With One of The Most Incredible Special Team Players in The History of The LSU Tigers Football. 
The LSU Tigers Have Always have Played Stingy Defense, but With Their Quarterback, Joe Burrow, The Tigers Now Have a Very Highly Potent Run/Pass Option Offense That Scores a Lot of Points Each Week.
The Tigers Aggressive Play Paid-Off on Saturday as Co-MVP Burrow Passed For Six Touchdowns and an LSU Tigers School Record and Co-MVP Wide Receiver Caught 4 of Those 6 Touchdowns From Burrow, in Helping Lead LSU #4 Ranked Tigers to a 66-38 romp over The Vanderbilt Commodores.
The Tigers Scored Their Most Points of The Season and The Most Points Ever in Regulation Against an SEC Conference Opponent.  
The Tigers Needed 2 Minutes and 11 Seconds, or Less on Each of Their First  Seven Scoring Drives. Another Co-MVP Helped Make These LSU Tigers Touchdowns To Quick Scores as Special Team Super-Star, Micah Baskerville, (6-1, 220, 4.76) Scored One Touchdown and Then Was Tackled on The Two-Yard Line After He Recovered an Onside Kick and Then Returned it To The 2-Yard Line For The Tigers. 
Sophomore Micah Baskerville From Shreveport Evangel Christian, Louisiana Had an Unbelievable and Mind-Boggling Game on Special Teams in The Third Quarter as He Blocked a Vanderbilt Punt and Then Recovered The Blocked Punt/Football in The End-Zone For a Quick  LSU Tiger Touchdown. If This Was Not Incredible Enough, Baskerville Also Returned An Onside Kick 46-Yards, Two-Yard Line, To-Open The Third Quarter Before The Joe Burrow Fifth Touchdown Pass.
"I Told Him That He Should Have Scored Two Touchdowns," Said Burrow.
The LSU Tigers Were Headed To The Locker Room and Head Coach Ed Orgeron Yelled: "I See You Micah Baskerville, All Over The Place," Said Coach Orgeron.
Baskerville Joined Joe Burrow and Ja'Marr Chase As He Was Awarded The Special Teams Award For Week #4, By The Louisiana SportsWriters.