–
College Football Fabulous 15 Offensive Skill Players Weekly MVP'S – Week #4!
By Super Scout Max Emfinger
2019 COLLEGE FOOTBALL WEEKLY MVP AWARD
FABULOUS 15 OFFENSIVE SKILL PLAYERS – WEEK #4
All MVP Players Must Be On Winning Team!
SIDEBAR I: Through The First Three Games and it may be a Little Premature, There Are Already a Few Heisman Trophy Favorites! Coming Into The Season, Quarterbacks Trevor Lawrence and Tua Tagovailoa Were Considered To Be The Top Two Favorites, but Currently, According to The Caesars Sportbook, QB Jalen Hurts, QB Joe Burrow, QB Justin Fields, QB Sam Ehlinger, QB Justin Herbert, and RB Jonathan Taylor are Other Heisman Trophy Candidate Favorites. Hurts, Tagovailoa, and Burrow Are Leading.
SIDEBAR II: Week #4 FABULOUS 15 OFFENSIVE MVP'S Include: QB Dorian Thompson-Robinson, QB Brock Purdy, QB Justin Fields, QB Joe Burrow, RB Jonathan Taylor. WR Michael Pittman, WR Ja'Marr Chase, WR Tony Brown, and WR Henry Riggs III. WR/RB/AP DeMetric Felton, RB/AP K.D. Nixon, WR/AP Joe Reed, WR/AP Devin Duvernay, and SLOT WR/AP Xavier Smith. TE Jacob Breeland. Week #4 ELITE EIGHT DEFENSIVE MVP'S Include: RUSH END Chase Young and RUSH END Charles Snowden. DT Derrick Brown. ILB Josh Woods and OLB Evan Weaver. CB Montrell Estell, SS K'Von Wallace, and SPECIAL TEAMS Micah Baskerville. 
DUAL THREAT PASSING QUARTERBACK – DORIAN THOMPSON ROBINSON – UCLA BRUINS 
DUAL THREAT PASSING QUARTERBACK 
BROCK PURDY –

IOWA STATE CYCLONES 
Iowa State Cyclones Sophomore Dual-Threat Quarterback Brock Purdy (#15) Completed an Amazing 21 of 27 Passes For an Incredible Career-High 435-Yards and 6 Touchdowns in The 45-25 Victory Over The University of Louisiana Monroe. Purdy (6-1, 210, 4.62) From Gilbert Perry, Arizona Also Rushed for Another 75-Yards, giving him 510-Yards of Total Offense and 6 Touchdowns in The Victory and he Did Not Play in The Fourth Quarter.
Purdy Led The Cyclones in The Second Half, after They had a 14-Point Lead at Half-Time,as he Passed for Three of His Touchdowns in The Third Quarter and Built-Up a 48-Point Lead.
As for Purdy, he broke an Iowa State Cyclones Record for Total Offensive Yards in a game, with 510-Yards of Total Offense. Purdy Also Tied a 30-Year-Old Iowa State Record With His 6 Touchdowns in a Single Game. 
DUAL THREAT QUARTERACK – JUSTIN FIELDS
OHIO STATE BUCKEYES

Super-Star Dual-Threat Quarterback Justin Fields of The Ohio State Buckeyes Had Another Incredible Game Against The Miami (Ohio) Redhawks as Fields (#1) Completed 14 of 21 Passes for 223-Yards and 4 Touchdowns and He also Rushed for Another 36-Yards and Another 2 Touchdowns, Giving Him 259-Yards and 6 Touchdowns, in Only The First Two Quarters in The 76-5 Victory.
The Sophomore Fields (6-3, 223, 4.38) Transferred To The Ohio State Buckeyes From The Georgia Bulldogs as The Highest-Rated Football Recruit To Ever play for The Buckeyes. Fields also had an Incredible Hype-Train Following Him To The Ohio State Buckeyes Campus.
Also Remember That Fields was Transferring To a Big-10 Team That Had Just Recorded a 13-1 Record in 2018 and with Victories in The Big-10 Conference Championship Game and Another Victory in The Rose Bowl Game. The Buckeyes Did This in The Year Before Fields Got To The Ohio State Buckeyes Campus as Their New Quarterback, but The Buckeyes Entered The 2019 Football Season with a Lot of Huge Question Marks, because of The New Ohio State Buckeyes Head Coach and New Quarterback. 
Fields, From Kennesaw Harrison, Georgia, has Answered Any and All Question-Marks by Becoming an Incredible Quarterback in The First Four Games in Convincing Victories. Although Many Fans and Observers were Surprised How Successful Fields was in His First Four Starts, Those Big-10 Conference Observers, especially Those who had already Written Off The Buckeyes before The Season Started Were Shocked when The Former 5-Star Quarterback Recruit was Sensational as a Player and Leader.
The Amazing Thing About Fields was That He Knew That he was Going To Become a Huge Success With His New Team and He also Knew That He could Lead To Maybe a Even Better Success Story Than in 2010.
"It is Kind of What i Had Expected," Fields Said. "I Came in Here with The Mind-Set To Be The Best Player That I Possibly Could Be!"
PASSING QUARTERBACK 
JOE BURROW – 

LSU TIGERS
The LSU Tigers Senior Transfer Quarterback Joe Burrow (#9) Had Another Incredible Game as He Completed 25 of 34 passes  for 398-yards and an Incredible and Mind-Boggling 6 Touchdowns in Their Opening-Game SEC Conference 66-38 Victory over The Vanderbilt Commodores. Burrow also Recorded Another Incredible 230.1 Quarterback Rating. 
On Monday, After The Saturday Game, Burrow (6-4, 216, 4.6) Was Named as The SEC Conference Offensive Player of The Week For Week Four After Also Being Named as SEC Offensive Player of The Three of Four Weeks. Only Two Other LSU Tiger Players in LSU History Have Won The SEC Conference Offensive Player of The Week Award. Those Two Included Quarterback Tommy Hudson in 1989 and Quarterback JaMarcus Russell in 2006.
In Passing For 6 Touchdowns, Burrow Broke Another LSU School Record For Touchdown Passes in a Single Game, Breaking his Own Record of 5 Touchdowns in One Game. Burrow Was Also Named To The Louisiana Sports Writers Louisiana Offensive Player of The Week For The Fourth Week.
Joe Burrow Was Really Unbelievable in The First Half as He Was Trying To Impress The Heisman Trophy Voters As He Completed 18 of 24 Passes for An Amazing 357-Yards and 4 Touchdowns. These Impressive 357-Yards Passing  Were the Most in a First Half by an SEC Conference Player Against an SEC Conference Defense in at Least the Last 15 Years. The Burrow Performance, Came With The LSU Tigers New Run/Pass Option Offense Came Only Days After His Heisman Trophy Award Odds In Las Vegas Had Surged.
The LSU Tigers Sophomore Co-MVP Wide Receiver Ja'Marr Chase Was The Main Target of Burrow as He Caught an Incredible 7 Passes for 199-Yards and an amazing 3 Touchdowns in The First Half, Including a Beautiful 64-Yard Catch and run for a Touchdown; plus another 51-Yard Touchdown. Chase Ended The Game With 229-Yards Receiving and 4 Touchdowns.
Burrow Threw His Fifth and Sixth Touchdowns in The Third Quarter and Connected With Chase one More Time. With his Sixth Touchdown, Burrow  was Then Taken out of The Game. The Final Score of 66-38 was The Most Points That The LSU Tigers Had Scored in Regulation Since Their 7-14 Victory over Arkansas State in 1991.
In 4 Games, Burrow has 1,520-Yards Passing and is Ranked Second in The Country To The Washington State Quarterback Anthony Gordon with 1,894-Yards. His 225.63 Quarterback Rating is Second To The Oklahoma Sooners Quarterback Jalen Hurts with a 250.20 Quarterback Rating.
RUNNING BACK – JONATHAN TAYLOR


WISCONSIN BADGERS
The 13th Ranked Wisconsin Badgers Running Back Jonathan Taylor Had an Incredible Game Against The Michigan Wolverines as he Rushed for 203-Yards and 2 Touchdowns and One Catch for Another 5-Yards, Giving Him 208-Yards of Total Offense in The Wisconsin Badgers Victory.
In The First Quarter, Taylor (5-11, 219, 4.34) Rushed for 143-Yards, alone and with 2 Touchdowns, including a Beautiful 72-Yard Touchdown. He Then Missed Most of The Second Quarter, because of Leg-Cramps, but The 2018 Doak Walker Award Winner, As The Best Running Back, then Returned in The Third Quarter and Helped To-Avenge The Wisconsin Badgers 38-13 Loss To The Wolverines in 2018.
The Michigan Wolverine Football Team said all week that They Wanted to make a Statement Against The Wisconsin Badgers, and They Did, But not in The Manner of Statement That They Were Hoping.
The Michigan Wolverines Were Completely Embarrassed in The 35-14 Blowout To The Badgers as They Were Just Plain Undisciplined and Unprepared and They Had Two Weeks To-Prepare For The Badgers.
The Wisconsin Badgers (3-0, 1-0 Big-10) Really Over-Powered The 11th Ranked Wolverines in a Game That The Wolverines Should Have Won, If They Are Rated Higher than The Badgers.
"I think we made A Statement," said Taylor, who ran for 101-Yards against The Michigan Wolverines last season. "It's going to be tough to come into The Badgers Camp Randall Stadium and Come-Away with an easy win. You have to play 60-Minutes and Play until the clock hits zero in the Fourth Quarter."
FLANKER WIDE RECEIVER
MICHAEL PITTMAN, JR –

SOUTHERN CAL TROJANS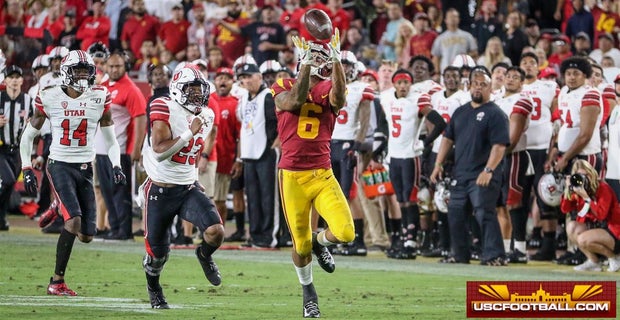 Southern California Trojans Super-Star Wide Receiver Michael Pittman, Jr (#6) is an Unbelievable "Beast" on The Football Field and He is "The Ultimate Mismatch" for Every Cornerback That The Southern California Trojans Will Play. Pittman (6-4, 225, 4.42) is a Huge Target For Any and Every Defensive Back That Will Face The Trojans and He Will "Go-Up" and Compete With any Defensive Back.
Pittman is Unbelievably Talented and Athletic After He makes The Catch. In This Game Against Pittman Demonstrated Everything That i Have Said about him, as he Caught 10 Passes From The Southern California Trojans Quarterback Matt Fink, for an Incredible 232-Yards and a Touchdown in The 30-23 Victory Over a Very Good Utah Utes Team.
Matt Fink jumped into The Southern California Trojans Air-Raid Offense and He Completed 8 of his First 9 Passes During His Two "Game-Opening Touchdown Drives" in which he relied heavily on Pittman and His Other Great Play-Maker Receivers To Make Big Catches on the Drives.
Then, Later, Early in The Third Quarter, On His Highlight Film, Pittman Scored on an Unbelievable and Brilliant 77-Yard Touchdown Pass as He Grabbed The Catch, Snatching The Football Away From Three Defenders.
Another Thing That Separates Pittman From All Other Wide Receivers in The Country is his Willingness To Play on Special Teams. He is Willing To Return Kicks, Make Tackles on Kickoffs and Trying To-Block Punts. He is a Very Special Talent who will make Big plays All Over The Field For The Southern California Trojans and He Will Do The Same Thing in The NFL. 
WIDE RECEIVER 
JA'MARR CHASE –

LSU TIGERS
WIDE RECEIVER  
TONY BROWN –

COLORADO BUFFALOES 
WIDE RECEIVER – HENRY RUGGS III  


ALABAMA CRIMSON TIDE
The Alabama Crimson Tide Wide Receiver Henry Ruggs III (#11) Was a Real Sensation In The Game Against The Southern Miss Golden Eagles as He Recorded 4 Catches For an Amazing 148-Yards and 2 Touchdowns, All in The First Half and All Were on 4 Targets. On a Slant Pattern, Caught a Pass And Then Sprinted to The End-Zone Untouched For A 45-Yard Touchdown.
The Alabama Crimson Tide Super Quarterback Tua Tagovailoa Passed for 293-Yards and 5 Touchdowns in Only Three Quarters, Including a 45-Yard Touchdown and a 74-Yard Touchdown to Ruggs in The First Nine Minutes of This Game. Tagovailoa Had his Second Straight 5 Touchdown Game and The Alabama Crimson Tide (4-0) Raced to a 28-0 Lead in The First 19-Minutes in Another 49-7 Lopsided Victory over The Southern Miss Golden Eagles. Last Season's Heisman Trophy Runner-Up Completed 17 of 21 Passes.
Ruggs is Always Playing Under The Radar, Because of Other Super-Star Wide Receivers Like All-American Jerry Jeudy and other Alabama Crimson Tide Play-Makers, but Ruggs (6-0, 190, 4.25, 40.5, 4.05) is a Very Dangerous Wide Receiver with Incredible Speed and Who Always Produces Huge Plays.
In 2018, Ruggs Caught 46 Passes For 741-Yards and an Amazing 11 Touchdowns. At Most Any Other School, Ruggs Would Be The Super-Star and #1 Wide Receiver and Able To-Produce Huge Stats, Especially in The Big-12.
The Golden Eagles (2-2) Could Not Stop Ruggs and They Also Could Not Keep-Up With The Incredible Speedy Ruggs, Despite a Little Help from The Sun. Ruggs Had a Career-High 148-Yards in Pass Receiving Yards even Before the First Quarter Ended.
"The Sun Caught in my eye," Ruggs Said. "The Football was Right in The Sun, so I actually turned around to make sure I Could Secure The Catch Instead of Catching The Football Over My Shoulder."
Ruggs Made His Second Long Touchdown Catch in The #2 Ranked Crimson Tide 49-7 Victory over The Southern Miss Golden Eagles. Ruggs Caught The Football and Then Was Off to The Races Again for His 74-Yard Touchdown. 
ALL-PURPOSE WIDE RECEIVER/RUNNING BACK
 DEMETRIC FELTON – UCLA BRUINS
LL-PURPOSE/SLOT RECEIVER  
K.D. NIXON –

COLORADO BUFFALOES 
ALL-PURPOSE/WIDE RECEIVER  
JOE REED –

VIRGINIA CAVALIERS 
The Virginia Cavaliers Super-Star All-Purpose Wide Receiver and Kick-Return Man, Joe Reed, Had Another Incredible Game in Helping Lead His Atlantic Coast Conference Cavaliers team To a 28-17 Game Over The Conference USA Old Dominion Monarchs Team.
In This Game, Reed (#2) Caught 4 Passes For 40-Yards, Including a 25-Yard Touchdown Catch, But Reed Also Returned 4 Kickoff Returns for Another 119-Yards, Including a 57-Yard Kickoff Return, Giving Him 159-Yards of all-Purpose Yards.
The 57-Yard Kickoff Return In The Second Quarter, by Joe Reed, Gave The #21st Ranked Virginia Cavaliers The Football at The Old Dominion 33-Yard Line, as The Cavaliers Finally Got Things Going. It took one of The Cavaliers Quarterback Bryce Perkins' Best Runs of The Season, Which Was a Great 10-Yard Scramble Out-Of-The-Pocket Whereas He Dodged a Rush End, Outran Another Defender, and Side-Stepped a Third Defender.
This Great Run Finally Gave The Cavaliers a Touchdown and Got Them On The Scoreboard at 17-7, With 6:57 left in The First Half.
Joe Reed (6-0, 215, 4.36) From Charlotte Court House Randolph Henry High School Already Holds The Virginia Cavaliers Career Kick Return Yardage Record with 2,588-Yards and Also The Cavaliers Record For Kick Returns for Touchdowns With Four Touchdowns.
Reed Was Named as The Atlantic Coast Conference Specialist of The Week  After Returning a Kickoff 100-Yards for a Touchdown Against William & Mary. This 100-Yard Kickoff Return Tied Reed For The Longest Return in The Cavaliers Program History and The Fourth Time That a Cavalier Returned a Kickoff For 100-Yards. Reed also Becomes The First Cavalier To-Return Kicks for Touchdowns in Three Different Seasons.
In Pre-Season, Reed Was Selected To as a Kick-Returner The Athlon Sports Pre-Season Fourth Team All-American and Also Was Selected To The Athlon Sports Pre-Season First Team Kick-Returner in The Atlantic Coast Conference. Reed Has Also Been Selected To The Paul Hornung Award Watch List.    
ALL PURPOSE/SLOT WIDE RECEIVER  
DEVIN DUVERNAY –

TEXAS LONGHORNS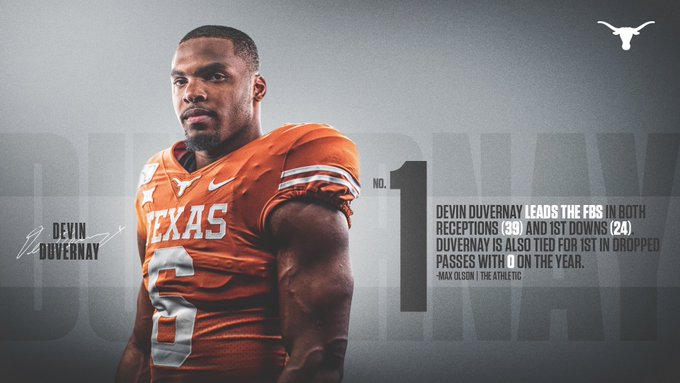 ALL-PURPOSE/SLOT WIDE RECEIVER  
XAVIER SMITH –

FLORIDA A&M RATTLERS

The Florida A&M Rattlers Slot Receiver Xavier Smith (#19) Was Very Impressive in The 27-21 Victory over The Southern University Jaguars as He Caught 9 Passes For an Incredible 201-Yards and a Touchdown in The Victory. The Rattlers Quarterback Ryan Stanley From Pembroke Pines, Florida Completed 24 of 39 Passes for 355-Yards and 2 Touchdowns and  Rallied The Rattlers Late In The Fourth Quarter To-Beat The Jaguars.
The Florida A&M Rattlers Led By 12-Points At Halftime, But Late in The Fourth Quarter, They Fell-Behind 21-19, and This is When Super Quarterback Ryan Stanley (6-3, 210, 4.72) and Super Slot Receiver Xavier Smith (5-10, 185, 4.46) Took-Over. They Quickly Drove 97-Yards in Nine Plays as The Great Passing Duo Connected on Their 17-Yard Winning Touchdown With Only 3:32 Left in The Game and Sealed The Rattlers Victory.
The Versatile and Athletic Xavier Smith From Haines City, Florida Caught 9 Passes For 201-Yards, but he Also Carried The Football One Time and Gained 11-Yards, Giving Him 212-Yards of All-Purpose Yards in The Victory. Smith  Led All Players on Both Teams in Receptions, Yardage, and Yards Per Catch.
In 2018, Smith led The Rattlers With 52 Catches for 727-Yards and 4 Touchdowns. In Two Seasons, Red-Shirt Senior Stanley and Red-Shirt Sophomore Smith Have Become a Fearsome Passing Duo in The Passing Game. The Duo Was Strengthened during the Off-Season Through Weight Training along with Countless Hours of Pass-And-Catch Reps.
"Every Day During Training Camp, We Made Sure That We Stayed After Practice for Pass-And-Catch Drills," Said Stanley. "This is How You Build Trust. I know How he runs in Pass Routes and I Know That When he breaks, I Will Always Have the Football in The Air for Him."
TIGHT END
JACOB BREELAND –

OREGON DUCKS