College Football Fabulous 15 Offensive Skill Players Weekly MVP'S – Week #4!
By Super Scout Max Emfinger
2019 COLLEGE FOOTBALL WEEKLY MVP AWARD
FABULOUS 15 OFFENSIVE SKILL PLAYERS – WEEK #4
All MVP Players Must Be On Winning Team!
SIDEBAR I: Through The First Three Games and it may be a Little Premature, There Are Already a Few Heisman Trophy Favorites! Coming Into The Season, Quarterbacks Trevor Lawrence and Tua Tagovailoa Were Considered To Be The Top Two Favorites, but Currently, According to The Caesars Sportbook, QB Jalen Hurts, QB Joe Burrow, QB Justin Fields, QB Sam Ehlinger, QB Justin Herbert, and RB Jonathan Taylor are Other Heisman Trophy Candidate Favorites. Hurts, Tagovailoa, and Burrow Are Leading.
SIDEBAR II: Week #4 FABULOUS 15 OFFENSIVE MVP'S Include: QB Dorian Thompson-Robinson, QB Brock Purdy, QB Justin Fields, QB Joe Burrow, RB Jonathan Taylor. WR Michael Pittman, WR Ja'Marr Chase, WR Tony Brown, and WR Henry Riggs III. RB/AP DeMetric Felton, WR/AP Joe Reed, WR/AP Devin Duvernay, and SLOT WR/AP Xavier Smith. TE Jacob Breeland. Week #4 ELITE EIGHT DEFENSIVE MVP'S Include: RUSH END Chase Young and RUSH END Charles Snowden. DT Derrick Brown. OLB Josh Woods and OLB Evan Weaver. CB Montrell Estell, SS K'Von Wallace, and SPECIAL TEAMS Micah Baskerville. 
ALL PURPOSE/SLOT WIDE RECEIVER  
DEVIN DUVERNAY –

TEXAS LONGHORNS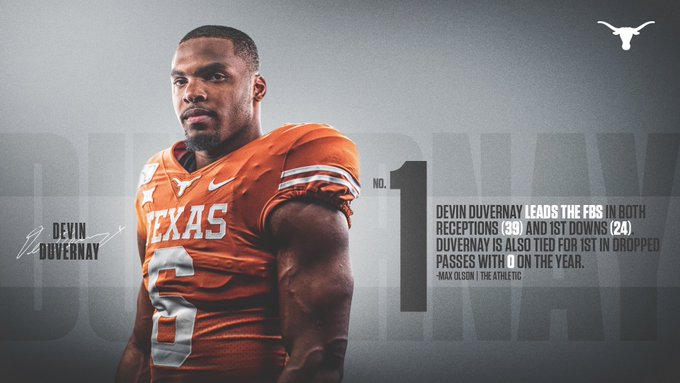 The Texas Longhorn All-Purpose Super-Star Devin Duvernay (#6) Was Outstanding in an Unbelievable UPSET Victory Over The Oklahoma State Cowboys. Super Texas Longhorn Quarterback Sam Ehlinger Completed 20 of 28 Passes For 281-Yards and 4 Touchdowns, For The Third Time This Season, and in This Game, His Favorite Target Was Devin Duvernay (5-11, 210, 4.32) With 12 Catches for 108-Yards and a Touchdown.
The Texas Longhorns #12 Ranked Defense Held The Great Oklahoma State Cowboys Offense With Their Great Quarterback, Running Back, and Wide Receivers In-Check For Most of The Game in This Great 36-30 UPSET Victory Over The Oklahoma State Cowboys in The Darrell Royal Memorial Stadium in Austin, Texas, To Open The Big-12 Conference Football Season.
THE TEXAS MEMORIAL FOOTBALL STADIUM
SIDEBAR I: The Texas Memorial Football Stadium Was Officially Renamed The Darrell Royal Memorial Stadium in 1996 After The Legendary Longhorns Head Football Coach Darrell Royal, but The Texas Memorial Football Stadium Still Gives Me Some Really Great Memories. In 1961, I Was Athletic Director of My City In The Texas Boy's State And We Played The Final 7on7 State Championship Football Game in The Texas Memorial Stadium, Against Future Texas Shorthorns All-State Quarterback Jake David. Then Again, in 1961, After Being Selected To An All-American Football Team and After Helping Lead My Brownwood High School Lions Football Team To The 1960 State Football Championship, I Was being Recruited by The Longhorns Head Football Coach Darrell Royal and The Texas Longhorns To Play For The Longhorns, But of Course, I Signed With The Baylor Bears.
SIDEBAR II: After The Recruiting Season Was Over in 1961, I Helped Lead My Brownwood High School Track Team To Texas Memorial Football Stadium For The Texas State Championship Track Meet For The Texas Track State Championship. I Was High-Point Man as I Led The Lions To The 1962 Texas State 3A Track Championship, in Texas Memorial Football Stadium
SIDEBAR III: Then in 1963, At That First Baylor Bears Freshman Football Practice, My Head Coach "Catfish" Smith Looked Around and Counted 26 Scholarship Players and also Six or Seven Walk-On Players and Since The Texas Shorthorns had Signed 104 Top Texas Blue-Chippers, including Four All-State Quarterbacks; Four All-State Running Backs; Four Future NFL Offensive Linemen; and Future Two-Time All-American Linebacker Tommy Nobis. Coach Catfish said: "It looks like all the Blue-Chippers in Texas went to Austin To-Play For The Texas Shorthorns and This Year We Have Got to play them in Our First Game in Texas Memorial Football Stadium. I guess I'll just have To-Take all of my "Baylor Cow-Chippers" to Austin and Beat Them."
SIDEBAR IV: In The Texas Shorthorns and The Baylor Cubs Game at Texas Memorial Football Stadium, Baylor Cub Fullback Mike Wayne Marshall Rushed For 47-Yards and Baylor Cub Max Emfinger Rushed For 42-yards; While Texas Future All-American Running Back Phil Harris Was The Leading Rusher With 61-Yards.
SIDEBAR V: The Texas Shorthorns Were Winning 12-6 When The Winning Touchdown Was Set-Up by The Second Interception of The Game By Max Emfinger, Who Intercepted a Phil Harris Running Back Pass At The 35-Yard Line, and He Then Ran it Back to The 50-Yard Line. The First Interception by Emfinger, in The Second Quarter, was a "Thing of Beauty" as The Texas Shorthorns Quarterback Mike Boxwell Was Attempting To-Throw The Football Out of Bounds and Emfinger Reached-Out With One-Hand and Made a One-Handed Interception. After The Second Interception, Baylor Cubs Quarterback Roger Mike Marshall Completed a 30-Yard Touchdown Pass To Wingback Joe Jones For The Game-Tying Touchdown. After the Game Tying Touchdown, Offensive Guard Tommy Schaffner Kicked the Winning Extra Point with 11:18 left in The Game, giving The Baylor Cub "Cow-Chips" Their First Victory Over the Powerful The Texas Shorthorns  Since 1955. In This Classic Game, I Also Remember The Baylor Cub Defensive Stars Were Linebacker Donnie Laurence and Free Safety Emfinger.
SIDEBAR VI: The Baylor Cubs Never Won This Game With The Texas Shorthorns Again, Before The Southwest Conference Freshman Teams in The SWC Stopped Playing Each Other and No Big-12 Team Ever Played Each Other.
SIDEBAR VII: This Texas Shorthorns Team Was Billed by The Media as being The Greatest Texas Shorthorns Team Ever Assembled and it included at Least 12 Future NFL Star Players, including QB Mike Boxwell of Dumas; LB Tommy Nobis and RB Phil Harris of San Antonio Jefferson; RB Leslie Derrick of Houston Milby; QB/DB Jake David of Nederland; OC Jack Howe of Houston Spring Branch; OG Tom Currie of Houston Lamar; OG Buddy Alldredge of Sweetwater; OT Jerry Oliver of Freeport; and OT Diron Talbert of Texas City. Jake David and Buddy Alldredge later became Really Great Friends of mine.
Let's Get Back To The Incredible Devin Duvernay Story!
The Texas Longhorns Moved 35-Yards in 9 Plays on its First Drive, but They Had To-Punt From The Oklahoma State 40-Yard Line. After The Longhorns Defense Forced a Three-And-Out, The Longhorns Offense Had The Football Again. This Time They Drove 66-Yards in 9 Plays as The Longhorns Junior Quarterback Sam Ehlinger Hit Devin Duvernay From Sachise, Texas on a 6-Yard Pass, on The Opening Play of The Second Quarter.
Ehlinger (6-3, 235, 4.56) From Austin Westlake, Texas Lofted a Beautiful, Textbook 6-Yard Touchdown Pass to Senior Slot Receiver Devin Duvernay. In 2019, Ehlinger has Completed 73 Percent of his Passes for 1,237-Yards with 15 Touchdowns and With Only One Interception.
Duvernay Not Only Caught 12 Passes For 108-Yards in The Oklahoma State Game, and a Touchdown, Duvernay Also Returned 2 Kickoff Returns For Another 45-Yards, Giving Him 153-Yards of Total All-Purpose Yardage.
The Texas Longhorns (3-1, 1-0) Ended a Four-Game Losing Streak to The Oklahoma State Cowboys (3-1, 0-1) and Ended a Five-Game Losing Streak in The Series in Games Played in Austin Dating-Back to 2010.
After catching 12 passes for 108 yards Against Oklahoma State, The Longhorns Senior Slot Receiver Devin Duvernay is now Getting a Tremendous Amount of Attention From The National Award Voters.
The Fred Biletnikoff Trophy Award, Which is given to The Top Wide Receiver in The Country, Has Just Named Devin Duvernay To The Fred Biletnikoff Trophy Watch List on Saturday September 25, After The Texas Longhorns  UPSET The Cowboys and Duvernay Joins His Longhorn Teammate, Senior Wide Receiver Collin Johnson, Who Was Named as a Preseason Nominee.
Johnson, However, Has Missed Two Consecutive Games, because of Injury  and Duvernay has Taken Advantage of The Johnson Absence by Helping Ehlinger To Become His "Go-To" Receiver and His Tremendous Stats Have Shown That Duveray Has The Great-Hands and Athletic Ability To Make The Big Catch on Third and Fourth Down Situations. 
Currently, Duvernay Leads The Country in Four Incredible Categories, Including (1) Pass Receptions with 39 Catches; (2) Pass Catches Per Game with 9.8 Catches; (3) First Down Catches with 24 First Down Catches; and (4) Duvernay is Also Tied For First in The Country With Dropped Passes With Zero Dropped Passes.
Duvernay has Also Been The Great Security Blanket and "Go-To" Receiver For The Heisman Trophy Award Candidate Sam Ehlinger on Third and Fourth Down Situations, and Especially in The Oklahoma State Cowboys Game. Against The Cowboys, The Longhorns Made Duvernay The Target Seven Times on Third and Fourth Down Situations, and They Converted Five of Those Opportunities. Each Catch Extended Longhorn Drives in helping The Longhorns 20th Ranked Scoring Offense To Put-Up 41.8 Points Per Game.
If You can Remember The Texas Longhorns Game With The LSU Tigers! The  Tigers Were Outstanding in The Game With Their Incredible Heisman Trophy Award Candidate Quarterback Joe Burrow, and in That Game, Devin Duvernay Continued To Keep The Longhorns Competitive With His Incredible 44-Yard Touchdown Catch From Ehlinger in The Fourth Quarter On Fourth Down and Two-Yards To-Go.
The Texas Longhorns Finally Lost The Game To The LSU Tigers, But The Two Fourth Quarter Touchdown Catches by Duvernay Proved That He Could Help Keep The Longhorns Competitive Against Any Top Tier Football Team in The Country.