–
College Football Backfield MVP – Week 1!
By Super Scout Max Emfinger
COLLEGE FOOTBALL WEEKLY MVP AWARD
2019 OFFENSIVE BACKFIELD – WEEK ONE
All MVP Players Must Be On Winning Team!
SIDEBAR: In An Amazingly and Incredible Ironic OFFENSIVE "MVP J-TEAM, "There Is An Unbelievable Seven Players With A "J" As Their First Name, Including QB Jalen Hurts, QB Justin Fields, QB Joe Burrow, QB Jamie Newman, RB Jonathan Taylor, WR  Jerry Jeudy, and FS Jeremiah Dinson. It Also Gets Even More Incredible As Four Others On The Honorable Mention List Included QB Jacob Eason, QB Jon Wassink, RB Josh Johnson, And Freshman QB Jayden Daniels.
DUAL THREAT QUARTERBACK
JALEN HURTS –

OKLAHOMA SOONERS
Jalen Hurts (#1) Transferred To The Oklahoma Sooners From The Alabama Crimson Tide In The Spring and in his Very First Game as an Oklahoma Sooner, Hurts Was Incredible in Playing an Almost "Perfect-Game" as He Passed For 332-Yards and Three Touchdowns and He Also Rushed for Another 176-Yards and Another Three Touchdowns, giving him A Phenomenal 506-Yards of Total Offense and Six Touchdowns In  The Oklahoma Sooners 49-31 Victory Over The Houston Cougars!
After This "Mind-Boggling" Game Hurts (6-2, 219, 4.48, 36, 4.22) Was Named as The Big-12 Newcomer, Big-12 Offensive Player of The Week, The Maxwell Player of The Week Award and The Earl Campbell Tyler Rose Award As The National Player of the Week. Hurts, Got All of The Heisman Trophy Award Voters Totally Aware of His Unbelievable Dual Threat Abilities.
Last Season, Kyler Murray Won The 2018 Heisman Trophy "Way-To-Early Odds Poll" and in 2019, Jalen Hurts Originally Finished In 10th Place, but After Transferring To The Oklahoma Sooners, The "Way-To-Early Odds Poll" Raised Hurts To Third Place, Behind Clemson Quarterback Trevor Lawrence in First Place and Alabama Quarterback Tua Tagovailoa in Second Place.
In Fourth Place, Behind Hurts, "Way-To-Early Odds Poll" Lists Clemson  Running Back Travis Etienne, Georgia Quarterback Jake Fromm, and Wisconsin Running Back Jonathon Taylor. In Fifth Place, The 2019 Heisman Trophy "Way-To-Early Odds Poll" Listed Notre Dame Quarterback Ian Book, Texas Quarterback Sam Ehlinger, and Oregon Quarterback Justin Herbert.
DUAL THREAT QUARTERBACK
JUSTIN FIELDS –

OHIO STATE BUCKEYES
Dual-Threat Quarterback Justin Fields is a Transfer From and He Was Given The Opportunity To-Play Immediately After The Transfer, Without Sitting-Out A Year. Then, He Won The Starting Quarterback Job and Shocked The Entire Football World, Including As He Totally Shocked Everyone With A Fake-Handoff and Showing His Tremendous Athleticism With a 51-Yard Touchdown Run "Right-Up-The-Middle" on The Ohio State Buckeyes Fourth Play From Scrimmage.
What Is Totally Incredible is That After Fields Ran "Right-Up-The-Middle" and Through The Defensive Heart of The Florida Atlantic Owls Defense for a 51-Yard Touchdown. Fields Then Passed For Three More Touchdowns in The Same First Quarter To-Give The Ohio State Buckeyes a 28-0 Lead and Get The Ohio State Buckeyes Home Crowd Really Excited.
After This Demonstration, The sky is the limit for Fields and His Great and Athletic Ohio State Buckeye Teammates in The Ryan Day Ohio State Buckeyes Offense and The Ohio State Team Ceiling Will Take Them As Far As They Want It To Take Them.
In Making His First Starting Debut For The Ohio State Buckeyes, Fields Completed 18-of-25 for 234-Yards, Including Four Touchdown Passes and Zero Interceptions, while also Rushing for Another 61-Yards, Including His 51-Yard Touchdown Run on 12 Carries, Giving Him 295-Yards of Total Offense, Five Touchdowns, Two Touchdown Passes To Super Co-MVP Tight End Jeremy Ruckert, a Tremendous 204.3 Quarterback Rating. The Heisman Trophy Award Voters Were Aware of His Heisman Trophy Award Potential.
Justin Fields Can Lead The Ohio State Buckeyes Back Into the College Football Playoffs as he led The #5 Ohio State Buckeyes to a 45-21 Victory Over The Florida Atlantic Owls. 
DUAL THREAT QUARTERBACK
JAMIE NEWMAN – 

WAKE FOREST DEMON DEACONS
Wake Forest Demon Deacons Jamie Newman (#12) Had An Incredible Game Against Utah State as He Completed 34 of 47 Passes For 401-Yards and Three Touchdowns, With Zero Interceptions. These Stats Are Outstanding For Newman, but He Was Also a Victim of At Least Four Dropped-Passes From His Top Wide Receivers. Newman (6-4, 235, 4.52) Did Not Have To Run That Much, but he Still Ran For Another 36-Yards, Giving Him 437-Yards Of Total Offense in The 38-35 Victory.
Co-MVP Wide Receiver Sage Surratt (6-3, 220, 4.42) Was Another Super-Star in The Game as He Caught Seven passes for 158-Yards, Including a 70-yard Touchdown Catch With Time Running-Out, which Set-Up The Demon Deacons Victory. Newman hit Sage Surratt with The Impressive 70-Yard Pass Catch and Run Down To The 2-Yard Line and Set-Up The Game Winning 2-Yard Game-Winning Touchdown Pass to Kendall Hinton, With 1:08 Minutes Left In The Game.
Along With Being Named As A Member Of The Super Scout College Football MVP Award For Week #1, Newman Was Also Selected To A Few more Honors for his Great Performance Against Utah State, That Included Being Named As The ACC Quarterback of the Week by The ACC Voting Committee. 
PASSING QUARTERBACK 
JOE BURROW –

LSU TIGERS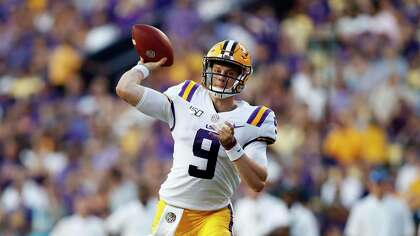 Joe Burrow (#9) and The New LSU Run/Pass Option Offense Were "Outright" Incredible as The LSU Tiger Offense Amassed 473-Yards of Total Offense in Their 55-3 Victory Over Georgia Southern. It Was The Most Points Scored By The LSU Tiger Offense Since They Scored 49 Points Against Louisiana Tech in The 2003 Season. It Was Also The Largest Margin of Victory Since Defeating Sam Houston State by a 56-0 Score in The 2014 Football Season.
Joe Burrow (6-4, 216, 4.6) Was Unbelievably Incredible as He Completed His First Five Passes, on his way, To Completing 23 of 27 Passes, Five Touchdown Passes, an 85.2 Completion Percentage, and a "Mind-Boggling" 232.8 Quarterback Rating. Also, With His Five Touchdown Passes, Burrow Tied LSU Tiger Quarterback Zach Metterberger's Record for Passing Touchdowns in a Single Game. Remember That Burrow only Played Two Quarters and One Series in The Third Quarter.
If You Add The Game Stats For Burrow, in his Last Two Games, He Has Passed For 672-Yards and an Incredible Nine Touchdown Passes in Only Six Quarters of Play and With Only One Interception. With The New Explosive LSU Tiger Run/Pass Option Offense, The Tigers Scored 21 Points in The First and Second Quarters and Were 7-For-7 in The Red-Zone. 
Burrow is The Most Impressive LSU Tiger Quarterback in a Few Years After The LSU Quarterbacks Were Always Playing in a Poorly Controlled and Were Poorly Coached in The Passing Game. The 2019 Heisman Trophy Voters Have Taken Notice.
In 2018, Burrow Started all 13 Games and Passed for 2,894-Yards and 16 Touchdowns and He also Rushed For Another 399-Yards and 7 Touchdowns, Giving Him 3,293-Yards Of Total Offense and 23 Touchdowns. His 7 Rushing Touchdowns Tied

The LSU Tiger Quarterback All-Time Record For A Quarterback

. 
PASSING QUARTERBACK 
TUA TAGOVAILOA –

ALABAMA CRIMSON TIDE
Tua Tagovailoa (#13) Had another Incredible Heisman Trophy Game as he Completed 26 of 31 Passes for 336-Yards and Four Touchdowns in a Little More Than Two Quarters. His #2 Ranked Alabama Crimson Tide was Playing Their First Game Since Their Devastating Loss To in The National Championship Game. The Alabama Crimson Tide Overcame a Slow-Start, but then With The Four Tagovailoa Touchdowns, The Alabama Crimson Tide Defeated The Duke Blue Devils by a 42-3 Score.
The Southpaw Tagovailoa Spread his Passing All-Over The Field and hit his Tight Ends Early before hitting his Entire, Talented Pass Receiving Corps, including his Super-Star Receiver and Co-MVP Jerry Jeudy who Caught 10 Passes for 137-Yards and an Incredible 21-Yard Touchdown. 
It is Obvious That Jerry Jeudy is The Super-Star Quarterback's #1 and Most Favorite

Alabama Crimson Tide 

Wide Receiver. In This Opening Game, Jeudy Only Caught One Touchdown Pass, but it Was For 21-Yards and at Least Six Defenders Had a Chance To-Tackle Him, but They All Missed. 

Tagovailoa Knows That Jeudy Will Always Make The "Big-Play" When Needed in a Crucial Situation in a Big Game. 

The 2019 Heisman Trophy "Way-To-Early Odds Poll"

Had Tua 

Tagovailoa in Second Place.

 
RUNNING – RUNNING BACK 
TRAVIS ETIENNE –

CLEMSON TIGERS
Travis Etienne (5-11, 210, 4.4) Was Virtually Unstoppable Against ACC Arch Rival, Georgia Tech, as He Rushed for 205-Yards on Only 12 Carries In The 52-14 Victory Over The Rambling Wreck. Etienne (#9) is a Junior From Jennings, Louisiana and He Already has 40 Career Rushing Touchdowns, which Ranks just outside The Top 10 Career Leaders in ACC History.
The Clemson Tigers are led by Etienne, who was The Walter Camp Football Foundation Offensive Player of the Week in Week One of The 2019 Football Season. In This 2019 Season Opener, Etienne Scored on Touchdown Runs of  90-Yards, 48-Yards, and 14-Yards. His 90-Yard Touchdown Tied a Clemson Tigers School Record. 
Etienne is the Eighth Clemson Tiger Player To Receive The Walter Camp National Player of the Week Honor since 2004, and He Also Kicked-Off his Heisman Trophy Award Campaign in a Tremendous Opening Game with a 205-Yard Rushing Game and a Three-Touchdown Game.
RUNNING BACK – RECEIVER 
JONATHAN TAYLOR –

WISCONSIN BADGERS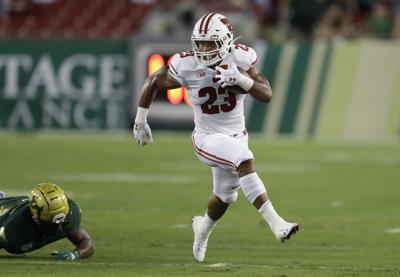 It is Really Difficult To Visualize That a Running Back Who Has Already Rushed For 4,306-Yards and 31 Touchdowns In His First Two Seasons, Could Open-Up His Third Opening Game and Be Even more Dangerous Than in His First Two Seasons. With Super-Star Jonathan Taylor (#23); It Was Incredible, But That is Exactly What Happened In His New Pass-Catching Role, Out of The Backfield in The New Wisconsin Badgers Passing Game.
Well, The New Wisconsin Badgers Passing Game Wanted to get Junior Jonathan Taylor (5-11, 219, 4.34) Much-More Involved in The New Passing Game, and they did and it Worked. just that. Taylor is Still One of The Top Running Backs in The Country and now he is Dangerous Catching the Football Out Of the Backfield. 
Taylor Started The Scoring On The First Wisconsin Badgers Drive With a 37-Yard Touchdown Run as he Ran Virtually Untouched Through The Central Michigan Defense. He Then Caught Two Touchdown Passes For 36-Yards and 12-Yards, Near The End of The First Half.
Taylor Then Ran Another 38-Yards, With Only Two-Minutes Into The Second Half and his Day Was Done. The NFL Scouts have to love seeing Taylor Getting Involved in The New Wisconsin Badgers Passing Game. Although Taylor Only Caught Two Passes, they Both Went For Touchdowns, Demonstrating His Fantastic Speed.
Taylor Ended The Game with 135-Yards and Two Touchdowns, including His 37-Yard Touchdown Run Untouched, and Two Pass-Catches For Touchdowns, including One Spectacular Catch, Giving Him 183-Yards of total Offense and Four Touchdowns. His 183-Yards of All-Purpose Yards and Four Touchdowns at South Florida, Made Him The First Big Ten Player To Record at least Two Rushing and Two Receiving Touchdowns in the Same Game since Mikel Leshoure of Illinois Did it in 2010. Taylor Already Had His Heisman Trophy Award Campaign Rolling and Now It is Growing. 
FLANKER BACK WIDE RECEIVER
SAGE SURRATT – WAKE FOREST DEMON DEACONS

 
The Great Wake Forest Offense Includes Several Skill Position Super-Stars, including Wide Receiver Sage Surratt (#14) Who Caught Seven passes for 158-Yards Against Utah State, including a 70-yard Touchdown Catch With Time Running-Out, which Set-Up The Demon Deacons To Victory. 
Sophomore Flanker Back Sage Surratt (6-3, 220, 4.42) of Lincolnton, North Carolina, had a Career-Game With Seven Receptions and a Career-High 158-Yards and a Touchdown In The Wake Forest Victory Over Utah State. Surratt Caught a 22-Yard Touchdown Pass from Jamie Newman for The Wake Forest First Touchdown and Then Late in the game, Surratt Caught a 70-Yard Pass and Ran The Football Down To The Utah State One-Yard Line with Less Than Two Minutes To Play. The Wake Forest Demon Deacons Scored Their Go-Ahead and Winning Touchdown a Few Seconds Later.
SLOT WIDE RECEIVER
CEDRIC BYRD –

HAWAII RAINBOW WARRIORS 
Slot Receiver Cedric Byrd (5-10, 175, 4.36) Dominated The First Half of Play as He Grabbed Three Touchdown Passes and The Arizona Wildcats Did Not Change Their Coverage on him In The Second Half and he Caught his Fourth Touchdown Pass To Lead His Hawaii Rainbow Warriors To a 45-38 Victory.
The Hawaii Rainbow Warriors Never Trailed The Arizona Wildcats and They Never Trailed The PAC–12 Arizona Wildcats. Byrd Caught Touchdown Passes of 7-Yards and 25-Yards in The First Half and Then Caught Touchdown Passes of 35-Yards and 30-Yards in The Second Half. In The Game, Byrd Caught 14 Passes for a Career-High 224-yards and Four Touchdowns.
Byrd Averaged 16-Yards Per Catch against The Wildcats and he Caused a Lot of Headaches for The Arizona Wildcats Secondary as he Grabbed his Fourth Touchdown of The Game in The Fourth Quarter and Basically, Single-Handedly Won The Game for The Hawaii Rainbow Warriors.
"Cedric Byrd is Really Fast. I mean, He is Really fast and he got deep on us more than a couple times and he's got great quickness  and he is hard to tackle – he's a good player," ssid The Arizona Wildcats Head Coach Kevin Sumlin. "They Exploited us when we got into some man-to-man Coverage and he became the deep guy and he was running right by us."
QUICK WIDE RECEIVER
JERRY JEUDY –

ALABAMA CRIMSON TIDE
The Alabama Crimson Tide

Junior Wide Receiver Jerry Jeudy (6-1, 198, 4.36) is one of the most exciting prospects in The Country and The NFL Scouts Agree That Jeudy (#4) is An Unbelievable, Electrifying Playmaker With Similar Athletic Skills To My Friend, Odell Beckham, Jr. If Jeudy Would Have Declared For The 2019 NFL Draft, He Would Have Been The #1 Wide Receiver Drafted and The Same is True For The 2020 NFL Draft. 
Alabama Crimson Tide 

Co-MVP Jerry Jeudy Caught 10 Passes for 137-Yards Including an Incredible and Spectacular 21-Yard Touchdown Catch and Run. It Does Not Take Too Long to see why there is so much Excitement Around Jeudy, who was one of the Most Highly Recruited and Most Coveted High School Wide Receivers in The Country and He Has  Lived-Up to his Original Top Ranking During his first two seasons as an

Alabama Crimson Tide Player

and Who is also Expected to have an even bigger year in 2019.
Jeudy finished 2018 with 68 catches for 1,345-Yards and 14 Touchdowns and with an Amazing 19.3-Yards Per Catch Average. Jeudy is Obviously The Super-Star Quarterback and Co-MVP Tua Tagovailoa's #1 and Favorite 

Alabama Crimson Tide 

Wide Receiver. In This Opening Game, Jeudy Only Caught One Touchdown Pass, but it Was For 21-Yards and at Least Six Defenders Had a Chance To-Tackle Him, but They All Missed. Jeudy is a Very Elusive Receiver After He Catches The Football. He is Able To-Start and Stop on a Dime and he is Absolutely Sensational in Avoiding Tackles. Jeudy wants to get as Many Yards as Possible on Every Catch.
In 2018, Jeudy Caught 14 Touchdown Passes and it was The Second-Best in 

Alabama Crimson Tide History 

and Jeudy is already Fifth on The 

Alabama Crimson Tide 

All-Time Touchdown Reception List. All-American 

Alabama Crimson Tide 

Quarterback 

Tua Tagovailoa Always Knows Who To Find When A "Big-Play" is Needed.
COLLEGE FOOTBALL WEEKLY MVP AWARD
DEFENSIVE BACKFIELD – WEEK ONE
QUICK CORNERBACK
CAMERON DANTZLER  – MISSISSIPPI STATE
Cameron Dantzler had an Outstanding Game in The 38-28 Victory Over The University of Lafayette as He Recorded an amazing Seven Solo Tackles, One Interception, and Three Pass-Breakups.
"The Game With ULL Was Not a Pretty Defensive Game for us. We got Five  Turnovers, but we have Still got room for improvement. We Have got to become better tacklers and that's something we will work on during the week. We have just got to get better from here and put this game past us," said Cameron Dantzler.
QUICK FREE SAFETY
JEREMIAH DINSON – AUBURN TIGERS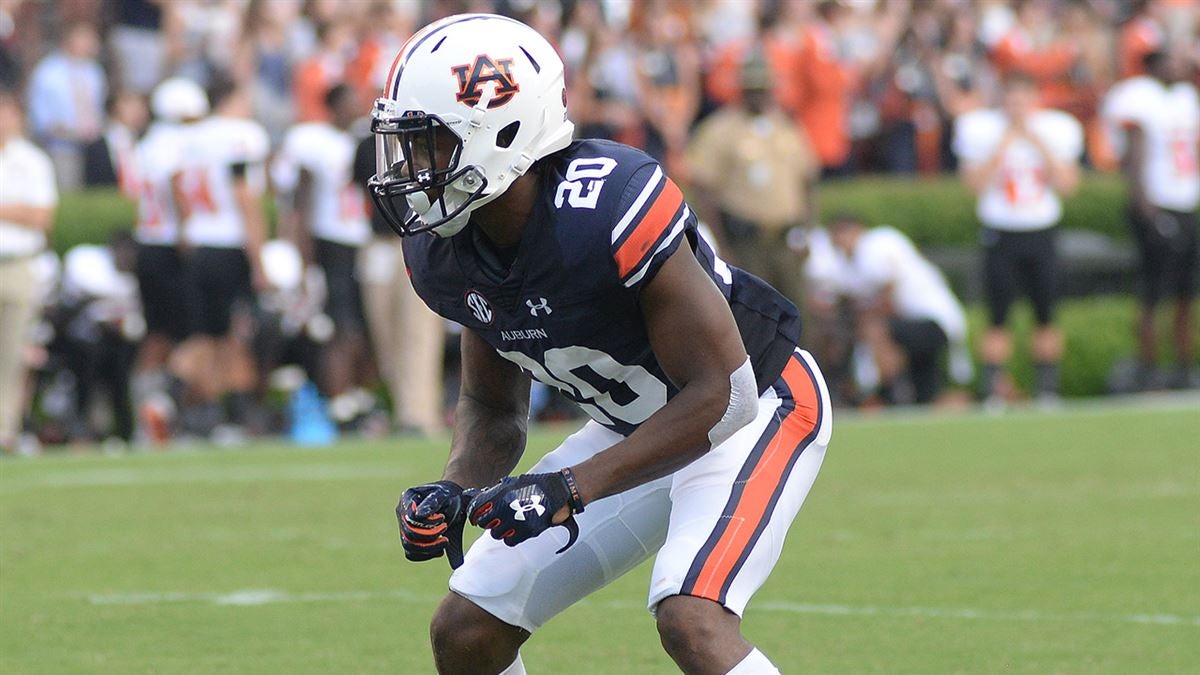 Jeremiah Dinson (6-0, 191, 4.42) From Miami American is One of The Most Versatile and Most Athletic Defensive Back On The Auburn Tigers Roster, but He is More Valuable Playing Free Safety Than Cornerback, because He Is So Aggressive and Active Against The Run. In 2018, Dinson (#20) Recorded 4 Tackles For A Loss, Forced a Fumble, and had 2 Interceptions. The NFL Scouts Are Projecting Dinson as a Cornerback or Maybe a Free Safety.
In This Opening Game 27-21 Victory Against The Oregon Ducks, Dinson Was Sensational As He Recorded an Unbelievable 13 tackles, Including 8 Solo Tackles and 5 Assisted Tackles To-Go With an Incredible Quarterback Sack.
STRONG FREE SAFETY
BRANDON JONES –

TEXAS LONGHORNS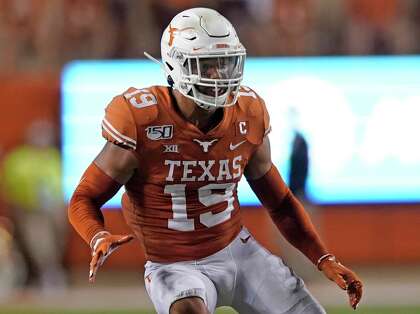 Brandon Jones (6-0, 210, 4.36) is an Outstanding, Athletic Free Safety For The Texas Longhorns and He Can Play every Position in The Secondary. The NFL Scouts Are Looking at Jones as a Free Safety, but with his Great Speed and Athleticism, He Could be an Outstanding Cornerback. Jones (#19) has Already Played in 35 Career Games and Has 24 Starting Games and He Was One of Five Players Elected as a Game Captain For The Texas Longhorns.  
In This Game Against Louisiana Tech, Jones Recorded 7 Tackles, Including 4 Solo Tackles, 3 Assisted Tackles, and He Also Recovered a Fumble in The Texas Longhorns 45-15 Victory Over The Louisiana Tech. The Texas Longhorns Safety Is A Very Aggressive Safety Who Is All Over The Football Field in Making Aggressive "Hard-Nose" Tackles All Ball-Carriers.
In 2018, Jones Had A High-Ankle Sprain That Also Hindered Him For Most of The Season, but he had surgery on The Ankle in February of 2019 and He Came Back For Another Season To Get Ready For The NFL Draft.

Jones Has Already Been Named To The Named to The Lott IMPACT Trophy Award Watch List along With The Bronco Nagurski Trophy Watch Lists in 2019. Jones was An All-American High School Player at Nacogdoches, Texas and He Played in The Under Armour All-American Football Bowl Game.
STRONG SAFETY
MYLES WOLFOLK – NORTH CAROLINA TAR HEELS 
Junior Strong Safety Myles Wolfolk (6-0, 195) From Largo, Maryland, Was Sensational For The North Carolina Tar Heels as They Came-Back With a Fourth Quarter 24-20 UPSET Victory Over The South Carolina Gamecocks. In This Sensational Fourth Quarter Comeback, Myles (#11) Recorded an Incredible Two Interceptions and Six Tackles That Helped In The Victory. 
Wolfolk Was "The Hero" on Numerous Occasions Against The Gamecocks. With 2:48 left to play and The Tar Heels up by Four-Points, he Chased-Down a Wild Pass by The South Carolina Quarterback  Jake Bentley that Might Have Ended The Game. The Gamecocks Were Given Another Opportunity To-Win The Game Only to See Wolfolk Intercept Another Pass and Essentially End The Game With The Tar Heels Victory.  Wolfolk Graded-Out With An Unbelievable 91.9 Rating From The NFL Pro Football Focus, which was The Second-Highest Rating for a Safety Nationally.