LSU Quarterback Joe Burrow Has Just Become One Of The Top Passing 
Quarterbacks In The Country!
By Super Scout Max Emfinger
For About 13 or 14 Years, The LSU Tiger Fans have been told in The LSU Tigers Spring Training that The LSU Tigers Were Going To Unleash a Fabulous New Offense, but Then in The Fall, That New Offense Never Materialized, because The LSU Tiger Head Football Coaches Had Always Limited The LSU Tiger Quarterbacks. I Have Been Watching and Evaluating Those LSU Tiger Quarterbacks For About 30 Years and The LSU Tigers Have Never Had a Quarterback Like Their New Quarterback Joe Burrow.
Burrow is The Most Impressive LSU Tiger Quarterback in a Few Years After The LSU Quarterbacks Were Always Playing in a Poorly Controlled and Poorly Coached in The Passing Game and The LSU Tiger Running Backs Always Took-Over.  
Burrow (6-4, 216, 4.6) Started all 13 Games in 2018, Passing for 2,894-Yards with 16 Touchdown Passes and He also Rushed For Another 399-Yards and 7 Touchdowns, Giving Him 3,293-Yards Of Total Offense and 23 Touchdowns. His 7 Rushing Touchdowns Tied

The LSU Tiger Quarterback All-Time Record For A Quarterback

. 
In That 2018 Football Season, The LSU Tigers Were Predicted To-Finish in Fifth Place in the Southeast Conference Western Division, but with Burrow, at The Helm, The LSU Tigers Finished with their First 10-Win Season since 2013 and The LSU Tigers Won their First New Year's Six Bowl Game of The Playoff Period as The LSU Tigers and The Fiesta Bowl Offensive MVP Quarterback Joe Burrow Defeated Central Florida 40-32!
Fiesta Bowl MVP Quarterback

Joe Burrow After The Tigers Defeated Central Florida 40-32 In The Fiesta Bowl!
LSU Quarterback Joe Burrow (With The Fiesta Bowl Offensive MVP Trophy And Game-Ball) Was Awarded The Fiesta Bowl Offensive MVP After Passing For 394-Yards and Four Touchdowns. LSU Defensive Tackle Rashard Lawrence (On The Right In Photo) was Awarded The Fiesta Bowl Defensive MVP After He Recorded An Unbelievably Fantastic Game with Five Tackles and two Quarterback Sacks.  LSU Tiger Head Coach Ed Orgeron (In The Middle In Photo).
In The 2019 Season, With The New Explosive LSU Tiger Run/Pass Option Offense Will Be Completely Different, because With This New LSU Offense Will-Give Joe Burrow an "Unbelievable Opportunity" To-Pass for Over 400-Yards in Every Single Game, including The First Two or Three Games of The Season which will Put his Name on The Heisman Trophy List. The New LSU Tiger Run/Pass Offense, with as many as Four or Five Wide Receivers in The Game at The Same Time, will Guarantee Joe Burrow and The New LSU Option Offense of Keeping Pressure on Defenses and Guarantees an "Opportunity" For Burrow To-Win The Heisman Trophy Award.
In The Off-Season, LSU Tigers Head Football Coach Ed Orgeron Went To LSU Tigers Offensive Coordinator, and Long-Time Friend of Mine, Steve Ensminger and Told Him: "We Have Got To-Go To The Spread-Option Offense." Both LSU Coaches Agreed That They Needed To-Get A Coach Who Knows This Spread-Option Offense and Let Him Put The Spread-Option Offense Into The LSU Tiger Offensive System and Playbook. 
"I Do Not Have An 'Ego Problem' When It Comes To-Working On The Spread-Option Offense With Coach Joe Brady."
Joe Brady Arrived On The LSU Tiger Campus With The Expert Knowledge Of The Run-Pass Option Offense That he had Learned From  Mississippi State Head Coach Joe Moorhead When He Was Offensive Coordinator at Penn State.
"Joe Has Put-In a Lot of Plays," LSU Head Football Coach Ed Orgeron Said, but Coach Orgeron Also Stressed That The New Spread-Option Offense is Still LSU Offensive Coordinator Ensminger's Offense To-Call.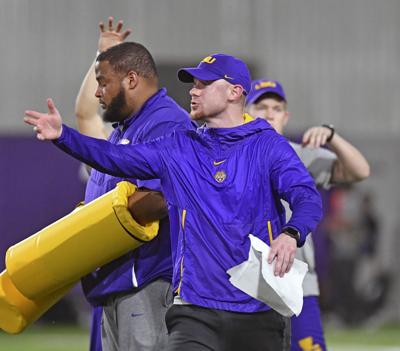 Although Joe Brady (In Photo Above) Learned The Run-Pass Option Offense at Penn State, when he was a Graduate Assistant Coach Under Coach Joe Moorhead (In Photo Below). Brady Spent the Last Two Football Seasons on The New Orleans Saints Coaching Staff. and working under The Saints Offensive Coordinator Pete Carmichael.
Burrow will get at Least Two Chances To-Compete with Two Other Heisman Trophy Award Quarterback Candidates in Sam Ehlinger of Texas in The Second Game of The Season and Tua Tagovailoa of Alabama, later in The Season. It is also Going To Be Interesting To Note That The LSU Tiger Hiring of an Incredible, Young Passing Game Coordinator Named Joe Brady, who is a Brilliant Expert of The New LSU Offense.
The LSU Tigers Shocked The SEC, College Football, And Heisman Voters In Opening Two Games With Their New Offense!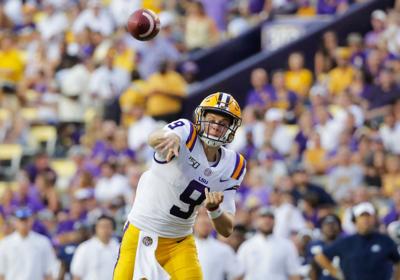 "What We Saw Here Tonight Was What We Have Seen In Practice For The Last Few Days," Said LSU Head Coach Ed Orgeron after The First Game. "The Guys Have Really Worked Very Hard and We Are Very Pleased With The New LSU Run/Pass Option Offense. I Think The LSU Tigers Are going To Score a Lot of Points, and I Really Do Not Think That a Lot of People are Used to The LSU Tigers Scoring 40, 50, and 60 Points Per Game.
The New Explosive LSU Tiger Run/Pass Option Offense Lived-Up To All of Its Off-Season and Pre-Season Hype in Their First Game of The Football Season in Their 55-3 Over-Whelming Victory over Georgia Southern In The LSU Tiger Football Stadium. 
Joe Burrow and The New LSU Run/Pass Option Offense Were "Outright" Incredible as The LSU Tiger Offense Amassed 473-Yards of Total Offense in The 55-3 Victory. It Was The Most Points Scored By The LSU Tiger Offense Since They Scored 49 Points Against Louisiana Tech in The 2003 Season. It Was Also The Largest Margin of Victory Since Defeating Sam Houston State by a 56-0 Score in The 2014 Football Season.
Joe Burrow Was Unbelievably Incredible as He Completed His First Five Passes, on his way, To Completing 23 of 27 Passes, Five Touchdown Passes, an 85.2 Completion Per-Cent, and a "Mind-Boggling" 232.8 Quarterback Rating. Also, With His Five Touchdown Passes, Burrow Tied LSU Tiger Quarterback Zach Metterberger's Record for Passing Touchdowns in a Single Game. Remember That Burrow only Played Two Quarters and One Series in The Third Quarter.
If You Add The Game Stats For Burrow, in his Last Two Games, He Has Passed For 672-Yards and an Incredible Nine Touchdown Passes in Only Six Quarters of Play and With Only One Interception. With The New Explosive LSU Tiger Run/Pass Option Offense, The Tigers Scored 21 Points in The First and Second Quarter and Were 7-For-7 in The Red-Zone. 
The Heisman Trophy Award Formula Is Very Simple!
The Heisman Trophy Award Formula is Really Very Simple. Find an Outstanding Quarterback on a National Championship Contending Team and You Find Alabama Quarterback Tua Tagovailoa and Clemson Quarterback Trevor Lawrence. Both of These Quarterbacks faced each other in The 2018 National Championship Game and They are The Two Heisman Trophy Award Front-Runners and Favorites in The 2019 Heisman Trophy Award.
Two Other Candidates and Quarterback Transfers Include Ohio State Transfer and LSU Tiger Quarterback Joe Burrow; Plus Alabama Transfer and Oklahoma Quarterback Jalen Hurts. So Both Burrow and Hurts Literally Have The Odds in Their Favor To-Win the Heisman Trophy Award!
In his Very First Game as an Oklahoma Sooner, Jalen Hurts Was Incredible in Playing an Almost "Perfect-Game" as He Passed For 332-Yards and Three Touchdowns; While Rushing for Another 176-Yards and Another Three Touchdowns, giving him 506-Yards of Total Offense and Six Touchdowns In  The Oklahoma Sooners 49-31 Victory Over The Houston Cougars!
Quarterback 

Joe Burrow (#9)

was an Unbelievable an Incredible High School Passing  Quarterback Freak at Athens, Ohio High School in The Plains and He Signed with his Home State and Favorite Team, The Ohio State University Buckeyes. He was The Top Quarterback Prospect in The 2015 Recruiting Class with Super Strong Arm to go with a Very Impressive High School Football IQ. He was A Natural-Born Leader with The Ability to Stretch The Field and The Ability To-Throw on The Run and also a tough runner that was not afraid of contact. 
In his Senior Season at Athens High School,

Burrow

Completed 250 Passes out of 346 Attempts for 4,445-Yards and an Incredible 63 Touchdown Passes s and with a 151.6 Quarterback Rating. He also Rushed for another 642-Yards and 5 Touchdowns, giving him 5,087-Yards of Total Offense and 68 Touchdowns as a Senior. 

Burrow

Finished his 41-Game Three-Year High School Varsity Career with 670 Completed Passes for 11,416-Yards and 157 Touchdowns; 2,067-Yards Rushing-Yards and 27 Touchdown Passes; giving him an Incredible 13,483-Yards of Total Offense and an Unbelievable and Incredible 184 Touchdowns. Although 

Burrow

had Impressive High School Stats, he only Played in 3 Games For

The Ohio State Buckeyes

In The 2017 Football Season, and We All Knew that

Burrow

would

Eventually Transfer!