–
Will QB Jalen Hurts Be The Third Straight Oklahoma Heisman Trophy Winner?


By Super Scout Max Emfinger
Will QB Jalen Hurts Be The Third Straight Oklahoma Sooner Heisman Trophy Winner? I Personally Thought That Both Baker Mayfield and Kyler Murray Were Quarterback Freaks and I Also Think That Jalen Hurts (In Photo Above) Is Also a Quarterback Freak. The Other Thing That is Unbelievable and Incredible is That All Three Quarterbacks Were Quarterback Freaks, Even Before Their Last Season of College Football and They All Accomplished Numerous  Unbelievably, Incredible Early Feats!
All Three Quarterbacks Played Their High School Football In Texas and in The Big-12 Country. They All Three Were True Freshman Freaks at Their First College, and Then They Transferred To The Oklahoma Sooners.
Mayfield Played His High School Football at Austin Lake Travis in Austin, Texas and Murray Played at Allen High School. a Suburb of Dallas, Texas.  Hurts Played For His Father at Channelview High School in Channelview, Texas. As a Senior, Hurts Passed for 2,384-Yards and 26 Touchdowns and he Also Rushed for 1,391-Yards and 25 More Touchdowns; giving Him 3,775-Yards of Total Offense and an Amazing 51 Touchdowns Accounted-For.
Baker Mayfield – Incredible Early Accomplishments!
In 2017, I Thought That Baker Mayfield was a "Total Freak" as The Quarterback for The Oklahoma Sooners. His Background with Both The Texas Tech Red Raiders and The Oklahoma Sooners was Totally Awesome.
In 2013, Baker Mayfield Was a Texas Tech Red Raider Walk-On, and Just Before The 2013 Football Season Started, after an Injury To The Original Starter, Michael Brewer, Mayfield, was Named, by Head Coach Kliff Kingsbury, as The Texas Tech Red Raider Starting Quarterback.          
In that First Opening Game, Mayfield Completed An Amazing 43 Passes out of 60 Attempts for 413-Yards and Four Touchdowns and He Broke A Texas Tech Red Raider School Record, held by Billy Joe Tolliver.
Mayfield (#6) is Still Believed To-Be The First True-Freshman Walk-On Quarterback To-Start The Season-Opener At Quarterback. In That First Start Against SMU, Mayfield Fell-Short 4 Completions of the D-1 NCAA Record For a Single-Game For a Freshman Quarterback. In That Game, Mayfield was Named as The Big-12 Offensive Player of The Week and he Was Also The First Texas Tech Red Raider Freshman Quarterback To Receive The Same Honor, Since Texas Tech Red Raider Head Coach Kliff Kingsbury Did It In 1999.  
Mayfield was Then Awarded The Burlsworth Trophy Award in Both 2015 and 2016. The Burlsworth Trophy Award is Given To The Best D-1 Football Player who Began His Career as a Walk-On. In 2015, Mayfield Was Also Named as The Big-12 Freshman Offensive Player of The Year. Shortly After Earning That Honor, Mayfield Announced That He was Leaving The Texas Tech Program, Because of a Miscommunication With The Texas Tech Coaching Staff. 
Oklahoma Sooners Head Football Coach Bob Stoops Confirmed That  Mayfield Was not Eligible To-Play Until The 2015 Football Season and He Lost a Season of Eligibility, Because of The Big-12 Conference Transfer Rule, After Following an Unsuccessful Transfer Appeal. In 2014, Mayfield was Confirmed by The Oklahoma Sooners Head Coach Bob Stoops That He Would Become An Oklahoma Sooners Walk-On. In That 2015 Season, Mayfield Passed for 3,700-yards and 36 Touchdowns and it Placed Him Fourth in The Heisman Trophy Award Race. 
Baker Mayfield Won The Heisman Trophy Award Winner in 2017, Which was The Initial Season For The Oklahoma Sooners New Head Coach Lincoln Riley. In that 2017, 14-Game Season, Mayfield Completed 285 of 404 Passes for 4,627-Yards and an Incredible 43 Touchdowns, with 311-Yards Rushing and 5 More Touchdowns, and a Mind-Boggling 198.9 Quarterback Rating.
Mayfield and Murray Were Both Transfers and Hurts joins Them as The Oklahoma Sooners Starting  Quarterback in a Highly Explosive Offense. Both Mayfield and Murray Led The Oklahoma Sooners To a #1 Ranking and A College Football Playoff Berth In Their Heisman Trophy Season. 
Kyler Murray – Incredible Early Accomplishments!
Kyler Murray was Considered by Baseball Scouts as One of The Top Major League Baseball Prospects For The 2015 Major League Baseball Draft. He Played Shortstop and Second Base in High School and Was The First Player In History To-Be Selected To Play in Both The Under Armour All-American Baseball Game and The Under Armour All-American Football Game. 
In 2015, as a Texas A&M True Freshman, Murray was Competing With Kyle Allen For The Starting Quarterback Job and Allen Won The Starting Job, but After Two Straight Losses in October, The Starting Quarterback Job Was Opened and Murray Won The Job.
In his First Start For The Aggies, Against South Carolina, Murray (#1) had an Incredible Game as he Passed for 223-Yards and a Touchdown and Rushed for Another 156-Yards and Another Touchdown, Giving Him 379-Yards of Total Offense and Two Touchdowns. With This Unbelievable Game, it Made Murray and Cam Newton as The Only Two SEC Quarterbacks in the past 20 Years to gain over 100-Yards Passing and Rushing, including a Touchdown Pass and a Rushing Touchdown in their First Career Start.
On December 24, 2015, Murray Made The Announcement That he was Going To Transfer to The Oklahoma Sooners. As Per The NCAA Transfer Rules, Murray Had to Sit-Out The Entire 2016 Football Season.
In The 2018 Heisman Trophy Season, For The Oklahoma Sooners, Murray  Broke Two Of The Oklahoma School Records of The 2017 Heisman Trophy Winning Quarterback Baker Mayfield, as he Recorded a School Record of Total Offensive Yards With 5,362-Yards and Total Touchdowns Accounted For with 54 Touchdowns. Murray broke those School Records with One Fewer Game than Mayfield.
The Football Bowl Series had Never had a Quarterback In History who had Averaged 300-Yards Passing and 60-Yards Rushing, but in 2018, Heisman Trophy Winning Oklahoma Quarterback Kyler Murray Averaged an Incredible 311.5-Yards Passing and 71.5-Yards Rushing for The Entire Football Season.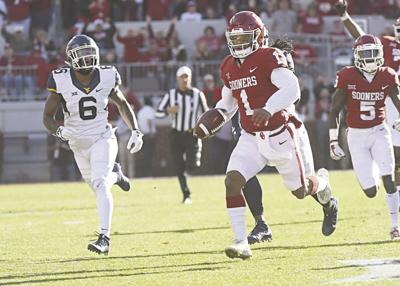 Last Season, Kyler Murray Won The 2018 Heisman Trophy "Way-To-Early Odds Poll" and Jalen Hurts Originally Finished In 10th Place, but After Transferring To The Oklahoma Sooners, The "Way-To-Early Odds Poll" Raised Hurts To Third Place, Behind Clemson Quarterback Trevor Lawrence in First Place and Alabama Quarterback Tua Tagovailoa in Second Place.
In Fourth Place, Behind Hurts, "Way-To-Early Odds Poll" Lists Clemson Running Back Travis Etienne, Georgia Quarterback Jake Fromm, and Wisconsin Running Back Jonathon Taylor. In Fifth Place, The 2019 Heisman Trophy "Way-To-Early Odds Poll" Listed Notre Dame Quarterback Ian Book, Texas quarterback Sam Ehlinger, and Oregon Quarterback Justin Herbert.
After Two Consecutive Heisman Trophy Winning Oklahoma Quarterbacks, In Mayfield and Murray, All of The Football Fans in The Country Will Be Watching The Oklahoma Sooners and Their Starting Quarterback Jalen Hurts as he Will Try To Duplicate Their Heisman Trophy Honors!
Jalen Hurts is not a Baker Mayfield or a Kyler Murray, But in a Very Special-Way, He Might Be Even More Talented and He Is Still a Talented Super-Star and a Heisman Trophy Candidate For The Oklahoma Sooners and Head Coach Lincoln Riley. Hurts is not Going To Automatically Throw for 4,000 or 5,000-Yards, But He Is In An Unbelievable Explosive Offense and He Has An Incredible Reputation as a Leader, Who Will Win The Big Games, and who is Able To Throw and Run the Football.
Mayfield and Murray Were Able To-Have At Least One-Year To-Learn The Lincoln Riley Explosive Offensive Spread System, when They were Transfers, while Hurts will have to Learn The System More Quickly and Then Be The Leader In-Charge of The 2019 Oklahoma Sooners Offense.
In his First Two Seasons as The Starting Quarterback For The Alabama Crimson Tide, Hurts Passed for a Combined 4,861-Yards, 40 Touchdowns, to go along with 1,809-Yards and 21 touchdowns rushing, giving Him an Incredible 6,670-Yards of Total Offense and 61 Touchdowns.
In his Freshman Season For The Alabama Crimson Tide, Hurts Passed for 2,780-Yards and 23 Touchdowns, Against SEC Defenses and SEC Competition, While Mayfield Passed for 2,315-Yards, 12 Touchdowns, and with 42 Fewer Attempts in his Freshman Year in The Texas Tech Big-12 Program. Hurts also had a Higher Passing Efficiency Quarterback Rating than both Mayfield and Murray had in their Freshmen Seasons.
Hurts, a junior, lost his Starting Quarterback Job in 2018 to Sophomore Sensation Tua Tagovailoa, who led The Alabama Crimson Tide to a 14-0 record before Losing to The Clemson Tigers in The National Championship.
The Former Alabama Crimson Tide Quarterback has The Great Arm Strength and Talent To-Lead The Oklahoma Sooners Offense. Hurts also has a Great Rushing Ability and Prowess, and Although he Might Not Be as Explosive as Murray, he is much larger than Murray which makes him Tougher To Bring-Down In The Open-Field and in The Red Zone.
Jalen Hurts May Not Be able To-Bring A Third Consecutive Heisman Trophy Winner To The Big-12, but He Still Could Place The Oklahoma Sooners in a Position To-Win Their Fifth Straight Big-12 Championship and A Potential Third Consecutive College Football Playoff and a Chance For A College Football National Championship.
As The Alabama Crimson Tide Starting Quarterback in 2016 and 2017, Hurts Led Them To Back-To-Back National Championship Games, and Although Clemson Won The First One in 2016, He Struggled in the First Half Against Georgia and Led Coach Saban To Replace Him for Tagovailoa in 2017. 
Jalen Hurts – Incredible Early Accomplishments!
One of The Most Amazing Early Accomplishments of Jalen Hurts Was His First Day of Alabama Practice as a True-Freshman. Hurts Graduated at Mid-Term and He Wanted To-Go Through The 2016 Spring Training and so He Enrolled in School and Quickly Showed-Up For Practice.  
As Soon as Coach Nick Saban (In Photo) Saw Hurts, He Quickly Had Him Go and Take a Physical, and He Then Rushed-Him To The Practice Field To Run The Alabama Scout Team Against The Alabama #1 Defense and Pretend That he was The Clemson Dual-Threat Quarterback, Deshaun Watson.
"Coach Saban Thought That Deshaun Watson and I Were Similar on The Football Field and so I Just Came-In and Played My Game As The Scout Team Quarterback," said Hurts. Watson (6-2, 216, 4.52, 33, 4.31) and Hurts (6-2, 219, 4.48, 36, 4.22) Were Indeed, Very Similar at Quarterback. Hurts Ran a 4.48 in The Forty at The Alabama Spring Camp Last Year and The Fastest Forty For a Quarterback at The 2019 Scouting Combine Was a 4.54.
Hurts Was Given a Specific Job and it was To Prepare The #1 Alabama Defense Against The Clemson All-American Dual-Threat Quarterback Deshaun Watson Before The 2016 National Championship Game.
The Amazing Thing About This "Scout Team Performance" Was That Hurts Did Such a Great Job of Passing and Running Against The Alabama #1 Defense, he Gave All of The Alabama Players and Coaches an Unbelievable Preview of "Things-To-Come" in The Near Future. Hurts was Only 17-Years Old and a Couple Weeks Out of High School, but All of The Alabama Players Immediately Sensed That Hurts Was Going To Be a Factor For The Alabama Crimson Tide Starting Quarterback Job. 
The Odds Were Against Hurts Potential of Winning The Alabama Starting Quarterback Job, Because Coach Saban Had Never Started a True Freshman Quarterback and Both Jake Coker and Blake Sims had waited Until Their Senior Years To Become The Alabama Crimson Tide Starting Quarterback. 
"You Really Can Not Coach Experience," Coach Saban Said. "You also Can Not Really Coach Maturity and Experience at The Quarterback Position. Guys That Have Played for a Long Time have this Sort of Foundation and Experience. The Only Way To Get it, is by Doing it in a Game."
Five Days Before The Alabama Crimson Tide Opened Their 2016 Football Season Against Southern Cal, Coach Saban Announced That Red-Shirt Freshman Blake Barnett and Junior Cooper Bateman Would Compete For The Alabama Crimson Tide Starting Quarterback And Jalen Hurts and Sophomore David Cornwell Were Behind Those Two On The Depth Chart.
The 2016 Alabama Crimson Tide Offensive Coordinator Lane Kiffin Has Always Been Jalen Hurts Biggest Supporters. When The Crimson Tide Were Debating On Whether To Offer Hurts a Scholarship in The Spring of 2015, Coach Kiffin Drove To Channelview, Texas To Personally Scout and Evaluate Him and He Then Came Back To Tuscaloosa and Told Coach Saban that Hurts was a Potential NFL First Round Draft Choice.
"We Were Mixed On Hurts, Because he was really raw, but I Watched Hurts for The Entire Workout as he was Passing To one kid," Kiffin Said. "I Remember Telling Coach Saban That This Guy Was Going To Be a First Round Draft Choice and Hurts Had Just Completed A First Round Draft Choice Workout. He had Big Hands and He Could Really Rip the Football."
Kiffin (In Photo With #2 Hurts) also Told Coach Saban That Hurts Reminded Him of a Smaller Version of Carolina Panthers Super-Star Quarterback Cam Newton, who Won The 2010 Heisman Trophy Award For The Auburn Tigers.
"Hurts is a Power-Lifter and He is Plenty Strong," said Kiffin. "He Could also Play Linebacker, but He Throws The Football Really Well, but Persuading Coach Saban To Recruit Hurts was One Thing, but tying To Persuade Coach  Saban To Start him as a True Freshman For The Alabama Crimson Tide was an Entirely and Completely Different Challenge." Kiffin knew he needed help in Changing The Mind of Coach Saban.
While Coach Saban was Really Committed in Starting a More Experienced Quarterback, Coach Kiffin, Currently The New Head Coach at Florida Atlantic, was Shocked With The Unbelievable Athleticism and Running ability of Hurts. Kiffin also Believed that Hurts Could Bring Another Running Dimension to The Alabama Crimson Tide, Although He Might Not Be As Polished as a Passer, like The Other Quarterback Contenders.
After Being Named as The Alabama Starting Quarterback in 2016, A year later, Hurts Found Himself in a Rematch against The Clemson Tigers, In Preparing His Alabama Teammates Against The Same Rival That He once Imitated With The Alabama Scout Team. "Kind of weird," Hurts said.
While Tagovailoa Ultimately Claimed The Alabama Crimson Tide Starting Quarterback This Past Football Season, Hurts Stayed on The Team and played in 13 of The Alabama 15 Games, but of Great Importance, Hurts Replaced Tagovailoa in The Fourth Quarter of The SEC Championship Game as The Crimson Tide Were Down and Hurts Led Them to Victory Over The Georgia Bulldogs, as He Completed 7-of-9 Passes for 82-Yards and a Touchdown, while Rushing for Another 28-Yards and Another Touchdown.
"I Have Never Been More Proud of a player than Jalen," said Coach Saban. "It is Unprecedented to have a guy who Had Won 26 Games as a Starting Quarterback in Two Years and Start as a True Freshman and Lose Only Two Games and Then All of a Sudden, he is not The Starting Quarterback.
"How do you Manage That? You Have Got to have a Tremendous Amount of Character and a Tremendous Amount of Class to put Your Team First, Knowing That Your Situation is not what it used to be. And for a guy that is a Great Competitor, It's not easy to do."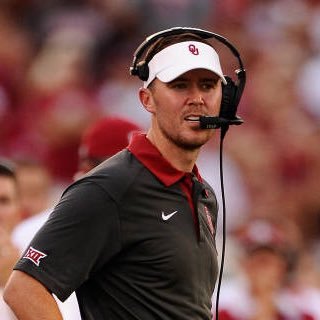 With The Great Help of Head Coach Lincoln Riley and an Oklahoma Sooners Team coming off Back-To-Back 12-Winning Seasons and Consecutive Playoff Appearances (three in the last four years), Hurts could see his Stats Get Even Better and Have his NFL Draft Stock Get Even Higher. Hurts Can Also Give Tagovailoa and Lawrence some real Heisman Trophy Award Competition in what was once Considered a Two-Man Race.
With His New The Oklahoma Sooners Team, Hurts could do more than just bring home a Third Consecutive Heisman Trophy Award  to The Oklahoma Sooners. Hurts Could Also Find Himself in The Middle of a Fourth Straight College Football Playoff National Championship Game and a chance to win a Second National Championship with Another College Football Team.