–
The Two "K's" Are Getting Ready To Go To Work In The NFL!
By Super Scout Max Emfinger
Kyler Murray (#1) Turned 22 On Wednesday And Coach Kliff Kingsbury (On The Left) Turns 40 On Friday!
"I Don't Really Have Anything Special To-Do For My Birthday, but We Do Have A Very Special Pre-Season Game With The Los Angeles Chargers on The Day After My Birthday and The Day Before Coach Kingsbury's Birthday," said Murray.
Arizona Cardinals New Head Football Coach Kliff Kingsbury is about to lead his Arizona Cardinals NFL Team in his First NFL Game as a Head Coach on Thursday. Obviously, The Chargers Game is not a Regular Season Game, But It Will Be The Cards First Game That Features Their New Spread Offense and of even More Importance; It will Feature Their New Heisman Trophy Winning Quarterback.
Heisman Trophy Quarterback Kyler Murray (5-10, 207, 4.32) is Also one of The Best Athletic Dual-Threat College Quarterbacks that I Have Ever Seen, In My 47 Years Of Scouting and Evaluating Football Players in High School, College, and The NFL. Murray Just Has The Unbelievable Athleticism, and there is a reason that he was one of The Most Sought-After Quarterback Recruits in The Country Coming-Out of High School, but he is more than just a Great Athletic Dual-Threat Quarterback, because He has an Incredibly Quick-Release and He Throws Really Impressive Darts past Defensive Backs.
Kyler Murray Wore a Black Jersey (#1) During The Entire Cardinals Training Camp, which Made-Aware All Defenders To Avoid Physical Contact With Their Heisman Trophy Winner and #1 Draft Choice and Prized Quarterback.
This Pre-Season Game Against The Chargers Will be his First Game in The NFL, but How Long That Murray Plays in The Game is Unknown, but it will Still Give All of The Cardinal Fans an Opportunity To Get a Glimpse at His Incredible Passing and Running Tools. Murray will also be Tackled on The Ground, For The First-Time as an NFL Quarterback. With His Black #1 Jersey, Murray has not yet Been Tackled This Season in any of The Cardinals Pre-Season Drills.
During Pre-Season Drills, The Black Jersey Setup Allowed Murray (#1) To Sit-Back In The Pocket a little longer and Able To-Work On His Progressions and when the Defensive Traffic got really heavy, Murray could Run Out of The Pocket, just like he would in a Real NFL Game.
While Most Every Quarterback Scramble in College and in The NFL is a "Last-Ditch Option" and Trying To Make Some Yardage, after His Receivers are Totally-Covered, but with The Incredible Speed and Quickness of Murray, makes His Quarterback Scrambles, an Incredible Offensive Weapon.
At Oklahoma, Last Season, Murray Averaged 7.9-Yards on Every One of His Scrambles, but Even With The Great Head Coach Kliff Kingsbury Spread Offense, Coach Kingsbury (In Photo) Still Would -Like Kyler Murray To-Scramble If His Receivers Are Not Quickly In-The-Clear. The Cardinals  Practiced These Scramble-Drills With The Speedy Murray.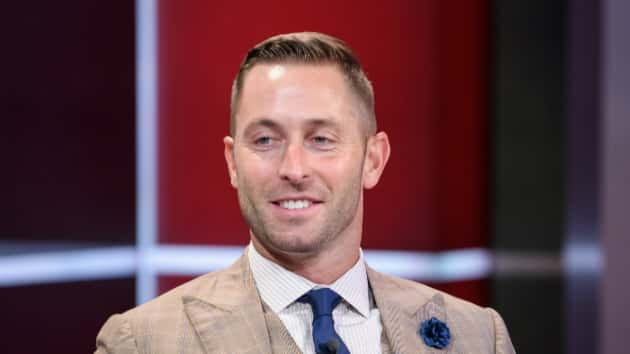 The Arizona Cardinals Had the Worst Record in The NFL in 2018, but then They Fired Their Head Coach Steve Wilks and Hired Kliff Kingsbury, who was an Offensive Genius, and who had Recently been Highly Successful as Head Coach at Texas Tech, before being Fired."It's not just 'cause I can get around that it's easy," Murray said.
"Scrambling Out of The Pocket is Something That You Have Got to Work-On and I Definitely Need to Practice Scrambling Outside The Pocket so The Guys Can Practice Seeing Me Out of The Pocket and Practice Knowing Where To Be, to get Into The Clear, so i Still Might Be Able To Hit Them With a Pass If possible," Said Murray.
Due To His Great Knowledge of The Great Kingsbury Spread-Offense, Kyler Murray Has Taken-On A Great Leadership Role With The Arizona Cardinals. "Murray Knows Exactly What To Do On The field, Better Than Anyone and That Has Accelerated his Ability To Become The Great Leader that he has Always Been, On The Football Field," said Kingsbury. 
The Observers Who Thought That Kyler Murray Was Too Short or Too Small, To Play in The NFL, Never Saw Him Play or Probably Would Not Know An Unbelievably Talented Player, With Incredibly Gifted Quarterback Skills, if They Saw One. Murray is Also One Of The Most Gifted and Talented Athletes In History To Play Two Sports In High School and College.
The Cardinals Have Some Great Wide Receivers That Murray will be able To use Against The Chargers and They All are Excited About Their New Quarterback. Kevin White Was One of The Top Two Wide Receivers in The 2015 Draft. White (6-3, 215, 4.35, 37, 4.14) has Outstanding Pass-Catching Skills Has The Rare Physical Skills That Is a Great Fit For Coach Kingsbury and Murray in The Kliff Kingsbury Offense.
White Played For My Good Friend and West Virginia Head Coach Dana Holgorsen at West Virginia. "White Says That He Is Looking Forward To-Catching The Ball, in The Kingsbury Spread That Is Similar To The West Virginia Offense and Quickly Making Great Plays on Deep Passes."
White (#13 Was A #1 Draft Choice The With Chicago Bears) has been with The Chicago Bears and The Upside of his Recent Signing With The Arizona Cardinals Gives Them Another Great Receiver To Christian Kirk (5-11, 201, 4.38, 36) and Larry Fitzgerald (6-3,225, 4.38), who White has Known For Years.