–
The Incredible New LSU Locker Room Facility Is A Mind-Blowing Revovation!


By Super Scout Max Emfinger
This Incredible New LSU Football Locker Room Facility Renovation also added an Unbelievable New Nutrition Center that is a Wide-Open Cafeteria that can seat 180 People, Complete with Their Own Chef, Michael Johnson, who has Spent Three Years, Cooking for the Seattle Seahawks Football Team.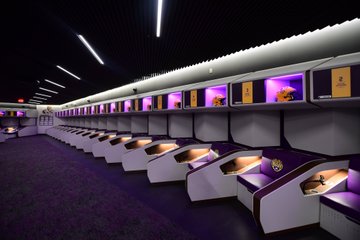 There Are Locker Rooms and Then There is The New LSU Locker Room. This Unbelievably Innovative LSU Locker Room is About 8,000 Square Feet and Built for Relaxation, Recovery, Comfort, and Recruiting. It Features a One-Of-A-Kind Locker Room and Includes a Specialized Ventilation System and Bacteria-Resistant Surfaces. 

This New Mind-Blowing Football Facility Includes a Players Lounge, that was Funded by a $1 Million Donation from former LSU Great Defensive Back Tyrann Mathieu, that also Includes Arcade Games, a Theater, and a Ping-Pong table.
There Also Were Hundreds of Hard-Core LSU Football Fans that Donated Money to the New LSU Facility Project, LSU Athletic Foundation President and CEO, Said Rick Perry.
In The New "Walk Through Room" The LSU Players Can Walk Through Their Various Formations against Their Opponents in a virtual setting. This Incredible "Walk Through Room" was a Thought From Super LSU Defensive Coordinator Dave Aranda after he Witnessed Similar "Walk Through Rooms" in Visiting Several NFL Teams.
This New LSU "Walk Through Room" is as Wide as a Regular-Sized Football Field, so That The Entire Offensive or Defensive Starting Lineup Can-Participate in a Complete Starting Lineup Walk-Through.
The "Walk Through Room" is about a 50-Feet-Wide and 12-Feet-Tall Room with an Artificial Grass-Turf Floor, where The LSU Football Players Can Stand in front of The Virtual Football Field and Practice how they Would Perform In The Game and Be Able To-Line Up During The Actual Football Game.
Here Is 

The New Innovative "Walk Through Room" Where Complete Starting Lineups Can Come-In And Work-Through Different Formations Against The Various Opponents!
The Tyrann Mathieu LSU Football Players Lounge!
The New Tyrann Mathieu LSU Football Players Lounge is a 2,300-Square Foot of Entertainment, Lounging, Computer Areas, and a Quiet Zone for LSU Football Players and their Down-Time and Free-Time. The Lounge can Accommodate 100 Student-Athletes. It is Also Very Comfortable and has a Floor-To-Ceiling Windows to be able to Overlook the Outdoor Practice Fields. The New LSU Players Lounge is named in Honor of Former LSU Great Football Player and NFL Football Player, Tyrann Mathieu. 
Along With 

Their Incredible New 28-Million Dollar Locker Room Facility, LSU Is Also Really Proud of Their New 2.5-Million Dollar Innovative Weight Room Facility!
The New LSU Weight Room Facility Includes The Following Features!
Brand new Weights, Dumbbell Sets, Weight Racks, Lifting Machine, and Cardio Machines That Triple The Previous Amount of Machines! Two 10-Feet LED Screens That Is Able To Sync To An iPad! Medical-Ball Wall, Second Restroom, and A Larger Storage Room! A New Office, 30 TV Sets, Five-Zone Directional Speaker System, and a Thicker, Softer Floor! The Old 20-Year Set of Weights That Were Used By The LSU Football Team Will-Be Used by The Softball, Basketball, Tennis, Gold, Swimming, and Diving Teams.