Missouri Transfer Quarterback Kelly Bryant May Shock The SEC in 2019!
  By Super Scout Max Emfinger
One of The Most Incredible New Rules in NCAA College Football is The New Transfer Portal Rule 38!
The New Transfer Rule 38 Allows a Player To Be Able To Enter The Transfer Portal by Notifying The Athletic Department and The School Compliance Department Database within Two Business Days, but The Player Still has The Option To Remove Their Name.
This New Transfer Portal Rule 38 became In-Effect in October 2018, giving Division I Athletes The Ability To Transfer to a Different D-I School and Receive an Athletic Scholarship without asking their Original School for Permission.
In The Original Transfer Rule, The Athletes had to Receive Permission from their Original D-I School To Transfer To Another D-I School and Their  Original D-I School could "Block" The Athletes from Transferring To Another School within Their Athletic Conference or Another Team on Their Schedule.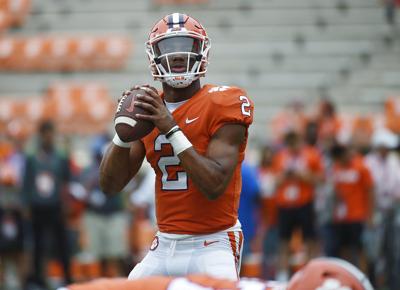 New Graduate Transfer Quarterback Kelly Bryant (#2) is The Former Super-Star Quarterback For The Clemson Tigers in 2017. At One Time, Bryant was one of The Top Dual-Threat Quarterbacks in The Country with Tremendous Speed, Great Instincts, Great vision, and Tremendous Athleticism. These Exceptional Talents are Outstanding Talents for Running The Football in The Open Field.
Bryant Led The Clemson Tigers to a 12-2 Record and The College Football Playoffs in 2017, but he was Playing-Behind DeShaun Watson and Trevor Lawrence on The Depth Chart in 2018.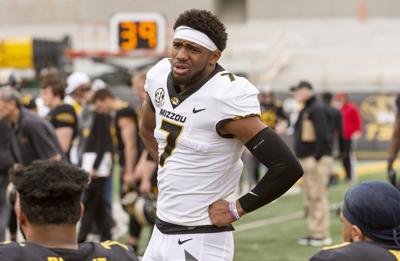 In 2019, Bryant (#7) will be The Super-Star and Possible Heisman Trophy Candidate Quarterback for The Missouri Tigers in The Southeast Conference. Bryant was a Quarterback Freak for The Clemson Tigers for Three Years, but he Lost his his Job in Mid-Season to a Young Freshman, by The Name of Trevor Lawrence. Bryant, then Decided To-Take Advantage of The New Transfer Rule 38 and He Chose The Missouri Tigers over Five Other Schools.
Everything had To-Change For The Missouri Tigers after Losing Offensive Coordinator Josh Heupel in 2017 and Their Four-Year Super-Star Quarterback Drew Lock in 2018. After Two Visits To The New Transfer Rule 38 Portal, Things Appeared To-Be Ready for Bryant To-Be in an Unbelievable and Incredible Situation for Him To-Make a Great Change in The 2019 Season as The Missouri Tigers had a Great Chance To-Replace Drew Lock With Transfer Quarterback Kelly Bryant (#7) From Clemson and a few weeks later, Shawn Robinson, From TCU, became a Future Quarterback For Missouri, but he will have To-Sit-Out in 2019, because of Traditional Transfer Rules!
New Graduate Transfer Quarterback Kelly Bryant (6-3, 225, 4.52, 36, 4.2) had Thought that he had Found The Perfect School for his Final Football Season of his College Football Career before The NFL, because The Missouri Tigers had Won Eight Games in 2018 and they had an Outstanding Group of Offensive Skill Players Returning, plus an Outstanding New Offensive Coordinator in Coach Derek Dooley . With him at Quarterback and these Outstanding Offensive Players, Bryant Thought that They Could be a Real SEC Contender in The 2019 Race.
Even With All of This Positive News For The Missouri Tigers, The NCAA Dropped A Bomb On The Tigers, as they Gave The Tigers A One-Year Bowl Ban in an Academic Fraud that was Committed by a Former Athletic Department Tutor. This One-Year Bowl Ban Would Not Allow The Missouri Tigers to Play in a Bowl Game in 2019.
Although none of The  Current Missouri Players Were Involved in The Academic Fraud, All of The Seniors on The Team, including Bryant, would be Allowed To Transfer Freely and Become Immediately Eligible. And the Incredible News for The Missouri Tigers was That Absolutely None of The  Upperclassmen, including Quarterbacks Kelly Bryant and Shawn Robinson, Planned To Transfer and They All were going To "Stick Together" With Their New Quarterbacks, Bryant and Robinson.
Bryant Had Already Enrolled in School and had Been Involved With The Mizzou Football Team. All of The Players were Unbelievably Excited That he had Decided To-Transfer To The Missouri Tigers for his Last Season of College Football. Then about a week after a Very Important Goal-Setting Team-Meeting, The NCAA Dropped Their Bomb on The Team.
Then, later in January and about a week after The Important Goal-Setting Team Meeting, The Seniors had another Meeting, after the NCAA Bowl Ban. This was a Very Important Senior Team-Meeting, because in The Team-Meeting, The Players had Pledged To Make The Playoffs and Play in a Major Bowl Game.
NCAA Post-Season Bowl Bans Can Cause a Huge Dilemma and Predicament within The Players that are Involved. It Will usually Create a Huge Stampede for Those Players To-Leave that College Program, but not at Missouri.
At The Missouri Senior Team-Meeting, Kelly Bryant was The "Star" of  The Meeting as he Stood-Up and Told his Future New Teammates that he was going To-Continue To Be Their Missouri Teammate.
"I am with you; I am here To-Win Football Games. Bowl-Ban or not, because we can still be Something Really Special," Bryant said.
Derek Dooley Spent His Last Five Years As Wide Receivers Coach With The Dallas Cowboys!
In 2018, Former Dallas Cowboys Wide Receiver Coach Derek Dooley Joined The Missouri Tigers and Head Coach Barry Odom as Their New Offensive Coordinator and Quarterback Coach. Dooley Replaced Josh Heupel, who Became The Head Football Coach at Central Florida.
"I Am Very Excited to be a Mizzou Tiger and I Look-Forward To Helping Coach Odom In Carrying-Out His Vision for The program, Said Coach Dooley. "I am also Grateful for this Opportunity and I am Ready to go to Work."
Dooley is The 50-Year-Old Son of The Former Georgia Coach Vince Dooley and he Spent Five-Years as Receivers Coach with The Dallas Cowboys.
Derek Dooley is an Outstanding, Veteran Offensive Coach That Spent 2013-2017 as The Wide Receivers Coach with The Dallas Cowboys after Spending 2010-2012 as Head Coach of The University of Tennessee. He was also The Head Football Coach at Louisiana Tech from 2007-2009, after Coaching The Tight Ends for The Miami Dolphins from 2005-2006.
In his First Year at Missouri, Coach Dooley did an Incredible Job as his Offense Scored The Second Most Points in Mizzou History in a 13-Game Season and Fifth Most Points in Mizzou History. These Points Scored was a Major Factor in The Great Season as The Tigers Won 8 Games and Played in The 2018 AutoZone Liberty Bowl.
With The New Dooley Offense, The Tigers Offense Finished 13th In The Country and 3rd in The SEC in Total Offense with 481.8-Yards Per Game. The Tigers Most Impressive Offensive Stat was The Fact that they were One-Of-Three "Power-Five" Teams To Pass for At Least 279-yards Per Game,to go with at least 200-Yards Rushing. The Other Two Were National Champion Clemson and National Semi-Finalist Oklahoma.
The Missouri Tigers Have Five Potential 2019 Offensive All-Americans!
Along with Kelly Bryant at Quarterback, The Tigers Have Four More Potential All-Americans In

Tight End Albert Okwuegbunam, 

Running Back Larry Rountree III, Inside Linebacker Cale Garrett, and SLOT

Wide Receiver Johnathon Johnson!
In 2018, Redshirt Junior Albert Okwuegbunam (6-5, 260, 4.66) was One of The Most Dangerous, Miss-Match Offensive Weapons in College Football. The Sad Thing was That, Although He was a Dangerous Threat on every Single Play, The Tigers Did Not Always Utilize Him as much as they Could Have, but when They Did Utilize Him, He Made Huge Plays and Some Were Spectacular. He Often Made Incredible Catches and Helped Lead The Tigers To Victory.
In The Memphis Game in 2018, Okwuegbunam Caught 6 Passes for 159-Yards and 3 Touchdowns and With an Amazing 26.5-Yards Per Catch. With This Outstanding Game, Okwuegbunam was Selected To My College Football MVP Players of The week.
His Decision To Pass on The 2019 Draft Was a Huge Plus and Great News for Missouri, as The Return of Okwuegbunam gives Bryant Still Another Fabulous Offensive Weapon that he can Utilize in 2019. The Okwuegbunam 2018 Football Season was Marred by a shoulder injury that Prevented him from playing in The Final Four Games, after Being Selected To The SEC Second Team as a Red-Shirt Freshman.
In that 2017 Season, Okwuegbunam was Incredible as he Caught 29 Passes for 415-Yards and an Unbelievable 11 Touchdowns and a 14.3-Yards Per Catch. His 11 Touchdowns Were The Most Touchdown Catches of any Tight End in The Country and The SEC Selected Him To Their Second Team All-Conference.
Physically and Athletically, Okwuegbunam is The NFL Phototype Tight End and is a Genuine #1 Draft Choice in The 2020 NFL Draft. He has Great Size, but he can also Outrun Most Linebackers and Safeties in Open-Field. It is Pretty Amazing That These Defenders have a Difficult Time Trying to-Catch Him after he Catches The Football.
The Tigers Return Their Tight End and Three Outstanding Offensive Linemen Starters, Including Redshirt Junior Tight End Albert Okwuegbunam (6-5, 260, 4.66), Senior Left Tackle Yazir Durant (6-7, 330, 5.2), Senior Right Guard Tre'Vour Wallace-Simms (6-5, 330, 5.2), and Red-Shirt Junior Center Trystan Colon-Castillo (6-4, 315, 5.1) as Potential All SEC Players and Top NFL Players. With Their Great Skill Players and Great Offensive Linemen, along With Kelly Bryant Have a Tremendous Scoring Potential in The SEC.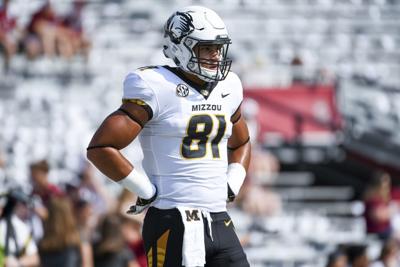 Okwuegbunam has Already Been Selected To Various 2019 Pre-Season All-American Teams. If He Stays Healthy in 2019, Okwuegbunam has a chance To Catch a Lot of Passes From Bryant and Could Record Some Really Fantastic Stats in what Would Probably be his Final College Football Season.
Super-Star Running Back Larry Rountree III (5-10, 210, 4.52) Will Enter His Junior Season in 2019 as one of The Best Junior Running Backs in The Country. In 2018, As a Sophomore, Rountree (#34) was Outstanding as He Rushed for 1,216-Yards and 11 Touchdowns with a 5.4-Yards Per Carry Average and Zero Fumbles. He also Caught 14 Passes for Another 62-Yards Per Catch, Giving Him a Total of 1,278-Yards and 11 Touchdowns.
Against Oklahoma State, in The 2018 AutoZone Liberty Bowl, Rountree was Outstanding as he Rushed for an Amazing 204-Yards, 7.6-yards Per Carry, and a Touchdown. This was After he had Rushed for 119-Yards on 29 Carries Against Arkansas and 135-Yards Against Tennessee, In Helping Lead The Tigers into The Bowl Game.
In 2017, as a Freshman, and a Running Back in The Run/Pass Option, Rountree Rushed 126 Times for 703-Yards and 6 Touchdowns and a 5.6-Yards Per Carry Average. He also caught 5 Passes for Another 57-Yards and a 11.4-Yards Per Carry Average. Rountree Combined With Running Back Ish Witter For 314 Carries and 1,752-Yards and 5.6-Yards Per Carry and 12 Touchdowns.
In The 2019 Season, Rountree (#34) will get To-Play With a Dual-Threat Quarterback and Defenses Will Have Absolutely No-Clue who is going To-Get The Football, Giving Both Bryant and Rountree an Extra Chance To-Get Extra-Yards and with Their Excellent, Experienced Offensive Line. With These Outstanding Opportunities, Rountree will be One of The most Impressive Running Backs in College Football and The NFL will be Watching and Will Draft Him Accordingly in The 2020 NFL Draft.
In Addition to The Pre-Season All-SEC Teams, Four Missouri Tigers Have Been Listed on Pre-Season Award Watch Lists.
QB Kelly Bryant – Maxwell Award – Top Offensive Player
TE Albert Okwuegbumam – On Biletnikoff Award – Top Pass Catcher
RB Rountree III – On Doak Walker Award – Top Running Back
LB Cale Garrett – Bednarik Award – Top Defensive Player
Super-Star Inside Linebacker Cale Garrett (#47) is Already Listed on The Bednarik Award List as The Top Defensive Player in The Country and Already on The 2019 SEC Second Team Pre-Season All-Conference Team.
Garrett (6-3, 230, 4.72,32, 4.31) Appeared in 13 Games as a True Freshman and has been a Starter as a Sophomore and Junior. In 2017, Garrett Recorded 105 Tackles, including 65 Solo Tackles, 3 Quarterback Sacks, and 2 Interceptions. And then in 2018, he Recorded 106 Tackles, including 68 Solo Tackles, and One Quarterback Sack. While Garrett did not pick off a pass last season, The Super-Active Linebacker has Three Career Interceptions.
Against Oklahoma State, in The 2018 AutoZone Liberty Bowl, Garrett Recorded 8 Tackles, Including 6 Solo Tackles and he has been Selected To The SEC Second Team All-Conference Defense from SEC Conference Coaches.
Red-Shirt Senior SLOT Receiver Johnathon Johnson (5-10, 180, 4.46, 38, 4.26) has had Three Outstanding Seasons With The Missouri Tigers. In 2018, Johnson (#12) Caught 59 Passes for 737-Yards and 5 Touchdowns in 13 Games, but he was Sensational in his Last Game of The Season, Against Oklahoma State, in The 2018 AutoZone Liberty Bowl Game as he Caught 9 Passes for an Impressive 185-Yards and a Touchdown.
Johnson already Ranks 10th in Missouri History in Receiving Yards With 1,896-Yards and is Looking To-Move Even Higher into The Top 10.
These Impressive Receiving Stats Are Incredible after Considering That Coming Out of Memphis Melrose, he was not a Four-Star Player. in 2015. He did have Several Offers, including Tennessee, Purdue, and Louisville.
Coach Barry Odom was The Missouri Defensive Coordinator, at that time, and He Convinced Missouri Head Coach Gary Pinkel To Offer Johnson a Scholarship and The Tigers are Glad that he Accepted, because with only 883-Yards Receiving in 2019 will Break The Missouri Pass Receiving Record.
The 883-Yards Receiving Yards Would Break The Missouri Yards Receiving Career Record of Danario Alexander of 2,778-Yards. Johnson (#12) has Averaged 632-Yards and 41 Catches Per Year for Tree Years. So to Break The Record, Johnson would have to Have His Best Season, but with Help From Bryant, This Record is a great Possibility.
With Wide Receiver Emanuel Hall Going to The NFL and New Quarterback Kelly Bryant Coming-In as a Great Dual-Threat Quarterback and Taking More Advantage of The SLOT Receiver, Johnson (#12) will have an More Opportunities to catch Passes. With Bryant as The Dual-Threat Quarterback, The Tigers would be Presenting a New Dimension to Defenses and with a Steady Flow of Zone Defenses and Countless Passes to The SLOT Wide Receiver and Running Back.
The Tiger Coaches have been Working With Their Receivers To Help The Quarterback, While Scrambling and Passing on The Run. Bryant is an Exceptional Dual-Threat Quarterback who Knows how to Beat All Kinds of Coverages and he Knows Where The Football Needs To-Go. With Tight End Okwuegbunam and and SLOT Receiver Johnson, Bryant will have Unbelievable Passing Options and Both Will Have Outstanding Seasons before Going To The NFL