–
The Incredible Justin Herbert Story Prior To His Oregon Ducks Senior Season!


By Super Scout Max Emfinger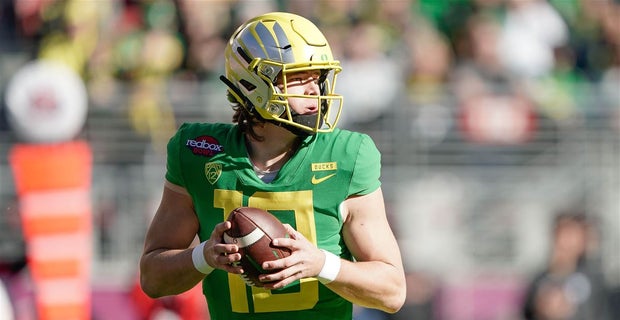 One of The Most Impressive Dual-Threat Quarterbacks in The 2018 Football Season was Oregon Ducks Junior Quarterback Justin Herbert (6-6, 233, 4.65) and he was also a Heisman Trophy Candidate and a Potential #1 Draft Choice. The Great News for The Oregon Ducks and The Oregon Duck Fans is that Herbert had some Incredible Reasons To-Come-Back  for his Senior Season in 2019.
Herbert is From Sheldon High School, which is only a few miles away from The Oregon Ducks Campus, and A High School All-American from Sheldon Has Just Signed with The Oregon Ducks and he has already just Entered Oregon Early and went through Spring Training. The Player was an All-American Tight End Named Patrick Herbert.
Patrick Herbert (#81) is The Younger Brother of Justin Herbert and he was Rated as The #1 Player in The State of Oregon in 2018, as he Caught 43 Passes for 797-Yards and an Amazing 11 Touchdowns as a Senior. Young Patrick Herbert (6-5, 225) Chose The Oregon Ducks over Scholarship Offers From California, Florida, Nebraska, Oregon State, and Penn State.
Not only will Justin be One of The "Front-Runners" for The 2019 Heisman Trophy Award, he will also be able To-Throw Passes to his Younger Brother and To-Play his Last College Football Season with Him and Patrick will get To-Play and Help his Older Brother Justin To-Win The Heisman Trophy Award. Playing with his Brother was Probably The #1 Reason for Coming-Back for his Senior Season, but Playing with his Senior Teammates and Playing and Competing for The Heisman Trophy Award were two other Major Considerations for Coming-Back for His 2019 Senior Football Season.
"My Brother is doing really well," said Justin. "Patrick Came-In Early and he went through Spring Training. He was a little nervous at first, but he later had a lot of fun and The Tight End Group made him really Welcome."
Coming-Out of High School, Justin Herbert was a Big and Strong, Athletic Quarterback With an Unbelievable Strong Arm and great Athleticism,  but he was "Flying Under The Recruiting Radar" from a Small Town and he had  Very Few Scholarship Offers. He Broke his Leg as a Junior and was Never Able to Get-On any College Recruiting Lists and now he has been  Compared to some of The "Under The Recruiting Radar" Quarterbacks, including  Drew Brees, Kliff Kingsbury, and Carson Wentz.
His Scholarship Offer List in The Spring, as a Junior, Included Northern Arizona, Montana State, and Portland State. The Oregon Ducks knew about The Local Kid, but they wanted To-Wait to watch him play as a Senior. The Ducks liked him and They Offered Him and he Accepted, On-The-Spot.
In 2016, Herbert was The Ducks First True-Freshman Starting Quarterback Since 1983. In 2016, Justin had an Incredible Season for The Oregon Ducks as he Completed 162 of 255 Passes for 1,936-Yards and 19 Touchdowns. 
In 2017, Justin Herbert was having an Incredible Sophomore Season before an Unfortunate Broken Collarbone knocked him out of five games During The Middle of The Football Season. In only Five Games, Herbert Completed 86 of 126 Passes for 1,264-Yards and 9 Touchdowns.
In an Incredible 2018 Junior Season, Herbert Completed 240 Passes of 404 Attempts for 3,151-Yards and 29 Touchdowns. He also Rushed for Another 161-Yards and 2 Touchdowns, giving him 3,312-Yards and 31 Touchdowns of Total Offense, and with a 144.7 Quarterback Rating. He also Led The Ducks to a 9-4 Record and First Post-Season Game Since 2015, while being in The Running for The Heisman Trophy Award and Leading his Oregon Ducks to The Redbox Bowl Against Michigan State.
In his First Three Football Seasons for The Oregon Ducks, Justin Herbert Has Accounted for an Unbelievable 72 Touchdowns, including 63 Passing Touchdowns and 9 Rushing Touchdowns.
"Justin Herbert is a Very Special Talent on The Field, but More Important, He is a Very Special Person and Leader On and Off The field," said Oregon Ducks Head Coach Mario Cristobal.
Herbert has Great Size and Speed and he Stands 'Tall-In-The-Pocket" and he has a Very Quick and Very Sharp Release, with Great Velocity. Herbert is also an Outstanding Mobile Quarterback who can escape Defensive Ends and he puts Great Pressure on The Secondary.
Oregon Ducks Senior Quarterback Justin Herbert Has a 4-to-1 Odds of Being the #1 Selection In 2020 NFL Draft!
Justin Herbert is an Obvious Favorite To Become The #1 Selection in The 2020 NFL Draft, After Opting to return for his Senior Season after a Great Junior Season. The NFL Scouts Are Giving Herbert One of the Highest Grades To Any Senior from the Past Decade. 
Tua Tagovailoa also is on The Same Level as Herbert for The 2020 NFL Draft.
Justin Herbert Played For Three Different Head Coaches in Three Years, but in 2018, He will Be Getting To-Play for Head Coach Mario Cristobal For The Second Straight Year. He Also Will Be Getting To-Play With His Younger Brother, Patrick, in His Heisman Trophy Run and Final Season at Eugene.