–
Kentucky Super-Star Edge Rush End Josh Allen Wins Bronco Nagurski Award! By Super Scout Max Emfinger
Kentucky Senior Edge Rush Defensive End Josh Allen (6-5, 260, 4.56) From Montclair, New Jersey has just been Awarded The Bronco Naguraki Trophy Award as The Top Defensive Player in The Country after just being Named as The SEC Defensive Player of The Year.
Allen has been Sensational All Season in Leading The #15 Ranked Kentucky Wildcats to a (9-3, 5-3 SEC) Record and with Such an Incredible Season, this is Obviously Not Going To-Be his Last Defensive Award, because he is going to Receive Several More Defensive Awards.
In The 2018 Season, Allen has become The Kentucky Wildcats All-Time Quarterback Sack Record with 14 Quarterback Sacks and he also Broke The Wildcats Quarterback Sack Record for a Single Season.
Allen Also is a Semi-Finalist for Several Other Trophy Awards, including The Chuck Bednarik Trophy Award for The Best Linebacker in The Country; The Dick Butkus Award as The Best Linebacker in The Country; The Lott IMPACT Trophy Award, given to The Top Defensive Player in The Country; and The Walter Camp Trophy Award for The Top Player in The Country.
As a Senior, in 2018, Allen was a Little Heavier and Stronger than in 2017 and he Put-Together another Tremendous Season in Recording an Incredible Football Season as he Recorded 52 Solo Tackles, including 14 Quarterback Sacks, 18.5 Tackles for a Loss, 5 Forced Fumbles, and 4 Pass Breakups. This is not even Counting  The Kentucky Wildcats Bowl Game. Allen Recorded Multi Sacks in Four Games and was Selected to My College Football Weekly MVP's in An Incredible Seven Games, Including 3 Sacks Against South Carolina; Plus 2 Sacks Against Vanderbilt, Missouri, and Middle Tennessee.
Allen (#41) is  Exceptionally Fast for an Edge Rush End, Weighing in The 260-Pound Range and he also Possesses an Extremely Quick First-Step in Causing Serious Damage to Opponents Offensive Plays.
Allen was a Backup as a Freshman before becoming a Sophomore Super-Star in 2016, in Becoming a Solid Starter at Rush Defensive End. In that 2016 Season, Allen Recorded 62 Tackles, Including 7 Quarterback Sacks, 8.5 Tackles for a Loss, and 4 Forced Fumbles. Then, As a Junior, Allen became one of The Top Edge Rush Defensive Ends in the SEC, as he Recorded 65 Tackles, Including 9.5 Tackles for a Loss, 2 Forced Fumbles, and 3 Pass Breakups. After his Junior Season, Allen Considered Entering The 2018 NFL Draft, but Decided to return for his Senior Season.
Allen was also Phenomenal against The Florida Gators, leading The Kentucky Wildcats to snap their 31-Game Losing Streak to The  Gators. Allen Dominated The Gators Left Offensive Tackle in The Pass Rush and made Two Outstanding Downfield Pass Breakups, including a Critical Two-Point Conversion Attempt. After that, Allen was also Outstanding in Leading The Wildcats to Victory over Missouri, Mississippi State and South Carolina.

The Walter Camp National Player
And Heismam Trophy Awards Preview!
There were Four Quarterbacks that have been Named as Finalists in The Final Five for The 2018 Walter Camp National Player of The Year Award, including Oklahoma Quarterback Kyler Murray; Alabama Quarterback Tua Tagovailoa; Washington State Quarterback Gardner Minshew; and West Virginia Quarterback Will Grier. The only Non-Quarterback is Super Kentucky Linebacker Josh Allen.
These Five Players For The Walter Camp National Player Award Are Listed With Their Number of College Football Weekly Awards and it Includes Oklahoma QB Kyler Murray With Seven MVP Awards, Plus Another One in The BIG-12 Championship Game, Giving Him Eight MVP Awards; Washington State QB Gardner Minshew With Seven MVP Awards; Kentucky Edge Rush End With Seven MVP Awards; Alabama QB Tua Tagovailoa With Six MVP Awards; and West Virginia QB Will Grier With Six MVP Awards.
Others With Six or Seven MVP Awards include Ohio State QB Dwayne Haskins With Six MVP Awards, Plus Another One in The BIG-10 Championship Game, Giving Him Seven MVP Awards; Alabama Super Noseguard Quinnen Williams With Six MVP Awards, Plus Another One in The SEC Championship Game, Giving Him Seven MVP Awards; Texas A&M RB Treyveon Williams With Six MVP Awards; Clemson RB Travis Etienne With Six MVP Awards, Counting The One in The ACC Championship Game; Memphis RB Darrell Henderson With Six MVP Awards; LSU Strong Safety Greg Delpit With Six MVP Awards; LSU Inside Linebacker Devin White With Six MVP Awards; Washington LB Ben Burr-Kiren With Six MVP Awards; Oklahoma Slot Wide Receiver Marquise Brown; Clemson DE Clelin Ferrell With Six MVP Awards; and Florida DT Jachai Polite With Six MVP Awards.
Players With Five MVP Weekly Awards Include Boise State Quarterback Brett Rypien; Notre Dame Running Back Dexter Williams; Utah Linebacker Chase Hansen; Texas Inside Linebacker Greg Johnson; Texas A&M Tight End Jace Sternberger; Alabama Tight End Irv Smith; Mississippi State Defensive Tackle Jeffery Simmons; Mississippi State Defensive End Montez Sweat; Wisconsin Running Back Jonathan Taylor; California Inside Linebacker Evan Weaver; and Washington Strong Safety Taylor Rapp.
Other Players With Four MVP Weekly Awards Include Missouri Quarterback Drew Lock; Oklahoma All-Purpose Wide Receiver Ceedee Lamb; Utah State Jordan Love; Texas A&M Quarterback Jordan Ta'Amu; Central Florida Quarterback McKenzie Milton; Central Florida Outside Linebacker Nate Evans; Houston Defensive Tackle Ed Oliver; Houston Inside Linebacker Austin Robinson; Clemson Inside Linebacker Tre Lamar; Notre Dame Quarterback Ian Book; Washington Cornerback Byron Murphy; Washington All-Purpose Back Myles Gaskin; Penn State Strongside Defensive End Yetur Gross-Matos; Virginia Linebacker Chris Peace; Alabama Defensive Tackle Isaiah Buggs; Texas Defensive Tackle Charles Omenihu; Ohio State Defensive Tackle Dre'Mont Jones; Ohio State Defensive End Chase Young; Clemson Defensive Tackle Christian Wilkins; and Boise State Edge Rush End Curtis Weaver.
Tight Ends and Offensive Linemen were Very Difficult to Evaluate and Give a Weekly MVP Award for each Week, but there were Five Tight Ends that Were Very Impressive and they were Awarded Several Weekly MVP Awards. All Five of These Tight Ends are Super Freaks and they Include Texas A&M Tight End Jace Sternberger; Alabama Tight End Irv Smith; Missouri TE Albert Okwuegbunam; UCLA Tight End Caleb Wilson; and Iowa Tight End Noah Fant. All Four Super Tight Ends Are Potential NFL #1 Draft Choices.
Sternberger (6-4, 255, 4.6, 32, 4.31) From Kingfisher, Oklahoma has Tremendous Size, Great Athleticism, and Outstanding Speed for a Huge Tight End. He Will Go-Up and Catch Clutch Passes Against Cornerbacks and then Run for Extra Yardage, after Making Contact.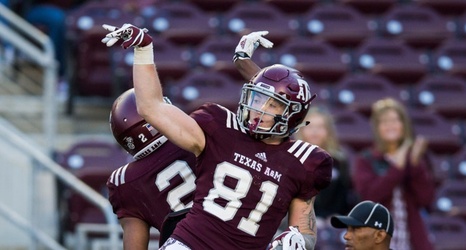 Sternberger (#81) Caught 5 Passes Against Kentucky for 95-Yards; Caught 7 Passes Against South Carolina for 145-Yards; Caught 4 Passes for 76-Yards Against Ole Miss; and Caught 5 Passes Against LSU for 75-Yards and 2 Touchdowns. These Outstanding SEC Stats helped Sternberger to be Voted To The All-SEC First Team All-Conference.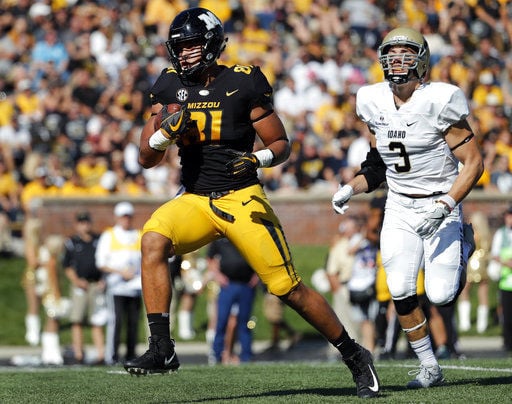 Okwuegbunam (6-5, 255, 4.66) was Incredible in The Memphis Tigers Game as he Caught 6 Passes from QB Drew Lock for 159-Yards and an Incredible 3 Touchdowns. In this Game, Lock and Okwuegbunam (#81) Took Full-Advantage of One-On-One Coverage by The Memphis Defensive Secondary as he Caught a 58-Yard Touchdown in The Second Quarter and then Another 47-Yard Touchdown at The End of The Second Quarter. Then, at The End of The Third Quarter, Okwuegbunam Caught a 23-Yard Touchdown Pass, giving The Missouri Tigers a 65-33 Victory over The Memphis Tigers.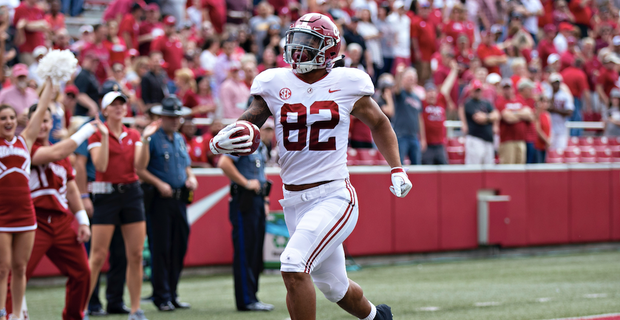 Smith (6-4, 245, 4.52) From New Orleans Brother Martin, Louisiana was Incredible all year, but he was Especially Unbelievable in The Arkansas Game, as he Only Caught 2 Passes, but One of the Catches was an Incredible 76-Yard Touchdown and The Other Catch was a 47-Yard Catch, giving Smith (#82) him a Mind-Boggling 61.5-Yards Per Catch Average in The Crimson Tide 65-31 Victory over The Arkansas Razorbacks. In 2018, Smith Caught 38 Passes for 648-Yards and 7 Touchdowns and a 17.0-Yard Average Per Catch. Smith Caught 5 Passes for 70-Yards Against Mississippi State and he Caught 4 Passes for 74-Yards Against Texas A&M.
Wilson (6-4, 235, 4.62) had a Tremendous 2018 Season with 60 Catches for 965-Yards and Four Touchdowns. Wilson (#81) kept Picking-Up a First Down with a 10-Yard Plus Gain, but his biggest Catch went for 66-Yards. The Bruins did not have a Great Season, but Wilson has been Outstanding All Year Under UCLA Head Coach Chip Kelley, and The NFL Scouts Really Appreciate his Great Receiving Ability whenever he Declares for The NFL Draft. Wilson is a Red-Shirt Junior and he Averaged 16.1-Yards per catch with his 60 Catches.
Fant (6-5, 245, 4.68) is an Iowa Junior and he has Already Announced his Decision to Enter The 2019 NFL Draft and Skip The Hawkeyes Bowl Game. In 2018, Fant (#87) Caught 39 Passes for 519-Yards and 7 Touchdowns. In 2017, Fant Set an Iowa Hawkeyes Record with 11 Touchdowns and he Led The Country for Touchdowns by a Tight End.
The Walter Camp National Player of The Year Awards and The Dick Butkus Awards will be Announced on Thursday December. 6. The Walter Camp Award will be Announced During The 6:00 PM Edition of ESPN SportsCenter and then will be Presented on Saturday January 12, 2019 at The Yale University Lanman Center.