–
The Entire New Orleans Saints Backfield  Selected To 2017 Pro Bowl!
By Super Scout Max Emfinger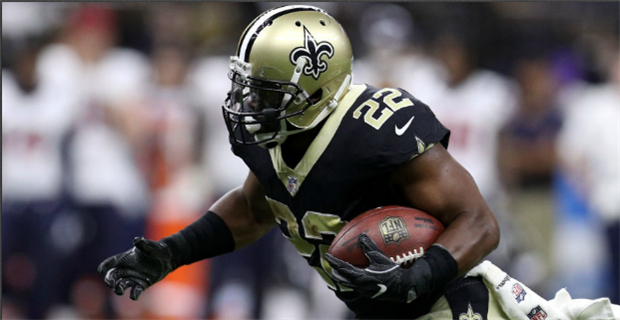 The Entire New Orleans Saints Incredible Backfield Were Selected to The 2017 Pro-Bowl Team, Including Running Back Mark Ingram, SLOT Back Alvin Kamara, Flanker Back Michael Thomas, and Quarterback Drew Brees.
During The 2017 Football Season, Running Back Mark Ingram had 1,124-Yards Rushing and 12 Touchdowns; SLOT Back Alvin Kamara had 728-Yards Rushing and 8 Touchdowns and 826-Yards Receiving and 5 Touchdowns; Flanker Back Michael Thomas had a New Orleans Saints Franchise Record 104 Pass Catches for 1,245-Yards and 5 Touchdowns; and Quarterback Drew Brees had 4,334-Yards Passing and 23 Touchdowns. The Incredible New Orleans Saints 2017 Backfield Totals Include 8,257-Yards of Total Offense and 48 Touchdowns.
All Four of The Saints Backfield Players Are Real Athletic Freaks. The Two-Time Pro-Bowler Ingram was a Heisman Trophy Award Winner and is Getting Ready to Break The New Orleans Saints Rushing Record; Kamara Won The NFL Rookie of The Year Award and was an Incredible Rookie Pro-Bowler; Thomas is also a One-Time Pro-Bowler who has Just Broken The Saints Pass-Receiving Single-Season Pass Receptions Record; and Then, There is The Incredible Eleven-Time Pro-Bowler Drew Brees, who is Getting-Ready To-Break The NFL Passing Yardage Record and The NFL Touchdown Pass Record as he Trails Peyton Manning in Both NFL Records.
Brees (#9) Currently has 70,445 Passing Yards in The NFL and he is Currently Second in All-Time Passing Yardage behind Retired Quarterback Peyton Manning with 71,940-Yards Passing. Brees also Follows Brett Favre in Touchdown Passes. Tom Brady and Brees both have 488 Touchdown Passes, while Favre Leads with 508 Touchdown Passes.
Brees (6-0, 213, 4.76, 32, 4.21) Earned his First NFL Starting Job with The San Diego Chargers in 2002 and then he also made his First of  Eleven Pro-Bowl Appearances in The 2004 Football Season. Brees Signed with The New Orleans Saints as a Free Agent in 2006 and Immediately became a Huge Success, as he Earned Ten More Trips to The Pro-Bowl, including Pro-Bowl Trips in 2006, 2008, 2009, 2010, 2011, 2012, 2013, 2014, 2016, and then in 2017, with is Saint Teammates, Ingram, Kamara, and Thomas.
Brees also has another NFL Passing Record with 54 Consecutive Games with At Least One Touchdown Pass.
Brees also Led The Saints to their First-Ever Super Bowl Championship in The 2009 Super Bowl XLIV Season when he Led The Saints to a 31–17 Victory over The Indianapolis Colts.
In That Super Bowl XlIV Game, was Selected as The Super Bowl MVP as he Completed 32 of 39 Passes for 288-Yards and Two Touchdowns; while The Colts Quarterback Peyton Manning Completed 31 of 45 Passes for 333-Yards and One Touchdown. Brees had a 114.5 Quarterback Rating; while Manning had an 88.5 Quarterback Rating.
Since joining The Saints, in 2004, Brees has led Every NFL Quarterback in Touchdown Passes, Passing Yardage, and 300-Yard Passing Games. Brees has also Passed for Over 5,000-Yards in a Single Season in Five Seasons and no other NFL Quarterback has done it more than once.
Brees has Led The NFL in Passing Touchdowns Four Times and he Led The NFL in Yards-Passing for an NFL Record Seven Times. In 2004, Brees was The NFL Comeback Player of The Year and in 2008 and 2011, he was The NFL Offensive Player of The Year.
Pro Bowl Running Back Mark Ingram (5-9, 215, 4.43) would like to Rush for 1,000-Yards Again, in 2018, making it Three Straight 1,000-Yard Seasons, and in The Process, he would Break The New Orleans Saints All-Time Rushing Record, but he will miss his First Four Games, because of an NFL Suspension.
The Saints Rushing Record Currently Belongs to Deuce McAllister, who was Drafted By The New Orleans Saints in 2001, but he Finished his Career Prematurely after Eight Years.
The Deuce McAllister Saints Career Ended Very Premature, because of two Major Knee Injuries, but in those Eight Years, he was still able To Set The New Orleans Saints Franchise Rushing Record of 6,096-Yards on 1,429 Carries and Scored 55 Total Touchdowns. The Former Ole Miss Super Star also Led The New Orleans Saints to their First NFC Championship Game in The 2006 Football Season.
Playing for The New Orleans Saints from 2001 through 2008, McAllister (6-1, 233, 4.41) Ingram has played in three fewer regular-season games for The Saints than McAllister did, The Former Alabama All-American and Heisman Trophy Winner has 246 Less Rushing Attempts than McAllister.
In That 2001 NFL Draft, The New Orleans Saints did not have all of The Running Backs Rated and Ranked in Order, because They already had a Super Running Back in Ricky Williams. The Saints, however, did have Running Back Deuce McAllister Rated and Ranked in Their Top Six Overall Prospects in The Draft, but all of The Saints Super Scouts Had Agreed that they would not Hesitate to take him.
In fact, there was Never Any Discussion in The Saints Draft Room as The Saints were "On-The-Clock" when they had To Select The Best Player On The Board and Deuce McAllister was Still Available on The Big NFL Draft Board.
Although there was Probably No Saint Super Scouts that would have ever Agreed that McAllister would have become The Greatest Running Back in Saints History, but he did, "Up Until Now" but he Rushed for a Saints Rushing Record of 6,096-Yards and Scored 49 Rushing Touchdowns and 6 Pass Receiving Touchdowns in Eight Years.
I had just Moved to Louisiana and I Will Always Remember Watching New Orleans Saints Super-Star Running Back Deuce McAllister when he was Running-Over and Around The Other NFL Teams in his Eight Years of Dynasty in The NFL.
The Current New Orleans Saints Pro Bowl Running Back Mark Ingram is also coming off of his Best Rushing Season in his Saints Career. Ingram Rushed for 1,124-Yards and 12 Touchdowns in 2017, Giving The Saints Two Straight 1,000-Yard Rushing Seasons as his 1,043-Yards and 6 Touchdowns in 2016 was his Best Year with The Saints until 2017.
With The Addition of The 2017 NFL Rookie of The Year Award, Alvin Kamara, (#41) The New Orleans Saints Backfield may have Just Added The Final Player To Give Them The Greatest Backfield in The NFL.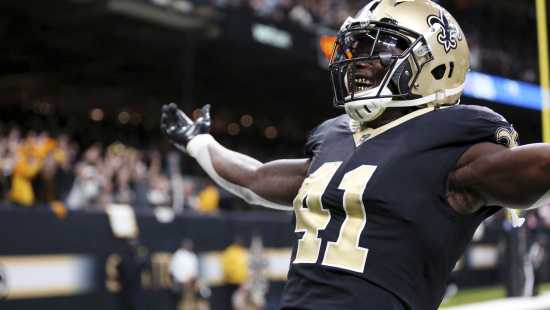 This Great Season in 2017 by Ingram was also by Sharing The Backfield Rushing-Load with NFL Rookie of the Year and Saints Pro Bowl Running Back Teammate Alvin Kamara. Kamara (5-10, 214, 4.42) was a Sensational Rookie in 2017, but he won The NFL Rookie of The Year Award, because of His Unbelievable Versatility and his Unique Formula to Complete The Greatest Backfield in The NFL.
Super Flanker Back/Wide Receiver Michael Thomas, with Running Back Mark Ingram (#22) is another Unbelievable Freak for The New Orleans Saints and he has Taken The NFL by Complete Surprise and I'm not sure that Most of The Saints Fans are Fully Aware Just How Great Thomas (#13) Really Is, but I Know that Coach Sean Payton and Quarterback Drew Brees are Fully Aware.
First of All, Thomas (6-3, 212, 4.46) Caught an Incredible 104 Passes in 2017 after Catching an Amazing 92 Passes in his Rookie Season in 2016. This Makes a Mind-Boggling 196 Pass Catches in his First Two Years in The NFLwhich is The Most Catches of an NFL Player in his First Two Years in The NFL which is The Most in NFL History. Thomas broke The NFL Record of Jarvis Landry in 2014 and 2015 of 194 Catches in their First Two Years in The NFL. Incidentally, Landry was on my Great 2010 7on7 Super Elite Team.
The 104 Catches in 2017 Set a New Orleans Saints Franchise Record for Receptions in a Single Season. Thomas Ran a Great 4.46 at Ohio State Pro Day, but he also Ran an Incredible 4.13 in The Pro Shuttle at The 2016 NFL Scouting Combine which is one of The Reasons that Thomas is Such a Great Pass-Catcher, because with his Tremendous Quickness, he has a Great Chance to Always be in The Clear and Super Quarterback Drew Brees is always able to Find-Him.
On May 8, 2018, The NFL Suspended Mark Ingram for The First Four Games of The 2018 Football Season for a Violation in The NFL League Policy on Performance-Enhancing Drugs. Ingram is Scheduled To-Miss The First Four Games Against The Buccaneers, The Browns, The Falcons, and The Giants, but He Will Be Allowed to Play in The Pre-Season Practices and Pre-Season Games; plus he will be Able To-Play in All of The Playoff Games.
When Mark Ingram Sat-Down To Set his 2018 Goals, he Quickly Realized that he Needed 734-Yards Rushing in Order to Tie The Deuce McAllister New Orleans Rushing Record and 735-Yards To Break The Saints McAllister Career Rushing Record. In his Seven Years with The Saints, Ingram has Rushed for 5,362-Yards and 44 Touchdowns along with 207 Pass-Catches for 1,428-Yards and 4 More Touchdowns. He also had a 4.9 Yards Per Carry Average in 2017 and a 4.5 Yards Per Carry for his Seven Years.
Ingram would like To Rush for 1,000-Yards again for The Third Straight Year and in The Process, he would get The 735-Yards and Break The McAllister Saints Rushing Record. It Would Be a Bigger Challenge To Achieve the Two Goals in 12 games, but it is Achievable.
The New Orleans Saints will begin their Four-Game Preseason on August 9 Against the Jacksonville Jaguars.