–
Arizona State Super-Star N'Keal Harry Is An Incredible Wide Receiver Super Freak!
By Super Scout Max Emfinger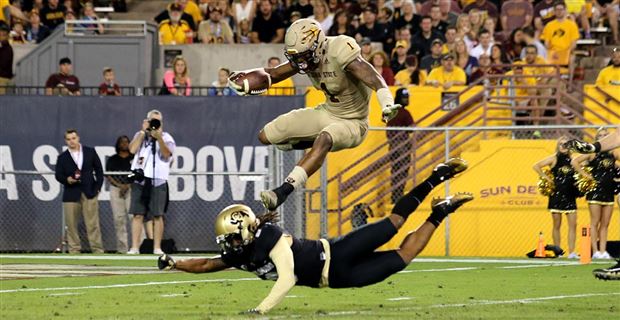 Arizona State Super-Star N'Keal Harry (#1) is another Wide Receiver and as you can See, he is a Total Freak.
One of The Most Interesting Things about The 2017 Football Season was that I was able To Watch and Evaluate The Ole Miss Super-Stars, A.J. Brown and Shea Patterson, Play on Television in their Opening Game of The Season and then in Game #3, I was able to Watch and Evaluate Super-Star Wide Receiver N'Keal Harry, on Television, Against The Texas Tech Red Raiders.
I was also able To Watch and Evaluate Red Raider Quarterback Nic Shimonek Pass for 543-Yards and also Red Raider Wide Receiver Keke Coutee Catch 12 Passes for 186-Yards and a Touchdown. I was Very Impressed with Both Shimonek and Coutee, but this Arizona State Freak Named N'Keal Harry might have been The Most Impressive Player in The Game as he Caught 13 Passes for 148-Yards and a Touchdown.
I had Forgotten that N'Keal Harry was a Five-Star Recruit, and I also forgot that he was not an Average High School Football Recruit, because he Was Rated as The #1 Wide Receiver in The Country, in The 2016 Recruiting Class, by a Couple of Recruiting Services.
The Most Amazing Thing About N'Keal Harry is that he is not From The United States. He was Born on a Tiny Island Called St. Vincent with a 109,806 Population in The Caribbean and he and His Grandmother Moved to Chandler, Arizona with a 251,163 Population when he was Four-Years Old. His family wanted him to move to The United States in hopes of a Better Life and Better Opportunities.
Another Unbelievable Thing is that N'Keal Harry is an Incredible, Revolutionary Athlete for His Country and he is, Without a Doubt, The First Person from St Vincent To-Play College Football in The United States and he will also be The First Person from St Vincent To-Play in The NFL.
In The 2016 Season, N'Keal (#1) Earned Freshman All-American and he also Set The Arizona State Freshman Record as he Recorded 58 Catches. Also, as a True Freshman, Harry became only The Ninth Sun Devil in History To Start as a True Freshman in The Season Opener and To Add To This Record, he Caught 4 Passes for 34-Yards and he also Scored on a 34-Yard Run.
Harry (6-4, 220, 4.42) does not look like a True Freshman in this Photo or on his True Freshman Highlight Film. N'Keal (Pronounced Nuh-Keel) is Unbelievable Strong and Mature. On his High School Highlight Film, he Runs Over Player-After-Player. On One Play, he Ran-Over Six Players and Scored a Touchdown as he Reached-Out and on Another Play, he Caught a 5-Yard Pass and broke Three Tackles and Raced for a 35-Yard Touchdown.
Then In 2017, After his Sensational Sophomore Football Season, Harry Was Voted to The PAC-10 All-Conference First Team after he Caught 82 Passes for 1,142-Yards and 8 Touchdowns, with a 13.9-Yards Per Catch Average.
These Sophomore Stats In 2017, Were Added to His Incredible True Freshman Stats In 2016, After he Caught 58 Passes for 659 Yards and 5 Touchdowns. His Two-Year Career Totals include 140 Catches for 1,801-Yards, with 13 Touchdowns and a 12.9-Yards Per Catch Average.
These Incredible Two-Year Career Totals are Unbelievable. First of all, N'Keal Harry is The Only True Sophomore Football Player in The Country To-Have Caught a Pass in his first 24 Games of his College Career