–
The Super Six Quarterbacks of The
2019 NFL Draft Class!
By Super Scout Max Emfinger
After Many Hours of Evaluation, I Feel Very Strong that There are Six Potential Quarterbacks that will be Drafted in The First or Second Round of The 2019 Draft.
Super-Star Quarterback Drew Lock (#3) Actually Considered Entering The 2018 NFL Draft Early, but Decided to Come-Back to The Missouri Tigers for his 2018 Senior Season and all of The Mizzou Tiger Football Fans were Ultimately Very Excited about This Very Important Decision.
Since The 2018 NFL Draft was Filled with Great Quarterbacks, The Lock Decision, to wait and Enter The 2019 NFL Draft just Might-Be The Greatest Decision that he has ever made in His Lifetime So-Far.
Of Course, Only Time Will-Tell, but with Five Quarterbacks Being Drafted in The First Round of The 2018 NFL Draft and One being Drafted in The Third Round, The Decision Looks Like The Correct-One for Lock. Most all of The NFL Scouts and NFL Analysts also Think That it was The Right Choice and it Could Prove Very Profitable for him if he is a #1 Draft Choice in The 2019 NFL Draft.
Shea Patterson (#20) was Sensational for The Ole Miss Rebels in his First Two Games of  The 2017 Season as he Completed 28 of 35 Passes for 429-Yards and Four Touchdowns Against South Alabama and in Game #2, he Completed 32 of 43 Passes for 489-Yards and Five Touchdowns Against Tennessee-Martin. The 489-Yards Passing Set a Single-Game Ole Miss School Passing Record, as The Rebels Rallied for a 48-23 Victory.
The Previous Ole Miss Great Quarterback List is Incredibly Impressive, and it Includes Such All-Americans, Including Charlie Conerly, Jake Gibbs, Archie Manning, Eli Manning, and then The 2016 Quarterback and Previous Record-Holder, Chad Kelly. In The-Process of moving to the Top of the List, Patterson Led The Rebels to a 2-0 Record and in This Game, he Directed Them on Five Consecutive Scoring Drives and Accounted for 31 Points in The Second and Third Quarters.
After these First Two Games of The 2017 Season, Patterson was Selected to My Weekly MVP Team For Both Weeks.
In those First Two Games, as an Ole Miss Rebel, Patterson Passed for an Incredible 918-Yards, Nine Touchdowns, and Connected with an Unbelievable 10 Different Receivers, although Super-Star Wide Receiver A.J. Brown Caught 16 of Those 60 Pass Completions.
Then, in Game Six, Patterson Completed 22 of 35 Passes for 351-Yards, Against Vanderbilt, and Four More Touchdowns in a 57-35 Victory. So, in his First Six Games, as The Ole Miss Quarterback, Shea Patterson had Passed for 17 Touchdowns and With a 3-3 Record in The SEC.
After Game Seven, Patterson Received a Knee Injury and then he Later Transferred to Michigan.
I also Found some Very Fascinating Things about these Six Super-Star Quarterbacks. First of all, Three of The Quarterbacks are from The SEC Conference, including Drew Lock of Missouri, Jarrett Stidham of Auburn, and Nick Fitzgerald of Mississippi State; One is from The Big-10 Conference, in Shea Patterson of Michigan; one is from The Big-12 Conference in Will Grier of West Virginia; and one is from The PAC-10 Conference in Justin Herbert of The University of Oregon.
The "Interesting-Thing" about These Six Players is that Three of them Are-Playing in The SEC and Two Of The Other Three Players Started their College Career in The SEC, including Patterson and Grier.
All NFL Scouts and Fans are Keenly-Aware About how The SEC has always been Blessed by Having Great Quarterbacks, including Y.A. Tittle of LSU, Joe Namath of Alabama, Steve Spurrier of Florida, Archie Manning of  Ole Miss, Bert Jones of LSU, Peyton Manning of Tennessee, Tim Couch of Kentucky, Eli Manning of Ole Miss, Matthew Stafford of Georgia, Tim Tebow of Florida, Cam Newton of Auburn, and Most Recently, Dak Prescott of Mississippi State. So it will be Interesting To-See how These Three SEC Quarterbacks Fare in The 2018 Season and Later in The 2019 NFL.
It is also Very Intriguing To-See and Contemplate The NFL Starting Quarterbacks in The 2019 Season. Of Course, there will be Eli Manning, Cam Newton, and Dak Prescott, but do not Count-Out Baker Mayfield, Drew Lock, Shea Patterson, or Justin Herbert.
Another Fascinating Fact about The Super Six Quarterbacks are that Three of them are Transfers from other Major D-1 Schools. Patterson Transferred From Ole Miss to Michigan after The 2017 Football Season, while Grier was a Starter for The Florida Gators in 2015 before Transferring to West Virginia and Stidham Transferred to Auburn from Baylor.
Still, one other Fascinating Fact is that Two of The Head Coaches of These Seven Players are Long-Time Personal Friends of Mine. In 2001 and 2002, I was Good Friends with West Virginia Head Coach Dana Holgorsen when he was Wide Receiver Coach for Head Coach Mike Leach at Texas Tech. I was with The Texas Tech Red Raider Team when they Played in The Alamo Bowl Game in 2001 and again in 2002 when they played in The Tangerine Bowl Game.
Then, in 2005, I became Great Friends with Springdale Head Coach Gus Malzahn when his Springdale Team went 14-0 and Won The Arkansas 5A State Championship. I Invited Two of his Super-Stars, Wide Receiver Damian Williams and Tight End Ben Cleveland To Play in my 2005 All-American Bowl Game and they both were MVP's in My All-American Bowl Game.
Coach Malzahn was Going to be one of my Coaches in The All-American Bowl Game, but was Offered a Coaching Job at Arkansas and he had to Start Immediately. In Fact, I was In The House of Former Arkansas Head Coach, Frank Broyles, when Coach Malzahn was excited and Called me about Getting The Arkansas Wide Receiver Job.
Missouri Quarterback Drew Lock, Former Ole Miss Quarterback Shea Patterson of Michigan, Oregon Quarterback Justin Herbert, Auburn Quarterback Jarrett Stidham, Mississippi State Quarterback Nick Fitzgerald, or West Virginia Quarterback Will Grier Might be the Next Baker Mayfield in The 2019 Draft.
In 2017, Lock (#3) was Incredible as he Set a Missouri School Record and an SEC Conference Record with an Unbelievable 44 Touchdown Passes. Another Incredible Feat for Lock was that he had More Five Touchdown Games than any SEC Quarterback in The Last 20 Years.
Lock (6-4, 225, 4.8) is Widely Known as a "True-Gunslinger" With his  Incredible 44 Touchdown Passes in The 2017 Football Season, Lock is The Quarterback that is Widely Ranked and Rated as The #1 Quarterback in The 2019 Draft Class and he also has a Chance of  being The #1 Overall Selection in The 2019 Draft.
After Passing for 3,964-yards and 44 Touchdowns as a Junior, in 2017, Lock just might be Poised and Ready to make an even Bigger-Impact For The Mizzou Tigers Football Team during his Final Football Season in Columbia.
Another Huge Positive for Drew Lock and his Missouri Tigers is that The Tigers Return Seven Defensive Starters which Will Help them To Keep Their Opponents from Scoring a Lot of Points.
Mizzou is Usually an Average Football Team, but they will be on the map in no time with a Lock-Led-Offense. You can Also Look for Lock to be "One of The Players"at The Top of The Heisman Trophy Award in Early Conversations.
For the First Time in a Decade, The Missouri Tigers are Launching a Heisman Trophy Award Campaign To Promote Super-Star Senior Quarterback Drew Lock for The Most Prestigious Individual Award in Football.
While Drew Lock may not be "The Modern-Day Dual Threat Quarterback" like Cam Newton or Dak Prescott, he is Definitely a Peyton Manning Type and he has The Ability To-Stand in The Pocket and Read Defenses and is not Afraid to change the play.
Other Quarterbacks with "High Regard" that will join Lock in The Heisman Trophy Race will Include Shea Patterson, Justin Herbert, Jarrett Stidham, Will Grier, and Nick Fitzgerald.
Patterson (6-1, 203, 4.57) was awarded an Immediate Eligibility  at Michigan after his Transfer and he will be The Starting Quarterback for The University Michigan Head Coach Jim Harbaugh. Patterson (#2) has Incredible Potential and although The Michigan Offenses have been Mostly a Run-Oriented Offense, The 2018 Wolverine Offensive Edition will be A Pass-Oriented Offense with Potential Heisman Trophy Award Winner Shea Patterson, at The Helm.
As an Ole Miss Super-Star Quarterback, Shea Patterson Completed an Amazing 64 Percent of his Passes during a Short, Seven Game Football Season in 2017. Many of The NFL Scouts Love Patterson and They Can Not wait to Get-Him on Their NFL Team. One Hugh Advantage for Patterson will be The Quarterback Coaching of Head Coach Jim Harbaugh, who will Make-Him an even better Quarterback than in 2017. I Really Think That Shea Patterson or Drew Lock will have a Great Opportunity to be The #1 Draft Selection in The 2019 NFL Draft.
Auburn Athletic Quarterback Jarrett Stidham (#8) is Another Great Dual-Threat Quarterback that has been on The NFL Scouts Radar List ever since he Transferred from Baylor University and his Name has been Associated with Numerous 2018 and 2019 Mock Drafts as a #1 Draft Choice.
The Auburn Defense is loaded with Unbelievable Talent, and they also return one of The Top Athletic Quarterbacks in the country in Jarrett Stidham. The Gus Malzahn Coached Auburn Team has all of the Ingredients to win a National Championship in 2018. Their Potential was Seen when they Recorded Victories over both of The teams that Played in The 2017 National Championship Game. The Key for Auburn in their 2018 Football Season May be The Heisman Trophy Award Candidate, Jarrett Stidham.
Stidham (6-3, 215, 4.56) has Tremendous Athletic Ability with a Great Arm. In Fact, his Ability to Run and Pass may give him an Advantage over some of the other Quarterbacks in The 2019 Draft, including Shea Patterson of Michigan, Will Grier of West Virginia, Drew Lock of Missouri, Nick Fitzgerald of Mississippi State, or Clayton Thorsen of Northwestern.
Stidham was excellent at times in The Gus Malzahn Multi Run-Pass Offense. Stidham Completed a SEC League-High 66.5 Percent of his Passes, Athough his Yards-Per-Attempt Stats fell from 11.5-Yards  in his Freshman Year at Baylor, in 2015, to 8.5-Yards at Auburn in 2017.
Incidently, Stidham is from Stephenville, Texas, only 50-Miles From my Home-Town, Brownwood. Texas. Stidham also went to Baylor, My Alma-Mater in 1967.
As a True Freshman at Baylor in 2015, Stidham was a Backup Starting Quarterback to Seth Russell until The Seventh Game of The Season, when Russell got hurt, it gave Stidham a Chance to become The Starting Quarterback.
Stidham was Given The Chance To Start Game #8 For The Baylor Bears in 2015 and in That Game, Stidham Completed 23 of 33 Passes for 419-Yards and 3 Touchdown Passes and Added a Rushing Touchdown Against Kansas State.
Stidham was Unbelievably Incredible as a True Freshman at Baylor University, as he Completed a Mind-Boggling 69 Percent of his passes for 1,265-Yards and 12 Touchdowns, with only 2 Interceptions. His True Freshman Season in 2015 was Cut-Short early, because of injury, but Remember that in his Very First Career Start, Stidham Passed for 419-Yards and 3 Touchdowns as he Demonstrated Great Athleticism, Great Arm Strength, and Great Accuracy. 
After The Sexual Abuse Scandal at Baylor and most of The Baylor Football Coaches Fired, Stidham Decided to Transfer to Auburn.
Two Years Later, in 2017, Stidham (#8) Led The Auburn Tigers to The SEC West Division Championship and in The Process, he led The Tigers to Victories over Georgia and Alabama, The Two Teams That Played in The 2017 National Championship Game. So, Do You Think The NFL Scouts are Anxious To-Get This Potential Heisman Trophy Award Winner and Incredible Dual-Threat Quarterback, like Jarrett Stidham, to be on Their NFL Team?
Another Unbelievable Dual-Threat Quarterback, on The West Coast, is Oregon Duck Junior Quarterback Justin Herbert (#10) and Most All of The NFL Scouts Think that if He Declares for The 2019 Draft, he Might have The Most "Upside-Potential" of any Quarterback in The 2019 Draft.
Although Herbert does not have The Really Great Foot-Speed Like Some of the other Oregon Quarterbacks in the Past, he is Still an Unbelievable Quarterback Freak. First of All, Herbert is The First True Freshman to Start for The Oregon Ducks since 1983. His First Two Seasons have also Proven exactly Why he is a Freak.
In 2016, as a True Freshman, Herbert Completed 162 of 255 Passes for 1,936-Yards-Yards with 19 Touchdowns and only Four Interceptions. He also Rushed for 161-Yards and 2 Touchdowns.
As a Sophomore in The 2017 Season, Herbert Demonstrated Why he is a Freak and why he is So Valuable in The Oregon Ducks Fast-Pace Offense. Oregon Won Four of Their First Five Games, including Wins over Nebraska, Wyoming, ans California, To-Open The 2017 Season and then Herbert got Injured and The Ducks Lost Four of The Next Five Games Without Herbert.
Upon his return in Game #11, The Ducks Won Two Straight over Arizona and Oregon State, and led The Ducks To Bowl Eligibility and they Played Boise State in The Las Vegas Bowl
The only Question that The NFL Scouts have with Herbert (6-6, 235, 4.67) is that he was only able To-Play in Eight Games during The 2017 Football Season, but he still was Very Impressive as he Completed 139 Passes out of 206 Passes for 1,983-Yards and 15 Touchdowns and an Incredible 67 Percent of his passes and he only had Three Interceptions. As a True Sophomore in 2017, Herbert also ran for Five Touchdowns
There is Probably not a more Talented Quarterback in The College Football Game Today than Justin Herbert, but he will have T0-Stay Completely Healthy To-Make a Run at The Heisman Trophy. The Oregon Ducks Non-Conference Teams are Usually Very Weak and he Probably will not gain a lot of Momentum in The Early Part of The Season.
Although Injuries have limited Herbert in his First Two Years of Action at Oregon, he has been Extremely Impressive and Talented. In those Two Years at Oregon, he has Passed for 3,919-Yards and 34 Touchdowns and Rushed for 344-Yards, and Averaged 3.37-Yards Per Carry, which is Very Impressive.
These Stats are Highly Impressive, but this is not why The NFL Scouts are so Impressed with Herbert. I have Watched Herbert On Three of his Highlight Films, and he is even More Impressive. He has a Super-Strong Arm and with Tremendous Accuracy. He is also Very Impressive if he Decides To-Run The Football, if Needed.
Here is a 6-6 Quarterback with a 4.0 GPA and with All of  The Physical Tools. And then, he is Playing in an "Air-Raid Passing Offense" that will allow him to Put-Up some Very Impressive Passing Stats. If  He is able to stay Healthy through The Entire 2018 Football Season, Herbert "Could-Establish" Himself as The #1 Quarterback in The 2019 Draft Class and become "The Baker Mayfield" of The 2019 Draft.
Alabama Quarterback Tua Tagovailoa Probably has The Best Team in The SEC and Auburn Quarterback Jarrett Stidham may not be too for behind, but many of The NFL Scouts Feel that Mississippi State Quarterback Nick Fitzgerald (#7) Might be The Best Quarterback in The SEC.
Many of The NFL Scouts will also Tell-You that Dual- Threat Quarterback Nick Fitzgerald (6-5, 235, 4.56) has Unbelievable Passing and Running Potential and he has all of The NFL Tools that all of The NFL Scouts are Looking-For in Their Starting Quarterback.
In fact, Every Single NFL Scout, has Listed Fitzgerald (#7) as One of The Best Quarterbacks in The SEC, because of his Tremendous Athleticism and Some Very Impressive Rushing Stats, along with his Great Passing Stats in The 2017 Season.
In 2017, Fitzgerald Passed for 2,423-Yards and 21 Touchdowns and Rushed for an Unbelievable 1,375-Yards and 16 More Touchdowns. Fitzgerald Only Completed 54.3 Percent of his Passes in The 2017 Season, but he has the Great Passing Tools to improve on those Stats in The 2018 Season.
The NFL Scouts are all Concerned about The Ability of  Fitzgerald to Bounce-Back from his Severe Ankle Injury in The 31-28 Loss to Ole Miss in The Egg Bowl Game, that Created Ankle Surgery. Fitzgerald has a Tremendous Work-Ethic and he has been Working Very Hard to Rehab his Ankle and he thinks that he will be Ready for The Opening Game.
Mississippi State is Preparing to Open The 2018 Football Season with a New Head Football Coach and Their New Offense, with Quarterback Nick Fitzgerald at The Helm, Might be The Most Loaded Bulldogs Offense that they have had in a Long Time.
On December 12, 2015, Coach Joe Moorhead was named as The Penn State Offensive Coordinator for The Penn State Football Team. Before Coach Morehead, took over in 2016, The Penn State Offense Averaged 335.3-Yards Per Game in 2014 and 348.4-Yards Per Game in 2015. While Learning The New Moorhead Offensive System in 2016, The Penn State Offense Averaged an Amazing 432.6-Yards Per Game.
On August 24, 2017, Coach Joe Moorhead was Named As The #1 Rising Assistant Coach in College Football by Sports Illustrated and Yahoo.
Then, On November 28, 2017, Coach Joe Moorhead (In Photo) was hired as The New Head Coach at Mississippi State University to Replace Head Coach Dan Mullen, who had been The Bulldogs Head Football Coach for Nine Years. Coach Mullen was Hired as The New Florida Gators Head Football Coach. 
Coach Moorhead is an Outstanding Dual-Threat Quarterback Coach and Nick Fitzgerald has The Unbelievable Dual-Threat Potential.
When Fitzgerald is Completely Healthy, he has All of The Tools to be One of The Greatest Dual-Threat Quarterbacks on The Planet and With Head Coach Moorhead as his Mentor, The Sky is The Limit on what The Bulldogs and Fitzgerald are Capable of Accomplishing in The 2018 Football Season and Fitzgerald will be The Greatest Benefactor.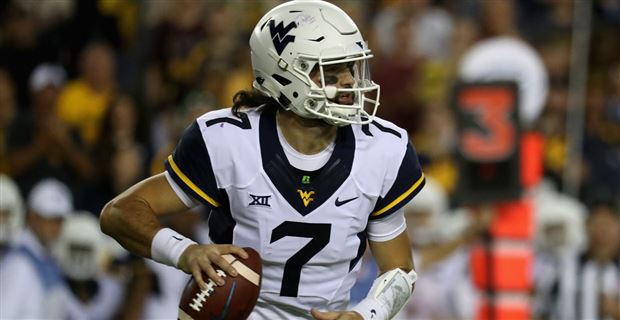 Will Grier (#7) is a Former Florida Gator Starting Quarterback in 2015 and he is Another Quarterback Freak as he Turned-Heads of Most of The NFL Scouts in The 2017 Season, and with Another Great Season in 2018, Grier will join The Lock, Patterson, Stidham, and Fitzgerald Quartet as a #1 Draft Choice.
In his First Season as The Starting Quarterback at West Virginia, Grier Completed an Unbelievable 64.4 Percent of his Passes for 3,490-Yards and 34 Touchdowns and he only threw 12 Interceptions for the year.
Grier was Selected as The Manning Quarterback Award Player of the Week Two Times in The 2017 Season, as Baker Mayfield was Chosen Four Times. Grier Earned his Two Manning Awards Against East Carolina and Texas Tech and he was also Selected One Time as a Gator in 2015.
Although Grier was Selected to Two Manning Quarterback Awards, He was Selected to Five of my Weekly MVP Awards, Including Game Two Against East Carolina; Game Four Against Kansas; Game Six Against Texas Tech; Game Seven Against Baylor; and Game Ten Against Kansas State. 
In Game #2, Against East Carolina, Grier Won The Manning Award For The Mountaineers after Completing 19 of 25 Passes for 352-Yards and Five Touchdowns in The Mountaineers 56-20 Victory over East Carolina. In this Victory, Grier Recorded a Mind-Boggling 260.3 Quarterback Rating.  His Go-To Wide Receiver, David Sills V, Caught Three of his Five Touchdown Passes and Sills will Return with him in The 2018 Season.
In Game #4, Against Kansas, Grier Passed for 347-Yards and Ran for another 51-Yards, giving him an Amazing 398-Yards of Total Offense. In Demonstrating his Great Athleticism, Grier also Passed for Two Touchdowns and Ran for Two More Touchdowns in the 56-34 Victory.
Then in Game #6, Grier Completed 32-of-41 Passes for 352-Yards and Five Touchdowns Against Texas Tech, including Four Unanswered Touchdowns in the Final 20:07 of the Game, as The Mountaineers Came-Back from a 35-17 Deficit in Their 46-35 Big 12 Victory over The #24 Red Raiders. Grier had a 185.5 Quarterback Rating and Sills also Caught Three More Touchdown Passes.
After The Texas Tech Game, Grier was also Named as The Big-12 Offensive Player of the Week and The Big-12 Newcomer of the Week for this Game.
Against Baylor in Game #7, Grier Completed 26 of 37 Passes for 375-Yards and Five More Touchdowns, with David Sills Catching Three More Touchdowns for The Third Game. In this Incredible Game, Grier Recorded another Amazing 200.0 Quarterback Rating. 
Then Finally, in Game #10, Against Kansas State, Grier was Outstanding Again as he Completed 27 of 46 Passes for 372-Yards and Four Touchdowns as The Mountaineers beat The Wildcats in a 28-23 Victory.
With the return of his G0-To Target, David Sills V, Grier Will Have an Opportunity to Improve his Passing Stats in The 2018 Season. With The Grier and Sills Duo on Offense, If they can Solve some Problems, that they may have on Defense, The 2018 Football Season could become a Very Special Year for My Special Friend and Head Coach Dana Holgorsen and His West Virginia Mountaineers.