–
Super Rookie EDGE Rusher Marcus Davenport To Undergo Miner Thumb Surgery Before Saints Training Camp.
By Super Scout Max Emfinger

The New Orleans Saints #1 Draft Choice, Marcus Davenport, has just Suffered a Thumb Injury. It has just been Reported that Davenport has Suffered a Thumb-Injury that will require a Minor Ligament Surgery, but although his Thumb will be in a Cast for around three weeks, it will be Completely Healed before The NFL Season Starts.
The Thumb Injury does not Sound to be Real Serious, but The Super EDGE Rusher will wait until after The Saints Mandatory Mini-Camp to have The Surgery and then he would be ready to Participate in The Saints Training Camp in July.
The Minor Surgery Should Not Interfere with Super-Star Marcus Davenport helping The New Orleans Saints getting to The Super Bowl and making NFL Defensive Rookie of The Year.
The New Orleans Saints have been Needing an Incredible Rush Defensive End for several years, but all of the Super-Stars that they have wanted were always gone before they had a chance to Draft Them. In this 2018 NFL Draft, however, General Manager Mickey Loomis decided To-Make a Change in The 2018 NFL Draft.
The Saints had been Watching This Small School Super-Star from UTSA Named Marcus Davenport for awhile. So The Saints were really looking forward to Evaluating him at all of  The Senior Bowl Practices and also watching him and Evaluating him in his Incredible Senior Bowl Game, they decided that they had to have him.
Marcus Davenport Profile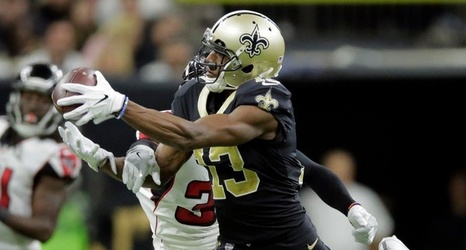 The Greatest Rush End on The Planet in The 2018 NFL Draft, was Definitely Marcus Davenport (#93).
It is Amazing, but Most all of the #1 Draft Choices are Always being Selected, Behind-The-Scenes, and being from a Smaller School, Davenport was not one that had already been Chosen, Behind-The-Scenes, and Mickey Loomis knew this and he made a Huge Trade to get The Chance To Draft Davenport as The #14 Selection in The First Round Draft and it Worked as Davenport was Chosen by The New Orleans Saints in that #14 Spot.
Loomis and The Saints were able to Make the Trade-Up from a #27 Pick to a #14 Pick and get Davenport in Round One. The Saints Traded Their #27 Selection in The First Round; a First Round Draft Choice in The 2019 Draft; and a Fifth Round in The Saturday 2018 Draft to The Green Bay Packers to Move-Up to a #14 Selection in Round One.
Marcus Davenport was a Super Freak at The Senior Bowl Workouts and then also in The Senior Bowl Game. Davenport was Outstanding in All of The Practices and he became the Center of Attention with all of the Sportswriters and NFL Scouts. Then in The Senior Bowl Game, Davenport Recorded some of the Biggest Plays in the Game, including a Quarterback Sack on Heisman Trophy Winning Quarterback Baker Mayfield in the First Quarter and then in The Third Quarter, he Picked-Up a Fumble and ran 19-Yards for a Touchdown.
Davenport has an Unbelievable Explosive "First Step" and he also shows Great Speed with his Quickness and Power. He is an Unbelievable Edge-Rusher and he has Great Ability to Shed Blockers in The Running Game. All of these Skills and Abilities Are Awesome and they had all of The NFL Scouts Excited about the Chance of getting-him for Their NFL Team, but his Biggest Attribute is his Sensational Motor which is Going At Full-Speed on Every Play and even when he does not get to The Quarterback, his Long-Arms Knocks-Down The Football.
Davenport was The 2017 Conference USA Defensive Player of the Year and also First-Team All-Conference and a Member of  The Chuck Bednarik Award and The Wuerffel Trophy Watch Lists. In The 2017 Season, Davenport Recorded 55 Tackles and Set School Records with an Incredible 17.5 Tackles for a Loss, 8.5 Quarterback Sacks, and Eight Quarterback Hurries. He also Recorded Four Pass Breakups, Three Forced Fumbles, and a Fumble Return for a touchdown.
Davenport finished his UTSA College Career as The All-Time Leader in Tackles for a Loss with 38, Quarterback Sacks with 22.0, and Quarterback Hurries with 21.
All of his Pass-Rushes in The Senior Bowl were all Very Impressive and NFL-Type Pass-Rushes. On his Highlight Film, he was Unbelievably, Impressive. Another "Thing" that "Stood-Out" on Davenport was that with his Tremendous Athleticism, he can Beat an Offensive Lineman in a Variety of ways which Makes him an Unbelievable Edge-Rusher.  
Another Great Asset for

Davenport

is that Although he is a Rare and Dominant Edge-Rusher, he is also a Tremendous Run-Stopper!