–
Super Edge Rusher Marcus Davenport Drafted #1 By New Orleans Saints!
By Super Scout Max Emfinger
The New Orleans Saints have been Needing an Incredible Rush Defensive End for several years, but all of the Super-Stars that they have wanted were always gone before they had a chance to Draft Them. In this 2018 NFL Draft, however, General Manager Mickey Loomis decided To-Make a Change in The 2018 NFL Draft.
The Saints had been Watching This Small School Super-Star from UTSA Named Marcus Davenport for awhile. So The Saints were really looking forward to Evaluating him at all of  The Senior Bowl Practices and also watching him and Evaluating him in his Incredible Senior Bowl Game, they decided that they had to have him.
The Greatest Rush End on The Planet in The 2018 NFL Draft, after The Incredible Bradley Chubb of North Carolina State, was Definitely Marcus Davenport.
It is Amazing, but Most all of the #1 Draft Choices are Always being Selected, Behind-The-Scenes, and being from a Smaller School, Davenport was not one that had already been Chosen, Behind-The-Scenes, and Mickey Loomis knew this and he made a Huge Trade to get The Chance To Draft Davenport as The #14 Selection in The First Round Draft and it Worked as Davenport was Chosen by The New Orleans Saints in that #14 Spot.
Loomis and The Saints were able to Make the Trade-Up from a #27 Pick to a #14 Pick and get Davenport in Round One. The Saints Traded Their #27 Selection in The First Round; a First Round Draft Choice in The 2019 Draft; and a Fifth Round in The Saturday 2018 Draft to The Green Bay Packers to Move-Up to a #14 Selection in Round One.
Marcus Davenport was a Super Freak at The Senior Bowl Workouts and then also in The Senior Bowl Game. Davenport was Outstanding in All of The Practices and he became the Center of Attention with all of the Sportswriters and NFL Scouts. Then in The Senior Bowl Game, Davenport Recorded some of the Biggest Plays in the Game, including a Quarterback Sack on Heisman Trophy Winning Quarterback Baker Mayfield in the First Quarter and then in The Third Quarter, he Picked-Up a Fumble and ran 19-Yards for a Touchdown.
Davenport has an Unbelievable Explosive "First Step" and he also shows Great Speed with his Quickness and Power. He is an Unbelievable Edge-Rusher and he has Great Ability to Shed Blockers in The Running Game. All of these Skills and Abilities Are Awesome and they had all of The NFL Scouts Excited about the Chance of getting-him for Their NFL Team, but his Biggest Attribute is his Sensational Motor which is Going At Full-Speed on Every Play and even when he does not get to The Quarterback, his Long-Arms Knocks-Down The Football.
Davenport was The 2017 Conference USA Defensive Player of the Year and also First-Team All-Conference and a Member of  The Chuck Bednarik Award and The Wuerffel Trophy Watch Lists. In The 2017 Season, Davenport Recorded 55 Tackles and Set School Records with an Incredible 17.5 Tackles for a Loss, 8.5 Quarterback Sacks, and Eight Quarterback Hurries. He also Recorded Four Pass Breakups, Three Forced Fumbles, and a Fumble Return for a touchdown.
Davenport finished his UTSA College Career as The All-Time Leader in Tackles for a Loss with 38, Quarterback Sacks with 22.0, and Quarterback Hurries with 21.
All of his Pass-Rushes in The Senior Bowl were all Very Impressive and NFL-Type Pass-Rushes. On his Highlight Film, he was Unbelievably, Impressive. Another "Thing" that "Stood-Out" on Davenport was that with his Tremendous Athleticism, he can Beat an Offensive Lineman in a Variety of ways which Makes him an Unbelievable Edge-Rusher.  
Another Great Asset for

Davenport

is that Although he is a Rare and Dominant Edge-Rusher, he is also a Tremendous Run-Stopper! 
Against Rice University, Davenport was Unblocked from his Rush-End Position, but then on a Miss-Direction Play by The Owls, Davenport caused some Great Havoc in the Middle for a Huge Loss. On another Play, in a Two-Point Stance, Davenport Slid-Inside and "Manhandled" the Guard and Helped in another Tremendous Loss.
Davenport has Tremendous Twitch Muscles which Helps make him with Excellent Quickness, making him a Tremendous Pass-Rusher and he has Tremendous Size for The NFL.
Davenport did not play College Football for a Major Team, but his College Career for UTSA was Mind-Boggling as he Recorded an Incredible 4.5 Tackles for a Loss and Three Quarterback Sacks Against other Major College Teams, including Arizona, Kansas State, Texas A&M, and Baylor.
Davenport has Looked Tremendous in his Initial Workouts with The New Orleans Saints and Head Coach Sean Payton and Second Year Defensive Line Coach Ryan Nielsen have been Extremely Impressed.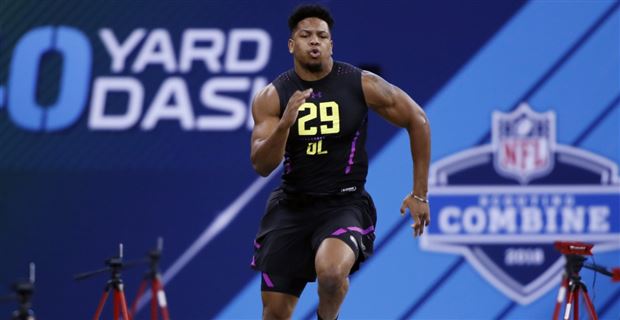 Davenport (6-6, 265, 4.58, 33.55, 4.41, 124, 22) is an Actual Defensive Freak in Waiting and he will get his Chance. 
Defensive Linemen Are Now Divided Into Four Categories!
Over the Years, the Defensive Line Position has Evolved into several different positions. In a 3-4 or a 5-2 Defense, The Defensive Nose Guard or Nose Tackle, or sometimes Called The Middle Guard plays Directly over the Offensive Center and in a 5-2 or 3-4 Defense, The Defensive Tackles play Directly over the Offense Tackles.
In a Typical 3-4 Defense, The Nose Tackles are "Big-Wide Bodies who can hold the Point of Attack and Force Two Offensive Linemen to Double Team him with the Offensive Guard and Center.  They are also usually the Heaviest Players on the Roster, weighing in the 320 to 350 Pound Range. Height is Important, but Typical Nose Tackles are 6-3, 6-2, or 6-1-Inches Tall or Below.
In a Typical 4-3 Defense, both Defensive Ends are at a Down Position in a 5 Technique. The Strong Side Defensive End or Strong Side End is Lined-Up on The Tight End side. This Defensive End is Typically the Bigger, Stronger, and more Physically Gifted End of the two Defensive Ends, as he may be seeing blocks from either the Tight End, Right Offensive Tackle or Guard, and Fullback or a combination of two of those players.
The "Weak Side Defensive End" or "Rush End" is The Blind-Side Pass-Rusher against a Right-Handed Passing Quarterback and he usually is a Speedy, Athletic, and One of the Best Players on the Football Team. This Super Defensive End has Recently been given a New name of EDGE Rush End.
In Separating These Defensive Players, They are Divided into Four Different Position Categories, Including Defensive Tackles, Nose Guard or Tackles, Strong Defensive Ends, and EDGE Rush Ends.
Super New Orleans Saints Edge Rusher Marcus Davenport (#93) on The Edge!
2018 NFL DRAFT


2018 ELITE DEFENSIVE LINE, DEFENSIVE ENDS, AND EDGE RUSHERS
# POS PLAYER               HT    WT   40   VJ  SH   SBJ BP College MEARS RATING
1  DE  Bradley Chubb   6-4,  269,  4.57,    36,  4.34, 121, 24,  NC State 2,838 #1 Broncs
2 EDGE Marcus Davenport 6-6, 264, 4.58, 33.5, 4.41, 124, 22, UTSA 2,828 #1 Saints
3  DT   Vita Vea                6-4,   347,  5.1,     28,   4.88,  105,  41, WASH  2,785 #1 Bucs
4  DT  Taven Bryan        6-5,   291,  4.98,   35,     4.48,   119,   30,  FLA    2,777 #1 Jags
5  DT   DaRon Payne      6-2.5,  311,  4.87,  28.5, 4.71,   107,   27,  ALA    2,772 #1 Skins
6 DT B.J. Hill                 6-3,  311,  4.99,  26.5,  4.53,  101,  31,  NC State  2,766 #3 Giants
7 NG Maurice Hurst    6-1,  292,  4.98,  31,  4.59,  104,  29,  Mich  2,763 #5 Raiders
8 EDGE Lorenzo Carter  6-5,  250,   4.46,   36,    4.3,  130,   15,  UGA 2,760 #3 Giants
9 DE Rasheem Green  6-4,  275,  4.65,  32.5, 4.39,  118,  23,    USC 2,760 #3  S-hawks
10 EDGE Harold Landry  6-3,  252,  4.64,  36,  4.19,  119, 24,     BC       2,759 #2 Titans
11 NG Deadrin Senat  6-0,  314,  5.16,  26,  4.79,  100,  35, South Fla 2,758 #3 Falcons  
12 EDGE Kemoko Turay      6-5,  253,  4.6,  39,  4.25, 124,  22,  Rutgers  2,756 #2 Colts
13 DT Harrison Phillips    6-3,  307,  5.12, 32,  4.5,  103,   42,        STAN 2,754 #3 Bills
14 DT Tim Settle  6-3,  329,  5.2,   25.5,  4.83,  99,  25,  Virginia Tech   2,753 #5 Skins
15 EDGE Josh Sweat     6-4,  251,   4.43,    39.5,  4.28,  124,   16,    FSU  2,752 #4 Eagles
16 DT Nathan Shepherd 6-4,  315,  4.98,  31,  4.53,  112,  31, Ft Hayes    2,750 #3 Jets
17 EDGE Arden Key         6-5,   240,  4.68,  31,  4.25,  117,  20,     LSU  2,745 #3 Raiders
18 DE Kentavius Street 6-2,  280, 4.58, 40,  4.37,  105, 28, NC State 2,745 #4 49ers
19 DT Trenton Thompson 6-3,  288,  5.06,  32.5,  4.56,  111,  25, UGA 2,745 MEARS
20 EDGE Tyquan Lewis  6-3, 269,  4.67, 35.5,  4.47,  122,  25,  Ohio St 2,744 #2 Colts
21  EDGE Sam Hubbard  6-5,  270, 4.65,  35,  4.32,  116, 24, Ohio St 2,740 #3 Bengals
22 DE Antonio Simmons 6-2, 252, 4.51, 30.5, 4.31, 117,   30,  GAT  2,739 MEARS
23 DT Andrew Brown  6-3,  298,  4.93,  28,  4.48,  101,  31, Virginia  2,737 #5 Bengals
24 DE  Joe Ostman  6-2,  282,  4.72,   36.5,  4.41, 122, 31   Cen Mich 2,732 MEARS
26 EDGE Kylie Fitts        6-4,  263,  4.6,     32.5, 4.19, 117, 31,     UTAH    2,731 #6 Bears
26 DT DaShawn Hand     6-4,  297,   4.83,  31.5,  4.62, 111, 28,   ALA     2,729 #4 Lions
27 EDGE Ade Aruna       6-5,    262,   4.6,   38.5,  4.48,  128,  18  Tulane 2,714 #6 Vikes
28 EDGE Ogbon Okoronkwo 6-2, 253,  4.67, 38, 4.34, 125, 27,   OU  2,711 #5 Rams
29 DE  Breeland Speaks   6-3,  283,  4.87,  32.5,  4.65,  110, 24, Miss   2,706 #2 Chiefs