–
New Dallas Cowboys Leighton Vander Esch Is A Sensational Tackling Freak!
By Super Scout Max Emfinger
Who is this

New Dallas Cowboys Freak

on Defense? 
Leighton Vander Esch (#38) is a Former Walk-On from a very Small Town in Idaho named Riggins with a Population of 406. He was an Eight-Man Football Super-Star at Salmon River High School where he Led his Salmon River High School Team to Four High School State Championships in Football and Basketball in 2013 and 2014. In 2014, as a Senior, in Basketball, he Averaged an Amazing 29.4 Points Per Game in The Hoops.
In Eight-Man Football, Every Player is Eligible To-Catch a Pass except The Three Offensive Lineman. With this in mind, The Outside Linebackers also played Cornerback and this is one of The Reasons that Vander Esch is so Versatile and Athletic.
After The Four State Championships and Leading his Two Senior Football and Basketball Teams to State Championships and after hearing Folk-Stories about This Guy from Riggins, Idaho Vander Lech was Offered a Chance To-Go to Boise State as a Walk-On. The Boise State Coaches had Absolutely No-Clue what they were getting when Vander Esch Showed-Up on The Boise State Campus, but they were Extremely Fascinated with their new Prospect.
As a Sophomore, in 2016, Vander Esch was limited to only Six Games due to injuries, but he Recorded 27 Tackles with One Quarterback Sack for a Minus 7-Yards and 3.5 Tackles for a Loss for a Minus 11-Yards; plus he also had One Forced Fumble and an Interception.
Then in 2017, as a Junior, Vander Esch was Sensational as he Won The Mountain West Defensive Player of the Year Award and he was also The Broncos Team Captain. In that Sensational 2017 Junior Season, Vander Esch Recorded an Incredible 141 Tackles, getting 91 Solo Tackles and 50 Assisted Tackles. He also Recorded 8.5 Tackles for a Loss for a Minus 50-Yards and he had 4 Quarterback Sacks for another Minus 43-Yards.
If this was not enough, Vander Lsch Recorded 3 Interceptions for a Minus 47-Yards, had 4 Forced Fumbles 4 Pass Breakups, and 1 Quarterback Hurry.
Then, in an Incredible Championship Game, Vander Esch was also the Mountain West Championship Game MVP as he Recorded an Unbelievable 16 tackles and Ended his Career with another Unbelievable Game-Winning and Game-Sealing Interception. 
In his Incredible Bronco Football Career, Vander Esch Recorded 188 Tackles with 128 Solo Tackles, 13 Tackles for a Loss, Five Sacks, Four Interceptions and Four Forced Fumbles.
Boise State Super-Star Leighton Vander Esch is a Real Tackling-Freak and he  was also an NFL Scouting Combine Super Freak. The NFL Scouts Really Like his Incredible High Motor, Athleticism, Versatility, and Aggressive Style of Play in Crucial Plays and Crucial Situations on Defense. These Athletic and Aggressive Abilities make Vander Esch an Incredible and Sensational Run-Stopping Inside Linebacker.
Why does The NFL have a Massive NFL Scouting Combine, just before the Huge Annual NFL Draft and The Reason is Very Simple! In many Cases, The Annual Scouting Combine is the First Time that The NFL Scouts Really-Get "Accurate Measurables" on The Draftable NFL Players before The NFL Draft. It's always easy to say someone can run a 4.4 or a 4.3 Forty, but before an Accurate Hand-Held Timing by an NFL Talent Scout is done, most Forty Times are not Accurate. 
One of the reasons, in the past, that The Dallas Cowboys were always successful in The NFL Draft was because their Philosophy was always that they had more information on every player in The Draft and they were always able to make a more Valid Decision on each Draftable Player before The NFL Draft, based on all of his Measurable Information.
When I was a Talent Scout with The Dallas Cowboys in 1975-76, I was Asked by Head Coach Tom Landry to Coordinate a Dallas Cowboys Team Project and The Project was To Rate and Rank Every current NFL Player, so we could Develop an Offense and Defense Flip Chart to use in Preparation for our Next NFL Game and All of these NFL Player Ratings were Based on Their Scouting Combine or our Individual Measurables.
At The 2018 NFL Scouting Combine, Vander Esch ran an Outstanding 4.65 in the Forty, which is Really Good for an Inside Linebacker, but in the other Speed and Quickness Measurables, Vander Lsch was Sensational for his Position as he Did an Incredible 39.5-Inch Vertical Jump, Ran an Incredible 4.15 in The Pro Shuttle, and Did another Incredible 124-Inch Standing Broad Jump. In The Strength Measurable, Vander Esch did an Outstanding 20 Reps of 225-Pounds on The Bench Press.
This Former Bronco has Excellent Vision and he is an Exceptional Tackler when stopping Ball Carriers from getting the Extra Yardage. Vander Esch is also an Excellent Defender in Pass Coverage and he has Great Speed in Back-Peddling for his Tremendous Size. Vander Esch is Super Athletic and Versatile enough to play any of the Linebacker Positions.
SIDENOTE: In another Unbelievable Dallas Cowboys Draft Move: After Vander Esch was Taken in The Overall #19 Selection, they also Picked-Up The Boise State Super-Star Wide Receiver Cedric Wilson.
Cedric Wilson, Jr was also another Unbelievable Player in The Boise State Championship Season and he Recorded a School-Record 1,511-Yards Receiving as a Senior; 2,640-Yards in his Career; and Finished as the #7 Receiver in Boise State History.
Cedric Wilson, Jr (#1) Follows in the footsteps of his Father, Cedrick Wilson, Sr who was taken in The NFL Sixth Round and 169 Overall and Played Seven Seasons in The NFL.
Wilson (6-2, 197, 4.55, 37, 4.23, 121, 9) was also Outstanding at The NFL Scouting Combine. He ran a Good 4.55 Forty and had an Outstanding 4.23 Pro Shuttle in The Speed Measurables; while his 37-Inch Vertical Jump and 121-Inch Standing Broad Jump were Exceptional for his Wide Receiver Position in Quickness and Twitch-Muscle Measurables.
2017 COLLEGE FOOTBALL MVP'S
OF THE WEEK
By Super Scout Max Emfinger

Scouting Notes I: During The 2017 Football Season, The Super Scout Selected a Weekly Most Valuable Player Awards Team Each Week and Some of The New Dallas Cowboys Draft Choices made Several Weekly Selections. The Player had to be on THE WINNING TEAM to Qualify for The Weekly MVP Award.
Scouting Notes II: The Standards for Each Position to Qualify for The Weekly MVP Award Were As Follows: OFFENSE – Quarterbacks: Must have 400-Yards; All-Purpose Backs: Must have 200-Yards; Wide Receivers: Must have 175-Yards; Running Backs: Must have 175-Yards. DEFENSE – Linemen and Linebackers: Must have 10 Solo Tackles, Two Sacks or Two Turnovers; and Defensive Backs: Must have Two Interceptions or Two Turnovers.
WEEK #3
In Game #3, Boise State and New Dallas Cowboys Middle Linebacker Leighton Vander Esch Recorded 12 Tackles, 7 Solo Tackles, 1 Sack, and 1 Forced Fumble in a 28-14 Victory over New Mexico.
WEEK #5
In Game #5, Colorado State and New Dallas Cowboys Wide Receiver Michael Gallup (#4) Recorded 8 Catches for 212-Yards and a Touchdown in a 51-21 Victory over Hawaii.
Gallup (6-1, 205, 4.51, 36, 4.37, 122, 10) is a Pass-Catching Freak. After Starring at Butler Community College, he became an All-American Super-Star and a Fred Biletnikoff Award Finalist at Colorado State.
Gallup also Earned All-Mountain West Conference First Team All-Conference after Catching 76 Passes for a Conference-High 1,272-Yards and 14 Touchdowns. Gallup has an Uncanny Ability in Working Cornerbacks Down The Sideline and also Speeding-Down the Sideline. His Strong-Hands give him The Unbelievable Ability to Take the ball away from Cornerbacks.
WEEK #6

In Game #6,

 

Western Kentucky

 

and

New Dallas Cowboys

Quarterback 

Mike White (#14)

 

Tied a Career-High Passing Record as he Completed 33 of 47 Passes for 398-Yards and 5 Touchdowns as he led his

Western Kentucky

to  a 45-14 Victory over

Charlotte

.

White
 (6-5, 224, 5.09. 27, 4.4, 96)
also ran for a 2-Yard Touchdown, giving him 400-Yards of All-Purpose Yards and 6 Touchdowns in The Victory.
WEEK #7
In Game #7, Colorado State and New Dallas Cowboys Wide Receiver Michael Gallup Recorded 13 Catches for an Incredible 263-Yards and 3 Touchdowns in a 44-42 Colorado State Victory against Nevada.
Gallup (#84) was a Senior Bowl Standout as he Caught 3 Passes for 60-Yards and he was Outstanding in Practice all week and had all of  The NFL Scouts Buzzing about his Exceptional Rout Running and Tremendous Hands.
Gallup might not make fans forget Dez Bryant, but he is what The Dallas Cowboys Offense needs right now. At Colorado State, this Unbelievable, Acrobatic Pass-Catcher Showed a Tremendous Ability in Creating-Separation and Unbelievable Great Pass Route-Running. Gallup Could  form a Quick Rapport with Dak Prescott and Become The Go-To Receiver. 
WEEK #10
In Game #10, for Boise State and Game #11, for Colorado State, Vander Esch Recorded 13 Tackles, 7 Solo Tackles, 1 Tackle for a Loss, 1 Pass Breakup, and 1 Forced Fumble that Resulted in a Game-Saving Fumble and Saved The Broncos The Game Winning Touchdown. Colorado State Scored to go ahead with 2:58 Left in the Game, but New Dallas Cowboys Wide Receiver Cedric Wilson Recovered the Ensuing Onside-Kick and five plays later, The Broncos Quarterback Threw a 6-Yard Touchdown Pass to tie The Score at 52-52 with 57 Seconds Left in The Game, To-Force an Overtime.
WEEK #11
In Game #11, Western Kentucky and New Dallas Cowboys Quarterback Mike White Completed 39 of 54 Passes for 485-Yards and 5 Touchdowns in a 41-38 Shoot-Out Western Kentucky Victory with Middle Tennessee.
White Split Two College Careers with South Florida and Western Kentucky and in the Process, White Started 42 Games over the Four Years. In those Four Years, White Passed for 11,262-Yards and 74 Touchdowns with 31 Interceptions. This Yardage Total was Second in The Country over that Period of Time. In his Last Seven Games with Western Kentucky, White Passed for at least 300-Yards and he also had 22 Touchdown Passes.
White joined his Future Dallas Cowboys Teammate, Michael Gallup, as a Senior Bowl Standout.
White (#14) was also Sensational in The Senior Bowl as he Completed 8 of 11 Passes for 128-Yards and a 14-Yard Touchdown Pass in The First Quarter to Central Florida and New Saints Wide Receiver Tre'Quan Smith. In the First Quarter, Senior Bowl South Quarterback White was Unbelievable on This Touchdown as he Froze The Safety in the Center of The Field for a Few Seconds while Slot Receiver Smith Sneaked Down The Left Sideline and then White Looked-Over To-The-Left and Hit him on a 14-Yard Touchdown Pass. This was in the First Quarter and it Set-The-Pace for a 45-16 South Senior Bowl Victory.
WEEK #11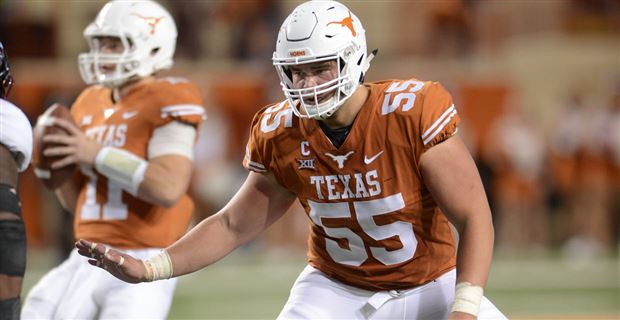 In Game #11,  The University of Texas and New Dallas Cowboys Offensive Lineman Connor Williams (#55) Upset #24 West Virginia by a 28-14 Score, as The Longhorns Piled-Up 233-Yards Rushing which was The Most Yards Rushing since it Gained 406-Yards against San Jose State in The Second Game of the Season. Connor Williams (6-5, 296, 5.05,34, 4.63, 112, 26) was Returning for his First Game, after a Seven-Game Rest after a Knee Injury.
Connor Williams is a Tremendous Run-Blocker and he was a Freshman All-American in 2015 as well as an Honorable Mention Big-12 All-Conference Selection by Big-12 Head Coaches. Williams is an Outstanding Blocker in The Run-Game and he has Great Agility in The Passing Game as Demonstrated by his Incredible 34-Inch Vertical Jump and 4.63 in The Pro Shuttle.
In 2016, as a Sophomore, Williams Earned an Unbelievable Consensus First-Team All-American and All Big-12 First-Team All-Conference, as he Started 11 of 12 Games at Offensive Left Tackle. His Junior Year, in 2017, was marred by injury, but he was able To-Start his First Three Games and his Final Two Games, including The West Virginia Game. With his Great Quickness and Agility, The Dallas Cowboys Like him as an All-Pro Offensive Left Guard.
WEEK #13
In Game #13, and in The Fresno State Conference Championship Game, Vander Esch Recorded 16 Tackles, 10 Solo Tackles, 1 Interception, 1 Forced Fumble, and 1 Pass Breakup; while Cedric Wilson Caught 8 Passes for 198-Yards in the 17-14 Championship Game Victory.
WEEK #14
In Game #14, and in The Las Vegas Bowl Game, both Leighton Vander Esch and Cedric Wilson were MVP's in The 38-28 Boise State Victory over Oregon.
In That Game, Vander Esch Recorded 12 Tackles, 10 Solo Tackles, 3 Tackles for a Loss, 1.5 Sacks, and 1 Forced Fumble as The Defensive MVP of the Las Vegas Bowl Game; while Cedric Wilson Caught 10 Passes for 221-Yards and a Touchdown as The Offensive MVP of the Las Vegas Bowl Game.
In Photo: (L-R) Leighton Vander Esch (#38), Cedrick Wilson (#1), Celebrate with Head Coach Bryan Harsin after The Broncos Defeated Oregon 38-28 To-Win The 2017 Las Vegas Bowl at Sam Boyd Stadium in Las Vegas, Nevada.
After The 2017 Football Season, Wide Receiver Cedric Wilson (#1) was Selected to The Super Scout All-Bowl First Team All-Bowl Offense Team and Middle Linebacker Leighton Vander Esch (#38) was Selected to The First Team All-Bowl Defense Team.
Vander Esch was Profiled by NFL Scouts as a Middle or Inside linebacker, but he has the Skill-Set and Athleticism to line up at any Linebacker or Rush End Position in a 4-3 or 3-4 Defense and Play that Position Extremely Well. He has the Great Quickness and Agility to make plays from Sideline-to-Sideline that is Required by an Inside Linebacker, but at Boise State, his primary Position was that on the Weak Side of the Football Playing Field and Away from the Tight End. 
Dallas Cowboys Owner, Jerry Jones, gave Leighton Vander Lsch an Unexpected Helicopter Ride to "The Star" in Frisco, Texas, The Dallas Cowboys World Headquarters.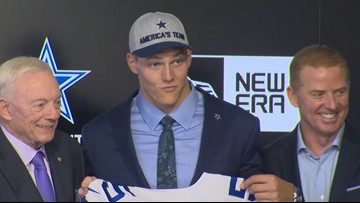 "The Dallas Cowboys is where I have always wanted To-Play, since Day-One of this Process," said Vander Lsch. "The Fact that it came true, just made it that much more Surreal!"
"We Love Him," said Dallas Cowboys Head Coach Jason Garrett. "We got to know him during The Draft Process and our Scouts and Coaches were excited about him Right-From-The-Start."
"Everybody we talked to, kind of said the same thing, that he is the Kind of Young Man and kind of Player that we saw on his Highlight Tape, and the more we got to know him, The More We Liked Him. 

Leighton Vander Esch Super Measurables: (6-4, 256, 4.65, 39.5, 4.15, 124, 30)