–
LAMAR JACKSON LOOKS LIKE AN OUTSTANDING NFL QUARTERBACK
By Super Scout Max Emfinger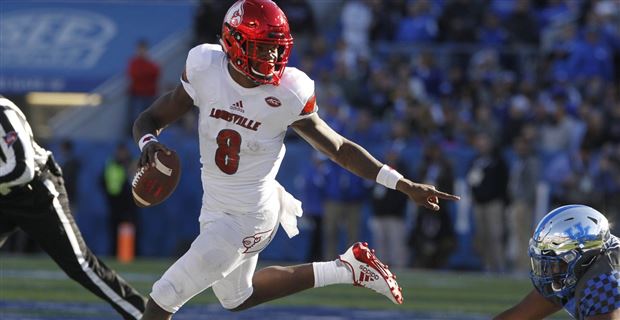 SCOUTING NOTE I: The Measurables of a Football Prospect are of Great Importance, but it is Very Obvious that some Very Successful NFL Teams feel that they are of Great Importance, while some other NFL Teams do not believe that they are of Very Importance. The Ultimate Reason that the NFL Scouting Combine is so Important, because in many cases, this is the Very First Time that the NFL Scouts get a chance to Really View how Fast and how Athletic that a Prospect is in Relationship to his Position with other Players at the Same Position.
SCOUTING NOTE II: Before a Player is Drafted and Given Millions of Dollars, NFL Teams have got to have Current Measurables on Every Player on their Big Board.  In 1976, when I was with the Cowboys, Texas Tech had a "Try-Out" Camp and a Wide Receiver ran a much Faster Forty than we had as his best Forty. Since we needed to know how Accurate his New Forty was, Gil Brandt put me on a Plane to Lubbock to Run him in another Forty, to Update Our Files. When I got to Lubbock, it was Raining, but their Basketball Gym had a Long Straight Lobby that Included about Sixty Yards so I Marked-Off Forty Yards and he Ran a 4.38 and a 4.39 Forty, giving us the Accurate Measurable that we Needed.
SCOUTING NOTE III: Although The MEARS RATINGS are Based on a Player and his Measurables in Relationship to a Set Standard for his Position, there are also Coaches Evaluation Points that are also Very Important. I have Evaluated every Player in this Top 32 Players process and although every Player received 100 or 200 Evaluation Points, some Players with Weak Measurables were Absolute Freaks on their Highlight Film and consequently were given Extra Evaluation Points.
SCOUTING NOTE IV: RB/RET Saquon Barkley might be the Most Incredible Football Player to ever be Drafted. Barkley, is not only a Sensational Football Player, he is the First NFL Player in a 17-Year History of THE MEARS RATING to Reach The 2,800 MEARS RATING PLATEAU as he Reached Maximum Points in Every Single Speed and Strength Measurable. It was also Incredible that Two Ohio State Players Reached The 2,700 MEARS RATING PLATEAU, but both CB Denzel Ward and OC Billy Price also had Incredible Speed and Strength Measurables.
SCOUTING NOTE V: Although all of the Top 48 Players are Sensational Football Players, Two Players were Exceptional at a Time when they Weighed Less Pounds and that was Defensive Tackle Vita Vea and Linebacker Tremaine Edmunds. At 100-Pounds Lighter, Vea Did an Incredible 43-Inch Vertical Jump and Ran a 4.5 Forty when he Weighed 235-Pounds. Edmunds was a 220-Pound Linebacker and Running Back and Ran in The 4.4-4.5 Area.
SCOUTING NOTE VI: Also, do not Forget that Heisman Trophy QB Baker Mayfield was a Walk-on at both Texas Tech and Oklahoma; QB Lamar Jackson (#8) may The Most Athletic Quarterback ever Drafted; and DE Marcus Davenport and DE Harold Landry may be The two Biggest Surprises in The NFL Draft.
NFL PRE-SCOUTING COMBINE TOP 32 MEARS RATINGS
SCOUTING NOTE VII: On February 22, 2018, before The 2018 Scouting Combine Measurables Began on March 2, this NFL Pre-Scouting Combine Top 32 Potential NFL Players were Rated and Ranked on The MEARS RATING SYSTEM with Their Current Best Measurables. There were Some Shocking Ratings, including Lamar Jackson as The #1 Quarterback.
1 RB/RET Saquon Barkley 5-11, 230, 4.33, 40, 4.13, 132, 30 Penn State 2,810 MEARS
2 CB Denzel Ward                   5-11, 191, 4.23, 40, 3.88, 131, 15 Ohio State 2,727 MEARS
3 OC Billy Price                        6-4, 312, 4.88, 32, 4.68, 110, 36 Ohio State 2,714 MEARS
4 DE Bradley Chubb 6-3, 275, 4.72, 30, 4.32, 116, 28 North Carolina St 2,688 MEARS
5 QB Lamar Jackson                       6-3, 211, 4.32, 36, 4.0, 126, Louisville 2,682 MEARS
6 ILB Roquan Smith                  6-0, 225, 4.42, 36, 4.29, 126, 25 Georgia 2,680 MEARS
7 DT Vita Vea                         6-5, 332, 5.01, 28, 4.87, 106, 36 Washington 2,678 MEARS
8 LB Tremaine Edmunds     6-5, 250, 4.56, 36, 4.36, 118 Virginia Tech 2,675 MEARS
9 NG Da'Ron Payne                  6-2, 308, 5.19, 28, 4.99, 106, 36 Alabama 2,666 MEARS
10 FS Minkah Fitzpatrick      6-0, 201, 4.42, 38, 3.87, 126, 20 Alabama 2,665 MEARS
11 OG Quenton Nelson     6-5, 330, 5.08, 26, 4.88, 106, 36 Notre Dame 2,662 MEARS
12 L-OT Connor Williams              6-5, 315, 5.1, 30, 4.56, 106, 29 Texas 2,660 MEARS
13 QB Baker Mayfield                   6-1, 220, 4.64, 32, 4.47, 112 Oklahoma 2,652 MEARS
14 NG Maurice Hurst             6-2, 290, 4.82, 30, 4.47, 116, 32 Michigan 2,650 MEARS
14 RB Ronald Jones             6-0, 200, 4.28, 38, 4.08, 128 Southern Cal 2,650 MEARS
14 WR Calvin Ridley                  6-1, 190, 4.36, 40, 4.15, 120 15 Alabama 2,650 MEARS
17 DE Marcus Davenport                 6-6, 259, 4.63, 35, 4.43, 116 UTSA 2,648 MEARS
18 QB Josh Allen                            6-5, 237, 4.62, 34, 4.42, 116 Wyoming 2,644 MEARS
19 WR/RET D.J. Chark                          6-3, 196, 4.32, 40, 4.02, 32 LSU 2,643 MEARS
20 CB/RET Mike Hughes                 5-11, 191, 4.33, 40, 4.03, 130 UCF 2,642 MEARS
21 OT Mike McGlinchey 6-7, 315, 5.15, 26, 4.95, 103, 30 Notre Dame 2,638 MEARS
22 OT Martinas Rankin  6-5, 320, 5.02, 28, 4.82, 106, Mississippi St 2,637 MEARS
23 RB Derrius Guice                    5-11, 218, 4.36, 36, 4.26, 120, 20 LSU 2,636 MEARS
24 R-OT Orlando Brown  6-8, 350, 5.34, 26, 5.14, 103, 30 Oklahoma 2,635 MEARS
25 QB Sam Darnold             6-3, 220, 4.64, 28, 4.47, 112 Southern Cal 2,632 MEARS
26 QB Josh Rosen                              6-4, 218, 4.87, 34, 4.25, 114 UCLA 2,626 MEARS
27 WR/RET Christian Kirk  5-11, 200, 4.3, 39, 4.22, 128 Texas A&M 2,625 MEARS
27 WR James Washington    5-11, 210, 4.4, 39, 4.16, 126, 20 Okla St 2,625 MEARS
29 LB Leighton Vander Esch 6-3, 240, 4.56, 36, 4.36, 120 Boise St  2,624 MEARS
30 SS Derwin James     6-2, 211, 4.42, 38, 4.22, 118, 20 Florida State 2,623 MEARS
31 TE Mark Andrews        6-4, 254, 4,56, 32, 4,32, 120, 25 Oklahoma 2,622 MEARS
32 DE Harold Landry 6-3, 257, 4.61, 36, 4.4, 118, 30, Boston College 2,620 MEARS
THE MEARS RATING SYSTEM



When I was with the Dallas Cowboys in 1975-77, we had a Rating System and when I left the Cowboys in 1977, I developed a similar Rating System that we had used in the 1976 and 1977 NFL Draft. The 1977 NFL Draft was the Tony Dorsett Draft and we used this Rating System to conclude that Dorsett was The Cowboys #1 Player in that 1977 NFL Draft.
Although I developed my Rating System, when I left the Cowboys, I did not Start using The Rating System until 2001, when NIKE Sports developed a similar Rating System and called it the SPARQ RATING SYSTEM. I then decided to bring back my Rating System and I called it the MAX EMFINGER ASSET RATING SYSTEM or MEARS RATING.
ASSET stands for Agility, Strength, Stamina, Explosiveness, and Technique. These are the essential tools for a superior athletic performance in any competitive Sport or Event. This new MEARS RATING SYSTEM or a similar Rating System, identifies overall Athletic Ability, and it can be used by Top College and Pro Coaches around the country as an initial indicator of the Athletic Potential on the Football Field.
Whether you are a College Football Coach and you only have One Scholarship Left to give in your current Recruiting Class or you are an NFL Team and you only have only One Draft Choice Left on your current NFL Draft Board, there needs to be a Rating System that you can go to and based on the highest rated player, would give you the very best player available irregardless of position.
By 2001, all of the other Recruiting Services were using the Five-Star Rating System Method which does not Measure anything. One year, at the start of the Spring, there were 45 Wide Receivers that were Rated a Four-Star. We went to bed one night and the next morning there were only 25. Someone had decided that there could only be 25 Four-Star Wide Receivers in The Country and he had demoted 20 of them to a Three-Star.
My MEARS RATING SYSTEM or a similar type Rating System is very important for The NFL Scouts, and the NFL Scouting Combine is the first time that "Accurate Numbers" are recorded on these players. It's easy to say someone can run a 4.4 or a 4.3 in the Forty, but before an Accurate Hand-Held Timing by a Professional Scout or either by a slower, but Accurate Laser Timing is done, most Forty Times are less than Accurate. Technique is also very important and that is why College Football Players entering the NFL Draft will hire a Sports Trainer to train and teach them how to do a Vertical Jump, Pro-Agility Shuttle, and a Standing Broad Jump.
Quarterbacks, Offensive Linemen, and Kickers are always going to be Very Hard to Measure, because they do Extremely Poor at a Super Combine, so These Three Positions must Be Evaluated very carefully on film or in person and then their MEARS RATING will need to be Estimated and Given a MEARS RATING that they Deserve.
You can get a very good idea about a High School Football Player if he participates in a Legitimate Super Football Combine, but many High School Football Players do not get a chance to participate in a Super Combine. If a High School Football Player is being recruited by 40 D-1 Schools, then you have to assume that he is an outstanding Football Player, but how can you give this player a MEARS RATING if he does not have Valid Measurables? The answer is Very Simple! You either have to make-up or approximate his Measurables based upon his Game Film Evaluation or Actual Game Evaluation, giving him the Maximum Points on most of his  Measurables for his position.
LAMAR JACKSON LOOKS LIKE AN INCREDIBLE NFL QUARTERBACK!
Most High School and College Football Players don't even know what their Speed and Strength Measurables are and you would think that they would, but they don't. Many times, a High School or College Football Player will list his best Forty Time as a 4.8 and then twenty minutes later run a 4.6 or better. You must keep in mind that with a little instruction and training, most High School and College Football Players can improve on their Speed Measurables by Two and Three Tenth of a Second and on their Distance Measurables by as much as Six to Eight Inches.
Measurements are just numbers, but Many Times they tell us How Fast or Quick or Strong a Player Really is and can be a Great Help to NFL Scouts in their Personnel Department or to the Small Army of "Fake Media" and "Fake Draft Scouts" to Help Answer some questions about a Potential NFL Player.
On Thursday, before The Super Scouting Combine Begin, the Unofficial Department of Weights and Measures for These NFL Prospects gave The NFL Scouts and The Fake Scouts some Enlightening Information about some of The NFL Quarterback Prospects for The 2018 NFL Draft.
The Enlightening Information included that Louisville Heisman Trophy Quarterback, Lamar Jackson is Going to Play Quarterback in The NFL and he is not going to Play any other Position, including Wide Receiver like some of The Fake Scouts had Predicted.
The Pre-Combine Measurables Revealed that Lamar Jackson is almost 6-3 and he Weighed 216 Pounds, which is almost Identical to another Great Athletic Quarterback and Friend, Andy Dalton, who is a Fabulous NFL Quarterback and not a Wide Receiver. 
Jackson also checked in with an Official Wingspan of 77 5/8-Inches and 33 1/8-Inch arms. His hands are 9 1/2-Inches. The Top Five Quarterback Hand Sizes are Josh Allen – 10 1/8-Inches; Sam Darnold – 9 2/8-Inches; Lamar Jackson – 9 1/2-Inches; Baker Mayfield – 9 1/2-Inches; and Josh Rosen – 9 7/8-Inches.
Jackson is an Interesting NFL Prospect. His Incredible Athletic Ability is Totally Off The Charts and he can make all the throws, but being a Heisman Trophy Winner does not guarantee anything in The NFL.
In his last game on November 18, Against Syracuse, Jackson Completed 14 of 26 Passes for 270-Yards and Two Touchdowns. He also Rushed for 111-Yards and Two More Touchdowns, giving him 381-Yards of Total Offense and Four Touchdowns.
This is an Excellent Example of The Fabulous Dual-Threat of Jackson and his Outstanding Ability to Run The Football, out of The Pocket, when Needed. Jackson is Arguably the Best Dual-Threat Athletic Quarterback to Enter The NFL Draft Since Michael Vick as The #1 Selection in The 2001 NFL Draft.
In 2015, Jackson Passed for 1,840-Yards and 12 Touchdowns; then in 2016, he Passed for 3,543-Yards and 30 Touchdowns; and Lastly, in 2017, he Passed for 3,660-Yards and 27 Touchdowns.
The Lamar Jackson Rushing Stats are Completely Mind-Boggling: In 2015, Jackson had 960-Yards on 163 attempts and 11 Touchdowns. Then In 2016, he Rushed for 1,571-Yards and 21 Touchdowns; and then in 2017, he Rushed for 1,601-Yards and Scored 18 Touchdowns.
This Super NFL Quarterback Prospect had Career Totals of 9,043-Yards Passing and 69 Touchdowns; while Rushing for 4,132-Yards and a Career Total of Another Mind-Boggling 119 Touchdowns.
Nuff Said!