–
The Incredible Danny Amendola Story!




By Super Scout Max Emfinger
If you know anything about The Incredible Super-Star Quarterback Tom Brady and his Unbelievable and Mind-Boggling History of him "Bringing His Team" Back to Victory After being Down, late in The Game, and Looking Like his New England Patriots would Surly Lose; and then if you are Watching the Game on TV or Listening to the Game on the Radio; it seemed like and you would Surely Believe that all throughout the AFC Championship Game that Brady was "Only Fiddling" with The Jaguars.
All-Pro Quarterback Tom Brady gets all of the Credit for the Huge Comeback Victory, but another Super-Star named Danny Amendola (#80) Deserved a Lot of Equal Credit. Amendola is one of my All-Time Favorite Players and it Dates Back to his Days at Texas Tech. First of all, Amendola is from The Woodlands which is a Suburb, in North Houston.
I got Really Interested in Armendola, when I moved from Quail Valley to The Woodlands, in 1997, just before we moved to Hammond, Louisiana and then I also found-out that he was born on November 2, on my Birthday.
Back to this Fabulous NFL AFC Championship Football Game, I was Driving on Interstate-10 from Mobile, Alabama to Baton Rouge, Louisiana as I was Driving Back Home from The Lestini Free Agent Super Combine and I Listened to the entire Game on the Radio and Amendola, although he only Caught 7 Passes for 84-Yards, he made all of the "Key-Catches" and that included Unbelievable First-Down Catches and The Game-Winning Four-Yard Touchdown, to Win The Game.
Click the Link to See the Winning Touchdown Catch by Danny Amendola:
http://www.espn.com/video/clip…
Led by Brady and Amendola, the New England Patriots escaped with a 24-20 Victory over the Jacksonville Jaguars in the AFC Championship Game at Gillette Stadium. Super-Star TE Rob Gronkowski (#87) did not play Against The Jaguars, but will Play in The Super Bowl.
It marked the 54th time that Brady has engineered a Game-Winning Performance in Leading The Patriots to a Victory from a Fourth-Quarter Deficit or tie. This one gave The Patriots a trip to Super Bowl LII to face The Philadelphia Eagles on Sunday  February 4 at U.S. Bank Stadium in Minneapolis.
DANNY AMENDOLA CAREER STATS
High School – The Woodlands, Texas
Amendola Played for my Good Friend and Head Coach Weldon Willig. As a Senior, Almendola led his High School Team to their First-Ever 5A Texas State Championship Game, but they Lost The Championship to Galena Park North Shore. Amendola finished his Senior Season with 1,045-Yards Receiving, had 129-Yards Rushing, and Scored Eight Touchdowns.
College -Texas Tech
As a Freshman in 2004, Amendola saw limited duty on offense, but he was The Red Raiders Leading Punt Return Man and he was Named to the All-Big 12 First Team as Punt Return Specialist, but he did catch 13 Passes during the season, including one Touchdown Pass against Baylor.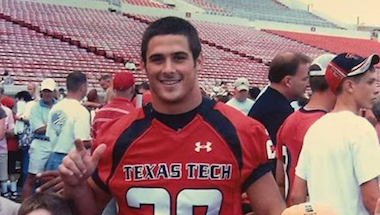 As a Junior in 2006, Amendola (#20) had 48 Catches for 487-Yards and Five Touchdowns and then as a Senior in 2007, Amendola had 109 Catches for 1,245-Yards and Six Touchdowns. Amendola left Texas Tech early to train for the 2007 NFL Combine.
Amendola always was Compared to another Texas Tech Football Player, Wes Welker, who was a Super-Star for The Patriots, Miami Dolphins, and Denver Broncos.
As a New England Patriot, Welker led The NFL in receptions in 2007, 2009, and 2011. Welker holds the Four Highest Single-Season Reception Totals in New England Patriots History, as well as four of the top 10 receiving yardage totals, including The New England Patriot Franchise Record. Welker also holds the Patriot Franchise Records for most Receptions in a Single Game, Receiving Yards in a Single Game, Longest Reception of 99-Yards, and Career Receptions.
Welker, who had Three Consecutive 110-Reception Seasons and had Five Total. Welker is the First Wide Receiver in NFL History with at least Three 110-Reception Seasons, and the first with five 100-Reception Seasons. Welker was Selected to The NFL Pro Bowl, The All-Pro Team, or both, in every Season of his New England Patriots Career.
SIDEBAR: At the 2001 Alamo Bowl, my Son Eric and I were Special Guests of Texas Tech Head Coach Mike Leach and we met The Parents of Wes Welker. Although their Son was Selected as the State of Oklahoma Player of the Year in 1999, he was "Flying Under The Radar", and was Never Offered a Scholarship, until Coach Leach Offered him a Chance for a Preferred Walk-on. In August, when a Couple Players decided to go elsewhere, Coach Leach Offered Welker a Full Football Scholarship.
Not only did Amendola and Welker both play for The Red Raiders, they are Very Similar in Size, Speed, and Big-Play Abilities. They also were both Great Players in High School, but were always "Flying Under The Recruiting Radar" and then were Stars at Texas Tech, both were "Undrafted Free Agents" and then became Super-Stars in The NFL.
Amendola (5-10, 190, 4.48, 32, 4.25, 103, 13) was an Undrafted Free Agent in 2008, while Welker (5-9, 195, 4.55, 30, 4.01, 113) was an Undrafted Free Agent in 2004. Both Super-Stars were a Little Short. Neither Players had Great Vertical Jumps. Amendola was a Little Faster than Welker in The Forty, but Welker was a Little Quicker than Amendola in The Pro Shuttle.
NFL
Almendola was Signed by The Dallas Cowboys on April 27, 2008. His attempt to make it to The NFL was featured on an HBO Special by the Name of Hard Knocks. Amendola was cut by The Cowboys on August 30 and then was Re-Signed to The Dallas Cowboys Practice Squad after clearing waivers. He spent the entire 2008 Regular Football Season on The Cowboys Practice Squad and Never saw any Regular Season Action.
Then in

August 2009

, after his Contract had Expired with

The Cowboys

,

Amendola 

was Signed to

The Philadelphia Eagles Practice Squad

on

January 6, 2009

. Following the

2009 Season

,

Amendola

was Re-Signed to a  Contract on

January 19

and then was Waived during final cuts on

September 5, 2009

. He was Re-Signed to

The Eagles Practice Squad

on

September 6, 2009

, but N

ever played a down in the 2009 Regular Season.
Then, about Two Weeks Later,

 Amendola

was Signed off of

The Eagles Practice Squad

by

The St Louis Rams

on

September 22, 2009

and Played in his

First NFL Game

and he

Caught 43 Passes for 326-Yards and One Touchdown as a Slot Receiver.

Amendola

also Returned 66 Kickoffs for 1,618-Yards and Returned 31 Punts for 360-Yards.
In

2011

,

Amendola

S

ustained an upper-arm injury in the first game of the season that resulted in him missing the remaining 15 games of the season after he underwent season-ending triceps surgery to repair the damage

.
On September 16, 2012, Amendola had 12 Catches in the First Half in Second Game of The Season Against The Washington Redskins that tied the Record for most catches in a half set by Reggie Wayne in 2007. He finished the game with a Career-High 15 Catches for 160-Yards to go along with One Touchdown.
 On

March 13,

2013

,

just hours after

The New England Patriots

Super-Star Slot Receiver

Wes Welker

Signed with

The Denver Broncos

,

The Patriots

Announced the Signing of

Amendola

and he Received a five-year contract for $28.5 Million, with $10 Million of that Money Guaranteed

.
With Wes Welker perhaps opening the door for The Patented Patriots Slot Receiver, there was an opening for a player such as Amendola to get his foot in the door in the NFL and it Certainly did not hurt that both Welker and Amendola were almost Identical in Size, Speed, Skills, and from the same College, Texas Tech.
"Danny Amendola is what our team is all about," Tom Brady said. "Danny never makes excuses, does everything Coach Bill Belichick asks him to do, comes out for work every day with a great attitude. "And he makes the Biggest plays in the Biggest games. What more can you ask of a guy like that?"
He Caught Seven of Nine Targets for 84-Yards, and Two Touchdowns, including an Incredible 21-Yard Catch on 3rd Down and 18 with 10 Minutes left in the Game. Amendola also added a 3-yard run, a 20-yard throwback pass and two punt returns for 25 yards, the last of which went for 20 yards, giving him 132-Yards of Total Offense. 
The Two Touchdowns doubled his Regular Season Total. Any time The Patriots needed a big play, Amendola seemed to be catching the ball beyond the sticks. He and Brandin Cooks both stepped up after Super-Star Tight End Rob Gronkowski was lost with a first half concussion. Amendola figures to be a key target against The Eagles and their Tough Defense in Super Bowl LII.
For a Player who has 18 Catches for 196-Yards this in This Postseason heading into Super Bowl Sunday, it's hard to believe that Danny Amendola has never had more than 689-Yards Receiving  in a season.
What is Just Outstanding are The Stats of Tight End Rob Gronskowski, who is One of The Top Tight Ends in The NFL, if not The #1 Tight End in The League. In 14 Games, in 2017, Gronkowski (6-6, 265, 4.58, 33.5, 4.47, 119, 23) has Caught 69 Passes for 1,084-Yards and Eight Touchdowns with a 15.7-Yards Per Catch and 77.4-Yards Per Game.
With Rob Gronkowski being Cleared for The Sunday Super Bowl LII, Tom Brady will be able to Use Danny Amendola, Brandin Crooks, and Rob Gronkowski to The Fullest Extent Against The Philadelphia Eagles.