–
D.J. CHARK SUPER SEVENTY-FIVE YARD TOUCHDOWN CLUB AND STORY!
By Super Scout Max Emfinger
Under The Radar For Five Years!
D.J. Chark was a Great Wide Receiver in High School from Alexander, Louisiana, but he was a Great Player that was "Under The Radar" before he Signed with LSU and New LSU Offensive Coordinator and Long-Time Good Friend Steve Ensminger (In Below Photo). In 2013, as a Senior in High School, Clark Caught 48 Passes for 554-Yards and Three Touchdowns.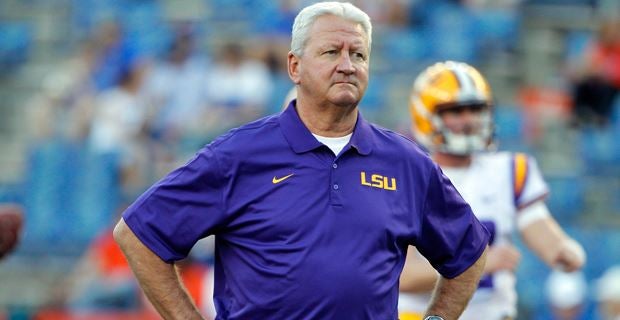 Chark did not Score a Touchdown in 2014, but in 2015, he Scored a Touchdown, but it was not from a Pass-Catch, but on a 79-Yard Touchdown Run on an End-Around Reverse in The LSU Tigers 56-27 Victory over Texas Tech.
Then in 2016, Chark  finally caught his first pass in a Game in a Game #2 for 12-Yards in the 34-13 Win over Jacksonville State. Chark also Caught three more passes for 52-Yards with a 37-Yard Touchdown in the 23-20 Win over Mississippi State in game #3.
All this Time, Chark was a Tremendous and Athletic Super Wide Receiver who Apparently was Either Lost in the Shuffle on The Wide Receiver Board or Purposely Being Over-Looked on The Wide Receiver Board.
Before the 2017 Season Started, Chark had 26 Career Receptions for 466-Yards and Three Touchdowns. He also had Added Another 201-Yards Rushing and Three More Touchdowns. Then as a Senior, Chark Recorded 40 More Catches for 874-Yards, and another Three Touchdowns and had an Outstanding 21.9-Yards Per-Catch Average.
On his 66 Career Catches, Chark Averaged 20.1-Yards Per Catch and he was still a Huge Big-Play Threat, but, even in 2017, The LSU Quarterbacks still could Never get him the Football on a Consistent Basis. In order to Completely Utilize his Versatility, Chark Changed his Jersey Number from #82 to #7 for his Last Season.
With about 14-Minutes Left in the Auburn Game and The Auburn Tigers Winning 23-14, Chark Lined-Up to Return a Punt and The LSU Crowd was Pretty Calm and Praying for a Miracle. Then, all of a sudden, Chark Caught the Football on the 25-Yard Line, Back-Tracked about Six-Yards and Started Running Toward the Left Sideline, where a Great Punt Return Wall had Formed and he Returned the Punt 75-Yards for The LSU Touchdown.
Once Chark (#7) got to the Sideline, after Scoring in the Photo, The LSU Crowd Started to get Louder and Louder and Continued for 11.87 Seconds until he Reached the End-Zone to Make the Score 23-21 with 14:33 Left in the Game. Then, it got even Louder and Louder; while Making The LSU Tiger Stadium Shake and Continue to Shake after LSU Kicker Connor Culp Kicked the Winning 42-Yard Field Goal with 2:36 Left in the Game and then he Kicked another 36-Yard Insurance Field Goal with 38-Seconds Left in the Game to make the Final Score 27-23 and an LSU Victory.
I live about 15-Miles from The LSU Stadium and on Saturday Night on this Historic Night, I really believe that I was Still Hearing the LSU Crowd Hours after this Historic LSU Game and Victory.
In this Historic Victory, Chark Caught Five Passes for 150-Yards and Returned Two Punts for 83-Yards and a Touchdown, giving him 233-Yards of Total Offense and he was One of my Weekly College Football MVP's.
Chark is the Only LSU Player in LSU History To Score on a Running Play and a Passing Play of 75-Yards or More. He Scored on an Incredible 79-Yard Touchdown Run in his "First-Career-Touch" in the 2015 Texas Bowl Victory over Texas Tech and then he Caught an 80-Yard Touchdown Pass against Southern Miss in 2016.
Super Wide Receiver D.J. Chark is an Extremely Explosive and Speedy Wide Receiver who "Can-Score" anytime that he "Touches the Football" and he was Supposed to be The LSU "Go-To" Receiver in 2017, but with the Pathetic and Erratic LSU Passing Game, The LSU Quarterbacks were NEVER able to Find-Him on their Pass Patterns. After all of this, Chark still got invited to Play in The Senior Bowl.
With this Unbelievably Great Combination of Speed, Quickness, Pass Route-Running, and Tremendous Pass-Catching Abilities, he was Supposed to make LSU one of the Best Wide Receivers in the Country in College Football, and a Definite #1 NFL Draft Choice, but with the "Unsettled" LSU Offense and Quarterback Situation, Chark was Never able to be The All-American Wide Receiver until he got to The Senior Bowl.
The D.J. Chark 75-Yard Punt Return for a Touchdown Against Auburn was the SEC Play Of The Year and so Getting to Play in The Prestigious Senior Bowl was a Great Honor for him and "Very-Well" Deserved, although his Senior Stats were not Overly Awesome. Chark, however, did Catch 40 Passes and with a Great 21.9 Yards Per Catch Average.
Before getting to Mobile, and because of his Unbelievable Potential, I had Chark (6-3, 196, 4.32, 40, 4.02, 32) Rated and Ranked as a #1 Draft Choice in the 2018 NFL Draft, but most NFL Scouts had him Listed as a #2 Round Draft Choice. His 2,662 MEARS RATING is Off-The-Charts.
Chark Started to Impress the NFL Scouts in the First Practice on Monday and Finished The Game on Saturday with 5 Catches for a Career-High 160-Yards and Two Touchdowns of 63 and 75-Yards. Chark also Played on the Special Teams and made a Tackle on the Kickoff.
The Former LSU Wide Receiver Saved his Best Pass-Catching Performance for his Biggest Game and Most Important Game of his Career and in Front of a National TV Audience on The NFL Network and NFL Scouts in the Press Box, watching his Every Move.
With this Unbelievable and Mind-Boggling Performance, Chark was Selected as The South Team Co-MVP. His 160-Yards was more Receiving Yards than in any one game during his Entire LSU Career.
Another Skill that impressed The NFL Scouts was his Ability and Willingness to Play on Special Teams and Chark played on the Kickoff Team and he also practiced on The Punt Return Team.
Playing on Special Teams is a great way for young Potential NFL Players to turn heads of Many of The NFL Scouts in the NFL. Chark, Showing a  Willingness To Play on both The Kickoff Team and Punt Return Teams will Help All-Purpose Super-Star D.J. Chark to be Drafted on the First Day of The 2018 NFL Draft.
The D.J. Chark Super Seventy-Five Club!
In 2015, Chark Scored on a 79-Yard Touchdown Run on an End-Around Reverse in The LSU Tigers 56-27 Victory over Texas Tech.
In 2016, Chark Caught an 80-Yard Touchdown Pass against Southern Miss.
Bonus Catch: In 2016, Chark is making a Circus-Catch on his Back as he Ripped the Football Away From The Defender.
In 2018, Chark Making a Bonus CatchCaught a 75-Yard Touchdown Pass in the 2018 Reese's North/South Senior Bowl Game.