–
2017 COLLEGE FOOTBALL

SUPER
ELITE 18 

MVP'S FOR WEEK FIVE




By Super

Scout Max Emfinger

WEEKLY

NOTES

: To be Eligible for an

MVP

Berth

, your Team has got to be on the

Winning

Team

. In

Week

One

, there were a lot of

Defensive

Players

who had a

Great

Game

, but there were not any of them that had a

Phenomenal

Game 

and so I did not have any

Defensive

Players in Week

One.
In 

Week

Five

, I have Set some New Guidelines for the

MVP

Players

as Follows:

Quarterbacks

: 375-Yards of Offense –

Running

Backs

: 150-Yards –

Wide

Receivers

: 150-Yards –

All-Purpose

Backs

: 175-Yards – 

Defensive

Line

: 2 Sacks and 1 TFL –

Linebacker

: 10 Tackles, 2 Sacks –

Defensive

Back

: 2 Interceptions
OFFENSE
1. Quarterback Mason Rudolph(#2) – Oklahoma State
Mason Rudolph may not be the Best College Quarterback in the Country, but he is one of the Best Quarterbacks that I have ever seen and on Saturday, he led his #15 Ranked Oklahoma State Cowboys to a 41-34 Big-12 Win over Texas Tech in Lubbock, Texas.
I watched most of this Game on Television and he seemed to be "Going in Fast-Motion" on every Single Play, because The Quarterbacks on the other TV Channels seemed to be going in "Slow-Motion" in Comparison to Rudolph.
Rudolph Completed 27 of 38 Passes, against a Really Good Defense, for 376-Yards and Three Touchdowns. This was Unbelievably Great, but the Key to the Victory was his Two Rushing Touchdowns, when all of his Wide Receivers were Covered.
Rudolph (6-4, 230, 4.72) of Rock Hill Northwestern, South Carolina ran 16-Yards for the Go-Ahead Touchdown in the Last Two Minutes and Oklahoma State was Finally able to beat The Red Raiders on Saturday night. His Second Rushing Touchdown after Halftime followed Three First-Half Touchdown Passes for Rudolph.
"A lot of those were just kind of me Ad-Libbing," Rudolph said. "We'll watch it on film and see if I get yelled at. But I think, whenever the result is a Touchdown, you won't get yelled at too much."
Another thing that was Very Impressive about Rudolph was that he Completed passes to Eight Different Receivers against Texas Tech, including Touchdown Passes To three Different Receivers. His Leadership on The Game-Winning Touchdown Drive and then he Rushed for the Go-Ahead Touchdown that Sealed the Victory was also Impressive.
The Top Two Favorite Wide Receivers for Rudolph all Season have been Super Wide Receiver James Washington and Super Wide Receiver Marcell Ateman. In this Game, Washington Caught 9 Passes for 127-Yards and a Touchdown and Ateman Caught 6 Passes for 114-Yards. Washington (6-0, 205, 4.32) is another #1 Draft Choice and could be the #1 Wide Receiver Selected in the 2018 NFL Draft.
Oklahoma State held the Red Raiders to 384-Yards, or about 200-Yards below the third-best average in the county coming into the Game, and they stopped Texas Tech after their Kicker Matt Ammendola missed an 18-Yard Field Goal that would have given the Cowboys the lead with 5:30 remaining. Ammendola missed a 22-Yard Field Goal at the same end of the Field in the first half.
In the Oklahoma State 79-Yard Winning Touchdown Drive, Ateman made an Incredible "Jump-Ball Catch" over Red Raider Defensive Back Octavious Morgan for 26-Yards on a Third Down. Two plays later, Rudolph faked a Hand-Off and then ran Completely Untouched into the Right Corner of the End-Zone with 1:12 Left in the Game.
"If you lose, you've got to rally, "Cowboys Head Coach Mike Gundy said. "You've got to get over it. It sure helps, attitudes and an open week, when you can win a game like this."
Rudolph Recorded his 17th Game of 300-Yards, breaking the Oklahoma State School Record of Brandon Weeden with 16 Games. Rudolph not only Passed for 376-Yards and Three Touchdowns, but he also Ran for another 50-Yards on 11 Rushes and Two More Touchdowns, giving him 426-Yards and Five Touchdowns. – 426-Yards of Total Offense
2. Quarterback

Max Browne

(#4) – Pittsburgh
Quarterback Max Browne of Pittsburgh had an Incredible Game on Saturday in a 42-10 Victory as he Completed an Amazing 28 of 32 Passes for 410-Yards and Four Touchdowns.
In High School, Browne "Put-Up" some "Mind-boggling" Numbers at Sammamish Skyline, Washington when he Passed for 12,953-Yards and 146 Touchdowns from his Sophomore Year to his Senior Year, including 4,500-Yards and 49 Touchdowns in his Senior Season. As a result, Browne, who also led the High School Team to Back-to-Back State Championships, was named as the 2012-13 Gatorade National Football Player of the Year.
Browne (6-5, 230, 4.76) also had one of the Most Prolific Passing Game in University of Pittsburgh History as he Connected on 88-Percent of his Passes and did not have a Single Touchdown. Another Unbelievable Fact is that these And to make his Unbelievable Passing Feat even more Incredible was the Fact that they could have been even more Impressive, because he had Three Dropped-Passes in the First Half alone.
Also, in the First Half, Browne Completed 14 of 16 Passes for 247-Yards and Three Dropped-Passes and he Finished with 410-Yards. This Final Total Passing Yardage was the Highest Passing Total Since Pittsburgh Quarterback Tom Savage Passed for 424-Yards Against Duke on September 21, 2013.
The Amazing 28 Completions of Browne was also the Most Pittsburgh Completions for a Pitt Quarterback Since Savage Completed 28 Passes Against Syracuse on November 23, 2013. Browne is one of only nine players in Pittsburgh Football History to Pass for more than 400-Yards in a Single Game, and on Saturday, his 410 Passing Yards Rank Eighth on the All-Time Panthers School Record. Browne Recorded a Fabulous 236.4 Quarterback Rating. – 410-Yards Passing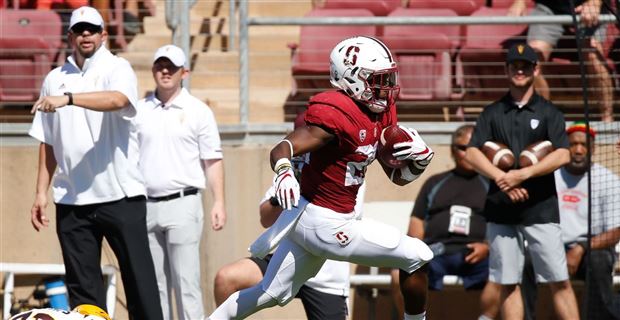 3. Running

Back Bryce

Love (#20) – Stanford
All-American Junior Running Back Bryce Love was Sensational Again for the Stanford Cardinal as he Rushed for a Phenomenal 301-Yards on 25 Carries and Scored Three Touchdowns in The Cardinal 34-24 Victory over Arizona State.
In this Incredible Game, Love Set The Stanford Single-Game Rushing record with 301-Yards which is Tied for Eighth-Most in Pac-12 History. Also in this Game, Love Averaged an Unbelievable 12.0-Yards on his 25 Carries and had a Career-High Three Touchdown Runs and they went for 61, 43 and 59-Yards. Love Broke The Christian McCaffrey One-Year-Old Record of 284-Yards.
Love entered the Game Leading the C0untry in Rushing and Added to his Country-Leading Total as he had Touchdown Runs of 61, 43, and 59-Yards. He now has 1,088-Yards Rushing for this Season, the Third Player since 2004 to eclipse the 1,000-Yard Rushing Mark in his First Five Games of the Season.
In the last 20 Years, Love and Heisman Trophy Award Winner, Reggie Bush, of Southern Cal are the only Two Players with Back-To-Back 250-Yard Rushing Games and Stanford only had One Player in the First 1,254 Games of the Program that had a 250-Yard Game.
Love has also Rushed for 100-Yards in Seven Consecutive Games which is the Second-Longest Streak in Stanford School History, and he is the only player in the last 20 years with a Rushing Game of 50 or more Yards in Seven Consecutive Games.
Love has now reached that mark in his Last Two Back-To-Back games. You also need to Remember that Christian McCaffrey was the Starting Running Back in 2016.
In the First Game of this Season, Love proved that he could "Take-The-Place" in Great Style of Running Back Christian McCaffrey, who Everyone Remembers was Drafted #1 in the 2017 NFL Draft by the Carolina Panthers as he Rushed for 180-Yards in Leading The Cardinal to a 62-7 Victory over Rice on Sunday in the Sydney College Football Cup.
"Bryce Love is one of the Best College Football Players in America," said Stanford Head Coach David Shaw! "There are not many guys like him."
NFL SUPER SCOUT NOTE: Bryce Love has been one of The Best Running Backs in the Entire Country in 2017, but after Rushing for 301-Yards, his NFL Draft Stock, if possible, will become even Stronger, Competing With Super Running Back Saquon Barkley For Number One. Love May Not have the Great Ideal Size of an Every-Down NFL Running Back, but with his Great Speed, Elusiveness, and Great Ability to Make Defenders Miss Him and Out-Run Most of the Other Defenders make him an Excellent Slot-Back or Running Back on Third-Down Situations. Although Love is a Relative Newcomer to the the Possible #1 Draft Choice Club, but he could Very-Well become a Member of that Super Elite and Some NFL Team Could Very Well Fall in Love with his Great Athleticism and Great Versatility and Draft Him in the First or Second Round. – 301-Yards Rushing

4. All-Purpose Back Saquon Barkley (#26) – Penn State
All-American Running Back Saquon Barkley had another Unbelievable Football Game in Leading his Penn State Team to a 45-14 Victory over Indiana. The Most Unbelievable Thing about his Indiana Game was Probably the Fact that except for the Fact that he Returned the Opening Kickoff for a 98-Yard Return for a Touchdown, the Rest of the Game was his Worst Game of the Season.
In the Rest of the Game, Barkley Completed a Touchdown Pass for 16-Yards; Rushed 20 Times for 56-Yards; Caught Four Passes for 51-Yards; and the 98-Yard Kick Return; giving him 221-Yards of Total Offense or All-Purpose Yards.
However, The 2017 Winner of the September Heisman Trophy Award has been Announced and the Winner is Penn State Running Back Saquon Barkley.
It's a Made-Up Award and is even more difficult to describe than the Actual Heisman Trophy Winner. It goes to the Player who has Captured the Most Imagination from College Football Fans, while Piling-Up Unbelievable Stats and Playing Phenomenal in a Couple of the Big Games during the First Month of the Glorified Pre-Season.
In Selecting a Weekly MVP Players of the Week Award, I have found that there are only about Three or Four Players who would Qualify for this September Heisman Award.
One could make a case for Stanford Running Back Bryce Love; Oklahoma Quarterback Baker Mayfield; or maybe even Oklahoma State Quarterback Mason Rudolph; but Barkley is the Current Heisman Trophy Award Favorite in the betting markets after leading the country in Incredible and Unbelievable highlights. – 221-Yards of All-Purpose Yards
5. All-Purpose

Back Jordan

Chunn (#36) – Troy State
The Unbelievable Performance of Running Back Jordan Chunn and his Troy State Team in their Incredible 24-21 UPSET Victory over LSU at their Homecoming Might have been the Biggest Shocker-Game of the Weekend.
Jordan Chunn (6-0, 235, 4.56) from Gurley, Alabama ran for an Incredible 191-Yards and a Touchdown Against a SEC Defense that was Supposed to be one of the Best in the Country. Troy also Forced Four LSU Turnovers and the surging Trojans UPSET the 25th-Ranked Tigers 24-21 on Saturday night in LSU Tiger Stadium on Homecoming Night.
At the End of the Third Quarter, there were only about 30,000 – 40,000 Fans in the Stands from the First Kickoff of 102,000. Troy State,  from The Sunbelt Conference, became the First Football Team from outside the Southeastern Conference to win at Death Valley since UAB in 2000. They Snapped the Tigers Winning Streak of 49 Straight Home Victories over Non Conference Opponents.
Chunn Rushed for 191-Yards and he also Caught 2 Passes for Six-Yards, giving him 197-Yards of All-Purpose Yards. – 197-Yards of All-Purpose Yards
6. All-Purpose Back Justice Hill (#27) – Oklahoma State
Super Quarterback Mason Rudolph kept his #15 Oklahoma State from having to worry about another missed Field Goal when he ran 16-Yards for the Go-Ahead and Winning Touchdown in the Final Two Minutes of the Game to give The Cowboys a 41-34 Victory over Texas Tech, on Saturday Night.
Rudolph (#2) was Sensational as he Completed 27 of 38 Passes for 376-Yards and Three Touchdowns and he Rushed for another 50-Yards and Two More Touchdowns, giving him 426-Yards of Total Offense and Five Touchdowns. Although Rudolph had all of these Amazing Stats; he was Not the Only Super-Star for the Cowboys.
The Top Two Favorite Wide Receivers for Rudolph all Season have been Sensational  Wide Receiver James Washington and Super Wide Receiver Marcell Ateman. In this Game, Washington Caught 9 Passes for 127-Yards and a Touchdown; while Ateman Caught 6 Passes for 114-Yards. Washington (6-0, 205, 4.32) is another NFL #1 Draft Choice and he could be the #1 Wide Receiver Selected in the 2018 NFL Draft.
One of the Reasons that Rudolph was so Successful with his Passing Game was because of the Very Successful Running Game that was led by Sophomore Running Back Justice Hill, who had a Sensational Career-High 164-Yards Rushing for the Cowboys along with a 5-Yard Touchdown Catch. Hill Caught Two Passes for 7-Yards to go with his 164-Yards Rushing, giving him 171-Yards of All-Purpose Yards.
Hill (5-10, 185, 4.33, 42.5, 4.11) of Tulsa Washington, Oklahoma was Selected as The 2016 Big-12 Newcomer of the Year; along with being Selected to The 2016 Big-12 All-Conference Second Team; when he also Rushed for 1,042-Yards in 2016. Hill also Averaged 105.9-Yards Rushing Per Game in 2016.
His 1,042-Yards Rushing as a Freshman, is the Most Ever in the Oklahoma State History. The 1,042-Yards is the Sixth Best in the History of the Big-12. It also Ranks Third Among all FBS Freshman behind the 1,062-Yards by Damarea Crockett of Missouri and the 1,057-Yards by Benny Snell of Kentucky.
Hill has Tremendous Speed, Quickness, and Agility. His Measurables with a 42.5 Vertical Jump and 4.11 Pro Shuttle 4.11 are Exceptional; plus he Ran a 10.8 in the 100-Meters. These Facts will make Hill a Top NFL Draft Choice in The 2019 or 2020 Draft as a Slot Back. – 171-Yards of All-Purpose Yards
7. Running Back Josh Adams (#33) – Notre Dame
Super-Star Running Back Josh  Adams had a Sensational Game in Leading his #22 Ranked Notre Dame Team to a 52-17 Victory over Miami (Ohio) on Saturday.
In this Game, Adams helped the Irish get-off to a Great Start Resulting in a 14-0 Irish lead in the First 3:30 Minutes of the Game. On just the second play of the Game, Adams Ran 72-Yards for a Touchdown, Marking his Fourth Rush of this Season of 60-Yards or more.
Then, only Two Series Later, Adams Raced 53-Yards for Another Touchdown to-give The Irish a 21-7 Lead. With his Second Touchdown of the Game, Adams had Carried the Football Five Times for an Amazing 151-Yards, Setting a new Career-Best for Fewest Carries to get to 100-Yards or more.
The Notre Dame Football Team (4-1) secured win #900 in School History against The Miami (Ohio) Redhawks. The Irish Offense struck early and often, Scoring 45 Points in the First Half, which marked the most Points Scored in the First Half during the Head Coach Brian Kelly Era. In addition, the 35-Point Victory was The Notre Dame Third Straight Victory of 20 or More Points for the First Time since 2005.
The Defense also played a major role in the First Quarter, Forcing Two Turnovers via The First Greer Martini Career Interception and The First Career Forced Fumble for Junior Defensive Tackle Jerry Tiller. Notre Dame Converted both Turnovers into 14 Points, first with a Brandon Wimbush One-Yard Quarterback Sneak for a Touchdown, and later by a Seven-Yard Touchdown Reception by Wide Receiver Chase Claypool.
Tiller (6-6, 310, 5.2) of Shreveport Evangel, Louisiana was also Outstanding for The Notre Dame Defense as he Recorded Three Solo Tackles, including One and a Half Quarterback Sacks and a Forced Fumble.
After the First Quarter was Over, the Irish Scored 28 Points on the Scoreboard which was the Most Points Scored in a Single Quarter since September 3, 2005. – 159-Yards Rushing
8. Offensive Center Kenny Cooper (#55) – Georgia Tech
Georgia Tech Super-Star Offensive Center Kenny Cooper has been named as the Atlantic Coast Conference Offensive Lineman of the Week, the ACC Office Announced on Monday. The Award came in Recognition of his Great Blocking Performances in the Huge Georgia Tech 33-7 Victory over North Carolina on Saturday at Bobby Dodd Stadium.
Cooper (6-3, 307, 5.2) of Calhoun Sonoraville, Georgia Anchored an Unbelievable Offensive Line that paved the way for The Georgia Tech Rushing Attack to rush for an Unbelievable 403-Yards and Score on 6-of-11 Offensive Possessions in the Victory. The Sophomore Center had a Fabulous 10 Knockdown Blocks in 76 Offensive Plays which was an Uncanny One for every 7.6 snaps.
Behind the Cooper-Led Offensive Front Five, The Yellow Jackets had an Incredible Two Offensive Backs who Rushed for 100-Yard Games, including Quarterback Taquon Marshall with 137-Yards Rushing and Running Back KirVonte Benson with 130-Yards Rushing.
Cooper was in the 2016 Recruiting Class of Georgia Tech. "I think he's one of the Best Football Players in the State of Georgia," said Sonoraville Head Coach Jim Kremer. "He is certainly one of the Best Players that I have Coached in 29 Years."
Cooper had Received more than 20 FCS Offers, but he was Still Under the Radar. He Played mostly on the Defensive Line for a AAA Team that reached the Second Round of the Playoff that Season. He is 6-foot-3 and 307 and he is particularly agile for his size.
"As a Junior, Cooper went out for the Wrestling Team for the first time, joining the team in December, and he then went on to Finish as a State Finalist in the Heavyweight Division. He moves around like a kid that weighs 150 pounds." Kremer further described Cooper as turning into a "Monster" when he sets foot on the field. "He's got an Unbelievable Motor," Kremer said. "They've got a hard, tough kid is what they've got."
Cooper was recruited by Georgia Tech Linebackers Coach,And Recruiting Coordinator, and Long-Time Friend Andy McCollum, who had been Keeping Tabs on Cooper before making him an Offer.
DEFENSE
1. Defensive End Bradley Chubb (#9) – NC State
Defensive End Bradley Chubb of North Carolina State had a Sensational Game in a 33-25 Victory over Syracuse. In this Game, Chubb of Marietta, Georgia was a Repeat MVP from Week Four MVP's.
Chubb (6-4, 275, 4.62) was Unbelievable for the Second Straight Week as he Recorded Eight Tackles, including Six Solo Tackles, Recorded 3.5 Tackles For a Loss for a Minus 24-Yards, and then Recorded Two Quarterback Sacks. If this was not enough, Chubb also Recorded Two Quarterback Hurries in the Victory.
Simply put, Chubb is a Real Beast. He Recorded Two Quarterback Sacks in a win over Syracuse a week after Recording Two quarterback Sacks in a win over Florida State and he also Did Not Show Much Respect for the Florida State Home Turf.  For the Season Chubb has 5 1/2 Quarterback Sacks. Chubb is a an Unbelievable Disruptive Beast for the Wolfpack and he will Hear his name Called Early in the NFL Draft First Round in April. – Eight Tackles, Six Solo Tackles, 3.5 Tackles for a Loss, Two Quarterback Sacks, and Two Quarterback Hurries
2. Linebacker Dorian O'Daniel (#6) – Clemson
In the Photo Above, Clemson Linebacker, Dorian O'Daniel (#6) makes an Interception Against Virginia Tech and Runs it 22-Yards for a Touchdown and Put an End to The  Hokies Comeback and Secure a 31-17 Victory for the Tigers.
In High School, O'Daniel (6-1, 220, 4.56) was an All-State Running Back and on Saturday night, he  showed why, as he Intercepted a pass and calmly glided 22-Yards for a Touchdown with 11 Minutes and 8 Seconds Left in the Game, to Help-Seal #2 Clemson to their 31-17 Victory against #12 Virginia Tech at Lane Stadium.
O'Daniel is a Fifth-Year Graduate Student from Olney, Maryland, and he Entered the 2017 Football Season with only One Career Interception. He Now has Two Career Interception Returns for a Touchdown in the Past Three Weeks.
O'Daniel Became the First Clemson Player to Return Two Interceptions for Touchdowns  in the Same Season Since 1990, when Arlington Nunn had Three Interceptions.
The O'Daniel Interception capped another strong performance by The Great Clemson Defense, which Recorded Eight Tackles for a Loss and Intercepted Two Passes by Virginia Tech Quarterback Josh Jackson, who only had One Interception before the Game.
"We knew the "Sledding" was going to be tough," Virginia Tech Head Coach Justin Fuente said. "They are Pretty Accomplished. Their Defensive Line is as good as I've seen."
Clemson, which Beat Virginia Tech 42-35 in The ACC Championship Game Last Year, and has Defeated Virginia Tech Five Straight Games dating back to the 2011 Season.  Clemson has also won its school-record 12th Consecutive road game, improved to 10-1 in Top 15 Match-ups over the last three years and has won a school-record seven consecutive games against ranked opponents. – 10 Tackles, Fumble Recovery, and Interception for Touchdown
3. Linebacker Garret Dooley (#5) – Wisconsin
The Wisconsin Defense is once again The Great Wisconsin Defense. The Badgers held Veteran Running Back Justin Jackson to an Unusually Low 25-Yards Rushing and kept The Northwestern Offense Dormant until a late scoring surge in the final Five Minutes of the Fourth Quarter.
Since the Wisconsin Badgers Switched Defenses in 2013, to The 3-4 Defense, the Outside Linebacker has been arguably its Highest-Profile Position and some of their Alumni include Joe Schobert, Vince Biegel, and TJ Watt. All of these Badgers Have Been Selected in the Last Two NFL Drafts.
Watt was Selected as the Overall 30th Selection by The Pittsburgh Steelers in 2017; and Schobert was Selected in 2016 and Biegel in 2017.
Outside Linebacker Garret Dooley had his Best Season in 2016, recording 40 Tackles and 3.5 Quarterback Sacks as the third outside linebacker behind Biegel and Watt. He Started Two Games at Michigan and Ohio State. As a Fifth-Year Senior, Dooley would have the Opportunity to Become a Real Really Great Leader as a Senior, and he has become that Great Badger Leader.
In the Northwestern Victory, Dooley had his Best Game of his Career as he Recorded Nine Tackles, including Three Solo Tackles; Three and a Half Quarterback Sacks; and Four and a Half Tackles for a Loss.
While it might be a Little Presumptuous to think that Garret Dooly could be Selected Somewhere in that Range of Watt and Biegel; after his Game on Saturday, Dooley might be able to get a Real NFL Look and its not out of the Question that he could be a late-round NFL Draft Selection and Find a Career in the NFL.
"This is our Defense," said Dooley, whose Three and a Half of the Eight Wisconsin Sacks that kept Northwestern Quarterback Clayton Thorson on "The-Run" and looking over his shoulder all Night. "I think it's similar to the last couple years. That's like we have  always been." – 9 Tackles, 3.5 Quarterback Sacks, and 3.5 Tackles for a Loss
4. Linebacker Jay Henderson (#46) – San Diego State
Super Linebacker Jay Henderson had an Unbelievable Game on Saturday for San Diego State in their 34-28 Victory over Northern Illinois.
Henderson led the Great Aztecs Defense with Six Tackles, including Five Solo Tackles, Three Quarterback Sacks, and Four Tackles for a Loss.
Henderson Played Defensive End During the 2016 Season, but moved back to Middle Linebacker before the 2017 Season Started.
The #19 Ranked San Diego Aztecs did not Especially Like Seeing Their Super-Star Running Back, Rashaad Penny, Coming-Off the Field in Pain after having his right eye gouged by a Northern Illinois Player in the Second Quarter Saturday night.
"It got us all "Fired up" said Cornerback Kameron Kelly after the Aztecs got some big plays early and then held off Northern Illinois 34-28 to Improve to 5-0 for the first time since 1975. Juan Washington Returned the Opening Kickoff 96-Yards for a Touchdown and Freshman Free Safety Tariq Thompson had Two Interceptions, including one that he Returned for an 83-Yard Touchdown.
"I just think that stuff shouldn't happen," said Penny, the Second-Leading Rusher in the Country, coming in and who was held to 107-Yards on 25 Carries for his lowest output of the season. "I thought we were all more mature than that. I bounced back. I can't thank my teammates enough. They picked me up when I was down. It was all them. It was a Great Win."
Henderson was a Super Linebacker in High School at Phelan Serrano, California where he was a Two-Time All-League Selection The Defensive MVP as a Senior. As a Senior, Henderson Recorded 57 Tackles, 5.5 Quarterback Sacks, Caused Five Fumbles, Blocked Two Punts and Recovered a Fumble. On Offense, he Caught 15 passes for 219-Yards and scored Four Touchdowns.
Both Free Safety Tariq Thompson and Linebacker Jay Henderson Led the Great Aztecs Defense. Thompson had Two Interceptions, including one that he Returned for an 83-Yard Touchdown. – Six Tackles, including Five Solo Tackles, Three Quarterback Sacks, and Four Tackles for a Loss
5. Linebacker Michael Pinckney (#56) – Miami
"Our Great Defense gave up some yards and grass between both of the 20-Yard Lines," Miami Head Coach Mark Richt said. "But when it got in the Red-Zone, we found ways to force field goals; I really thought that our Defense finished extremely well."
It also started well, too. On the Duke First Drive, they marched to within reach of the End-Zone and they had a Fourth-and-One from the Miami 13, but Sophomore Linebacker Michael Pinchney Sprinted Untouched "Right Up The Middle" on a blitz and Tackled Daniel Jones for a Possession-Ending Quarterback Sack.
Then Pinchney was Awarded the Gold Jewelry Bling midway through the Second Quarter after he made an Incredible Interception of Duke Quarterback Daniel Jones on a Tipped Pass. The Gold Bling (In Photo) made The Trip to Durham and it goes to the First Miami Hurricane Football Player to Record a Turnover.
This was the Best Game of the Year for Pinckney (6-1, 228, 4.56) of Jacksonville Raines, Florida, and he had 10 Tackles, including 5 Solo Tackles to go with his Quarterback Sack, Interception, and 1.5 Tackles For a Loss to lead the Miami Defensive Effort that included Five Quarterback Sacks of Jones in the 31-6 Victory over Duke. – Ten Tackles, including Five Solo Tackles, One Quarterback Sack, One Interception, and 1.5 Tackles For a Loss
6. Cornerback Levi Wallace (#39) – Alabama
One of the Most Intriguing and Most Exciting Recruiting Stories in the Country is the Story of Super Alabama Cornerback Levi Wallace who has Just been Selected as the SEC Defensive Player of the Week for his Outstanding Game in the Crimson Tide  66-3 Victory over a Fairly Good Ole Miss Team.
The Honor was Announced on Monday after Wallace Intercepted Two Passes against Ole Miss, including the one that he returned for a Touchdown to give Alabama an early 14-0 lead.
Through Five Early Games, Wallace (6-0, 183, 4,42) from Tucson, Arizona, who is a Red-Shirt Senior is tied for the SEC lead with Three Interceptions and is Second in the SEC with Six Pass Deflections. The Nine Total Passes Defended is tied for Seventh-Best in the Country.
"If a Quarterback wants to throw my way, that's fine," Wallace said. "I love defending, trying to go against the Best Wide Receivers they have. But I just like to be in a Great Position to make the plays."
The Wallace 35-Yard Interception Return for a Touchdown was the 60th Non Offensive Touchdown in the Head Coach Nick Saban Era and this one by Wallace is the First Non Offensive Touchdown of the 2017 Football Season. Wallace also had 66-Yards of Return Yardage on his Two Interceptions.
The Great Ole Miss Offense and their Quarterback Shea Patterson entered the Alabama Game Averaging 427-Yards Passing per Game, and Ranked Fourth in the Country, but was only able to Accumulate 165-Yards Passing and with the Two Wallace Interceptions and no Touchdown Passes, Wallace Essentially shut down his side of the field as Alabama Only Allowed 253-Yards of Total Offense.
The Most Sensational Part of This Game for Wallace was The Fact that he did not make a Single Tackle in this Game, because on Every Single Play of the Game, He was Covering one of the Top Ole Miss Wide Receivers and instead of making Tackles, he Kept Quarterback Shea Patterson from Completing Very Many Passes.
The Rebels Finished with a Passing Efficiency Rating of just 82.28 and that was almost 100 Points lower than their Season Average before entering the Alabama Game.
So How did Wallace get to Tuscaloosa from Tucson, Arizona? Wallace has gone from being a Walk-On to being a Starting Cornerback on one of the Top Teams and Top Defenses in the Country and being one of the Most Consistent Players on Defense.
Wallace did not Play in 2015, but he was Awarded a Scholarship in the Fall of 2016 and now he is one of the Best Cornerbacks in the SEC. And if he keeps this up, he could soon be in contention for some of the Postseason Honors, including The Jim Thorpe Defensive Back Award.
Only one player on The Entire Alabama Team has been named as Player of the Week and he has done it Three times already and it is Levi Wallace. – Two Interceptions and One 35-Yard Interception for a Touchdown
7. Free Safety Natrell Jamerson (#12) – Wisconsin
Free Safety Natrell Jamerson had an Unbelievable Game for Wisconsin in their 33-24 Victory over Northwestern as he Recorded Six Tackles, including 2 Solo Tackles, Two Interceptions, and a Half Sack. Then on Monday, The Big Ten Announced that Wisconsin Badgers Natrell Jamerson Earned the Big-10 Conference's Defensive Player of the Week Award for his Performance on Saturday.
One of The Jamerson Interceptions was an Electrifying Pick-Six in the Fourth Quarter that allowed Wisconsin to build a 31–10 lead. Not only did Jamerson Intercept Two Passes during The Wisconsin Victory, he took his Fourth-Quarter Interception 36-Yards for a Touchdown.
What went through the head of Jamerson, during the interception and taking it to the house?
"Have a good celebration," Jamerson said. "Just it's a great feeling, especially with a pick-six like that. Once I was in the clear, the first thing that was coming to mind was, 'I'm celebrating,' because we always talk about it in the Defensive Backs Meeting Room. Just having great return skills and got to have a good celebration, too, so that's how it was."
Through Four Games of this season, Jamerson, (6-0, 188, 4.42) of Ocala Vanguard, Florida, who just moved to Free Safety Last Spring from Wide Receiver and Cornerback, has Recorded 15 Tackles, 2.5 Tackles For a Loss, 0.5 Quarterback Sacks, 2 Interceptions, and 3 Pass Break-Ups, in this Season, before this Game.
Jamerson joins Wisconsin Quarterback Alex Horibrook and Wisconsin Running Back Jonathan Taylor as Wisconsin Players who have Received Big Ten player of the week Awards during the 2017 Season. – Six Tackles, including 2 Solo Tackles, Two Interceptions, and a Half Sack
8. Strong Safety D'Cota Dixon (#14) – Wisconsin
The Great Wisconsin Defense had Some Really Unbelievable Players this Week and Strong Safety D'Cota Dixon was Just Exceptional as Linebacker Garret Dooley and Free Safety Natrell Jamerson in Leading the Badgers to a 33-24 Victory over Northwestern.
In this Game Against Northwestern, Dixon Recorded 12 Tackles, including 7 Assists, 1.5 Quarterback Sacks, and a Safety that Sealed the Victory in the Last Few Minutes of the Game.
On Monday, Dixon (5-10, 200, 4.44) from New Smyrna Beach Oak Hill, Florida, was Selected as the Winner of the Walter Camp National Defensive Player of the Week. Dixon was the Fifth Wisconsin Player Selected by the Walter Camp Foundation as Player of the Week since 2004 and Third Wisconsin Defensive Selection since Scott Starks on October 17, 2004. – Twelve Tackles, Seven Assists, 1.5 Quarterback Sacks, and Recorded a Safety
9. Strong Safety A.J. Gray – (#5) Georgia Tech
Super Safety A.J. Gray had a Sensational Game on Saturday in Leading Georgia Tech to a 33-7 Victory over North Carolina.
As it has for the vast majority of the first month of the season, the entire defense played well. The Defensive Unit forced seven three-and-outs, including on each of the Tar Heels first three series, and limited North Carolina to Two out of Twelve on Third Downs. The Seven Points allowed were a season low, the fewest points allowed since the 38-7 thumping of Vanderbilt last September 17, and the fewest points the Jackets have given up to North Carolina since the September 26, 2009 in a a 24-7 Victory. The Seven Points also were a season-low for North Carolina and it matched the second-fewest points scored in the Tenure of One of Good Friends, Head Coach Larry Fedora.
Junior A.J.Gray (6-1, 218, 4.5) of Sandersville Washington County, Georgia was a Georgia Gatorade Player of the Year and a Parade All-American and he was not about to get Played The Fool Again on Saturday Afternoon at Bobby Dodd Stadium. Instead, he played North Carolina.
With the 48-20 Loss to The Tar Heels, from last year, still "Fresh on his Mind" and still Fizzling, Gray made a pair of Third-Quarter Interceptions that "Keyed" The Georgia Tech 33-7 Victory, a near Whitewash on Whiteout Saturday at Bobby Dodd Stadium.
"I learned from my mistake last year," said Gray, who came into the Saturday Game with Only One Interception in his Three-Year Career. "Last year they were reading me off of the run. If I came up, Quarterback Mitch Trubisky would throw the Slant behind me and if I just sat there, he would just hand it off.
This Year, I just stayed there and played off of North Carolina Quarterback Chazz Surratt. He was playing the game with me, but I was playing it with him, too."
Gray played it better, especially early in the Third Quarter, as his First Interception  allowed Georgia Tech to break The Game Open and a 10-0 Lead.
"I thought A.J. probably played as well as he has ever played," said Georgia Tech Head Coach Paul Johnson. whose Yellow Jackets Snapped a Three-Game Losing Streak against The Tar Heels. "Some of their Run-Pass stuff, Gray was Right-On-Cue with it. He stepped underneath the Slants and got a couple Picks. It was good to see him make plays, because he has got a lot of ability. Plus he made a couple nice plays in the open field on tackles. I'm proud of A.J., I thought he played well."
The 26-point Margin of Victory was also The Georgia Tech Fourth-Largest in its 53-Game All-Time Series with North Carolina and the Largest since a 31-0 win on October 5, 1985, which coincidentally was current Defensive Coordinator Ted Roof Senior Football Season with The Yellow Jackets.
It also marked a nice turnaround for a Georgia Tech Defense that had allowed 134 points in the previous three games with the Heels, all losses.
"I said on Tuesday that we were a different defense," said Senior Defensive End Antonio Simmons, who had a Huge Quarterback Sack for a Nine-Yard Loss on a Third-Down and 14-Yards to go, in the First Quarter after Georgia Tech had taken a 7-0 lead. "We are more mature, we were ready. We already knew what we were going to do so it's not a surprise to us."
The Two Interceptions by Gray did not come as a surprise to Senior Cornerback Lance Austin.
"A.J. is a Real Ball-Hawk," said Austin, who led the Yellow Jackets with a Season-High Seven Solo Tackles and added a Pass-Breakup. "He got two picks in a game. That's hard to do. Then he got them in a critical time, after the offense turned the ball over. I'm proud of A.J. and his performance today. "As a defense, we're just flying around, having fun and making plays," Austin added.
"The way the Defense is playing, we just want it," said Gray. "We play with a lot of energy. That's all there is to it. We just want to do it." Gray wanted, and got, his two picks the same way: twice closing late and cutting in front of North Carolina Wide Receivers to Snag the Two Surratt Passes.
The Yellow Jackets Snapped a Three-Game Losing Streak against The Tar Heels. A.J. Gray was Named Atlantic Coast Conference Defensive Back of the Week, it was Announced on Monday. – Four Solo Tackles and Two Interceptions
10. Strong Safety Justin Reid (#8) – Stanford
In an Unbelievable Game that Made History All Around the World for a Mind-Boggling Player on Offense; there was also a Player on Defense who was just as Mind-Boggling.
Stanford Junior Running Back Bryce Love Turned the Football World "Upside-Down" with his Record-Setting Rushing-Day. No Player in Stanford History had ever Rushed for 301-Yards and Three Touchdowns as he Set a Single-Game School Record to help the Cardinal beat Arizona State 34-24. With his 301-Yards Rushing, Love Broke The Christian McCaffrey One-Year-Old Record of 284-Yards.
Love entered the Game Leading the C0untry in Rushing and Added to his Country-Leading Total as he had Touchdown Runs of 61, 43, and 59-Yards. He now has 1,088-Yards Rushing for this Season, the Third Player since 2004 to eclipse the 1,000-Yard Rushing Mark in his First Five Games of the Season.
The Unbelievable Player on the Stanford Defense was Strong Safety Justin Reid, who led the Cardinal in Tackles with Nine, including Two Solo Tackles, One Tackle for a Loss, One Pass Breakup, and Two Interceptions.
I watched one of the Interceptions of Reid and it was an Unbelievable One, because their were at least Seven or Eight Players who Went-Up for the Interception and he Came Down with it.
After Five Games, Junior Reid was the Cardinal Leading Tackler in both the UCLA and Arizona State Games; plus he has Four Interceptions and the Country Leader has Five. Reid also has been Selected to The Chuck Bednarik Award Watch List and The Jim Thorpe Award Watch List.
In 2016, as a Sophomore, Reid (6-1, 204, 4.47, 41, 4.22) was an All Pac-12 Honorable Mention and an All-Academic Honorable Mention. He also Recorded Six Tackles in the Sun Bowl Against North Carolina.
Reid is from Gismar Dutchtown High School, Louisiana which is about 45 Minutes from my House. In 2014, I Watched Reid play Against St Amant. He was Awesome and was Selected to The All-State, All-Metro, and All-District Teams. A Few Years earlier, I watched his Brother, Eric Reid, play and he was also Awesome. Eric was an All-American at LSU and now is a Super-Star for the San Francisco 49ers.
Reid, led the Cardinal in Tackles with Nine, including Two Solo Tackles, One Tackle for a Loss, One Pass Breakup, and Two Interceptions. – Nine Tackles, One Pass Breakup, One Tackle For a Loss, and Two Interceptions