_
The LSU Derrius Guice Story is One of the Most Incredible in College Football!
By Super Scout Max Emfinger
One of the Most Incredible Running Back Stories in the History of College Football is the Story of LSU Running Back Derrius Guice. I saw him play as a Senior in High School for Baton Rouge Catholic and I thought that he was a Super-Freak, but I also knew that he Obviously was an LSU Fan.
Then when Guice (#5) Committed to LSU, who already had Two other Super Running Back Freaks in Freshman Super-Star Leonard Fournette of New Orleans St Augustine, Louisiana and another Potential Super-Star in Darrel Williams of Marrero John Ehret, Louisiana. I saw all Three Running Back Freaks Play in High School, but if they are all on the Same Team, only one of them could be the Starting Running Back.
Fournette was a Freshman Starter and he was Selected to the Freshman All-SEC Team. Then in 2015, as a Sophomore, Fournette was a Consensus First Team All-American, while Freshman Guice and Williams, hardly got any Playing-Time.
Then in 2016, and being Hailed as The Heisman Trophy Favorite, Fournette got Injured, giving Guice and Williams a Chance to become the Super "Go-To" Running Back and "The Guice" took Full Advantage of the Miracle and a Chance to Play.
Super Running Backs #5 Derrius Guice and Leonard Fournette #7 
It's Pretty Unbelievable, that a Major College Football Team could have a Heisman Trophy Candidate at the Same Running Back Position for Three Consecutive Years, but after having Leonard Fournette as a Heisman Trophy Candidate in 2015 and again in 2016, LSU will have another Heisman Trophy Running Back Candidate in Guice (#5 in Photo) in 2017. In High School, Fournette and Guice were the "Best Players" on the Football Field in Every Single Game, that they Played-In and Obviously they have been the "Best Player on the Football Field" in College.
I met Fournette after his Fabulous High School Freshman Football Season in which he Rushed for an Incredible 2,500-Yards and Scored 30 Touchdowns. Also, Fournette became the First HS Freshman Football Player to be offered a Scholarship by the LSU Tigers, and he Finished his High School Career with an Amazing 7,619-Yards Rushing and 88 Touchdowns.
After Signing with LSU, Fournette became a "Household Name" during his Freshman Season when he Rushed for 1,034-Yards and Scored 10 Touchdowns. Then in 2015, the Tigers started off with a 7-0 Record and they were Ranked in the Top 5 in the Country, with Fournette leading the way as their Heisman Trophy Candidate, as he Finished with 1,953-Yards Rushing, 23 Touchdowns, and an Incredible 162.75 Yards Per Game, in 12 Games.
Heading into the 2016 Football Season, most all of the talk was whether or not Fournette would Sit-Out to preserve himself for the 2017 NFL Draft. Unfortunately, Fournette decided to play and it was Riddled By Nagging Injuries, but an Unbelievable New Super-Star Emerged for the LSU Tigers.
And here is where one of the Most Incredible Running Back Stories in College Football Began. For the first time in the 2016 season, LSU Sophomore Super-Star Running Back Derrius Guice Showed to the College Football World who he Was and What he could do with a Football, as he was Awarded as the Walter Camp National Offensive Player of the Week Award. Guice (5-11, 212, 4.36, 36, 4.26) is the Eighth LSU Football Player since 2004 to earn this National Award, the last being Leonard Fournette in the 2015 Football Season. 
Then On Thanksgiving Night, in front of a National Television Audience against Texas A&M, Guice Finished his Sophomore Regular Season with a "Mind-Boggling" Game as he Set an LSU Single-Game School Rushing Record with an Incredible 285-Yards Rushing, as he Carried the Football an Amazing 37-Times, and Four Touchdowns, while Averaging 7.7-Yards Per Carry.
LSU Defeated the Aggies 54-39 in in a Very Loud and Very Partial Kyle Football Field with Guice Leading-The-Way, LSU was able to Accumulate an Unbelievable 622-Yards of Total Offense, in what Most Football Scouts and LSU Football Fans Believe is a Great Preview of the 2017 Football Season.
In the game against Texas A&M, Guice scored Touchdowns on runs of 45, 45, 6, and 1-Yard in the Win. Guice is now one of only Four Players in SEC History to have Multiple 250-Yard Games in a Single Season, joining Hall-Of-Fame Super Running Backs, Bo Jackson, Herschel Walker, and Moe Williams.
In the game against Texas A&M, Guice scored Touchdowns on runs of 45, 45, 6, and 1-Yard in the Win. Guice is now one of only Four Players in SEC History to have Multiple 250-Yard Games in a Single Season, joining Hall-Of-Fame Super Running Backs, Bo Jackson, Herschel Walker, and Moe Williams.
Guice Averaged 9.0-Yards Per Carry behind Fournette in the 2015 and 2016 Seasons and in 2016, he also Averaged 7.6-Yards Per Carry and 16 Touchdowns on an LSU Football Team that did not even Highlight Him as a Running Back. Guice is a Very Strong and Very Powerful Running Back and a Definite Forerunner for The Heisman Trophy Award and he will be Running Behind a Very Athletic and Very Experienced Offensive Line.
At the End of the 2016 Football Season, The New Super-Star, Derrius Guice wasn't only the best Running Back on his own LSU Football Team; but he just might have been the best Running Back in the Entire Country.
The LSU Power Running Game will again be there in 2017, but it always has been more Successful Two Super-Star Running Backs and Darrel Williams (6-1, 233, 4,52, 4.18), who is another Super-Freak Running Back who rushed for 233-Yards and Three Touchdowns in 2016 and who is "Looking Forward" to the 2017 Football Season, so he can "Break-Loose" and Show Everyone how Great he is.
In the Off-Season, LSU Potential Super-Star Running Back Darrel Williams (#28) is trying to Get-Back to his "Old Darrel Self" from his Glorious John Ehret Days. The "Old Darrel" was a Four-Star Super Two-Way Recruit who had 2,201-Yards Rushing and 30 Touchdowns in his 2014 Senior Season at John Ehret to prove that he could become a Great College Running Back and not a Linebacker as many schools, including LSU, were Recruiting Him To Play at first.
When I saw Williams Play in High School, I thought he was a Super-Freak at Running Back and in the Game I saw, he also Played Linebacker on Defense. I Remember that Williams (6-1, 232, 4.52, 4.18) Ran a 4.4 Forty in High School and was a Super Fast Running Back, who like Fournette and Guice, were the Fastest Players on the Field in Every Single Game Played. If he can get his Weight Down to the "Old Darrel" Self, he Could be Sensational Again, like at John Ehret.
Williams would Out-Run most Defenders, but he was a "Stand-Up" Beast-Runner who would Run-Over any Defender who got in his way. Some Coaches Felt that he would become a Fullback at LSU, but I think he could become a Great Running Back if he did not have Fournette and Guice in his way.
Williams had over 25 Offers, including some of the Top College Football Teams in the Country. Some of his Offers included Arizona State, Auburn, Florida, Georgia, Georgia Tech, Houston, Indiana, Kansas State, ULL, Louisiana Tech, Memphis, Mississippi State, Missouri, Nebraska, Southern Miss, Tennessee, Tulane, Utah, Vandy, and Wisconsin.
Guice will Join Wide Receiver D.J. Clark (#82) of Alexander, Louisiana and Super Senior Defensive Tackle Christian LaCouture (6-4, 301, 5.07) of Lincoln Southwest, Nebraska that will be Traveling to the SEC Media Days with Good Friend and Head Coach Ed Orgeron. Fournette, a First Round Draft Choice and #4 Overall Selection of The Jacksonville Jaguars, Appeared at the SEC Media Days in both 2015 and 2016, but Guice, along with Coach Ed Orgeron (In Photo Below With Guice), will become the Two Super-Stars at the 2017 Media Days.
Clark (6-3, 187, 4.34) from Alexander, Louisiana is also another Potential Super-Star for the LSU Tigers.  Clark is an Extremely Explosive and Speedy Wide Receiver who "Can-Score" anytime that he "Touches the Football" and he will be the LSU "Go-To" Receiver in 2017. With his Great Combination of Great Speed, Great Pass Route-Running, and Tremendous Pass-Catching Abilities makes him one of the Best Wide Receivers in the Country in College Football.
Clark is also a Very Versatile Athlete and he is the Only LSU Player in LSU History To Score on a Running Play and a Passing Play of 75-Yards or More. He Scored on an Incredible 79-Yard Touchdown Run in his "First-Career-Touch" in the 2015 Texas Bowl Victory over Texas Tech and then he Caught an 80-Yard Touchdown Pass against Southern Miss in 2016.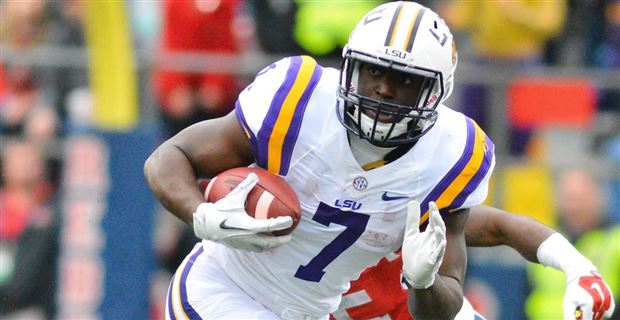 In his Career, Clark (#7) has 26 Career Receptions for 466-Yards and Three Touchdowns and has Added Another 201-Yards Rushing and Three More Touchdowns. Clark also has a Career Average of 17.1-Yards Per Touch with 39 Total Touches for 667-Yards.  In order to Completely Utilize his Versatility, Clark has just Changed his Jersey Number from #82 for the Last Two Seasons to #7 for the 2017 Season, in the Photo Above. Clark also has Averaged a Great 17.9-Yards Per Catch.