_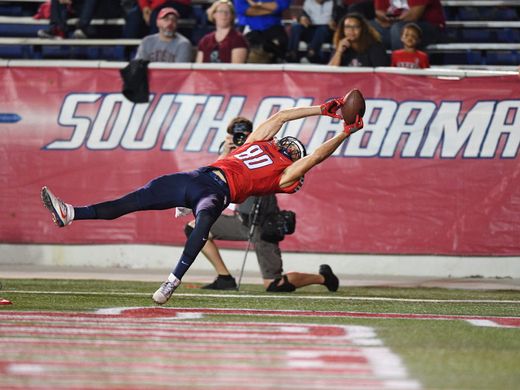 WR Kevin Kutchera was a Pass-Catching Freak at the Lestini Group Super Free Agent Combine!
2017 Lestini Group Free Agent Combine Highlights Fabulous Skill Players!
By Super Scout Max Emfinger
I was very Honored and Privileged again on Saturday and Sunday before the Annual College Football All-American Senior Bowl to be a Super Scout again at the 16th Annual Lestini Group Free Agent Super Combine in Mobile, Alabama.  Camp Director John L. Lestini Jr and his wife Mary Jo Lestini who is the Camp Coordinator  have been putting-on this Free Agent Super Combine for 16 Years and it gives Former College and Former Pro Players, who might be "Flying Under The Radar"  an excellent opportunity to show what they can do and help them to get Themselves into or back into the NFL, Canadian Football League, World League, Europe Football League, Arena Football League, or any of the New Professional Developmental Football Leagues which might be  starting play in 2017.
We had about 50 Free Agent Players who had Planned to Attend the Super Free Agent Combine, but due to the Terrible Weather Forecasts, including Rain and Tornadoes, only 30 Players were able to Participate in the Event that was Highlighted by about Ten Sensational Wide Receivers; Six Running Backs; Four Defensive Backs; and Four Linemen.
LESTINI GROUP FREE AGENT SUPER COMBINE COACHES
At the Player Seminar on Saturday Night, all of the Players were able to meet all of the Lestini Group Super Coaches and I was also able to meet a few players that I had previously written stories about and had Rated and Ranked on the National High School Football Recruiting Scene. The Great Lestini Coaches are as Follows:
Lestini Offensive and Defensive Line Coach and Pro Shuttle Instructor Coach Ron Estay
Coach Ron Estay was a former Defensive Lineman for the Edmonton Eskimos of the Canadian Football League. After graduating from Louisiana State University in 1972, Estay was Drafted by the Denver Broncos in the 8th Round of the 1972 NFL Draft. After that 1972 NFL Draft, Estay moved to Canada and played for the British Columbia Lions in 1972 and then Edmonton Eskimos from 1973 to 1982, and helped lead that team to Five Straight Canadian Grey Cup Championships from 1978 – 1982 as a key member of the "Alberta Crude" Defense. Coach Estay also played in 1983 for the Washington Federals of the USFL. Estay is also a Former Defensive Line Coach of the Saskatchewan Roughriders.
Coach Estay also was the Coordinator of the Most Important Speed Measurable in the Pro-Agility Shuttle and he did another  Amazing Job with his Pro-Shuttle Instruction as evidence that an Incredible 17 of 20 Offensive Skill Players recorded a "Mind-Boggling" 4.2 Pro-Shuttle or Better.
Another Amazing Five Wide Receivers broke a 4.1 Pro-Shuttle, including #5 WR Kevin Kutchera with an Incredible 3.93 and a 4.0; #3 WR Christopher Lewis with a 4.06 and another Incredible 3.93; #6 WR Raphael Lawson-Gayle with a 4.07; #15 Brandon James Mitchell with a 4.09; and #18 WR Bryant Lavender with a 4.0. The WR MEARS RATING Standard is Set at 4.2, so all Five Wide Receivers were given the Maximum 400 MEARS RATING Points. Lavender also did a 3.97 Shuttle in the 2015 Lestini Combine.
There were also Six Running Backs who Broke the RB Standard of 4.3 and that included #2 Dontril Johnson with a 4.13; #8 Elliott Hawkins with a 4.19; #10 Keith Brown with a 4.22; #16 Julian Ampaw with a 4.22 and a 4.16; #22 Vincent Wilson with a 4.19 and a 4.25; and #26 Derek Williams with a 4.19. All Six Running Backs Received the Maximum 400 MEARS RATING Points for the Pro-Shuttle. Brown also did a 4.22 Shuttle in the 2015 Lestini Combine.
Although the Wide Receivers, Defensive Backs, and Running Backs were the Talk of the Combine and really Stole-The-Show; there were Four Really Great-Looking Lineman Prospects.  Two Defensive Linemen, including #94 DE Tevin Kirkland with an Amazing 4.34 Shuttle and #128 DT Joshua Bloom with a 4.68, giving both Defensive Players a 400 Maximum MEARS RATING Points in the Shuttle.
I talked to "Big Bloom The Boom" (#94) on Saturday Night and again on numerous times on Sunday, but I Never realized that he was from Abilene, Texas which is about 55 Miles from where I was Born, in Brownwood, Texas. I also played in Shotwell Stadium on a Couple Occasions. Bloom is Awesome on his Highlight Film.
Kirkland (#25) is a Two-Way Super-Star on his Highlight Film, as he splits time at Defensive End and is a Really Great Pass-Catching Tight End on Offense. Kirkland ran a 4.82 Forty at the Lestini Camp to go with his his Great 4.34 Shuttle; indicating that he is much faster than a 4.82 in the Forty. On his Highlight Film, Kirkland is Running about a 4.6 Forty or better as he runs away from various Defensive Backs that are trying to Chase-Him-Down.
The other Two Lineman included #93 DT/OG Kevin Rubin and #131 OT Trevin Wallace and they were also Outstanding. I Watched all Four Lineman on their Hudl Highlight Film and all Four Linemen are Literally Incredible on their Hudl Film. I Rated and Ranked Rubin as an Offensive Guard, although he is a Super-Star on Defense, on his Hudl Film, but he Rates Higher on Offense than on Defense.
The Amazing Thing about Wallace is that he had Previously Recorded an Incredible 39-Vertical Jump and a 4.78 Forty; so I gave him his 39 Vertical Jump and then Averaged his Best Lestini Forty of 5.38 and his Previous 4.78, giving Wallace a 5.08 Forty.
When we got through with the Combine Part of the Camp, we finally realized that we only had Four Defensive Backs for our One-On-One Competition against the Wide Receivers and Running Backs, but the Amazing Thing that we quickly found out was that although none of the Four Defensive Backs had run really fast Lestini Camp Forties, none of them were slow and they all were Extremely Aggressive.
Out of the Four Defensive Backs, #13 FS J'Vontez Blackmon had Recorded a Great 4.12 Shuttle and an Outstanding 127-Inch Standing Broad Jump. In the One-On-One Drills, Blackmon was Unbelievably Impressive as he Recorded Six Outstanding Defensive Plays, including Four Pass-Breakups and Two Great Coverage Plays.
There were Two other Defensive Backs that were Impressive. One was #14 FS Tyrell Green who made Two Great Interceptions; had Two Great Pass Break-Ups; and an Unbelievable Defensive Coverage Play on Kutchera.  The other was #20 CB Laronjiv Vason who had Four Pass-Breakups and One Great Pass Interception.
Lestini Offensive and Defensive Lineman
Coach Dave Hochtritt
Coach Hochtriff is a Former Eleven-Year Professional Football Veteran Scout and Former Regional Scout of the Edmonton Eskimos. In 1986 and 1987, Coach Hochtritt was a guest coach with the Toronto Argonauts of the Canadian Football League and in 1988, he coached the Offensive and Defensive Linemen for the New York Knights of the fledgling Arena Football League. After one year as Offensive Line Coach at the University of Wisconsin-Stevens Point, Coach Hochtritt returned to Canada and in 1994, he Coached the Defensive Linemen of the Winnipeg Blue Bombers.
In 1995, Coach Hochtritt was named Defensive Line Coach and Special Teams Coach of the Ottawa Rough Riders. In 1996 and 1997, he was a Scout for both the Winnipeg Blue Bombers and the Atlanta Falcons of the National Football League. During the 1999 Season, Coach Hochtritt Scouted NFL Pre-Season training camps for the Saskatchewan Roughriders.

Coach Hochtritt assisted Coach Ron Estay in the Timing of the Pro-Shuttle in the Super Combine and he and Coach Estay really did a Great Job in helping these Great Free Agents Athletes to Record an Outstanding Pro-Agility Shuttle in one of their most important Speed Measurables in the Lestini Super Combine.
Coach Dick Adams and Coach Wes Courier, Jr both assisted with the Quarterbacks and Receivers at the Camp on Sunday.
Lestini Quarterbacks and Receivers




Coach Dick Adams
Coach Dick Adams Helped John Lestini and Mary Jo Lestini as they Founded the The Lestini Group about 16-Years ago. Coach Adams is Retired, Except for the Lestini Free Agent Combine and he is a Former Canadian Football Player who played for The Ottawa Rough Riders from 1972-1976 and was a Member of the Rough Riders Canadian Grey Cup Championship in 1976. Coach Adams Intercepted 20 Passes for 370-Yards in his Five-Year Career. Coach Adams Played his College Football at Miami of Ohio.
Lestini Training and Warm-Up and Wide Receivers




Coach Wes Courier, Jr
Before we Started the Super Combine on Sunday, Coach Courier, who is a Wisconsin "House of Speed" Super Sports Trainer, led all of the Athletes in an Incredible and Spectacular Warm-Up Workout. This Warm-Up, as I said last year, is not like any other Warm-Up that I have ever seen before. Later, Coach Courier helped Coach the Wide Receivers.
The Warm-Up, in 2017, was Very Interesting. At 10:00 A.M., the Players Started their Twenty-Minute Warm-Up, but then at 10:10, we had a Rain Storm Alert from Coach Jeff Bailey who is the South Alabama Field Coordinator and Everyone moved immediately into the nearby Field-House. Then, after about a 30-Minute wait, everyone came back to the Practice Field and then Resumed their Warm-Up.
Coach Wes Courier, Jr is the Owner of One World Sports Performance, which is Speed/Agility Company that offers Training for Athletes who compete in Every Sport. Coach Courier has over 20-Years of Experience in the Speed Training Industry and has Trained Thousands of Athletes at the Grade School, High School, College, and Professional Levels. Coach Courier has also Coached Football and Track at Big Foot High School in Wisconsin for the Last 16-Years.
Offensive and Defensive Line Coach and Official Timer




Coach Andy Bryson
Coach Andy Bryson Joined the Military a Week after his High School Graduation so he could get his G.I. Bill and Earn a College Edcuation. Then, after the 9-11 Attack on our Country, Coach Bryson put his "Dreams-On-Hold" and Re-Enlisted for another Four Years for his Country.
Coach Andy Bryson was one of the Official Timers in the Lestini Free Agent Super Combine and he also Helped the other Coaches after the Timings. Coach Bryson has Coached High School, College Football, and Semi-Pro Football. Coach Bryson has also Coached Two-Years in the Max Emfinger All-American Bowl Game Classic and he was a Guest Coach for the Hamilton Tigercats in the Canadian Football League.
Coach Bryson was also a Graduate Assistant at Louisiana State University under Athletic Director and Former Recruiting Coordinator Sam Nader. More recently, Coach Bryson Founded a Company called The Louisiana Gridiron Football Magazine which gets a Million Hits a Day on Facebook.
Coach Bryson has just Finished Coaching the Defensive Linemen for the New Orleans Crescent City Kings in the Developmental Pro Football League.
Linebacker Coach and Official Assistant Shuttle Timer




Coach Keith Washington 
In the Fall of 1991, there was a Super-Star Linebacker in Alabama at Montgomery Lee and I Rated him as the Top High School Linebacker in the South and I also had him on my 1991 Pre-Season All-American Team. His Name was Keith Washington and on National Day in 1992, The University of Alabama Placed Washington at Hines Community College. Then after making Junior College All-America, Washington turned down Offers from Alabama, LSU, and the Rest of the SEC and he Signed with Louisiana Tech, where he Earned Lindy's Top All-American Defensive End for the NFL.
Washington spent time in the NFL with the St Louis Rams and the Chicago Bears; and then Overseas with NFL Europe and in Spain with the Barcelona Dragons for Two Years. After his Pro Career, Coach Washington has been Running High School Training Camps and High School 7on7 National Championships.
One of the Most Exciting Things that happened to me on Saturday Night was to get to meet Coach Keith Washington when we were Meeting and Greeting all of the Players and Coaches. What is Really Amazing, is that I really do Remember him from 1991. In Assisting Coach Estay in Timing the Shuttle, Coach Washington Really did a Great Job. I can Remember that Coach Washington had a 3.93 or 3.94 on both Kevin Kutchera and Christopher Lewis, just as I did. Coach Washington also Recommended a Few Lestini Players to get to the Combine.
It is Pretty Obvious that Coach Washington and I will be getting together again and real soon. He has a few 7on7 Camps already Planned for the Spring and we will also be involved with some other Super Elite Combines. Coach Washington will also be on our All-American Bowl Game Coaching Staff.
All of these Lestini Group Coaches have helped John and Mary Jo Lestini to make this Super Free Agents Combine, the Greatest and Most Impressive Free Agents Super Combine that there is, in the Country, for all of these 16 Years.
I would still have to say that the most exciting part for me as a Super Scout is to see all of these great athletes in action and "Showing Their Stuff" on Sunday in front of all of the Coaches and Scouts from various Professional Teams and Professional  Leagues. There were at Least Five or Six Canadian Professional Teams at the Super Combine and Super Workout on Sunday.
There also was one Super Scout there on Sunday that walked 12.6 Miles before he got into his Jeep Commander and headed home after the Super Combine. That same Super Scout did 10.4 Miles on one Friday Night in the Fall in Scouting Various High School Football Players. I wonder how many Scouts would do this every week?
THE MEARS RATING SYSTEM



When I was with the Dallas Cowboys in 1975-77, we had a Rating System and when I left the Cowboys in 1977, I developed a similar Rating System that we had used in the 1977 NFL Draft. This was the Tony Dorsett Draft and we used this Rating System to conclude that Dorsett was The Cowboys #1 Player in the 1977 NFL Draft.
Although I developed this Rating System, when I left the Cowboys, I shelved my System until 2001, when NIKE Sports developed a similar Rating System and called it the SPARQ RATING SYSTEM. I then decided to bring back my Rating System and I called it the MAX EMFINGER ASSET RATING SYSTEM or MEARS RATING.
ASSET stands for Agility, Strength, Stamina, Explosiveness, and Technique. These are the essential tools for a superior athletic performance in any competitive Sport or Event. This new MEARS RATING SYSTEM or a similar rating system, identifies overall Athletic Ability, and it can be used by Top College and Pro Coaches around the country as an initial indicator of the athletic potential of an athlete on the football field.
Whether you are a College Football Coach and you only have one scholarship left to give in your current recruiting class or you are an NFL Team and you only have one Draft Choice left on your current NFL Draft Board, there needs to be a Rating System that you can go to and based on the highest rated player, would give you the very best player available irregardless of position.
By 2001, all of the other Recruiting Services were using the Five-Star Rating System Method which does not Measure anything. One year, at the start of the Spring, there were 45 Wide Receivers that were Rated a Four-Star. We went to bed one night and the next morning there were only 25. Someone had decided that there could only be 25 Four-Star Wide Receivers and had demoted 20 of them to a Three-Star.
My MEARS RATING SYSTEM or a similar type rating system is very important for the NFL Scouts, and the NFL Scouting Combine is the first time that "Accurate Numbers" are recorded on these players. It's easy to say someone can run a 4.4 or a 4.3 in the Forty, but before an Accurate Hand-Held Timing by a Professional Scout or either by a slower, but Accurate Laser Timing is done, most Forty times are less than Accurate. Technique is also very important and that is why College Football Players entering the NFL Draft will hire a Sports Trainer to train and teach them how to do a Vertical Jump, Pro-Agility Shuttle, and a Standing Broad Jump.
In this Super Combine, The Lestini Group Coaches Tested all of these Free Agents with Two Speed Measurables, including the Forty and Pro-Agility Shuttle; plus the Standing Broad Jump.
You can get a very good idea about a High School Football Player if he participates in a Legitimate Super Football Combine, but many High School Football Players do not get a chance to participate in Super Combines. If a High School Football Player is being recruited by 40 D-1 Schools, then you have to assume that he is an outstanding Football Player, but how can you give this player a MEARS RATING if he does not have Valid Measurables? The answer is Very Simple! You either have to make-up or approximate his Measurables based upon his Game Film Evaluation or Actual Game Evaluation, giving him the Maximum Points on most of his  Measurables for his position.
Most High School and College Football Players don't even know what their Measurables are and you would think that they would, but they don't. Many times, a High School or College Football Player will list his best Forty Time as a 4.8 and then twenty minutes later run a 4.6 or better. Also, you must keep in mind that with a little instruction and training, most High School and College Football players can improve on their Speed Measurables by Two and Three Tenth of a Second and can improve on their Distance Measurables by as much as Six to Eight Inches.
In the 2013 NFL Draft, there were 21 Players that Reached the 2,400 GOLD CHIP MEARS RATING Plateau, but then in the 2016 NFL Draft, there were Fifty-Two Players that reached the 2,400 GOLD-CHIP MEARS RATING Plateau. This Proves that Players are Always Continuing to get Bigger, Stronger, and Faster.
Kevin Kutchera and Brandon James Mitchell did not Become Super Gold-Chip Players without some Incredible Speed and Agility Measurables. I have been in Scouting for a Few Decades and I have NEVER seen a Player do what Kutchera did at the Lestini Combine. On his 3.93 Shuttle, Kutchera used only "Two-Steps" on his Final Five-Yards, so I asked him about it and he said that in High School, he had been a Great Hurdler and he just Treated the Last Five-Yards as he did in his Hurdles.
Mitchell was also Incredible as he Recorded an Unbelievable 135-Inch Standing Broad Jump to go with his Amazing 4.38 in the Forty. Both Kutchera and Mitchell are Big Wide Receivers and they are both Great Physical Specimens and they Really "Stood-Out" on the Football Field as I came "On-To" the Field and I Timed both of them. I had a 3.93 Shuttle for Kutchera and a 4.38 Forty for Mitchell.
2017 16TH ANNUAL LESTINI FREE AGENT SUPER COMBINE
SUPER GOLD-CHIP MEARS RATINGS
1 WR Kevin Kutchera         6-3 208 4.56 40 3.93 118 South Alabama, AL 2,511 MEARS
2 WR Brandon James Mitchell 6-3 200 4.38 39 4.2 135 Otterbein, OH 2,505 MEARS
GOLD-CHIP MEARS RATING
1 DT Joshua Bloom   6-3 315 5.22 32 4.68 101 Abilene Christian, TX 2,435 MEARS
2 RB Dontril Johnson 6-0 195 4.49 38 4.13 125 Hanover Rhinos, PA 2,420 MEARS
3 DE Tevin Kirkland           6-1 265 4.72 32 4.34 111 Florida Tech, FL 2,415 MEARS
4 FS J'Vontez Blackmon   6-0 208 4.5 38 4.12 127 Tenn Martin, TN 2,410 MEARS
5 SLOT Qudarius Ford  5-9 173 4.31 38 4.13 125 South Alabama, AL 2,405 MEARS
6 WR Bryant Lavender   6-0 185 4.2 40 4.0 122 South Alabama, AL 2,400 MEARS
BLUE-CHIP MEARS RATINGS
1 OG Kevin Rubin 6-3 305 5.12 28 4.65 102 SW Minnesota State, MN 2,360 MEARS
2 OT Tevin Wallace    6-6 315 5.08 39 4.91 104 Mississippi Val St, MS 2,360 MEARS
3 RB Elliott Hawkins 5-10 220 4.53 36 4.19 116 Missouri Val Col, MO 2,340 MEARS
4 WR Dwiuan White             6-2 205 4.5 38 4.3 120 West Alabama, AL 2,340 MEARS
5 SLOT Kenneth Dabney 5-7 180 4.48 36 4.26 117 Crescent Kings, LA 2,335 MEARS
6 WR Raphy Lawson-Gayle 5-10 175 4.38 38 4.0 123 SW MN St, MN 2,325 MEARS
7 WR Christopher Lewis 5-9 185 4.44 40 3.93 113 South Alabama, AL 2,325 MEARS
8 RB Keith Brown        5-8 200 4.6 36 4.22 118 Crescent City Kings, LA 2,320 MEARS
9 CB Laronjiv Vason  5-10 185 4.52 38 4.1 123 Univ West Georgia, GA 2,320 MEARS
10 WR Tiko Henderson        5-9 193 4.55 38 4.2 117 Concord Univ, VA 2,311 MEARS 
RED-CHIP MEARS RATINGS
1 FS Tyrell Green        5-11 195 4.56 38 4.37 116 Southeastern Univ, FL 2,280 MEARS
2 RB Julian Ampaw     6-0 220 4.66 36 4.16 117 University of Waldorft 2,275 MEARS
3 QB Derek Williams 5-11 205 4.8 34 4.19 119 Crescent City Kings, LA 2,275 MEARS
4 CB Andy Holmes   5-9 185 4.56 38 4.31 118 Marshall University, NC 2,260 MEARS
5 TE Jamal Reece   6-2 220 4.68 36 4.59 114 E Central University, OK 2,250 MEARS
6 QB Quincy Durgin     6-2 215 4.85 32 4.65 108 Pritchett Falcons, AL 2,210 MEARS
GREEN-CHIP MEARS RATINGS
1 RB Reginal Scott        5-9 220 4.82 34 4.37 112 Hammond Vipors, LA 2,190 MEARS
2 SLOT Vincent Wilson          5-8 175 4.62 36 4.19 114 Franklinton, LA 2,160 MEARS
3 WR Kenneth Heard      5-10 175 4.87 36 4.21 110 Fort Range CC, CO 2,000 MEARS
4 SLOT Demetrius Theophile 5-5 170 5.06 38 4.29 97 Belhaven Univ 2,000 MEARS
5 TE Davion Shelton     6-2 225 5.03 34 4.5 108 SW Minnesota St, MN 1,980 MEARS
6 NG Ofa Hautau                 6-1 345 5.75 22 5.41 79 Belhaven University 1,940 MEARS
THIS IS NOT THE FIRST

GOLD

,

BLUE

,

RED

,

 

AND

 

GREEN




RATING SYSTEM!
GOLD

 

=

NFL All-Pro Player or Super Prospect


BLUE

=

NFL Future Pro or Great Potential Prospect


RED

= NFL Average Player or Prospect


GREEN

= NFL Rookie or Below Average Prospect
About Forty Years Ago, in 1975, when I was a Talent Scout with the Dallas Cowboys, my Boss, Gil Brandt, invited me to Follow him down the hallway where we went into a Conference Room where Head Football Coach Tom Landry and Defensive Coordinator Ernie Stautner were waiting to Talk  to me.  "Max, we want you To Coordinate a Dallas Cowboys Team Project for us, said Coach Landry. "We want you To Coordinate the Rating and Ranking of e "very Active NFL Player and then Color-Code every player in the NFL as to their Rating and Ranking."
NOTE: A huge"Flip-Chart" was developed with each NFL Team. Then, a Color-Coded Business-Card with Name, Height, Weight, and Forty for each NFL Player placed in the "Flip-Chart" sleeve for each position on the football field for both the Teams on Offense and Defense of each NFL Team. The Late Legendary Head Coach Tom Landry and The Late Legendary Defensive Coordinator Ernie Stautner used this First Color-Coded Rating System as info in their weekly Scouting Report in preparation for their next game of the Season. In 1975, there were 28 NFL Teams and each Team had around 60 Players; so I evaluated around 1,700 Players. It took me about three weeks, but the Flip-Chart was ready before The Fourth Game Against the New York Giants.
My job with the Dallas Cowboys was to Evaluate, Rate, and Rank College Football Players for the NFL Draft. My boss, Gil Brandt, also asked me to Evaluate, Rate, and Rank all of the Top Texas High School Football Players for the 1976 Football Recruiting Season and I made a Texas Top 100 Recruiting List to give to all of the College Football Coaches.
Then when Coach Landry asked me to Evaluate, Rate, Rank, and Color-Code Every Football Player in the NFL, I was probably the First and Last Talent Scout on the Planet who was asked to Evaluate High School, College, and Professional NFL Football Players in the same Football Season. After finishing this Dallas Cowboys Scouting Project, Coach Landry and Coach Stautner gave me the Title of Super Scout: "Coach Stautner, I think we have us a Real Super Scout!"
Top Rusher and Scorer, Texas Football State Champs, 1960, Brownwood, TX
State Meet High Point Man, Texas Track State Champs, 1961, Brownwood, TX
Top Rusher, Freshman All-SWC Team, Baylor University, 1962, Waco, TX
VP, Baylor A Cappella Choir Performing In Carnegie Hall, 1967, New York, NY
Player/Coach, All-GreaterNavy Pacific Football Champs, 1967, Toyyo, Japan
All-Greater Navy Vollyball Champs, 1968, Honolulu, Hawaii
Recruiting Coordinator, North Texas, 1972-73, Denton, TX
Football Super Scout, Dallas Cowboys, 1975-77, Dallas, TX
Founder of MEARS PLAYER RATING SYSTEM, 1977, Dallas, TX
Founder of First HS Football Recruiting Service, 1979, Houston, TX
Founder of First Super Select Baseball Team, 1990, Houston, TX
Founder of First 7on7 National Championship, 2001, Houston, TX
Founder of HS All-American Bowl Game, 2005, Shreveport, LA
Founder of Super Elite Top Gun Combine, 2007, Honolulu, HI
Super Scout, Lestini Free Agent Combine, 2013, Mobile, AL
2016 TOP FIFTY NFL SUPER GOLD AND GOLD-CHIP RATINGS PLAYERS
IN 2016 NFL DRAFT!
By Super Scout Max Emfinger
SCOUTING NOTE I : If the Player did run two Forties at the NFL Scouting Combine, I averaged both of those Two Forties with their best Forty on Record. If they did not run the Forty at the Combine, I averaged both of his best two Forties on Record.
SCOUTING NOTE II: All Measurables that were Improved at Pro Day were Listed in Blue and with his NEW MEARS RATING, the Player will be moved up with  his NEW MEARS RATING.
SCOUTING NOTE III: Pro Day = PD
SPECIAL NOTE IV: The 2016 NFL Draft Class might be one of the Most Incredible and Most Talented Classes in Recent Years. Out of the Top 35 Players, there are at least Five Players, and maybe Six Players including FS Jalen Ramsey, OLB Myles Jack, OT Laremy Tunsil, DE Joey Bosa, DE DeForest Buckner, and possibly RB's Ezekiel Elliott or Derrick Henry who could be the First Selection in the 2016 Draft. With some NFL Teams Trading Players to "Move-Up" with a Higher #1 Draft Selection, and maybe get the #1 Selection, there were another Two Players who had a chance to be a #1 Selection, including QB's Carson Wentz and Jared Goff.
SPECIAL NOTE V: Each Lestini Combine Player Needs to Compare his MEARS RATING With the 2016 NFL Players and see where he Needs to Improve on his Measurable to get a Higher MEARS RATING.
1 FS Jalen Ramsey              6-1 209 4.35 41.5 4.18 135 14 Florida State 2,525 MEARS
2 OLB Myles Jack                     6-1 245 4.44 40 4.32 124 19 UCLA PD 2,520 MEARS
3 OT Laremy Tunsil          6-5 310 5.07 28.5 4.8 111 34 Ole Miss PD 2,515 MEARS
4 RB Ezekiel Elliott                 6-0 225 4.42 32.5 4.3 118 25 Ohio State 2,510 MEARS
5 RB Derrick Henry                  6-3 247 4.53 37 4.38 130 22 Alabama 2,504 MEARS
6 DE Joey Bosa                  6-5 269 4.72 32 4.3 121 28 Ohio State PD 2,498 MEARS
7 OT Jason Spriggs          6-6 301 4.97 35 4.44 115 31 Indiana PD 2,517 MEARS
8 OLB Darron Lee           6-1 232 4.42 35.5 4.2 133 17 Ohio State PD 2,489 MEARS
9 NG Sheldon Rankins         6-1 299 4.91 34.5 4.59 118 28 Louisville 2,488 MEARS
10 QB Carson Wentz   6-5 237 4.77 30.5 NA 110 NA North Dakota St 2,485 MEARS
11 QB Jared Goff                         6-4 215 4.78 27 NA 110 NA California 2,484 MEARS
12 OLB Leonard Floyd              6-6 244 4.56 39.5 4.3 127 NA Georgia 2,483 MEARS
13 NG Andrew Billings        6-1 311 4.92 27.5 4.78 113 31 Baylor PD 2,477 MEARS
14 DE DeForest Buckner      6-7 291 4.98 32 4.47 116 21 PD Oregon 2,472 MEARS
15 WR Corey Coleman        5-11 194 4.33 42 3.94 128 17 Baylor PD 2,468 MEARS
16 DT Robert Nkemdiche          6-3 294 4.82 35 4.6 116 28 Ole Miss 2,468 MEARS
17 CB Vernon Hargreaves     5-10 204 4.42 39 3.98 130 15 Florida 2,466 MEARS
18 RB Darius Jackson     6-1 220 4.36 41 4.27 133 20 E Mich PD 2,465 MEARS
19 OT Jack Conklin        6-6 308 4.95 30 4.57 103 25 Michigan State 2,461 MEARS
20 DE Shaq Lawson           6-3 269 4.6 33 4.21 120 NA Clemson PD 2,458 MEARS
21 WR Laquon Treadwell 6-2 221 4.52 33.5 4.3 117 12 OleMiss PD 2,457 MEARS
22 OT Ronnie Stanley 6-6 312 5.13 30 4.69 106 24 NotreDame PD 2,454 MEARS
23 OC Ryan Kelly                        6-4 311 4.91 30 4.59 103 26 Alabama 2,447 MEARS
24 OT Taylor Decker       6-7 310 5.14 29 4.76 101 22 Ohio State PD 2,446 MEARS
25 WR Josh Doctson                        6-2 202 4.43 41 4.08 131 14 TCU 2,445 MEARS
26 QB Paxton Lynch                     6-7 244 4.79 36 4.26 118 Memphis 2,428 MEARS
27 CB Eli Apple                6-1 199 4.37 38 4.08 128 13 Ohio State PD 2,428 MEARS
28 OG Connor McGovern      6-4 306 4.98 33 4.65 109 33 Missouri 2,427 MEARS
29 SS Kentrell Brice      5-11 200 4.43 42 4.3 133 21 La Tech PD 2,425 MEARS
30 DT Ashawn Robinson         6-4 307 5.1 26 4.74 106 22 Alabama 2,424 MEARS
31 DT Vernon Butler   6-4 323 5.05 33.5 4.76 111 26 LA Tech PD 2,423 MEARS
32 OLB Kamalei Correa 6-3 248 4.62 34 4.15 117 21 BoiseSt PD  2,423 MEARS
33 RB Daniel Lasco            6-0 209 4.43 41.5 4.26 135 23 California 2,423 MEARS
34 SS Clay Fejedelem  6-0 204 4.5 40.5 4.3 121 20 Illinois PD  2,423 MEARS
35 DT Chris Jones         6-6 310 4.83 29.5 4.62 106 26 Miss St PD 2,420 MEARS
36 ILB Elandon Roberts  5-11 235 4.53 37 4.26 120 25 UH PD 2,418 MEARS
37 OLB Deion Jones           6-1 222 4.38 35.5 4.16 120 18 LSU PD 2,417 MEARS
38 DE Shilique Calhoun     6-4 251 4.76 35 4.25 115 23 Mich State 2,417 MEARS
39 OG Connor McGovern    6-4 306 4.99 33 4.65 109 33 Missouri 2,417 MEARS
40 DT Jarran Reed                 6-3 307 5.07 31 4.75 110 NA Alabama 2,414 MEARS
41 OT Germain Ifedi      6 -6 324 5.21 32.5 4.74 109 24 Texas A&M 2,413 MEARS
42 DT Javon Hargrave  6-1 309 4.83 34.5 4.7 109 29 S Carolina St 2,413 MEARS
43 CB William Jackson               6-0 189 4.3 38 4.2 116 10 Houston 2,413 MEARS
44 CB Sean Davis     6-1 201 4.41 37.5 3.97 126 21 Maryland PD 2,412 MEARS
45 DT Kenny Clark                    6-3 314 5.01 28.5 4.62 102 29 UCLA 2,408 MEARS
46 TE Hunter Henry         6-5 250 4.66 31.5 4.41 113 21 Ark PD 2,405 MEARS
47 DT Kevin Dodd        6-5 277 4.8 30.5 4.44 110 22 Clemson PD 2,404 MEARS
48 ILB Reggie Ragland       6-1 247 4.62 31.5 4.28 116 NA Alabama 2,404 MEARS
49 OC Nick Martin               6-4 299 5.14 28 4.72 97 28 Notre Dame 2,403 MEARS
50 DT Jonathan Bullard           6-3 285 4.86 32 4.56 116 23 Florida 2,400 MEARS
_