–



WE STILL MUST GET GREAT DROPBACK PASSING QUARTERBACKS!
In our last All-American Bowl Game Story, I stressed that in order to have a Great All-American Bowl Game, we have got to have a lot of Great Players, but even if we have a lot of Great Skill Players; the most important Position is to have Great Dropback Passing Quarterbacks. If  our All-American Quarterbacks are Great Passers and can get the Football to our All-American Wide Receivers and All-American Running Backs; we can and will have a Fabulous 13th Annual 2017 All-American Bowl Game.
In our 2015 All-American Bowl Game, we had three Dropback Passers on both teams, on the Big Board, before we got to the Acadiana Hotel, but then only one of them showed-up at practice for both Teams. The Great News was that we still had one Great Passing Quarterback for both Teams and the East Team Won 31-28 in one of our Most Exciting Games Ever and everyone on Offense on both teams was Extremely Happy.
So this brings us to our Latest 2016 All-American Bowl Game in what became one of the Most Incredible Defensive Games that I have ever seen or even heard of; but you need to know the Facts behind why it was such a Great Defensive Game.
At our First Practice on Wednesday, The East Team had Three Athletic Quarterbacks, but Two of the West Team Dropback Quarterbacks did not show-up or call us to let us know they was not coming, leaving Head Coach John Fourcade with only one Quarterback. Then just before we went to Practice on Thursday Morning, QB Aaron Feazelle of Kiln Hancoack County, Mississippi showed-up and joined QB Daron Williams of Napoleonville Assumption, Louisiana on the West Team and the West Team had Two Passing Quarterbacks.
During the week of Practice, I made Friends with East Team Defensive Tackle Mark Spicer of Covington St Paul. Then on Friday Night, Spicer and Two of his Defensive Teammates came-up to me at me at my Big Board in the Lobby of the Hampton Inn Hotel. "Mr. Max, who has the best team and who do you think will win on Saturday," Spicer asked.
"Both Teams are Outstanding with Incredible Talent, but the Key to Victory is how the Quarterbacks do in the Game. The East Team has Three Great Athletic Quarterbacks. If they can not pass, they might be able to run, but if they can not get the Football to any of their Great Wide Receivers and Running Backs, then they are not going to be successful, which is the Key to an East Victory. If you and your East Defensive Players can not put pressure on the Two West Team Quarterbacks, it could be the Key for a West Team Victory."
13th Annual 2017 All-American Bowl Game – December 31, 2016




Strawberry Stadium – Southeastern University – Hammond, Louisiana 
At the Start of the 2016 Game All-American Bowl Game, it was Obvious that the West Defensive Ends, including Jahaziel Lee and Cordell Jones of Ponchatoula, Louisiana and Carlos Chester, Jr of Manor, Texas were not going to be able to be blocked by anyone and they were going to play Havoc with the East Team Quarterbacks and their Offensive Blockers. Linebackers Adrian Hunter of Manor, Texas and Tanner Wiggins of Central Catholic, Louisiana had Six Tackles. Hunter had a Tackle for a Loss; while Wiggins had Two Pass Breakups with one resulting in an Interception.
With the Fabulous West Team Defensive Ends putting-on an Incredible Pass Rush, the East Team Quarterbacks were having a hard time getting the football off, giving the West Team Secondary a chance to be Super-Stars. On two straight plays, in the second quarter, Juwan Johnson of Port Allen made two Bone-Crunching Tackles and a Pass Breakup. His Port Allen Teammate Kevin Ransom had two tackles and caused a fumble that Tre'Veon Epps, of Southern Lab, picked-up the Football and ran Six-Yards down to the 28-Yard Line, to give the West Team Great Field Position.
WEST TEAM DEFENSIVE STATS
DE Jahaziel Lee – 12 Tackles, 5 Solo, 3 TFL, 2 Sacks, 2 QB Hurries
DE Carlos Chester, Jr – 9 Tackles, 5 Solo, 2.5 Sacks
DE Cordell Jones – 8 Tackles, 3 Solo, 2 TFL, 1 Sack, 2 QB Hurries
FS Kevin Ransom – 8 Tackles, 2 TFL, 2 Pass Breakups, 1 FF
LB Tanner Wiggins – 6 Tackles, 2 Pass Breakups
LB Adrian Hunter – 6 Tackles, 1 TFL
CB Juwan Johnson – 6 Tackles, 2 Pass Breakups
EAST TEAM QUARTERBACK STATS
One Quarterback – Completed 3 of 10 For 16-Yards
One Quarterback – Completed 1 of 1 For Minus Six-Yards
One Quarterback – Completed 3 of 5 For Minus Nine-Yards
As you can see! The 2016 West Team took full advantage of the East Team and their inability to Pass the Football as they Recorded only One-Yard Passing. Also, Three All-American Wide Receivers, Calif Gossett of Pensacola, FL; while Hunter Campbell and Zachary Catoe of Lugoff-Elgin, SC, were not able to catch a pass.
INCREDIBLE DEFENSIVE PLAYERS FOUND FOR 2017 ALL-AMERICAN BOWL GAME!
Two of the Best Linebackers in the South are on the same Covington St Paul, Louisiana Team. On their HUDL Highlight Film, MLB Josh Tourelle (6-3, 235, 4.6) and DE/LB Hayden Ocman (6-4, 230, 4.56, 36) are Unbelievable Tackling Machines. These two Defensive Players can not and refuse to be blocked. Both Players do not realize how Great they are and they both are much Faster and Quicker than they list on their Player Form.
I watched these Two Players play twice in 2015 and they were Outstanding in both games. In the 5A Louisiana State Semi-Finals Game against John Curtis, Tourelle (#31 in Photo) was "Flat-Out" Incredible as he Recorded 17 Tackles including 5 Tackles for a Loss; one Sack, and caused one Fumble; but John Curtis won 37-30.
Ocman (#46) is one of the Most Aggressive, Most Relentless, and Quickest Defensive Ends that I have seen in a few years. He says that he runs a 4.6 Forty, but I think that he is probably faster than that and he is also much Quicker than most Defensive Ends. In the St Paul Opening Game in 2015 against Edna Karr, Ocman Recorded 3 1/2 Sacks to go with his 15 Tackles. Ocman plays Strong Defensive End, and of course, after that Initial Game, every team tried to run away from him.
Two other Fabulous Defensive Players are on a Louisiana Football Team in the Same District with Covington St Paul and that is at nearby Hammond. OLB Davion May (6-3, 226, 4.56, 36, 4.4, 118, 25) and DE Chris Turner (6-4, 225, 4.61, 38, 4.41, 30) are Defensive Freaks at Hammond with a Multitude of Scholarship Offers.
SIDE NOTE: My Son Eric went to both Hammond and St Paul High School. Eric was All-District Baseball for Hammond in 1997 and 1998 and he also played Football for Hammond in 1998. He then Transferred to St Paul in the Fall of 1998 and was All-State on their 4A Baseball State Championship in the Spring of 1999. Eric actually got the Winning "Walk-Off" Hit, against Baton Rouge Woodlawn, in the Bottom of the Seventh Inning, to Win the State Baseball Championship. In the 2007 All-American Bowl Game, Eric bought Two Meals for the Players.
Davion May is a Great Defensive Playmaker who recorded 38 Solo Tackles and 12 Quarterback Sacks as a Junior. He also caused three fumbles and recovered four fumbles. College Scouts love May (#96 In Photo Below) for his Versatility and Ability to play a lot of Different Positions, including either Quick Defensive End or either Outside or Inside Linebacker.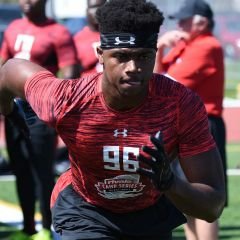 May has Received around 12 Scholarship Offers, including Offers from Kansas State, Louisiana Tech, Southern Miss, ULL, Troy, McNeese, Stephen F. Austin, Southern, Southeastern Louisiana, and Colorado State.
His Defensive End Teammate at Hammond is Super-Freak Chris Turner. Let's see just why he is a Super-Freak! There are not too many Defensive Ends in America at any Level that can Bench Press 350-Pounds and do an Eye-Popping 500-Pound Squat, but Chris Turner can, and on top of that, he has a 38-Inch Vertical Jump to his Credit to go along with a Pro-Shuttle in the 4.3-Seconds Area.
Chris Turner (In Photo Above) has about 16 Scholarship Offers. His Offers include Missouri, Louisiana Tech, ULL, ULM, Tulane, McNeese, Nicholls, Troy, Southern Illinois, UTSA, Southeastern Louisiana, Samford, Jackson State, Ball State, Stephen F. Austin, and Southern.
Another Incredible Defensive Lineman that I have Found is Versatile Defensive End and Nose Guard Reggie Boseman of Beaumont Central in Texas. He actually was Selected as the Newcomer of the Year, in District 22-5A, as a Junior, but he is not getting hardly any Recruiting Publicity by any of the So-Called Recruiting Services.
Boseman (#42 in Photo) might be one of the Most Impressive Defensive Lineman in the Country with Absolutely No Publicity and No Recruiting Stories. He is Unbelievable on his Hudl Highlight Film. Normally, I will watch a few plays on a Super-Star Hudl Highlight Film, but for Boseman it was different. On his #1 Play, he grabbed a Mid-Air Fumble and raced about 20-Yards for a Touchdown. Then on Play #2, he tackled the Quarterback for a 10-Yard Loss. And then on Play #3, he caused a fumble that a teammate picked up and ran a few yards.
These Highlight Plays were Impressive, and I would normally describe him as a Three-Click Player, but I decided to watch a few more plays. On Play #4 and Play #5 were tackles for a No-Gain; Play #6 he made the tackle for a Six-Yard Loss; Play #7 for a Four-Yard Loss; and finally on Play #8, he made a tackle for a Two-Yard Loss.
Then I happened on to another Super-Freak in Meridian Mississippi named Jaiqavius Bell and he plays Defensive End and Tight End.
I watched the First Five Plays for Bell (#88 in Photo) and I had seen enough. On Play #1, at Tight End, he caught a 20-Yard Touchdown; on Play #2, at Defensive End, he tackled the Quarterback for a 10-Yard Loss; he caused a Fumble on Play #3; had a 5-Yard Loss on Play #4; and then finished with Three Straight Quarterback Hurries, causing Incomplete Passes. Bell also recorded a 405-Pound Squat.
While watching Bell on his Hudl Film, I also found another Meridian Teammate named Eric Young (6-2, 200, 4.56, 36, 4.4, 20) who plays Outside Linebacker. No Recruiting Services have listed Young in their List of Mississippi College Football Recruits, but On his First Five Plays, Young was in on the play for a No-Gain.
On his Hudl Highlight Film, Young demonstrated a Great Work Ethic as he tried to make every single tackle from Sideline to Sideline. He is probably better suited to play OLB at the next level, but he is really very strong for his size with a 325-Pound Bench Press and a 445-Pound Squat to his credit.  I also found out that Eric Young was Selected as the 2016 Meridian High School Most Handsome.
There has been at least one Great Defensive Cornerback that has been found in Marquis Britton (6-0, 170, 4.4, 38, 4.19, 122) of Scotlandville, Louisiana.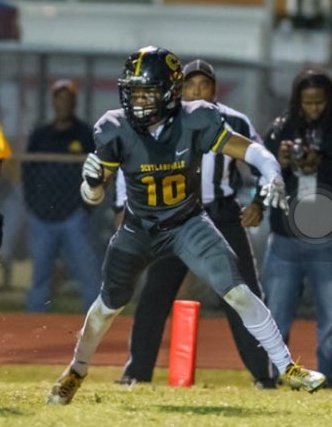 As a Junior, Britten (#10 in Photo) was so Outstanding, the Scotlandville Opponents Never would throw the Football in his Area. Britten recorded 42 Tackles of which 32 Tackles were Solo Tackles. He also had an Amazing 15 Pass Deflections to go with Two Interceptions.
FIVE PASSING QUARTERBACK FREAKS HAVE ALREADY BEEN FOUND FOR 2017 ALL-AMERICAN BOWL GAME!
One of my Great All-American Bowl Game Coaching Friends, Coach C.J. Maiden, has just become the Baton Rouge Tara Offensive Coordinator and he has done some Miracles again with his New Skill Team Players in this current Summer 7on7 Competition.
Last week, LSU had a Huge 7on7 and Lineman Camp and Coach Maiden invited me to come watch his Quarterback and Wide Receiver; plus another Slot Receiver and Offensive Linemen from Houma South Terrebonne.
In the First 7on7 Game for Tara, Super-Star Quarterback Patrick Arnold (6-4, 200, 4.6) threw a Touchdown Pass on the First Play of the Game. The Pass Pattern was a Super Quick Skinny Post. Then he ran the same play again for the Extra Point. So now, he's Completed 2 for 2 for a 45-Yard Touchdown and a Three-Yard Extra Point.
Arnold might be one of the Most Impressive 7on7 Quarterbacks that I have seen in recent years. In four Tara 7on7 Series, Arnold Completed either 14 of 16 or 17 of 19. I only saw two Incomplete Passes. One pass was a little high and the other Incomplete Pass was dropped by the Wide Receiver. Arnold then led his Tara Team to the 7on7 Championship Game where they lost in the Championship.
Another one 0f my Great All-American Bowl Game Coaches is Brett Bennett and he is Coaching another Quarterback Freak at Pensacola Pine Forest in Florida named Xavier Saulsberry. Saulsberry (#15) is a Southpaw and he has a Super Strong Passing Arm, but he might be the Strongest Quarterback in the Country with an Incredible 375 Bench Press and a 425 Squat to his Credit.
Saulsberry (6-1, 228, 4.62, 32, 4.41, 118, 30) also has one of the Best MEARS RATING of any High School Football Player in the Country, with a 2,466 MEARS and he probably has the Best MEARS RATING for any Quarterback.
The Third Quarterback is Venchenza McCray of McComb, Mississippi who is another Super Athlete who can play a lot of Positions at the Next Level, including Quarterback, Free Safety, and Strong Safety. In 2014, as a Super Sophomore, McCray (#2) started his First Game of his Career in the Season Opener and he Rushed for Three Touchdowns against Vicksburg in the Vicksburg Red Carpet Classic to lead the Tigers to a 26-21 Victory.
McCray (6-3, 190, 4.56, 32, 4.4, 118) will Play Quarterback, along with Saulsberry for the East Team in our All-American Bowl Game.
And our Fourth Quarterback who has been Found and Invited is Elijah Walker of Amite, Louisiana. Walker ( 6-2 200 4.6 37 4.3 118) has a Really Strong Passing Arm and he is Very Athletic. Walker would Team with Arnold of Tara on the West All-American Bowl Game Team.
Another of my All-American Bowl Game Coaches, Andy Bryson, called me and he told me that Coach Leslie Deamer was very interested in Coaching in our All-American Bowl Game and to call him. So I called Coach Deam and Invited him to be one of our Defensive Line Coaches in our 2017 All-American Bowl Game.
The Amazing thing about Coach Deam is that he lives in Amite, Louisiana; Coached at Hammond last year; and is currently Coaching at Reserve East St John, Louisiana. He is also Friends with the Two Hammond Players, OLB Davion May and DE Chris Turner; lives close to the Great AmiteQuarterback, Elijah Walker; and is currently coaching the three East St John Super-Stars, QB Marquise Darensbourg, WR C.J. Turner, and NG Myles Meyers. With one of our Coaches knowing these Six Super-Star Players gives us a Great Opportunity to get all Six of them into our 2017 All-American Bowl Game.
As our Fifth Quarterback, Marquise Darensbourg might be the Most Unusual Quarterback in the Country. Check out the Complete Marquis Darensbour Story. In Short: After Transferring to East St John, Darensbourg was not able to play in a game until October 1, but when he got to play, he was Incredible.
Darensbourg (#11 in Photo) only got to play in Six Games as a Junior, but in those Six Games, Darensbourg accounted for 24 Touchdowns, including 18 Passing Touchdowns and 6 Rushing Touchdowns. He Bench Presses 305-Pounds and Squats 375-Pounds. He has already Scored a 23 ACT and carries a 3.5 GPA.
I also have found FourGreat Left Offensive Tackles in Justin Henderson (6-8, 330, 5.3, 28, 5.0) of Denham Springs, Louisiana; L-OT or L-OG Everett Rodrigue (6-4, 290, 5.0, 28, 4.8) of Houma Terrebonne, Louisiana; L-OT Dalton Hoover (6-6, 310, 5.0, 28) of Pearl River, Louisiana; and L-OT or L-OG Bryan Thomas (6-4, 275, 5.0) of Scotlandville, Louisiana.
The Justin Henderson Story is one of the Most Unusual Stories that I have ever heard of in 40-Years of Scouting Players.  Justin has three older Brothers and they were all Great Football Players. I know his oldest Brother, Josh Henderson, who may be our 2017 West Team Chaplain.
Joe Henderson and Jon Henderson both played and graduated from Denham Springs High School, a Suburb of Baton Rouge, a few years before Justin (In Photo Above) got into High School. His other Brother, Jon, was only two years ahead of Justin.
When Jon was a Junior Football Player at Denham Springs, he was Outstanding  and IMG Academy in Florida came to Denham Springs to Recruit him to play for their IMGTeam as a Senior. When the IMG Coaches got to Denham Springs, to Recruit Jon, they thought that Justin, who had just finished his Freshman Year, was the Better Prospect and so they Offered him a Scholorship, instead of Jon, and he accepted it for his Sophomore Season.
Even as a Super Sophomore, Justin Henderson was always the biggest and best Offensive Lineman on the field, on his way to becoming one of the Top Offensive Lineman Prospects in the Country, but then some of his IMG Coaching Friends left IMG and he decided to Transfer back to Denham Springs for his Junior Season. During his Junior Season, back at Denham Springs, Justin broke his hand and he then Quit Football after his Junior Season.
I met Everett Rodrigue at the LSU 7on7 and Linemen Camp and he was Very Impressive and a Great-Looking Physical Specimen. I also met his Mom, Stacy and his Dad, Brad. I have already talked Stacy into being a Team Mom for the West Team.
When I got home, I took a look at Everett (In Photo Above) on his Hudl Film. On his First Play, Rodrigue blocked his man about 15-Yards Down the Field. Then on Play #2, he acted like a Pulling Guard and Blocked the Defensive End, allowing the Running Back to gain about 25-Yards. Then, on Play #3, Rodrigue Pass-Blocked and kept his man from getting to the Quarterback. Finally, on Play #4, he recorded a great Pancake Block on the Defensive Tackle. Rodrigue is not only Very Quick and Agile, but he also Bench Presses around 400-Pounds.
Bryan Thomas (In Photo Below) of Scotlandville, Louisiana is an Outstanding Offensive Lineman who can play any of the Offensive Line Positions.
Thomas (6-4, 278, 5.2, 26, 5.0 103, 25) helped lead his Scotlandville Team to the Louisiana 5A State Championship in 2015 as a Junior. He Bench Presses 350-Pounds and Squats 450-Pounds. Thomas also has Current Offers from ULM and Jackson State, but is getting ready for many more Offers.
TOP INVITATIONS TO 13TH A

NNUAL 2017 ALL-AMERICAN BOWL GAME
1 QB Xavier Saulsberry AA 6-2 228 4.6 36 4.4 118 30 Pine Forest, FL 2,466 MEARS
2 DE Chris Turner               6-4 225 4.62 38 4.31 116 35 Hammond, LA 2,460 MEARS
3 QB Patrick Arnold AA            6-4 200 4.6 36 4.3 118 20 BR Tara, LA 2,420 MEARS
3 QB Marquise Darensbourg AA  6-1 210 4.56 36 4.3  E St John, LA 2,420 MEARS
5 OT Justin Henderson AA 6-8 330 5.3 28 5.0 106 30 Den Spngs, LA 2,410 MEARS
6 OG Everett Rodrigue AA 6-4 290 5.0 28 4.8 105 32 Terrebonne, LA 2,405 MEARS
7 OT Elliott Campbell   6-6 275 4.76 28 4.56 106 25 Lugoff-Elgin, SC 2,400 MEARS
7 OT Dalton Hoover  AA    6-6 310 5.3 28 5.0 106 30 Pearl River, LA 2,400 MEARS
9 NG Lucky Davis AA                   6-2 320 5.2 28 5.0 106 McComb, MS 2,392 MEARS
10 WR Davontavean Martin 6-4 185 4.42 38 4.2 122 15 Ellender, LA 2,390 MEARS
11 OT Columbus Willis     6-6 305 5.3 26 5.0 103 25 White Castle, LA 2,385 MEARS
12 MLB Josh Tourelle AA          6-3 235 4.6 36 4.3 116 25 St Paul, LA 2,382 MEARS
12 QB Venchenza McCray       6-3 190 4.56 34 4.4 118 McComb, MS 2,382 MEARS
12 OLB Davion May            6-3 226 4.56 36 4.2 118 25 Hammond, LA 2,382 MEARS
15 CB Marquis Britten AA        6-0 170 4.4 38 4.19 Scotlandville, LA 2,380 MEARS
15 DE Reggie Boseman        6-2 245 4.6 36 4.3 116 25 Beau Cent, TX 2,380 MEARS
15 WR Jabari Coston              6-4 190 4.4 38 4.2 120 15 Loranger, LA 2,380 MEARS
15 RB Jakyle Holmes     5-10 200 4.5 38 4.3 118 20 Ponchatoula, LA 2,380 MEARS
19 DE Hayden Ocman AA      6-4 230 4.56 36 4.3 118 25 St Paul, LA 2,378 MEARS
20 QB Elijah Walker                     6-2 200 4.6 37 4.3 118 15 Amite, LA 2,375 MEARS
21 WR C.J. Turner AA       6-2 170 4.42 38 4.23 122 15 E St John, LA 2,372 MEARS
22 DE Dante Harris        6-1 225 4.56 32 4.0 116 28 BR Parkview, LA 2,370 MEARS
23 MLB Mathew Murla 6-1 230 4.6 32 4.18 116 20 BR Parkview, LA 2,355 MEARS
24 DT Steven Conerly AA   6-0 275 4.8 28 4.4 106  Plaquemine, LA  2,350 MEARS
25 FS Rodney Reddick 5-9 185 4.45 38 4.2 118 15 Anniston Saks, AL 2,340 MEARS
25 NG Myles Meyers AA   6-2 315 5.2 26 4.72 106 25  E St John, LA 2,340 MEARS
26 OG Bryan Thomas AA   6-4 278 5.2 26 5.0 103 Scotlandville, LA 2,331 MEARS
27 CB Larenz Clark AA              6-0 170 4.4 38 4.16 120 Berwick, LA 2,330 MEARS
27 DE  Tyrique Gibson     6-2 250 4.7 32 4.4 106 28 Ponchtoula, LA 2,330 MEARS
29 OLB Eric Young                       6-2 210 4.56 36 4.4 20 Meridian, MS 2,320 MEARS
30 SLOT Darryl Lavigne 5-8 165 4.4 38 3.93 125 BRouge Central, LA 2,315 MEARS
31 SLOT Malcolm Smith AA 6-1 175 4.45 36 4.2 118 Terrebonne, LA 2,300 MEARS
31 FLK Tysin Meads AA                6-5 190 4.5 38 4.3 122 Berwick, LA 2,300 MEARS
33 FS D.J. Robacheaux AA 5-11 180 4.42 36 4.2 116 12 Berwick, LA 2,288 MEARS
34 OG Joshua Mote             6-3 275 5.3 28 5.0 102 30 Oak Grove, LA 2,280 MEARS
35 OC Abraham Delfin AA 6-2 300 5.3 28 4.9 103  Plaquemine, LA 2,275 MEARS
35 LS Trey Icamina AA                  6-2 235 4.9 Conington St Paul, LA 2,275 MEARS
37 OG Austin Vercher AA           6-3 275 5.2 28 5.0 103 Berwick, LA 2,275 MEARS
38 P/K Trevor Bisson           6-1 165 4.8 Baton Rouge Episcopal, LA  2,250 MEARS
2016 NFL TOP 25
SUPER GOLD-CHIP RATINGS
2,400 Or Better MEARS RATINGS
1 FS Jalen Ramsey             6-1 209 4.35 41.5 4.18 135 14 Florida State 2,525 MEARS
2 OLB Myles Jack                             6-1 245 4.44 40 4.32 124 19 UCLA 2,520 MEARS
3 OT Laremy Tunsil                   6-5 310 5.07 28.5 4.8 111 34 Ole Miss 2,515 MEARS
4 RB Ezekiel Elliott                 6-0 225 4.42 32.5 4.3 118 25 Ohio State 2,510 MEARS
5 RB Derrick Henry                  6-3 247 4.53 37 4.38 130 22 Alabama 2,504 MEARS
6 DE Joey Bosa                            6-5 269 4.72 32 4.3 121 28 Ohio State 2,498 MEARS
7 OT Jason Spriggs                       6-6 301 4.97 35 4.44 115 31 Indiana 2,517 MEARS
8 OLB Darron Lee                   6-1 232 4.42 35.5 4.2 133 17 Ohio State 2,489 MEARS
9 NG Sheldon Rankins         6-1 299 4.91 34.5 4.59 118 28 Louisville 2,488 MEARS
10 QB Carson Wentz   6-5 237 4.77 30.5 NA 110 NA North Dakota St 2,485 MEARS
11 QB Jared Goff                         6-4 215 4.78 27 NA 110 NA California 2,484 MEARS
12 OLB Leonard Floyd              6-6 244 4.56 39.5 4.3 127 NA Georgia 2,483 MEARS
13 NG Andrew Billings                 6-1 311 4.92 27.5 4.78 113 31 Baylor 2,477 MEARS
14 DE DeForest Buckner             6-7 291 4.98 32 4.47 116 21 Oregon 2,472 MEARS
15 WR Corey Coleman                 5-11 194 4.33 42 3.94 128 17 Baylor  2,468 MEARS
16 DT Robert Nkemdiche           6-3 294 4.82 35 4.6 116 28 Ole Miss 2,468 MEARS
17 CB Vernon Hargreaves        5-10 204 4.42 39 3.98 130 15 Florida 2,466 MEARS
18 RB Darius Jackson                  6-1 220 4.36 41 4.27 133 20 E Mich 2,465 MEARS
19 OT Jack Conklin        6-6 308 4.95 30 4.57 103 25 Michigan State 2,461 MEARS
20 DE Shaq Lawson                    6-3 269 4.6 33 4.21 120 NA Clemson 2,458 MEARS
21 WR Laquon Treadwell         6-2 221 4.52 33.5 4.3 117 12 OleMiss 2,457 MEARS
22 OT Ronnie Stanley          6-6 312 5.13 30 4.69 106 24 NotreDame 2,454 MEARS
23 OC Ryan Kelly                        6-4 311 4.91 30 4.59 103 26 Alabama 2,447 MEARS
24 OT Taylor Decker              6-7 310 5.14 29 4.76 101 22 Ohio State 2,446 MEARS
25 WR Josh Doctson                        6-2 202 4.43 41 4.08 131 14 TCU 2,445 MEARS
26 QB Paxton Lynch                     6-7 244 4.79 36 4.26 118 Memphis 2,428 MEARS
27 CB Eric Apple                     6-1 199 4.37 38 4.08 128 13 Ohio State 2,428 MEARS
28 OG Connor McGovern      6-4 306 4.98 33 4.65 109 33 Missouri 2,427 MEARS
29 SS Kentrell Brice                    5-11 200 4.43 42 4.3 133 21 La Tech 2,425 MEARS
30 SS Kentrell Brice                    5-11 200 4.43 42 4.3 133 21 La Tech 2,425 MEARS
31 DT Ashawn Robinson            6-4 307 5.1 26 4.74 106 22 Alabama 2,424 MEARS
32 WR Sterling Shepard                  5-10 194 4.44 41 4.35 123 22 OU 2,424 MEARS
33 WR Will Fuller                             6-0 186 4.26 33.5 4.17 126 10 ND 2,424 MEARS
34 LB Kamalei Correa                     6-3 248 4.62 34 4.15 117 21 Boise 2,423 MEARS
35 RB Daniel Lasco              6-0 209 4.43 41.5 4.26 135 23 California 2,423 MEARS
36 SS Clay Fejedelem                           6-0 204 4.5 40.5 4.3 121 20 Ill 2,423 MEARS
37 DT Chris Jones                    6-6 310 4.83 29.5 4.62 106 26 Miss St 2,420 MEARS
38 LB Elandon Roberts                  5-11 235 4.53 37 4.26 120 25 UH 2,418 MEARS