ANOTHER TYPICAL SUPER SCOUT SPECIAL FRIDAY!
By Max Emfinger
Friday September 26, 2014
For a long time, I have realized that every Friday was a Special Day, but it's not only because it's the Day of most High School Football Games! It seems that really  "Special Things" seem to also happen on that Day that can not be explained in any other way, but Very Special and this past Friday was one of those.
I had already planned a Road-Trip to Carencro to fulfill my "Incredible Trip Not Taken" of two weeks ago when it rained and I did not fulfill my trip to see Carencro play Northside. Two weeks ago on Friday September 12, I had met with Harold and Gena Register; plus a surprise Super-Star Hunter Register for Lunch in Lafayette at Laura's II at a Creole Dining Place to eat.
Well, that was another Special Friday so let's first see what happened two weeks ago. In August 1994, I published my 14th Annual Max Emfinger's NATIONAL BLUECHIPS Fall Magazine. One of the Ladies that served me Lunch at Lauri's II was the Brother of Northside Head Football Coach Trev Faulk and the Cousin of Carencro Football Coach Kevin Faulk. So who do you think was one of the CoverBoys on the 1994 NATIONAL BLUECHIPS Fall Magazine of 20 years ago?
If you guessed Nebraska All-American and Five-Time All-NFL RB Ahman Green of Nebraska and Oakland Raiders #1 Draft Choice OT Matt Stinchcomb of Georgia, you would be right, but later to be LSU All-American RB Kevin Faulk of Louisiana was also a CoverBoy. When I told her, that I was going to their Football Game on Friday Night, she immediately called both Trev and Kevin and told them that I was coming. When it rained, there was "The Incredible Trip Not Taken" of two weeks ago. Click The Link: "The Incredible Journey Not-Taken!" By Super Scout Max Emfinger  http://wp.me/p2fDtb-27Q

Since I did not fulfill my Journey Not Taken on Friday September 12, I decided to Fulfill it on Friday September 26, two weeks later. It takes about 90-Minutes to get to Carencro, so I had planned to leave around 4:00 and I would still be able to get there and talk to Coach Kevin Faulk before the game against Lake Charles Barbe. Before I left, I wanted to grab Lunch for Ginger, my Four-Legged Son, Goof, and myself.
"Ginger, how about some "Homemade" Chicken Salid from Walmart and I can pick-up some more Cosequin DS for Goof's Joint Health Support and then also have some left for Sandwiches for my Trip."
So the next thing that I know, is that I'm at Walmart and I'm buying "Homemade"  Chicken Salid for Ginger to make Sandwiches for my Trip. I'm also getting ready to drive to Carencro and so I have my All-American Bowl Game Coaching Shirt on. This Lady named "Capri" who is serving me my Chicken Salid sees the word Bowl on my Bowl Game Coaching Shirt and she asked me if I was a Bowler.
"No! It's a High School All-American Football Bowl Game! Do you live in Plaquemine?"
"Yes I do live in Plaquemine," said the Lady named "Capri" behind the Chicken Salid Deli Counter. "Do you know any of the Plaquemine High School Football Players," I asked.
"Capri" said: "Yes! My Nephew is D'Morea Wicks, the Plaquemine Quarterback."  If you have not already Clicked: Here is where you need to Click the Link and read about Wicks in "The Incredible Journey Not Taken!"
This is the Incredible Beginning of this Particular Special Friday that might have turned-out to be one of the Best Ever Special Friday.
Of course, I told "Capri" to tell her Brother to get his Son, D'Morea Wicks to Fill out his Invitation Paperwork that I had already sent to him to play in the 2015 Eleventh Annual All-American Bowl Game. I also told her that one of the Plaquemine Twin Brothers, OC Kenny Dotson, had already turned in his Paperwork to play in the Game and I was waiting on OT Kevin Dotson, OT Jodeci Harris, and QB/ATH D'Morea Wicks. "Capri" said she would get D'Morea to send in his Paperwork. I'm also waiting on two Plaquemine Coaches, DT/LB Coach Kelcy Dotson and RB/DB Coach J'Kouri Williams.
After eating a Sandwich, I finally got on the road to Carencro, which is a Suburb of Lafayette. In fact. When you are driving I-10 West, down the Freeway, when you get to The Lafayette University Exit, you turn Left to go to The University of Lafayette (ULL) and you turn Right to go to Carencro. For many years, I have realized that when you go to a Town on Friday Night, it's not very difficult to find the High School Football Stadium and Carencro was no exception. After driving about a Mile from I-10, you could see the Carencro Stadium Lights. Of course, in big Cities, like Lafayette or Baton Rouge, you need Directions to the Stadium.
OK, so I get to the CRO-DOME Stadium and I went to the Scouts Pass Gate and this Lady takes me Straight to the Police…where they have a Golf Cart waiting to take me to Coach Kevin Faulk, who was on the Practice Field, and getting ready to bring his team into the Stadium. What a Surprise on this Special Friday.
"I thought you were coming a couple weeks ago," said Coach Faulk.
"I had a trip planned to be here, but it was raining really hard on the Interstate-10 and I decided not to come, but I'm glad to be here tonight."
With only a few minutes before Coach Faulk was going to bring his Team onto the Field, I said. "I've got a Surprise for you! It's a Copy of The Max Emfinger's 1994 14th Annual Fall NATIONAL BLUECHIPS Magazine with you as a CoverBoy!"
"I've also got some Invitations for my 11th Annual 2015 All-American Bowl Game Classic, but I will hold them and your 1994 Magazine until after the game.
(EDITOR'S NOTE: RB Kevin Faulk was a 1994 CoverBoy on the Max Emfinger 1994 Fall NATIONAL BLUECHIPS Magazine, alongside RB Ahman Green, OT Matt Stinchcomb, and DT Jerry Wisne; plus other Future All-Americans and NFL Super Stars. Faulk (5-8 and 195) had incredible Measurables coming out of High School, including a 4.4 Forty, 40-Inch Vertical Jump, and a 400 Bench Press! Faulk had also led his Carencro Team as a Sophomore to the Louisiana State Football Championship. When Coach Faulk retired from the New England Patriots, he held the Patriots All-Time Career All-Purpose Yards Record.)
As I followed Coach Faulk and his Carencro Football Team into the CRO-DOME Stadium, I knew that Carencro had at least one Super Star in #9 WR Donald Stokes (6-2, 190, 4.4, 39, 4.06, 128, 15) who also had an incredible 2,220 MEARS RATING.
By the time the game started, I found out from two other Carencro Coaches that they had two other Super Stars in #27 LB/SS Xavier Brooks (6-2, 200, 4.5) and #2 CB D'Ronne Littleton (6-0, 170, 4.4). Let me be very clear that I was Super impressed with all three of these players in Pre-Game Warmups and I particularly liked their Speed, Athletic Skills, and Athletic Abilities.
Stokes #9 was not hard to spot as he made a Sensational catch in he First Quarter. With 8:37 left in the First Quarter, Super Star Quarterback, Tyler Gaspard, spotted his "Big-Play Receiver" on a Crossing Pattern and he hit him in Full-Stride and Stokes did the rest as the raced 44-Yards for the Touchdown and with the Extra Point, giving The Buccaneers a Quick 7-0 lead.
With 1:54 left in the First Quarter, Stokes and Gaspard hooked-up on another great 45-Yard pass down the sideline to the 13-Yard to set-up a Seven-Yard Touchdown of RB Tyriek Campbell, giving them a 14-0 First Quarter Lead.
Brooks is a very Athletic and very Aggressive Middle Linebacker who is obviously in on every tackle or within a couple yards of every Tackle. In the First Quarter alone, I counted Six Tackles and one pass bat-down for Brooks and then I stopped counting. Also, included in those Six Tackles was a No-Gain on the One-Yard Line that thwarted a Barbe Touchdown. He could have easily had 20 tackles for the game and he is the Defensive Captain and Defensive Leader of the Carencro Defense and he did not even get his name in the paper the next day in the Newspaper Writeup.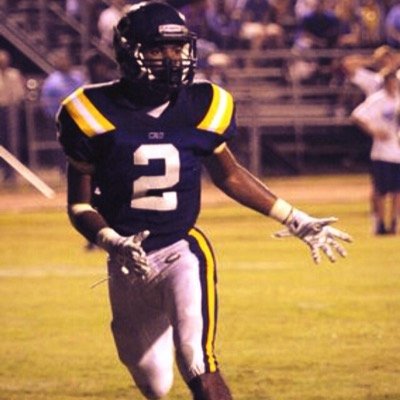 With 11:43 into the Second Quarter, Super-Star Littleton made his presence felt as he returned an Interception 29-Yards for a Touchdown, giving the Bucs a 21-0 Lead. Then with 1:36 left in the Second Quarter, Littleton made another Sensational play on a Punt as he downed the football on One/Half Foot Line with 1:36 Left in the Second Quarter.
In the meantime, Lake Charles Barbe had tw0 players that I wanted to see and they were MLB Khoury Kraus (6-2, 235, 4.6) OG/DE Brad Materne (6-2, 245, 4.87) ; plus the Barbe Coaches told me about DE Chris Livings (6-2, 222, 4.6) and I really liked all three Barbe Players. Kraus is always around the Football, just like Brooks.
To say that Khoury Kraus is always around the Football is an "Under-Statement" because it seems like he seems to make every tackle on every run-play. Kraus might not be a True 6-2 and he may not be a Legit 4.6 Forty Player, but you definitely want him on your Defense, disrupting the Offense. I watched his Highlight Film and I turned it off after a few plays. He has tremendous quickness and he can detect where the Football is going with Uncanny Accuracy. He might be the most Under-Rated Linebacker in the State of Louisiana. A few teams are interested in Kraus, but many have not offered him a Scholarship, but I think that is getting ready to change.
Materne #53 is a little Undersized for an Offensive Lineman, but he has Incredible Measurables and he could End-Up as a Defensive End or Nose Guard in College. Materne ran a 4.87 Forty and did an amazing 4.4 Pro-Shuttle. I watched Materne, "Up Close and Personal"…just like Roy Firestone and he is a Tremendous Leader and Great Physical Specimen. I was really impressed with him. He told me that he weighed 245-Pounds. I think he played Left Offensive Tackle, Defensive End, and Nose Guard in the Game. I think that his Natural Position is Offensive Center, but I do not think he has ever played that position.
All three Barbe Players were Game Captains against Carencro, along with Xavier Brooks. In the Second Quarter, Livings (In Photo) recorded an Eight-Yard Quarterback Sack and then in the Third Quarter, he recorded another 12-Yard Quarterback Sack with 1:37 left. Livings is the Super Athletic Player who is playing Defensive End in High School, but can play that position or Outside Linebacker in College.
All Six Super-Stars in this Special Friday Game Received Invitations to play in the Eleventh Annual 2015 All-American Bowl Game and I am still considering QB Tyler Gaspard who was also Sensational.
At the start of the Second Half, I was on the Barbe Sideline and I was making my way back to the Carencro Sideline and I was about Five-Yards from the End-Zone when the Football was Centered over the head of Gaspard, who retrieved it before it went out of the End-Zone for a Safety and he threw an incomplete pass on the run. This was one of the greatest Athletic Plays of the Game that pretty-much went unnoticed to most fans.
Gaspard and playing for Coach Faulk, his Offensive Coordinator is like A Dream Come True. Sometimes I feel like Pinching Myself. "It wasn't that long ago that I was watching my Hometown Hero Kevin Faulk perform on the football field with one of the Most Dominating NFL Team in the New England Patriots, but now I get to work with Coach Faulk on a daily basis, learning offensive football from one of the state's most accomplished performers. "Sometimes, it's kind of like I'm dreaming, but you stop and think about the fact that he's actually the Great Kevin Faulk and It's great."
As a Junior, Gaspard Completed 85 of 162 passes for 1,347-Yards and Seven Touchdowns with only Four Interceptions. Gaspard has a really strong arm and he is exceptionally accurate in his passing. In Stokes, he also has one of the best Wide Receivers in the Country. I think that they could throw on every play and be successful, but they run a very Balanced Offensive Attack and both Stokes and Gaspard, along with Defensive Stars, Brooks and Littleton, and the Barbe Players are all Flying Under the Recruiting Radar!
After Bucs Senior Cornerback Gabe Duffy picked off his Second Barbe Pass of the Game and raced 94-Yards for a Touchdown, I think he is also Under the Recruiting Radar.
But not to The Super Scout on his Typical Special Friday.